Phoebe Cates's other great '80s teen sex comedy also
features Saw babe Betsy Russell, scream queen Brinke Stevens, and loads of sexy surprises.

If summertime 1982 served as cherry-popping Ground Zero for the decade's teen sex comedy phenomenonand seeing as it contained the premieres of Porky's, The Last American Virgin, and Fast Times at Ridgemont High, it didthen the subsequent swelter season's Private School (1983) was the first direct fallout. And what a gloriously radiant after-effect it is.

To be sure, a spate of raunchy teen farces did rush into theaters during the '82-'83 school yearamong them: The Beach Girls, Homework, Joysticks, Losin' It, Goin' All the Way, My Tutor, Pink Motel, Spring Break, (the mighty) Screwballs, and (the also mighty) Zapped!

But Private School represented Hollywood's first full-scale attempt to concoct an all-out teen sex comedy blockbuster, calculatedly combining familiar genre tropes (nerds, jocks, nudity-producing pranks, cross-dressing one's way into the girls' shower room, etc.), and then adding Phoebe Catesthe naked girl from Fast Timesup on top like a beautiful, brown-nippled bow.

Private School also attempted to forge a New Belushi in the hilariously bloated and hairy body of Michael Zorek, who goes for broke as anything-for-a-boner wildman Bubba Beauregard.

Of course, post-Animal House, a fat-guy-going-nutzoid did serve as another de rigeur teen sex comedy ingredient (Up the Creek even features Stephen FurstFlounder himself!as one such faux Blutarsky), but Zorek makes enough of an impression that the repeated declaration of Private School's second wave of promotion feels legit: "Bubba Beauregard is the ultimate party animal!"

Still, Private School's major selling point is not the plot (Bubba and his boys don lady costumes to sneak into the titular academy while young Matthew Modine woos Phoebe), nor the presence of fellow Fast Times vet RayWalston (Mr. Hand! Aloha!) as a foul-mouthed limo driver, nor even an appearance by Emannuelle sex goddess Sylvia Kristel.

It's the School girls.

Leading the pack, although not baring her rack, is of course Phoebe. Her skin exposure here is limited to ass flashage on the beach and some mass mooning on graduation day that serves as Private School's kick-ass parting shot.

In addition to Phoebe's perfect end there, that collective caboose display also includes cheekiness from ace character actress Kathleen Wilhoite (Liz on Gilmore Girls) in her only nude scene to date. Hers is one of a dozen-plus butts on display, but Kathleen's round rumpus is a standout.

Beloved for her tough attitude and tight curves in Out of Control (1984), Avenging Angel (1985), Tomboy (1985), and Cheerleader Camp (1987), Betsy Russell figured as one of the '80s B-movie bombshells most likely to crack the A-list, but after her last naked moment to date, in Delta Heat (1992), she took close to a 15-year break from show business.

Today, Betsy is best known to moviegoers as the wife of homicidal maniac Jigsaw (Tobin Bell) in the blood-and-guts Saw film series, so many would be surprised to find out that she is also the blonde who, 19 minutes into Private School, embarks on the greatest topless horseback ride in the history of cinema (trotters-up include Jenny Wright in Young Guns II and Kathleen Quinlan in I Never Promised You a Rose Garden).

At Private School's 42-minute mark, Bubba Beauregard, in full transvestite resplendence, does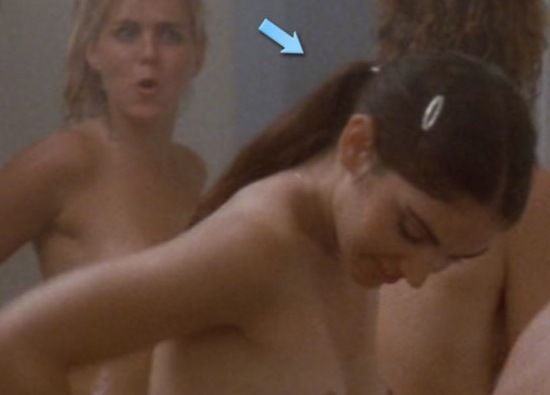 manage to crash the young ladies' washing facilities, and we are treated to one of the teen sex genre's steamiest group shower encounters.

Prominent among the gaggle of sumptuous scrubbers is perky-nerped Brinke Stevens nude, just a year after her naked shower debut in Slumber Party Massacre (1982) and fresh on her way to a career of 31 nude roles, often in amusing and arousing fright films such as Nightmare Sisters (1987), Slave Girls from Beyond Infinity (1987), Sorority Babes in the Slimeball Bowl-O-Rama (1988), and Scream Queen Hot Tub Party (1991).

Lynda Wiesmeier nakedly soaps up next to Brinke, kicking off what turned into a massively impressive bare-screen run of her own.

The naturally busty July 1982Playboy centerfold followed Private School by masturbating next to Katt Shea in Chuck Vincent's uproarious Preppies (1984), getting toplessly roughed up by post-nuke bikers in Wheels of Fire (1984), emerging full frontal from a pool in the softcore romp R.S.V.P. (1984), joining boobs-and-bullets auteur Andy Sidaris's stacked stable of super-foxes in Malibu Express (1985), and taking us to hooter heaven in Evil Town (1987).

Hijinks involving the stitching in some cheerleader uniforms provide momentary exposed mongos from Kari Lizer and Julie Payne.

Director Noel Black keeps Private School's energy high, and the naked bodies coming, throughout.

He emerged from episodic television and then returned to mostly helming TV movies, although Black did produce the teen sex period piece Mischief (1985), which famously showcases Kelly Preston nude.

Screenwriter Dan Greenburg (who co-scripted with the less prolific Suzanne O'Malley) came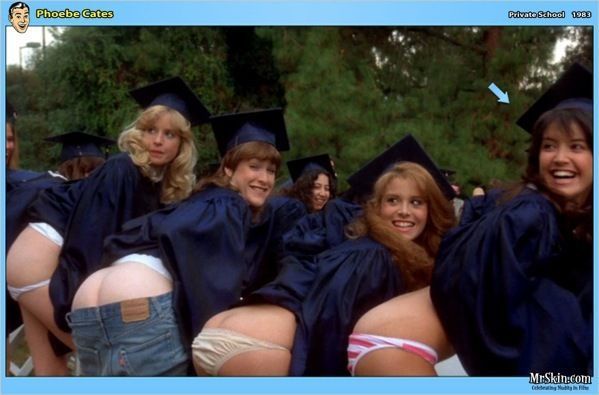 into Private School hot off his teen sex triumph Private Lessons (1981), which he adapted from his own novel, Philly (the horror-themed tone of which could not be further removed from the madcap Sylvia Kristel-starring teen romp that got made).

Universal's top-ticket TA treatment never quite pushed Private School to the absolute head of the teen-sex-comedy class, but it did well in theaters, hit big on home video, and then kept excited viewers up all night as a cable TV perennial for years to come.

Private School remains a high education in '80s teen-sex-comedy dynamics. Just behold, forever, its awesometotally awesometits and class.