We live in increasingly surreal times and have spent the last two weekslooking at some of the great surrealist filmmakers of all time,starting withSpanish legend Luis Buñueland continuing with Chilean surrealistAlejandro Jodorowsky! This week we conclude with the great American surrealist, Terry Gilliam, founding member of Monty Python and one of the most unique and distinct voices in the world of film over the last 40 years. Born in Minnesota in 1940 and raised outside of Los Angeles, Gilliam moved to Europe in the late 60s when he had grown disillusioned with the growing disparity in all aspects of American society. In an interview with Salman Rushdie in The Believer in 2003, he explained the move thusly...
"I became terrified that I was going to be a full-time, bomb-throwing terrorist if I stayed [in the U.S.] because it was the beginning of really bad times in America. It was '66–'67, it was the first police riot in Los Angeles...I got more and more angry and I just felt, I've got to get out of here—I'm a better cartoonist than I am a bomb maker. That's why so much of the U.S. is still standing."
After working as an illustrator for Help! Magazine with John Cleese and later doing animation for the children's program Do Not Adjust Your Set with Michael Palin, Terry Jones, and Eric Idle, he soon helped them form Monty Python along with the late Graham Chapman. Apart from playing the odd raving maniac in sketches, Gilliam was responsible for all of the show's animation, including the opening titles, proving his passions always truly lied behind the camera. After co-directing Monty Python and the Holy Grail with fellow Python Terry Jones in 1975, Gilliam embarked on his own directing journey with Jabberwocky two years later.
His follow-up, 1981's Time Bandits, helped establish him as one of the most unique directors in the industry, but he also began to acquire that most dreaded of labels when he was branded by many studio executives as "difficult." Both his passion and refusal to compromise his vision fueled this reputation, but so too did massive budget overruns andthe increasingly surreal sets of problems that plagued his sets. By the early aughts, he had become so synonymous with troubled productions that The Onion notoriously poked fun at this reputation with the article Terry Gilliam Barbecue Plagued by Production Delays.
While Gilliam doesn't consider himself a surrealist—he prefers the term "magical realist"—his films feature all manner of surreal production elements, camera angles, performances, and subtext. His films may not be as elusive as those of Buñuel or Jodorowsky, but the imagery in his films is every bit their equal in terms of surrealism. There's also substantially less sex and nudity in his films than those two men's films, but it's no less strange when it does pop up. Let's go all the way back to the beginning of his directing career with his first solo feature film...
Based on Lewis Carroll's poem of the same name from his 1871 book Through the Looking-Glass and What Alice Found There, Gilliam's debut film is a return to the muck-drenched medieval setting of Monty Python and the Holy Grail. Fellow Python Michael Palin stars as Dennis, a poverty-stricken cooper whose fortunes change when his father dies and he decides to venture to the city in search of better work. The people of the city live in abject terror of the titular beast, causing the king, Bruno the Questionable, to offer up a quest to slay the beast with the reward being the hand of his daughter The Princess (Deborah Fallender) in marriage.
Although Dennis is not necessarily eager to take up the quest, his bumbling ways find him coming upon The Princess while she is being bathed by a cadre of nuns who circle around her to prevent Dennis from seeing her in the altogether. It doesn't work as well as they'd hope, though, as we can see just about everything...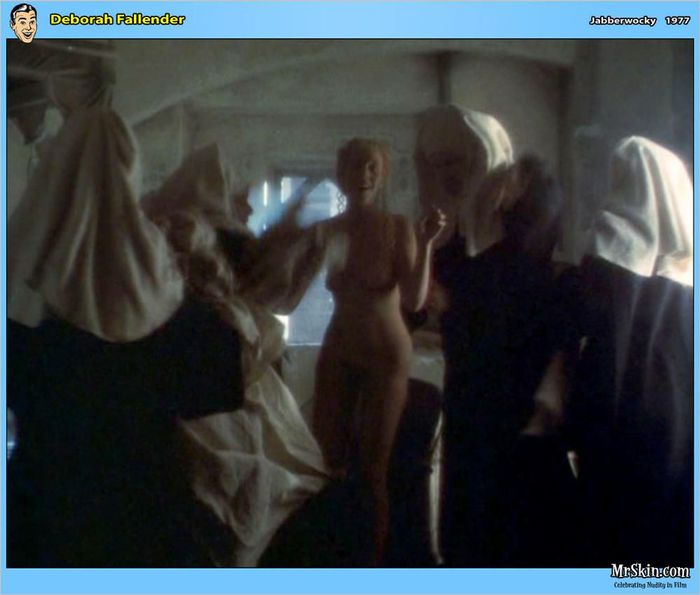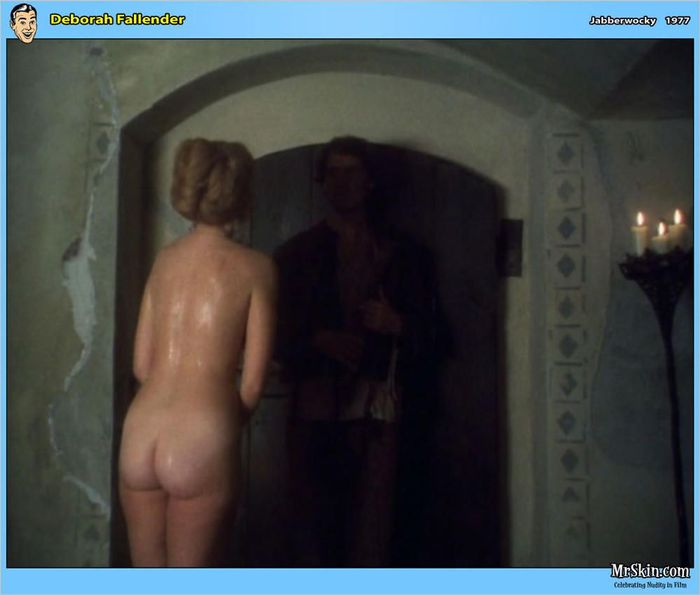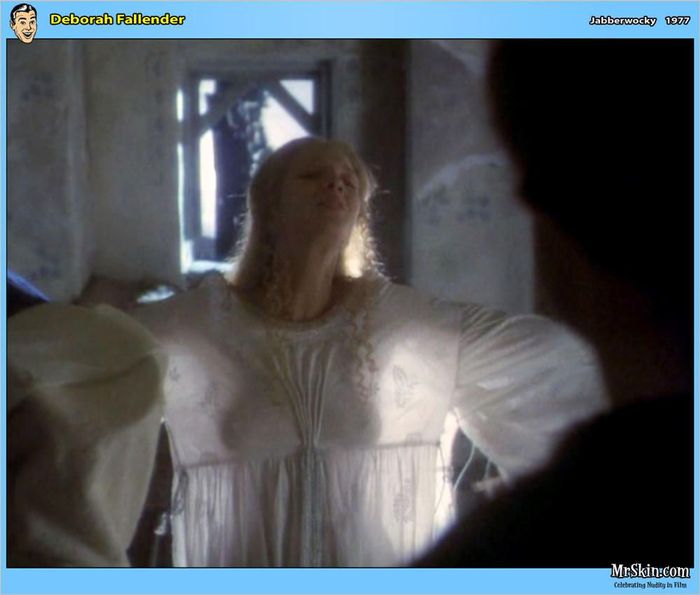 She helps disguise him as a nun so he can escape, but the villagers see him and think he's Satan attempting to trick them, banishing him to the woods to be dealt with by the Jabberwocky. The film's ultra-low-budget feel is a substantial part of its charm, coming to be a hallmark of the Gilliam-esque style. Even still, anyone familiar with his style will immediately recognize it on display in this film. Jabberwockymay not have the same polish as his future work, but there's no mistaking it for anything other than a Terry Gilliam film.
To Terry Gilliam, hell is bureaucracy, and no film better illustrates that point that 1985's Brazil. Originally titled1984½as both an homage to George Orwell's 1984 and Federico Fellini's 8½, Brazil is a fairy tale set within a dystopian nightmare. Sam Lowry (Jonathan Pryce) is a low-level government employeewhose whole job is upended when a fly gets into a printer causing a typo on a document that leads to the arrest and death of mild-mannered cobbler Archibald Buttle instead of anarchist Archibald Tuttle (Robert De Niro). Lowry is tasked with sorting out the error and when visiting Buttle's apartment, discovers that his neighbor Jill (Kim Greist) bares a striking resemblance to a woman he frequently rescues in his dreams.
Sam must now set out to save Jill, who has been branded an accomplice of the elusive Tuttle, all while battling a bureaucracy whose complexity seems designed solely to keep anyone from discovering its futility. Kim Greist has two brief nude scenes in the film, the first coming as she sits in the tub smoking a cigarette and her breasts can briefly be seen! The other comes as she and Pryce share a moment of post-coital bliss that comes to an abrupt end when the government arrests them both...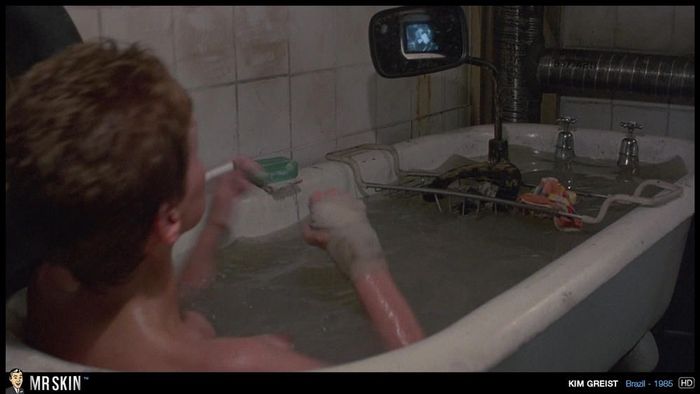 Although the film does bear a number of resemblances to 1984, co-writer Tom Stoppard (Shakespeare in Love) helped steer Gilliam away from too many similarities as Gilliam confessed to having never read Orwell's book.20th Century Fox handled overseas distribution for the film and released Gilliam's original 142-minute cut completely intact. However, Universal Pictures was responsible for domestic distribution of the film and the head ofthe studio at the time, Sid Sheinberg, didn't like Gilliam's downer of a film. Without Gilliam's knowledge, Sheinberg ordered a separate cut of the film be made and both cuts focus tested. When he didn't get the results he wanted from those tests, Sheinberg shelved the film, offering to sell it to any interested studios.
In a bid to help Gilliam's case,the LA Film Critics named it their best film of 1985—on the same night Universal debuted their Oscar hopeful for the year, Out of Africa—causing Sheinberg to finally acquiesce and allow a Gilliam-supervised 132 minute cut of the film to be released.Both Gilliam's original 142-minute cut and Sheinberg's94-minute chop job—dubbed the "love conquers all" version due to its happy ending—were released together by The Criterion Collection.
The battle with Universal over the release of Brazil was just the beginning of a long and tempestuous relationship between Gilliam and Hollywood studios. The next battle was waged over the course of the next three years with Columbia Pictures over his adaptation of 18th Century German writerRudolf Erich Raspe's tales of Baron Munchausen. Loosely based on the real exploits of a real Russian baron who traveled around telling wildly embellished stories of his various adventures, the tales of Munchausen became legendary and found themselves adapted to film several times prior to Gilliam's take on the material.
Gilliam and long-time collaborator Charles McKeown crafted a script that would put previous adaptations of the material to shame with plenty of spectacle to spare. Columbia greenlit the film with a reported budget of $23 million, but theproduction ran into trouble from minute one and the budget ballooned to nearly twice that much. Gilliam disputes those numbers saying he did indeed go over-budget but that the final total was nowhere near $40 million. While the truth likely lies somewhere in the middle, there's no denying that the film garnered a reputation as one of the biggest box office failures of the 1980s.
Of course, that reputation does not represent the finished product which is easily one of the most fun andfascinatingfantasy films ever made. Gilliam may have had a chaotic production with the odds severely stacked against him, but The Adventures of Baron Munchausen is a triumph of imagination. Set during "The Age of Reason," the film opens with a touring production of Baron Munchausen's adventures being performed in a city under siege. The real Baron (John Neville), now aged and looking insane, arrives at the theatre and takes umbrage with the inaccuracies on display.When the assembled masses fail to be swayed by his tales, Munchausen resigns himself to death, only to be stopped by the theatre owner's daughter Sally Salt (Sarah Polley)who encourages him to recapture his spirit and set off on a new adventure.
As the Baron reassembles his team—including fellow Python Eric Idle—they travel to many fascinating places like The Moon and a volcano housing theRoman god Vulcan (Oliver Reed). In Vulcan' lair, they meet his bride Venus, played by a young Uma Thurman, who gets an entrance for the ages recreating Botticelli's famous "Birth of Venus" painting...
While it may not be Gilliam's "best" film, it's certainly one of his most beloved. It works as a brilliant piece of fantasy filmmaking as well as a stunning visual work of art from those hallowed days when practical effects reigned supreme.
Despite racking up six nominations over the years, none of Gilliam's films had ever won an Academy Award until 1991's The Fisher King came along. Ironically it was his first film he had no hand in creating, with screenwriterRichard LaGravenese having crafted the story of misogynistic shock jock Jack Lucas (Jeff Bridges) who loses his career when a listener of his show commits a mass murder, leading him to accompany a homeless man named Parry (Robin Williams) on his quest for the Holy Grail—a subject obviously near and dear to Gilliam's heart.
While LaGravenese and Williams were nominated for Oscars for their work—along with the film's production designer and composer—the glory that year went to Mercedes Ruehl who co-stars as Jack's long-suffering girlfriend Anne. One hates to even say this, but it's the sort of performance that would get totally overlooked in this day and age because there's no big showy scene that almost seems a prerequisite to win an Oscar in this day and age. Ruehl gives a wonderful, measured performance and was a respected enough character actress that voters likely felt deserved it that year.
Sadly the film has no female nudity, but Mercedes Ruehl shows off quite a bit of tan-lined cleavage in a low cut neglige...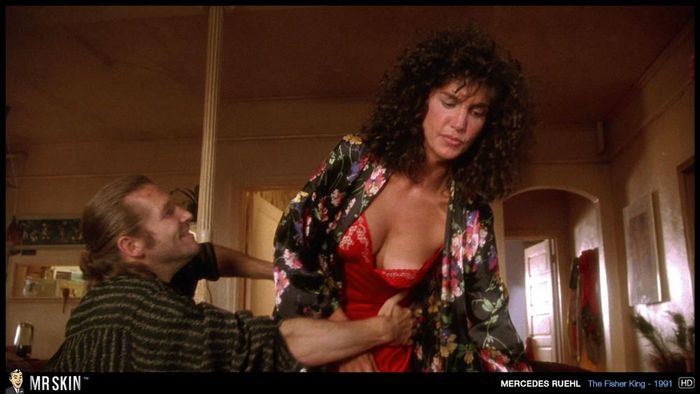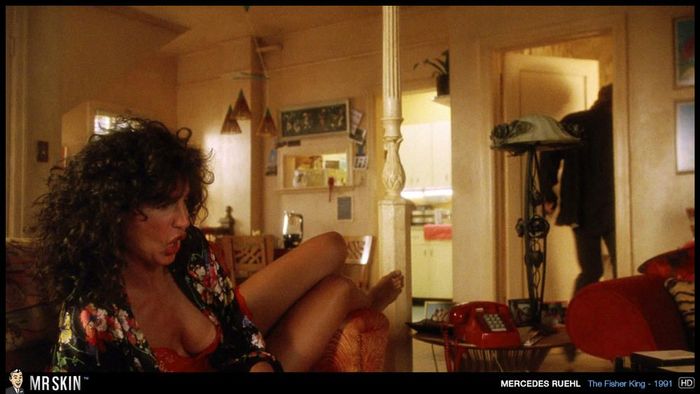 Gilliam closed out the 90s attempting and failing to get his Don Quixote film made—he finally succeeded in 2018—and then spent most of the aughts inthe wilderness. 2005's Tideland barely got released, that same year's The Brothers Grimm flopped after Gilliam clashed with disgraced studio head Harvey Weinstein, and his 2009 flick The Imaginarium of Doctor Parnassus was dealt a major blow when star Heath Ledger died suddenly during a break from filming. That film ended up getting completed thanks to Colin Farrell, Jude Law, and Johnny Depp stepping in to help him finish it, but it seemed by the start of the last decade as though the black cloud hovering over every Gilliam production mightkeep him from ever completing another film.
Christoph Waltz, hot off winning his second Oscar for Django Unchained, helped revive this long-dormant project that Gilliam had spent the last seven years attempting to get made. Waltz stars asQohen Leth, a computer programmer working for a ruthless corporation, who suffers a mental breakdown and becomes obsessed withdiscovering a formula that would help to give definitive meaning to life—another Python conceit Gilliam continued to obsess over himself. Qohen virtually meets a woman named Bainsley (Mélanie Thierry) who may or may not be part of a conspiracy by his employer to stop him from discovering the secrets of life itself.
The film is typically Gilliam-esque with all manner of bureaucracy standing between humans and happiness. The star-studded cast includes Matt Damon, Tilda Swinton, David Thewlis, Ben Whishaw, Peter Stormare, and future Oscar nominee Lucas Hedges in one of his first roles. Gilliam fought to cast Mélanie Thierry as Bainsley despite enormous pressure to cast a recognizable American actress in the role. In an interview with CBS News at the time of the film's release, Gilliam explained why he favored Thierry over the American actresses they had wanted him to cast like Jessica Biel...
Gilliam was alerted to actress Melanie Thierry, whom he'd seen in a film directed by Bertrand Tavernier. "I was under a lot pressure use some better known, particularly American actresses, but I just wanted somebody nobody had seen before. They may have seen her but they wouldn't recognize the way we've done her. I mean, she tended to play sort of reserved, beautiful characters.

"I called Tavernier and asked him what he thought, and he said she's like a Stradivarius -- you could play anything on her and it would sound beautiful."

For her role as the femme fatale Bainsley, Thierry was advised by Gilliam to "think about Marilyn Monroe and Judy Holliday combined.

"She's just amazing. And the difference is, in particular the American actresses, they all look similar, they're all the same shape, they're all trimmed down. I want somebody's who's real and beautiful at the same time. She had a kid a couple of years ago, so she has arealbody as opposed to these manufactured bodies."
Thierry's nude scenes in the film play all of that out and Gilliam was wise to use someone with a real, gorgeous body in the part...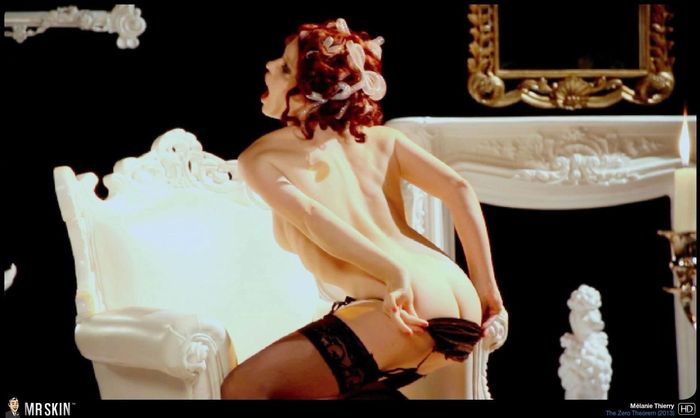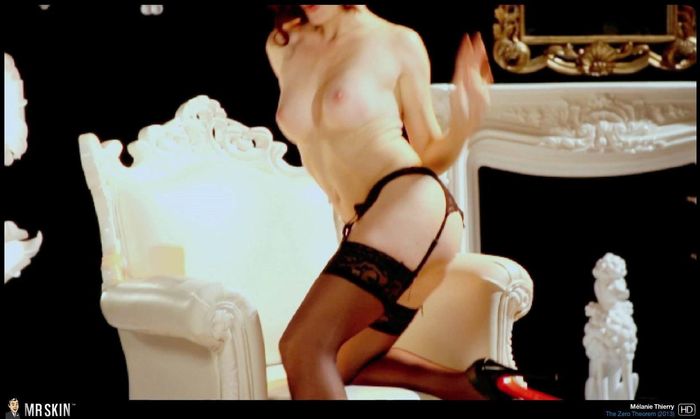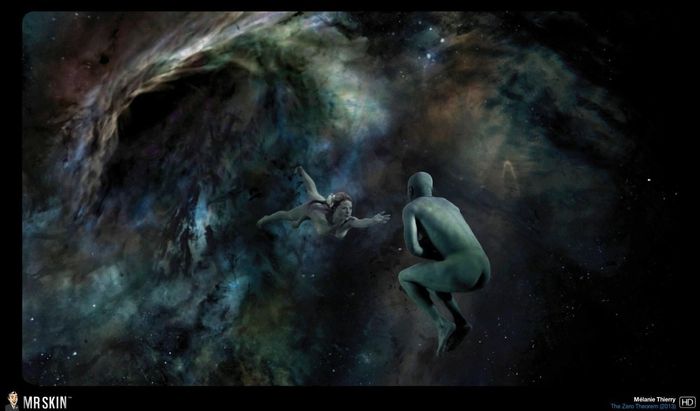 Following The Zero Theorem, Gilliam finally completed his film The Man Who Killed Don Quixote, though a battle over its release ensued that made it seem, for a couple of months anyway, as though that project truly was doomed to never be released. As for what the future holds for Gilliam, it's tough to say as he'll be turning 80 in November and there are no guarantees for men of a certain age. He seems as sharp and driven as ever, though, so I would caution against counting him out just yet.
Terry Gilliam Films with Sexy Content but No Nudity
—Fear and Loathing in Las Vegas (1998)
—The Imaginarium of Doctor Parnassus (2009)
—The Man Who Killed Don Quixote (2018)
Check out the Other Directors in Our Ongoing "SKIN-depth Look"Series
Alejandro Jodorowsky |Luis Buñuel|Atom Egoyan|John Boorman|John Schlesinger|James Ivory|Alan Parker|Walter Hill|Tony Scott|Louis Malle|Mike Nichols|Allison Anders|Jonathan Demme|William Friedkin|Rainer Werner Fassbinder: Part One|Rainer Werner Fassbinder: Part Two|Rainer Werner Fassbinder: Part Three|Federico Fellini|Philip Kaufman|Miloš Forman|Pedro Almodóvar: Part One|Pedro Almodóvar: Part Two|Blake Edwards|Catherine Breillat: Part One|Catherine Breillat: Part Two|Spike Lee|John Landis|David Cronenberg: Part One|David Cronenberg: Part Two|Ingmar Bergman|François Truffaut|Bernardo Bertolucci|Steven Soderbergh|Kathryn Bigelow|Oliver Stone|Roman Polanski|Nicolas Roeg|David Fincher|Francis Ford Coppola|Pier Paolo Pasolini|Ken Russell: Part One|Ken Russell: Part Two|Robert Altman:Part I|Robert Altman:Part II|Adrian Lyne|Martin Scorsese|Jane Campion|Park Chan-wook|Bob Fosse|Dario Argento|Wes Craven|Tobe Hooper|Todd Haynes|Danny Boyle|Stanley Kubrick|Paul Thomas Anderson|David Lynch|Brian De Palma|Paul Schrader|Paul Verhoeven
-------------
Non-nude images courtesy of IMDb