Perhaps the most controversialliving filmmaker, Roman Polanski'slegacyas a filmmaker has been almost completely overshadowed by his rather dubious reputation off the set as a lothario, philanderer, and—some might even say—predator. Those are all issues for another website to cover and they've covered it from so many angles, it's almost folly for us to rehash any of that here. Instead, we're going to focus on Polanski's work as a director, in particular, the way he has used sex and nudity in his films almost from the very beginning of his career.
After a childhood spent eluding the Nazis occupying his family's adopted home country of Poland, Polanski eventually became consumed with cinema, eventually attending the prestigious National Film School in Łódź, crafting over a dozen short films throughout the 50s and early 60s, before eventually making his feature directing debut Knife in the Water in 1962. Despite being born in Paris, he found he had a difficult time making films there due to what he perceived to be rampant xenophobia in the French filmmaking community, so he packed up and moved to England.
His first English language production, 1965's Repulsion, starred Catherine Deneuve as a female serial killer. Though it's skin-free, it's definitely worth checking out for an early look at Polanski's mastery of surrealism. His next film is where we begin our SKIN-depth Look at his career...
Polanski's third feature owes an enormous debt of gratitude to the works of absurdist playwrights Samuel Beckett and Harold Pinter, and is a wild and darkly comedic take on a decidedly unfunny premise. Donald Pleasance and Françoise Dorléacstar as a married couple living on a remote island in Northumberland, whose lives are upended when a pair of criminals on the lam discover their home. They take the couple hostage while awaiting further instructions from their boss, with one of the crooks quickly succumbing to the injuries he sustained during their unnamed crime.
The film then becomes a three-hander wherein the neurotic Pleasance and the promiscuous Dorléac soon find themselves concocting a plan to get rid of the other criminal holding them hostage. Of course, nothing goes according to their hastily thrown together plan, and the two protagonists fumble their way to a deeply unsettling end. If your only major exposure to Donald Pleasance is through his work in the Halloween franchise, I highly recommend you check out his masterful performance here as a mild-mannered man pushed into hyper-masculine mode to defend his family—a theme explored in the substantially more unsettling Straw Dogs five years later.
Dorléac, who would die the following year in an automobile accident, is positively luminous, and both Polanski and his masterful cinematographerGilbert Taylor do a brilliant job of allowing her beauty to radiate through the lush black and white cinematography. 41 minutes in, we get a quick look at her breasts as she gets out of bed naked...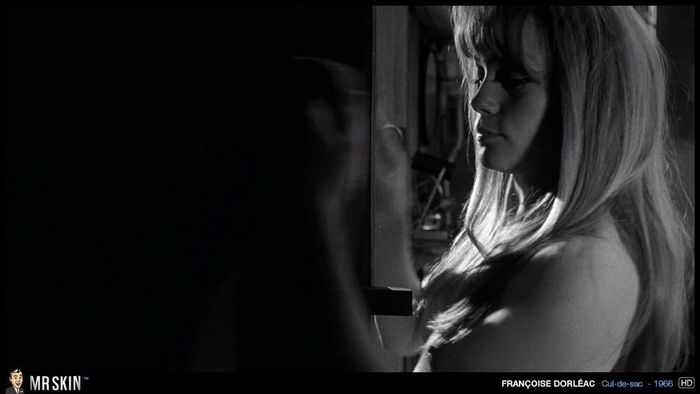 25 minutes later, she gets out of bed nude once again, sending Pleasance into a fit of hysterics and giving the surviving criminal quite an eyeful...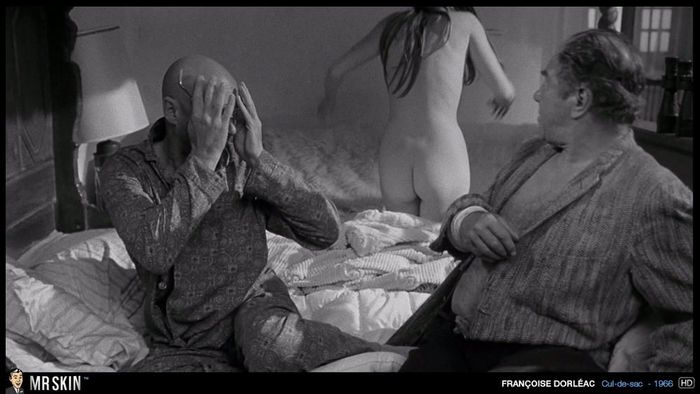 For his first film in color—and the last he'd make in Great Britain during this decade—Polanski went even more overtly comedic with this horror comedy with the hilarious subtitle:Pardon Me, But Your Teeth Are in My Neck. Polanski co-starred in the flick as assistant to the Van Helsing-esque vampire hunterProfessor Abronsius, played by Cul-de-sac's Jack MacGowran, as the two track vampires across Transylvania. As he did in real life, Polanski's character becomes enamored with the daughter of the local innkeeper, played by the late Sharon Tate.
Tate's character is abducted by the mysterious Count von Krolock—played not coincidentally by noted Christopher Lee doppelgänger Ferdy Mayne—and the vampire hunters make it their mission to track him down and rescue Tate. Before all of that, however, just eight minutes into the flick we get a brief topless scene from Tate as she is interrupted in the tub...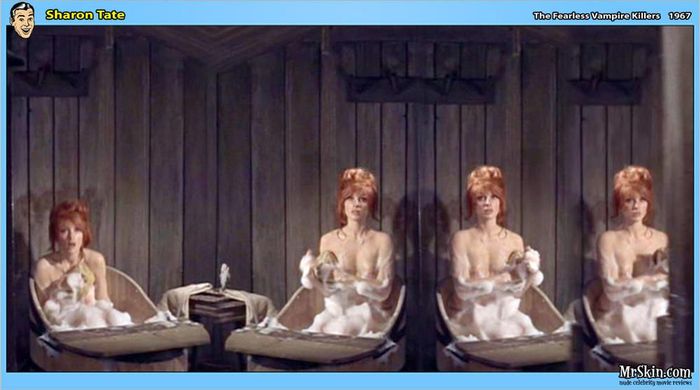 The film has a real downer of an ending, a trend that continues throughout nearly all of Polanski's work. Our heroes rescue Tate's character and abscond with her, unaware that she has already been turned into a vampire by the Count... and she will soon do likewise with them. Of course, the biggest thing to come out of the film was Polanski's marriage to Tate and their subsequent move to the home at 10050 Cielo Drive in Benedict Canyon.
Producer extraordinaire Robert Evans beckoned Polanski to Hollywood to direct the film Downhill Racer, though the two fast friends felt Polanski's sensibilities were better suited to another property that belonged to the company, Ira Levin's supernatural novel Rosemary's Baby. In just under a month, Polanski turned the tome into an epic screenplay—nearly 300 pages in length—and the rest, as they say, is history. Mia Farrow stars as the titular Rosemary, who lives in a posh Manhattan apartment with her husband, played by fellow actor/director John Cassavettes.
The apartment is plagued by rumors of supernatural activity, and it isn't long before Rosemary begins to get the feeling that her husband and some residents of the building are plotting against her. Of course, it turns out that Rosemary has been selected by a cult operating in the building to carry the antichrist into the world, with her husband and the others consistently gaslighting her into thinking that she's losing her mind.
10 minutes into the flick, Farrow and Cassavettes strip down in the living room of their new apartment, and we get a quick look at Mia's left breast...
Her other two nude scenes, both of them "dream sequences" while she's on board a boat, both utilize a body double as you can tell from the clever editing...
The film was a monster success, pun intended, and featured probably the most unsettling ending of any of Polanski's films prior toChinatown. Polanski became a sensation, though tragedy in his personal life soon followed when a pregnant Tate and several of her friends were murdered in the couple's home by members of the Manson Family. This ground Polanski's professional life to a halt, for obvious reasons, and after making a film a year for the previous four years, it would be another three before he'd return to filmmaking.
Considering his penchant for dark tales full of supernatural occurrences and humanity displaying the worst of itself—not to mention his own loss of faith in humanity following the murder of his wife—it makes sense that Polanski would pick Shakespeare's blackest and darkest tragedy for his next film, Macbeth. Polanski came under heavy criticism for making such a violent film in the wake of Tate's murder, writing later in his autobiography that had he chosen to make a comedy, he "would have been perceived as callous."
Indeed Polanski's film isperhaps the mostblack and macabre Shakespeare adaptation to that point in time, with the title character mounting King Duncan like a lover and stabbing him repeatedly and in graphic fashion...
It is perhaps the most erotic staging in the entire film, while not being overtly sexual. This likely accounts for the accusations of tastelessness leveled against Polanski in light of not only the death of Tate, but more specifically, how she was killed.
Playboyfounder Hugh Hefner received an Executive Producer credit on the film, and is thought to be the reason that both the Witches and Lady Macbeth appear nude in the film. In actuality, it was more a marriage of convenience for Polanski, who couldn't secure financing for the film through any other means. Though the performances are uniformly good, the true standout is Francesca Annis as Lady Macbeth, whose mental breakdown in the film's final act is among the adaptation's best scenes. While in a catatonic state, Annis walks fully nude to a desk where she imagines washing her hands, delivering her "out, out damned spot! Out, I say!" soliloquy while her doctor and handmaiden observe...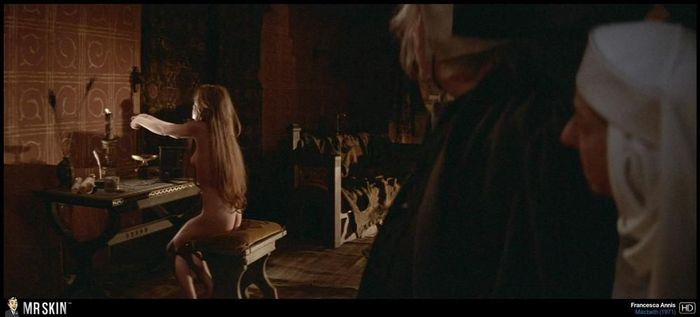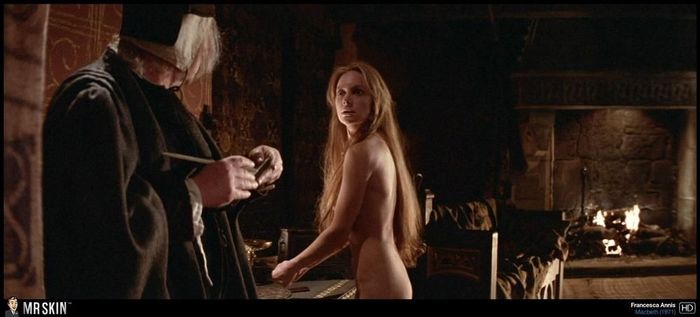 Polanski reached the top of the mountain with his 1974 neo-noir masterpiece, one of the quintessential films of the 1970s and, some might argue, all of American cinema. Operating from an Oscar-winning screenplay by Robert Towne, Polanski crafts a tale of deception set in and around the California water wars of the early 20th century with a distinctly Raymond Chandler-esque detective story at its core.
Jack Nicholson plays detective Jake Gittis, who is initially hired by a woman claiming to be Evelyn Mulwray—the wife Hollis Mulwray, chief engineer for the Los Angeles Water and Power Department—wanting Gittis to discover proof her husband is having an affair. When he does so, selling the photos ofHollis in flagrante delicto to the newspaper, he then discovers he was duped when the real Evelyn Mulwray (Faye Dunaway) threatens Gittis with a lawsuit. The mystery only deepens from there when Hollis Mulwray turns up dead,leading Gittis to the doorstep of Noah Cross (John Huston), Evelyn's father and her late husband's former business partner.
Cross offers to double Gittis' salary to pursue Hollis' mistress, sending him on a wild goose chase that ends with him back in business with Evelyn as they uncover a vast conspiracy at work. With Gittis the kind of man who will always sell his services to the highest bidder, his eventual quest to do the right thing seems doomed to fail from the very beginning. Jake and Evelyn take their professional partnership to the next level 86 minutes into the film's 131 minute running time. While evading Cross' thugs, Jake ends up at Evelyn's home where the two sleep together and Dunaway appears briefly topless...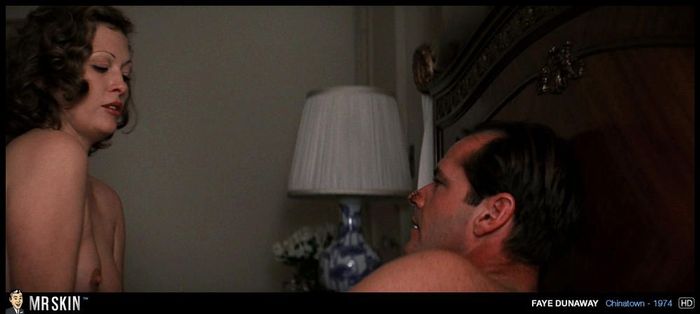 The film marked the first and only pairing of real life friends Nicholson and Polanski, whopartnered with a third close friend—mega-producer Robert Evans—to bring the film to life. Nicholson and Polanski would be forever, inextricably linked in the years to come not thanks to this classic film, but for Polanski's own actions at Nicholson's home which would lead to Polanski fleeing America, never to return, four years later.
With his first film in exile, Polanski chose a rather strange subject considering the kinds of films he had made up until this point, choosing to adapt Thomas Hardy's novel "Tess of the d'Urbevilles." Introduced to the novel by his late wife Sharon Tate, Polanski would end up dedicating the film to her memory. It was a true departure for Polanski, who had never worked in this realm before, but his style proved a good fit with the material. Gone is the dark, claustrophobic settings of so many of his prior films, replaced by gorgeously expansive outdoor scenes filmed by bothGeoffrey Unsworth—who died during filming—andGhislain Cloquet.
For the title role, Polanski selected 17 year old Nastassja Kinski—whoturned 18 while filming—and does an exceptional job of carrying the nearly three-hour epic, thanks in no small part to Polanski sending her to the Dorset countryside for five months to learn the dialect. Considering she was barely of age when she gave this performance, it's nothing short of miraculous to watch her work. Kinski also did her fourth nude scene in the film, briefly revealing her breast while getting ready to breastfeed a screaming baby at the 47-minute mark...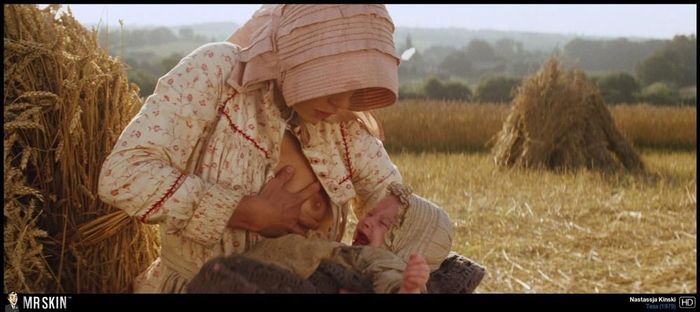 Of all the changes Polanski made to the material, the most curious is his toning down of the notoriously predatory character of Alec d'Urbeville. It's unknown if this was prompted by the obvious parallels between the character's predilections and Polanski's, but it is a stark departure from the character as written in Hardy's novel. He's not overtly sympathetic, but he's also not the monster he was in the book.
Because of Polanski's reputation, many assumed that he had more than just a working relationship withhis not-yet-of-age-at-the-time-of-filming leading lady, Nastassja Kinski. For her part, Kinski denied that there was anything untoward happening on set in a 1999 interview with The Guardian saying, "There was a flirtation. Therecouldhave been a seduction, but there was not. He had respect for me."
Immortalized in the notorious earworm that is Barenaked Ladies' "One Week,"Frantic is your standard issue dad movie that rests comfortably in the subgenre of Harrison Ford movies in which he's desperately trying to find his wife. Ford plays AmericanDr. Richard Walker who is in Paris for a conference and brings along his wife Sondra (Broadway luminary Betty Buckley). Upon arriving at their hotel, Sondra realizes she has picked up the wrong bag at the airport, and while Richard is in the shower, Sondra mysteriously vanishes from their room.
This sends Dr. Walker on a, wait for it, frantic quest to find his missing wife, most of that franticness induced by a rather apathetic French populace. The only person seemingly concerned with his plight is Michelle (Emmanuelle Seigner), the young woman whose bag was swapped with Sondra's bag at the airport. Ford accompanies her to her flat where he proves that he's a stand-up guy by shutting the door as she begins to change, though we do get a quick look at her right breast...
Seigner receives an "Introducing" credit in the film despite this being her fourth role in a feature film, though one could argue this was her most high profile role to that point in time, and her first in an English language film. Hell, she'd even gone nude in two of her prior three films. Thebiggest thing for Polanski coming out of this film was the fact that it was the first time he would work with French actress Seigner, whom the director would wed in 1989, and the two are still together to this day.
The film culminates with a ridiculous plot involving a nuclear device stored in a replica Statue of Liberty which was in the suitcase Sondra took by mistake. A shootout on the banks of the Seine leads to Michelle being shot and killed, and Dr. Walker being reunited with his wife before tossing the nuclear device into the river. Like many of the suspense thrillers of the time, it needlessly becomes an action film in the final twenty minutes, receiving a Hollywood ending that's more than a little far-fetched. If nothing else, it was proofthat Polanski was starting to bow to his corporate overlords by delivering a more commercial film. Following the big-budget disaster of his film Pirates two years earlier, though, this wasn't totally surprising.
Polanski returned to his independent roots with his next feature, the kinky erotic thriller Bitter Moon, which fully capitalizes on his wife's explosive sexuality. Seigner plays a French sexpot named Mimi, who befriends an English couple played by Hugh Grant and Kristin Scott Thomas on a Mediterranean cruise. Grant's character is immediately smitten with Mimi, whose husband Oscar (Peter Coyote) is a boorish disabled writer, who shares openly the twisted sexual games that he and Mimi play.
Their manipulative sexual relationship is contrasted with that of the more buttoned-down Brits, but the depths ofMimi and Oscar's manipulation of one another—especially Oscar's—prove more cautionary than aspirational. Polanski revels in filming his wife nude, showing off every inch of her naked body, especially in the film's famous milk scene. Seigner chugs from a bottle of cream which spills down her front, and she massages it into her breasts as Oscar watches...
She then lets him enjoy the milky goodness running down her chest in a scene that loses much of its erotic charm when presented in the context of their destructive relationship...
The film climaxes with Scott Thomas and Seigner sharing a lesbian tryst—off screen, sadly—which leads an enraged Oscar to murder Mimi while Scott Thomas flashes full frontal trying to avoid the gunfire...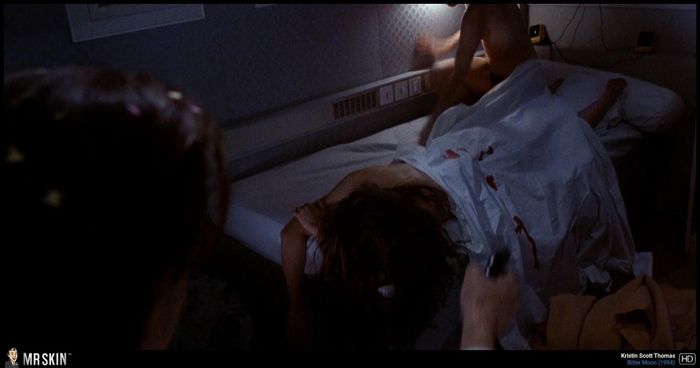 Oscar inevitably turns the gun on himself, bringing the cruise and the story to an abrupt end. Until this moment, however, the film has been easily Polanski's sexiest and most erotic, with all manner of sexual exploration occurring between Oscar and Mimi.Bitter Moon was savaged by critics upon its release in the UK and France in 1992, leading to it having trouble securing a distributor in the US. It took two more years for New Line specialty label Fine Line Features to agree to distribute the film, which they did in a very limited capacity in 1994, capitalizing on Grant's newly found fame in America.
Polanski closed out the 20th century with this supernatural thriller starring Johnny Depp, Lena Olin, and, of course, Seigner. Depp plays a rare book dealer sent by a wealthy creep (Frank Langella) on a hunt for a series of three books, thought to beauthored by the Devil himself. Olin plays the widow of a man who was in possession of one of the books and who took his own life when Langella acquired his book. She attempts to seduce Depp's character to get the book back from him, though Olin used a body double for her striptease seduction...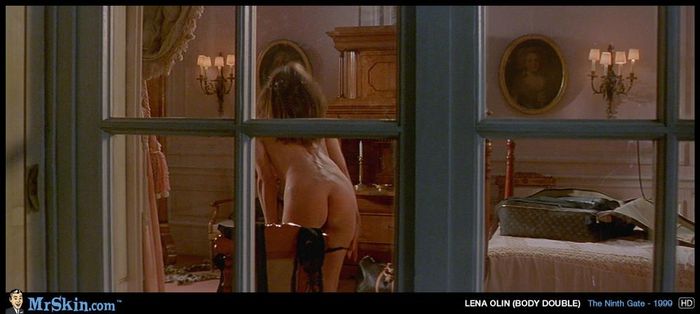 Seigner plays a mysterious woman who is tailing Depp on his quest to find the books,seemingly saving him at every perilous turn and telegraphing that she's a demonic force of some sort. The whole film is a muddled mess and, at 133 minutes, something of a slog to get through, but isn't that why Mr. Skin was invented, to fast forward to the good parts? The best part here comes at the two hour and four minute mark as Seigner reveals her rump and rack while riding Depp outside a burning castle where Langella's attempt to summon the devil has failed...
Polanski's most recent film with nudity is this adaptation of David Ives' play of the same name about an actress attempting to prove to a director that she is the perfect woman to play the lead in his new play. This would be Polanski's first film not in English since Knife in the Water, 51 years earlier, with Polanski stating that he wanted to work with his wife in her native tongue. Seigner plays the aging actress out to convincedirectorMathieu Amalric that she is perfect for the lead in his adaptation of the 1870 Austrian novel "Venus in Furs."
The psycho-sexual dynamics on display in the film are multiplied by the fact that Polanski has chosen to makeAmalric his doppelgänger, giving him Polanski's signaturemop-tophair cut and going so far as to have him mimic the director's own idiosyncrasies. This basically turns the film into a 90-minute sexual roleplaying fantasy between the couple, with Polanski seemingly reveling in the cuckoldry on display.
The film is a skinless affair for most of its run time, as Amalric's character becomes more and more enamored with Seigner's, and it all comes to a head when Seigner performs a bug-nuts striptease for Amalric as he is tied to a giant cactus, purposefully resembling a dick...
I don't know what this says about Polanski and Seigner'srelationship, but it's undeniably thriving some thirty years on from their first meeting. Whatever other allegations one may level against Polanski, it's undeniable that he's a committed man, in every sense of the word. His latest film An Officer and a Spy, starring Seigner, is set to debut at this year's Toronto International Film Festival, and he'll be turning 86 next month, so there's no sign of him slowing down anytime soon.
*The following Polanski films are available via The Criterion Collection
—Tess
Other Roman Polanski Films with Nudity Not Covered in This Column
Check out the Other Directors in Our Ongoing "SKIN-depth Look"Series
----------
All non-nude images via IMDb