In the first part of our SKIN-depth look at the sex and nudity of Pedro Almodóvar's films, we discovered a filmmaker who delighted in pushing boundaries on a regular basis, often through the use of explicit sexual content. As he entered the new millennium, Almodóvar didn't mellow one bit, delivering ever more complex narratives that gave his stable of ensemble actors the chance to play an even wider range of characters. Sure, it's hard to top the vice-driven nuns of Dark Habits or the Mommy Dearest-esque mother/daughter relations of High Heels, but as Almodóvar aged, so too did his proclivity for characters living on extreme ends of variousspectra.
Over the last 20 years, Almodóvar has given us increasingly forlorn protagonists, mixed with murderous ones, psychopathic ones, egomaniacal ones, and a little bit of everything in between. His working relationship with leading lady Penélope Cruz also takes a strong hold on his work in the 2000s, with both director and star bringing out the best in one another, delivering a pair of intensely realized films that play to their respective strengths in the best ways possible. Almodóvar is so enamored with Cruz that he cast her to play his own mother in his loosely autobiographical 2019 film Pain and Glory.
If there is a thread running through his later work, it's an attempt to get at a deeper understanding of what drives people to do things that would otherwise seem out of character for them. From a grieving mother learning to love and trust again to a plastic surgeon so driven to make medical breakthroughs that might save lives, he has no qualms with taking numerous lives to get there. His style of magical realismevolves froma hallmark of his films, to becoming their very essence, and his empathy for his leading characters—no matter how nefarious their deeds—becomes richer.
Of course, there's plenty of sex and nudity along the way as well, with the director leaning hard into ever waning restrictions on content in both Spain and the world at large. While it's tough to top some of his explicit early work like the scuba diving antics in Tie Me Up! Tie Me Down!, he certainly does his damndest to come up with new and interesting ways of exploring his characters' sexual desires. Let's dive right in with the film that finally brought him some long overdue Oscar recognition...
Almodóvar was finally showered with Oscar glory for his heart-wrenching tale of Manuela (Cecilia Roth), a mother mourning the death of her teenage son by setting out to find her son's father, who has transitioned to become a woman named Lola (Toni Cantó). Along the way, she befriends a young nun named Rosa (Penélope Cruz) who is pregnant with Lola's child. When Rosa dies in childbirth, Manuela takes custody of the child and names him Esteban, after both her deceased son and Lola's birth name.
While the film dabbles in melodrama, as all of Almodóvar's films do, this is perhaps his most earnest effort to date. He doesn't take pains to sand down the rougher edges of the story, with several characters who are transgendered and/or HIV positive—including Rosa's infant child who inherited the immune disease from his infected mother. For as much as America loved to champion the progressiveness of such films in this same year as American Beauty and Being John Malkovich, they didn't tend to embrace films as radically charged as Almodóvar's. Thankfully this changed the conversation—at least as much as any foreign language film can—and put truly progressive sexual politics in the spotlight.
The film's two nude scenes vary wildly in tone. The first comes courtesy of Antonia San Juan, playing a transgender prostitute named Agrado, who is attacked by a guy in the park before she turns the table on him and pulls a knife...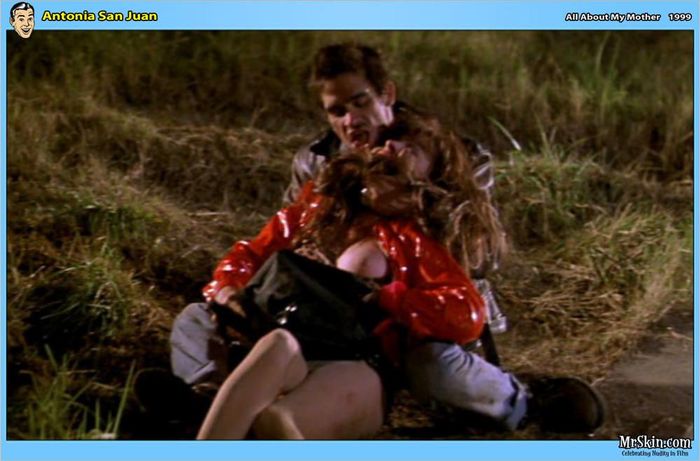 The other nude scene is much more tender, with Candela Peña slipping a nip in a dressing room as Manuela helps her to sport a fake pregnant belly...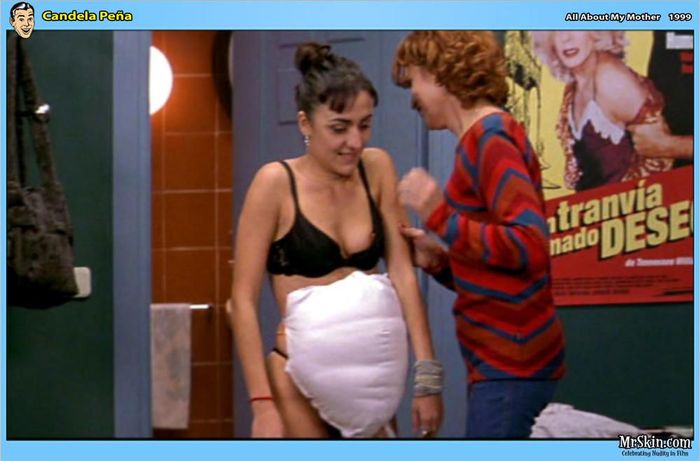 Hable con ella, or Talk to Her, was Almodóvar's next film and he brought his focus back onto two very different male characters: Timid male nurse Benigno (Javier Cámara) and embittered travel journalist Marco (Darío Grandinetti). The two men first encounter one another at a performance of Pina Bausch'sCafé Müller, where Marco is moved to tears by the piece and Benigno finds himself drawn to such a seemingly masculine man who could be moved by the power of dance. There's no underlying homoerotic tension here, as the men are both obsessed with what they feel to be unobtainable women.
Marco has become infatuated with female matador Lydia (Rosario Flores), though a bullfight gone wrong has left her in a coma. Benigno is similarly obsessed with a comatose dancer named Alicia (Leonor Watling)for whom he has been the personal caregiver for some months, and the two men meet again at the hospital. Benigno converses with Alicia constantly and even brings her black and white dance films to watch, despite her present condition, as Benigno harbors a belief that women understand men's problems even when they are unresponsive. The film's title alludes to the advice given to Marco by Benigno that he should pretend as though Lydia isn't in a coma and speak with her like a conscious person.
Benigno confides in Marco that he intends to marry Alicia, but after it is discovered that she is pregnant, Benigno is arrested and charged with assault. Lydia dies without ever regaining consciousness, though Alicia eventually awakens from her coma following the stillborn birth of her child. Marco cannot bring himself to tell Benigno that Alicia has made a full recovery, and Benigno ends up committing suicide on the false hope that he and Alicia will be reunited in the afterlife.
It may not seem like a terribly life affirming film, but it manages to walk that line very delicately, never passing judgment on Benigno despite his absolutely abhorrent act. It likely helps matters that Almodóvar doesn't show the act that leads to his downfall, instead representing it through one of the black and white films Benigno shares with Alicia. The fictional film "Shrinking Lover" shows a man reduced to miniature proportions where he climbs the body of a similarly unconscious woman (played by Paz Vega)...
He eventually discovers what could only be described in such hopelessly romantic language as her promised land, making his way down her body before entering her—obviously fake—vagina...
The metaphor is pretty obvious, but Almodóvar's inventiveness keeps it from feeling like he's beating the audience over the head. The lengths to which he sometimes goes as a filmmaker are obviously extreme, but it helps to soften the blow of something as awful as assault. Meanwhile back in the real world, Marco drops in to Alicia's room to see Benigno, where he finds him in the midst of giving her comatose body a bath...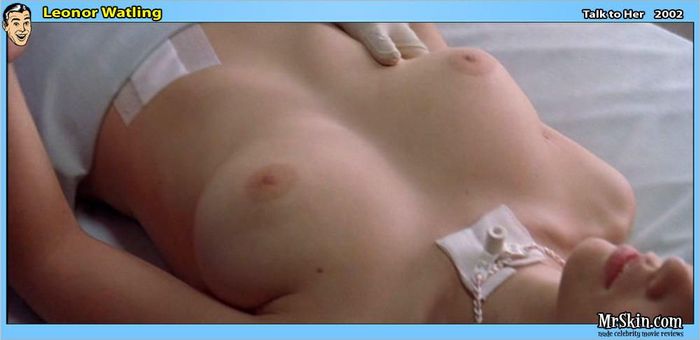 Marco also continues to harbor feelings for his ex, Angela, played by Elena Anaya—hence his tears at the dance performance that opens the film—and tells Marco a story about her in which we see her run nude out of a tent...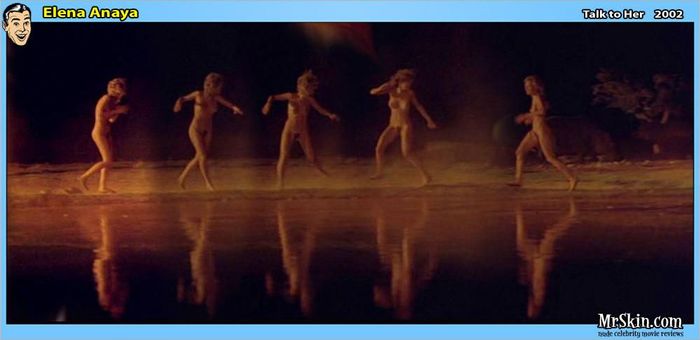 Despite Spain not submitting the film as their official entry for Best Foreign Language Film Academy Award, Almodóvar did earn his first Best Director Oscar nomination for the film and ultimately won the Oscar for Best Original Screenplay. In the hands of virtually any other director, the negative aspects of the story and characters might have overwhelmed the film, but Almodóvar's light touch keeps things just this side of romantic rather than upsetting. It's a tightrope walk of the highest order and that he manages to stick the landing speaks to just how strong his light touch can be.
After a detour intofilm noir by way of Patricia Highsmith with his 2004 film Bad Education, Almodóvar returned to the world of melodrama with his next film Volver. Penélope Cruz and Lola Dueñas play sistersRaimunda and Sole, who return to their small Spanish hometown for the funeral of a beloved aunt. Here, they discover that their mother Irene (Carmen Maura) who was though to have perished in a fire several years earlier, hasbeen communicating with family members. Unsure of whether their mother actually died and is now a ghost or if she didn't die at all, they both realize that there are some deep, dark family secrets that they must confront if they wish to move on with their lives.
Almodóvar is right back in his wheelhouse here, delivering yet another film about strong female characters who overcome obstacles in their personal lives, only to be confronted with them. How they reckon with their past is what makes them uniquely Almodóvarian, to coin a phrase, as their past transgressions come home to roost. Early in the film, Raimunda's daughter Paula (Yohana Cobo) is coming out of the shower when her own father, Paco (Antonio de la Torre), attempts to assault her, telling her that he is not her father. The film's only nudity comes in this sequence, with Yohana going topless before some serious stuff goes down...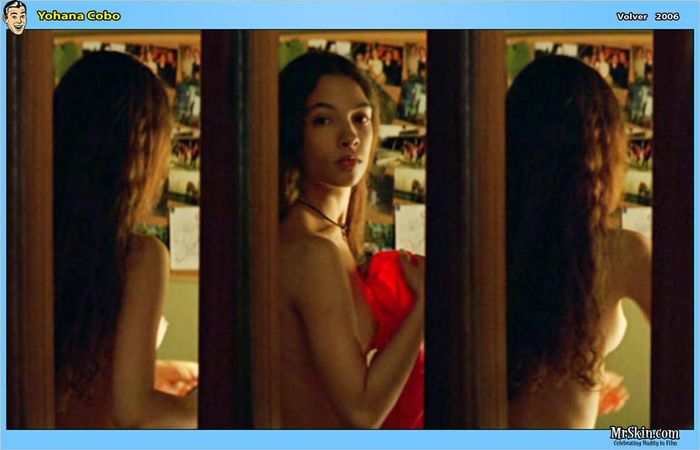 Paula ends up stabbing and killing Paco before he can assault her, and Raimunda helps her cover up the murder, eventually managing to parlay this into a return to the restaurant business. As we eventually find out, Paco was indeed not Paula's father, and that Paula was the result of a sexual assault on Raimunda by her own biological father, making Paula both Raimunda's sister and daughter. When Raimunda's mother Irene discovered this truth several yearslater, she burned her husband and the woman he was having an affair with alive in their home, faking her own death in the process.
Again, Almodóvar's light touch manages to keep the melodrama just this side of maudlin, a seemingly insurmountable task for most directors. His ability to maintain empathy for his characters keeps things from reaching a tipping point, allowing the audience to root for these characters without passing judgment on them. It's Greek tragedy filtered through the lens of a modern gay Spanish director, allowing the operatic heights of the melodrama to be justified through the atonement of these characters. Penélope Cruz earned her first Oscar nomination for her work here, while she and co-stars Carmen Maura, Lola Dueñas,Yohana Cobo, Blanca Portillo, and Chus Lampreave all shared Best Actress honors at the Cannes Film Festival.
While there is plenty of crossover between the two genres, most of Almodóvar's work in this latter half of his career can be divided into two categories: Melodrama and Noir-ish Murder Mystery. They run through one another constantly, as they do again in his next film, Broken Embraces, his second consecutive Penélope Cruz vehicle. Miles away from the intense familial drama of Volver, this film expands upontwo other conceits he has touched on throughout his work, the notion of a "film within a film" and meditating on his own previous films.
Those two notions collide in this movie's film with the filmGirls and Suitcases, a re-creation of his own filmWomen on the Verge of a Nervous Breakdown, featuring many of that film's actors reprising their roles in this fictionalized version. It's the sort of meta-commentary that many directors actively seek to avoid, but one in which Almodóvar thrives. The trick Almodóvar manages to artfully pull off here is in creatinga story that might otherwise come off as a creative writing exercise in the hands of a lesser writer/director—as it has many times. Self-referential works can often come off as pompous, but he makes them feel like a natural extension of a new story he's attempting to tell, rather than a simple rehash of a film he's already made.
The story centers around a blind writer named Harry Caine (Lluís Homar) who visits his stepson Diego (Tamar Novas) inthe hospital after the young man suffers an overdose, and tells him the story of how he used to be a filmmaker named Mateo Blanco. He starts his tale with an introduction to Magdalena "Lena" Rivas (Penélope Cruz), a woman seeking to become involved with awealthy financier so that she can bilk him out of his money to save her own dying father. Lena's true ambition in life is to become an actress, which brings her into Mateo's orbit when she lands the lead role in his new film, the aforementioned Girls and Suitcases.
Convinced that Lena and Mateo are having an affair, the wealthy financier hires his son to film the two of them, ostensibly to create a "behind the scenes" video about the making of the film. In actuality, he wants the videos to be taken to a professional lip reader, to discover what he believes to be their clandestine affair. This sets in motion a series of events that causes Mateo to abandon his film and attempt to run away with Lena. The financier's son eventually manages to cause a car accident that kills Lena and leaves Mateo blind, causing him to change his identity and move away from danger by shacking up with his production assistant Judit (Blanca Portillo), whose son is Diego, bringing us full circle back to the present.
Penélope Cruz, in another stunning performance, makes her first nude appearance in one of Almodóvar's films here, going topless for two sex scenes, before walking topless to the bathroom following the second one...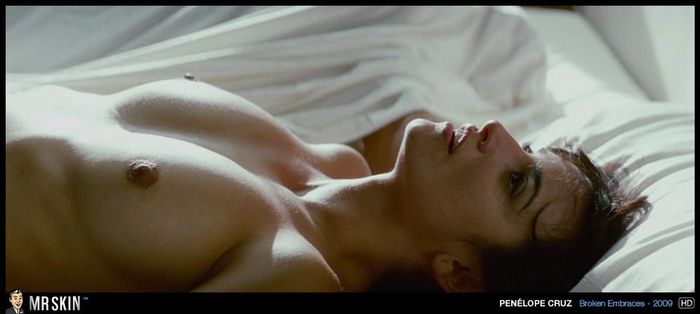 I'm not entirely sure why it took until their fourth film together to go topless, but perhaps Almodóvar didn't want to exploit this aspect of their working relationship. She certainly had no qualms with going topless for other directors, but it's curious that it took over a decade of them working together for her to go nude in one of his films. There's another nude scene in the flick, coming just four minutes in, as our blind protagonist gets handsy with the gorgeous Kira Miró, lowering her top and fondling her fantastic fun bags...
Reuniting with Antonio Banderas for the first time since Tie Me Up! Tie Me Down! over twenty years earlier, Almodóvar gave the Spanish actor one of his juiciest roles in years withThe Skin I Live In. Based loosely on the novel Tarantula by late French novelistThierry Jonquet, the film marked Almodóvar's first foray into horror, creating a creepy tale of a brilliant doctor driven to madness by his own ruthless perfectionism. Almodóvar hoped to have Penélope Cruz play the film's female lead, the cheekily named Vera Cruz, but she was unable to do so due to her first pregnancy.
He turned instead to Talk to Her co-star Elena Anaya, gifting her with the complex dual roles of Vera (whom we'll get to in a moment) and Gal, the wife of plastic surgeon Robert (Banderas), who took her own life after catching sight of her burned visage in a mirror following a terrible car accident. Robert becomes obsessed with developing a synthetic skin for burn victims that will hopefully help him atone for his wife's death, and the obsession drives him to extreme lengths. One of those is holding Vera captive in his cellar for the last six years, using her as a guinea pig for his experiment.
However, the audience comes to find out that Vera is actually Vicente (Jan Cornet), a man whom Robert has spent the last half decade slowly turning into an identical replacement for his deceased wife through gender reassignment surgery and dozens of operations to alter her physical appearance. While Vera appears, at first, to have been Stockholm Syndrome'd into actually developing feelings for Robert, she eventually murders him and returns to her former life working at a dress shop owned by her mother.
The film's psychological horror bent is complimented by Almodóvar's signature magical realism, making it look and feel unlike any other horror movie ever made. There are obvious parallels, particularly in Vera's look, to Franju's horror masterpiece Eyes Without a Face, but even that film looks and feels like a horror film. Conversely, The Skin I Live In looks and feels like an Almodóvar film with horror elements subtly woven throughout, and its twists and turns only further heighten those melodramatic elements which have become Almodóvar's calling card.
The film is by far his most skin-filled of the back half of his career, with Elena Anaya spending substantial screen time in various states of undress in both of her roles, spending nearly seven minutes in total in the nude...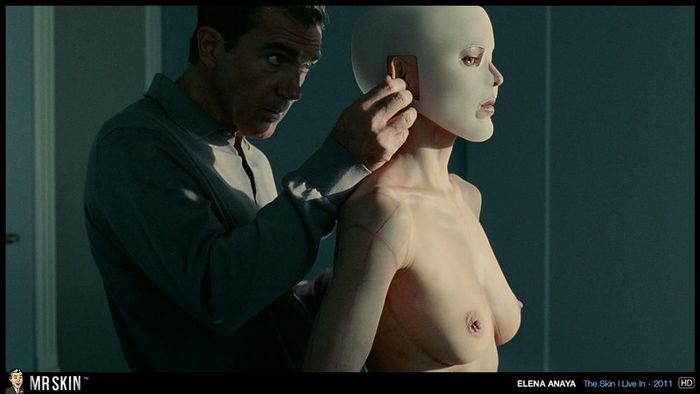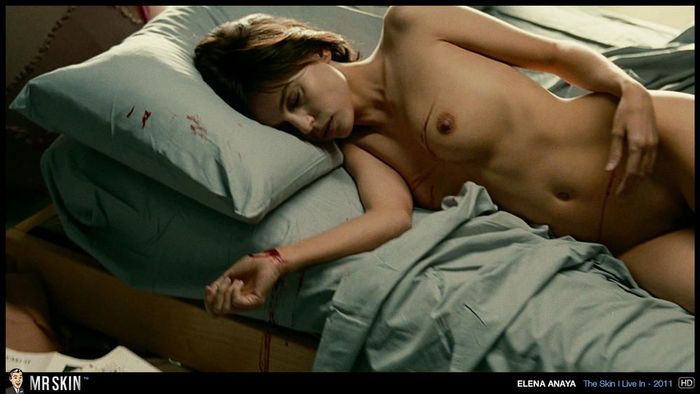 The film's other nude scene comes just before the one hour mark in a flashback to Vera's life as Vicente, when hehad a bizarre sexual encounter at a party with Robert's daughter Norma (Blanca Suárez). The two of them go to a secluded area where Suárez begins stripping off her clothes...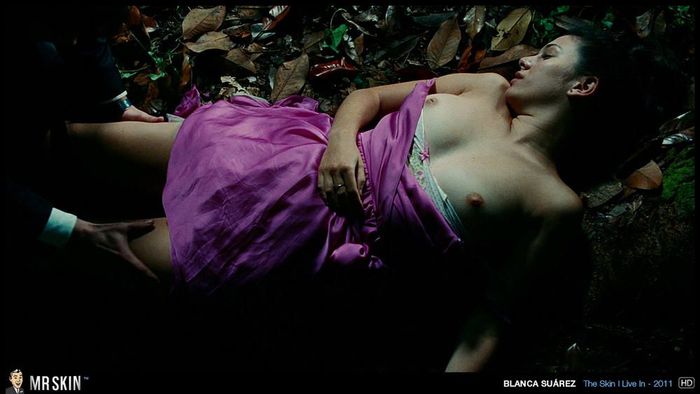 However, she becomes appalled by the sexual desire rising in her body as Vicente touches her, causing her to cry out for help, which makesRobert assume that their encounter was not consensual. This is what ultimately drives Robert to kidnap Vicente and turn him into Vera, giving Banderas perhaps his most twisted role ever. It's one he pulls off with aplomb, and if you haven't seen their most recent work together in Pain Glory, you're missing out on probably the best performance of the actor's career. Like so many of Almodóvar's muses, they truly do compliment one another in incredible ways.
Following a detour back into the world of out-and-out comedy with 2013's I'm So Excited, Almodóvar returns to the sordid world of maternal guilt with his 20th film and most recent melodrama, Julieta. Based on three short stories from Nobel Prize winning Canadian author Alice Munro's 2004 collection "Runaway," the film follows the title character through various phases of her life, played as an older woman by Emma Suárez and as ayounger woman by Adriana Ugarte.
As a younger woman, Julieta was in love with a fisherman named Xoan (Daniel Grao), who impregnates her and, following an argument with her, eventually dies in a fishing accident. As an older woman, she struggles to connect with her daughter Antía (Blanca Parés), who blames her for her father's death. She is also suffering from memory loss and hopes to get all of her life written out in journal form to present to her daughter before her memories fade entirely. Antía has cut her mother from her life entirely, and Julieta feels that the only way to reconnect with her is for Antía to understand why she made the decisions she did.
Almodóvar
When questioned by an interviewer about why he, as a gay man, focuses so many of his films around female characters, he simply stated that "women are more spectacular as dramatic subjects, they have a greater range of registers, etc."
Pedro Almodóvar Films with Nudity for Which We Don't Have Content
Pedro Almodóvar Films without Female Nudity
—What Have I Done to Deserve This?
—Women on the Verge of a Nervous Breakdown
—Pain and Glory
*******************
Check out the Other Directors in Our Ongoing "SKIN-depth Look" Series
—Catherine Breillat: Part One
--------------
Non-nude images courtesy of IMDb