Director Mike Nicholshad a career that would make anyone envious before he ever even stepped foot on a film set. After years spent in improvisational comedy, first with Second City precursor The Compass Players, and later with comedy partner Elaine May, Nichols lucked his way into directing where he realized he belonged. In a 2003 interview, Nichols described his first day directing the original Broadway production of "Barefoot in the Park" saying...
"On the first day of rehearsal, I thought, 'Well, look at this. Here is what I was meant to do.' I knew instantly that I was home".
Nichols is one of only fifteen people with an EGOT, having won four Emmys, a Grammy, anOscar, and nine Tony awards. He directed 17 actors to Oscar nominations, including wins for Elizabeth Taylor and Sandy Dennis in 1966's Who's Afraid of Virginia Woolf?. The consummate actor's director, Nichols had no small task with his first feature, wrangling the titanic egos of Taylor and then husband Richard Burton on Virginia Woolf. The Burtons, like virtually every actor who would work with Nichols, were enamored with him immediately and the film became an enormous box office hit and was nominated for 13 Oscars.
In only 18 theatrically released feature films, he created a style that was both rigidly scripted and structured, but had the feel of being completely improvised in front of the audience.Although his films were never "dirty," they did exhibit a decidedly adult air. Adult entertainments for adults, and naturally sex and nudity were a part of that equation. You can find nudity in his films in almost every era of his career, and though he often used nudity to comedic effect, he was equally adept at making it fit with the overall tone of the film.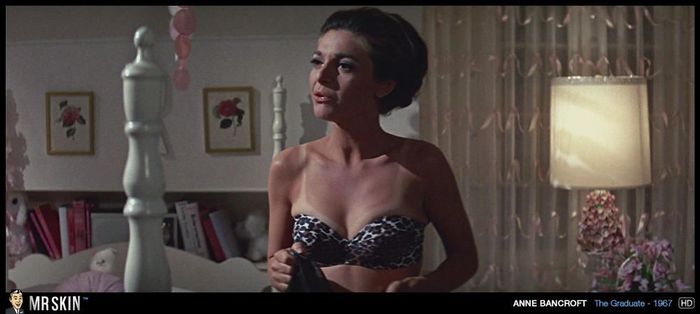 While The Graduate wasn't "the one that started it all," it was only Nichols' second feature and its colossal box office success has let it linger in the public consciousness longer than his first feature, ...Virginia Woolf?. The Graduate isn't merely a great movie, it has becomethe benchmark for every twenty-something-centric film praised as "This generation's The Graduate." The thing is The Graduate has become every generation's The Graduate. Despite being made and set in the late 60s, the film so succinctly and brilliantly encapsulates the upper middle class suburban malaise of post-graduate life that it has become a timeless classic.
Despite being only six years older than lead Dustin Hoffman, Anne Bancroft gave us a second iconic performance here as Mrs. Robinson, the wealthy housewife who is friends with the parents of main character Benjamin Braddock's (Hoffman) parents. While her husband is cluelessly rooting for Benjamin to get together with their daughter Elaine (Katharine Ross), Mrs. Robinson enters into a sexual relationship with the young man, subtly seeking to control him in a way she can't her husband.
The seduction begins, innocently enough of course, with the famous image ofBenjamin framed between the arched leg of Mrs. Robinson...
Of course, things then take a turn for the seriously seductive when a fully nude Bancroft corners Hoffman in her daughter's bedroom, though Bancroft used a body double for the flashes of Mrs. Robinson's seriously tan-lined breasts...

With the impending death of the Hays Code in 1968, nudity was once again allowed in American films, and Nichols and editor Sam O'Steen's clever use of borderline-subliminal editing gives the audience frames of nudity instead of a full-on nude scene. Like the film's famous melancholy ending, which came about because Nichols kept the camera rolling, this may have come about becauseit was a clever way to disguise Bancroft's body double. Whetherit was always intended to be like this or not, it was a revolutionary moment for cinema and the first of Nichols' uses of nudity for comedic effect.
Nichols became the first motion picture director to net a one million dollar salary for directing this ill-fated adaptation of Joseph Heller's scathingly funny anti-war novel. Fully loosed of the restrictions placed on his two prior films, Nichols was free to deliver a real-deal R-rated film, letting the f-bombs fly and bringing us some nudity that wasn't cleverly disguised through editing.
Catch-22made a bit of history, featuring one of the first mainstream full frontal nude scenes from the lovely Paula Prentiss, who tempts our hero Yossarian to attempt to get himself declared insane, grounded as an airman, and kicked out of the military...
Later in the film, we catch Yossarian in bed with a topless Olimpia Carlisi...
There are many factors which contributed to the film's failure to connect with audiences, not least of which being Robert Altman's M*A*S*H having covered a lot of this same ground six months earlier. The film certainly has its fans, but it's more of a companion piece to the book than it is a standalone effort to be enjoyed by anyone who hadn't read Heller's novel. At the same time, it can't really be enjoyed by anyone who has read the book, because of all the cuts and condensations made to the story.Catch-22 the film, therefore, finds itself in its own Catch-22.
Even still, the film has plenty of terrific supporting performances, and Alan Arkin's portrayal of Yossarian is pretty iconic. Try reading the book again after seeing the film and not picturing Alan Arkin in your head.And, if nothing else, Art Garfunkel's appearance in the film inspired one of Paul Simon's greatest songs, so there's that.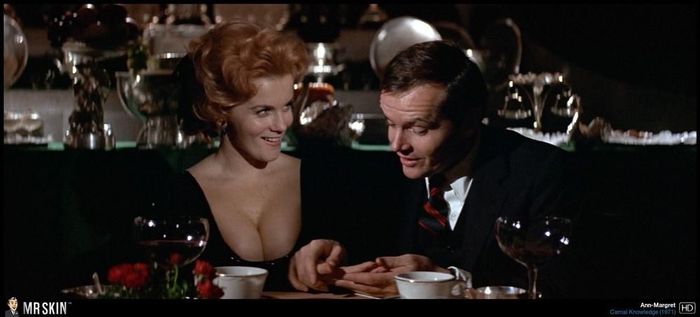 For years and years, if you had put a gun to my head and asked me who directed 1971'sCarnal Knowledge, I would've said Bob Rafelson, without missing a beat. Perhaps it's the presence of a young Jack Nicholson, who made many of his earliest films with Rafelson, or perhaps its just the uncharacteristically frank sexual content—for the time, anyway—that doesn't seem compatible with Nichols' surrounding work, but it took me a long time to break that misconception.
Swedish-born beautyAnn-Margretearned herself a Best Supporting Actress Oscar nomination for her work in the film, and had Mr. Skin been around back then, methinks this might have swept the Anatomy Awards. She doesn't show up until nearly halfway through the film, but she steals the show with a clever twist on her sexpot image...
Ann-Margret had done nudity prior to this in both 1967'sTiger and the Pussycat and the ill-fated Joe Namath vehicle C.C. and Company just the previous year, but here she finally shook off the image of just being the sexy redhead from the Elvis movies. As Bobbie, she finds herselfin a relationship withJack Nicholson's misogynist Jonathan, belittled and demeaned throughout their relationship to the point where her exit from the film is an attempted suicide. Early in her scenes with Nicholson, though, we get to see her beautiful boobs and buns as she relaxes naked on the bed before joining Nicholson in the shower...
Some twenty minutes later, as we have watched their relationship begin to deteriorate, we get one more quick flash of her left breast as she puts on a bra...
The U.S. Supreme Court, who has turned up in this column on more than one occasion, was also involved in the public discourse around the film with their ruling inJenkins v. Georgia, deeming that the film did not contain "obscene content" as established by SCOTUS inMiller v. California. They ruled that the film was not without artistic merit and a Georgia theater ownerfinally had his initial conviction overturned...
Our own viewing of the film satisfies us thatCarnal Knowledgecould not be found … to depict sexual conduct in a patently offensive way. Nothing in the movie falls within … material which may constitutionally be found … "patently offensive" … While the subject matter of the picture is, in a broader sense, sex, and there are scenes in which sexual conduct including "ultimate sexual acts" is to be understood to be taking place, the camera does not focus on the bodies of the actors at such times. There is no exhibition whatever of the actors' genitals, lewd or otherwise, during these scenes. There are occasional scenes of nudity, but nudity alone is not enough to make material legally obscene… Appellant's showing of the filmCarnal Knowledgeis simply not the "public portrayal of hard core sexual conduct for its own sake, and for the ensuing commercial gain" which we said was punishable…
Seinfeld also springs to mind in relation to Carnal Knowledge, as the season four opener "The Trip" featured Jerry and George arguing about whether or not Candice Bergen was topless in the film. Sorry George, Jerry was right when he said, "She's not really the naked type," excepting the four times she actually did go nude.
Thanks totwo commercial and critical flops in a row—The Day of the Dolphin and The Fortune—Nichols returned to New York and the theater for the better part of a decade. His only theatrically released feature during this time was a filmed version of Gilda Radner's stage show Gilda Live, but her roared back into Hollywood's good graces with his return to feature filmmaking in 1983 with this film based on a true story.
Hot off of winning two Oscars infour years, Meryl Streep stepped into title role as Karen Silkwood, an employee at an Oklahoma nuclear power plant who blew the whistle on the plant's unsafe practices and ended up dead under those pesky "mysterious circumstances." Nichols proved that, even at 53, he still burned with the passion of the angry young artist, creating a film whose outrage can be felt, but whose compassion and love for its characters makes it a truly effective piece of filmmaking.
Streep does her only non-body double and non-nip slip nude scene in this film, comedically opening her suit to flash her left breast at her co-worker just 24 minutes in...
This is the film's only nude scene played for laughs. Things take a turn for the harrowing shortly after thiswhen she notices her co-worker Sudie Bond screaming as she is being scrubbed down in a decontamination shower...
Twenty minutes later, we can also catch a brief, blurry glimpse of Streep's breasts in the mirror when she wakes up in the middle of the night...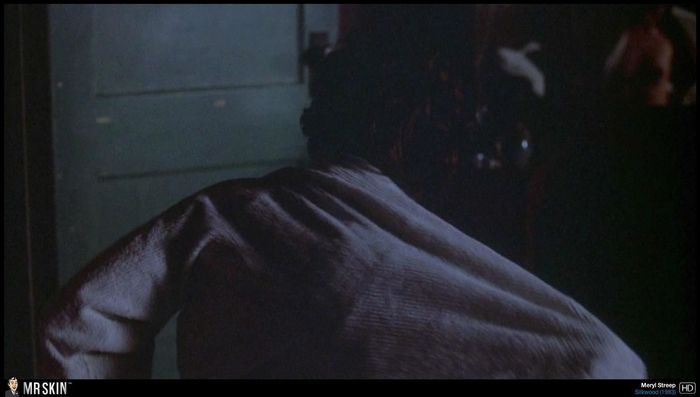 Perhaps because she had just been lauded the year before, Streep didn't win the Best Actress Oscar for this film, losing to Shirley MacLaine in Terms of Endearment, a no-less powerful nor deserving performance.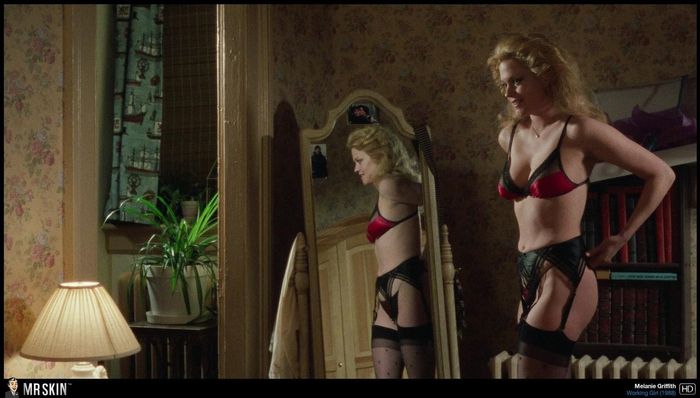 Nichols was back on top of the world with two films released in 1988. First was the Broadway transplant Biloxi Blues, followed by Working Girl, a romantic comedy with at least three great female roles, an oddity for both the time and the fact that it was written and directed by men. Melanie Griffith finally gained respect as an actress—even landing comparisons to Marilyn Monroe—as Tess McGill who, despite the title's suggestiveness, is not a prostitute. She's just a hard working girl trying to advance in the male-dominated world of Investment.
At her first job, she is duped into dating the scummy best friend of her boss, played to sleazy perfection by a young and hairy Alec Baldwin. Although the audience knows he's a scumbag from the get-go, poor Tess doesn't find out until thirty minutes into the film when she walks in on him having sex with a nude Elizabeth Whitcraft...
She then lets the river run over to a new boss, played by the always amazing Sigourney Weaver, who encourages Tess to be bold and find her voice, but discourages all of her ideas and suggestions. Weaver's colleague, played by Harrison Ford, soon gets wind of thisWorking Girl and a courtship and the romantic crux of the film is set in motion. Because he's Harrison Ford, he beds her just past the hour and ten minute mark, and we get a quick look at Griffith's right breast as he demonstrates how a gentleman doesn't leave in the morning without waking up his conquest from the previous night for a good morning quickie...
This reinvigorates Tess, leading her to do some nude housework just two minutes later...
Nichols is balancing using nudity for sexual purposes with using it for laughs, a balance he may not have struck had this film come earlier in his career when he was a "one or the other" kind of guy. A smash box office hit, Working Girl was the rare romantic comedy that crossed over into respectability thanks to six Oscar nominations including Best Picture, Best Director, Best Actress for Griffith and Best Supporting Actress noms for bothWeaverand Joan Cusack. It only won one award, though, Best Original Song for Carly Simon's "Let the River Run."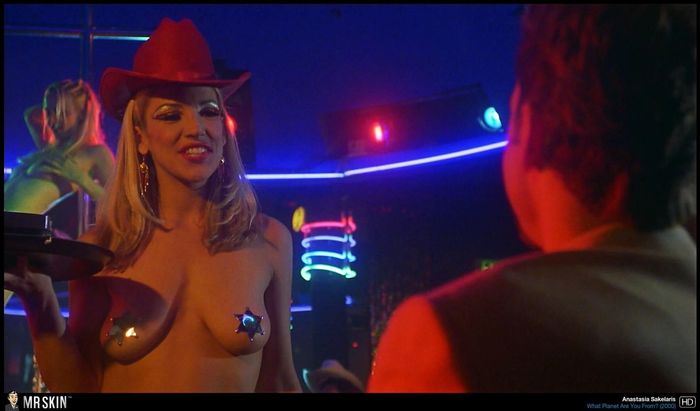 Inarguably the biggest bomb of Nichols' career, 2000's What Planet Are You From? was dead on arrival in the spring of 2000, opening in 14th place and quickly fading into obscurity. Like Ishtar—not coincidentally from Nichols' old partner Elaine May—the film has a world-class reputation for being terrible and has kept most people away for the last 19 years. Let me invite you to give this one a shot, though, if for no other reason than it is one of our precious few Garry Shandling lead performances, and he and the rest of the cast do a really great job of selling an impossibly stupid premise.And if that doesn't sell it for you, allow me to also inform you thatthere's nudity in the movie!
The film's categorically absurd plot has Shandling's alien arriving on earth from his all-male planet, in search of a woman to impregnate and conceive a child he can bring back to his planet. His genital-less race have equipped him with a fake penis that makes an obnoxious noise whenever he gets aroused—a joke relentlessly driven into the ground over the next ninety minutes—causing him some problems with completing his mission. He becomes friends with Greg Kinnear's alcoholic swinging bachelor character, who fixes Shandling up with a stripper played byAnastasia Sakelaris...
Thenext woman with whom he attempts to mate is a 24-year old Judy Greer, who makes her nude debut here as Rebecca, thoroughly unable to be sexually satisfied by Shandling...
The nudity rather abruptly stops here, just 22 minutes into the movie, as Shandling soon becomes smitten with Annette Bening's character, whom he ends up marrying, leading to all manner of complications with his mission. Overall it's an aces cast and director working off a completely garbage script, co-written by the normally reliable Shandling himself. It's a mess and it's stupid, but it's only an hour and forty-five minutes, and I can think of a lot worse ways to spend that much time.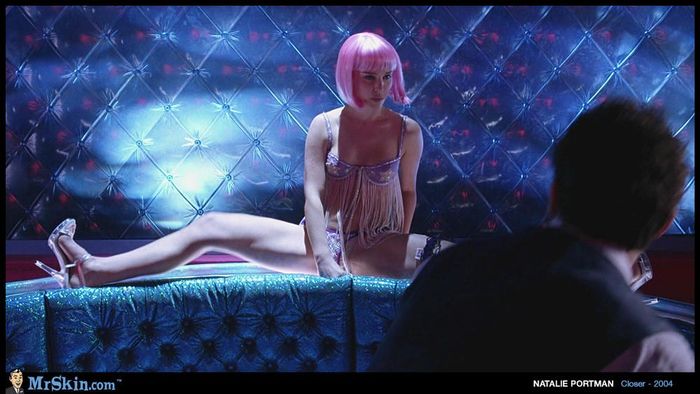 Nearly every film I revisited for this article was a joy to watch again. Whether it was the performances or the dialogue or the editing, even the tougher ones to watch like Silkwood were still a great experience.The one exception was2004's Closer. It's not that the film isn't well-acted or well-made, it's just a slog. Having seen the original Broadway production of the film, I can say that Nichols does a marvelous job of expanding the film beyond the proscenium arch of a theatre.However,the characters are so despicable that even five minutes spent in their company is miserable, let alone the 104 we do spend with them.
Jude Law, Natalie Portman, Julia Roberts, and Clive Owen play a quartet of characters masquerading as others and setting multiple seduction traps for one another. Just past the one hour mark, dermatologist Larry (Owen) crosses paths with that of exotic dancer Alice (Portman), and Portman's right nipple makes a cameo appearance as she shift positions on a couch in the fabled champagne room...
Portman was rumored to have shot more nudity for the film, but as the story goes, she tearfully begged Nichols to cut the scenes from the finished product. Whether this is how it went down or just another Hollywood urban legend, the scenes themselves have never surfaced, leading us to conclude that they either were destroyed or never existed. My money's on the latter.
Owen and Portman both snagged Oscar nominations for their work in the film and they deliver arguably stronger performances than their co-stars. The main problem with Closer is that it's just a chore to get through. The film feels twice its length and only piles on tragedy as the character's masquerades are unveiled. Nichols' primary problem is that he leans too hard into the sharp edges and the dark comedy inherent in the script is eluded at nearly every turn. Still, it's one of the only places to see Natalie Portman's nipple in its prime, but you can scratch that itch right here.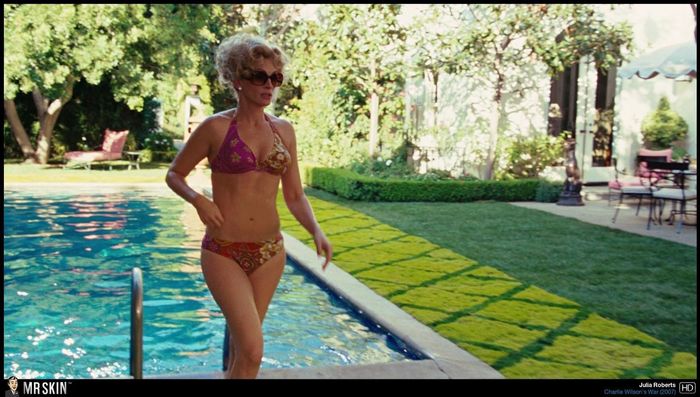 Nichols' final feature film is a fairly inauspicious ending to his filmmaking career. Charlie Wilson's War is a good movie, perhaps sold too much on the hype of Aaron Sorkin's screenplay and the star power of Tom Hanks and Julia Roberts. In actuality, it's a perfectly decent and enjoyable movie with an absolutely remarkable performance by Philip Seymour Hoffman, but it's not nearly the level of film one would expect from the caliber of talent involved.
Sorkin and Nichols pitch the tale of Texan Congressman Charlie Wilson (Hanks) as an after-the-fact meditation on where the U.S.failed itself in arming and supporting the group of Afghan soldiers who would go on to become the Taliban during the height of their Cold War battle with the Soviets. This isn't necessarily a terrible idea for a film, but this particular film's muddled politics make it feel more like a finger pointing session rather than a post-mortem on where this seemingly good idea went wrong.
To demonstrate the free-wheeling lifestyle of popular Dixiecrat Wilson, he's introduced discussing politics while in a hot tub surrounded by naked women like Cyia Battenand Hilary Angelo...
I'll spare you the sight of Hanks' bare ass, but he puts it out there and god bless him for going there as an actor. This cements the notion of Nichols using nudity for comedic effect, but rather than show you that, let's go back to the hot tub and see what Cyia and Hilary are up to...
The film is also a who's who of who's more famous now than they were then, with everyone from Amy Adams to John Slattery turning up, but Emily Blunt proves the female scene-stealer here with one of the sexiest non-nude performances on our site. Just one year after her breakout performance in The Devil Wears Prada, Blunt made everyone stand up and take notice of her body as she cozies up with Hanks in her underwear...
As I mentioned, it's a strange final film for Nichols, but one with many of the hallmarks we had come to expect from him. Now he belongs to the ages, but his films are almost universally worth revisiting, even ones we didn't cover here like The Birdcage and the brilliantly underrated Postcards From the Edge.
Other Films Directed by Mike Nichols with Nudity
Check out the Other Directors in Our Ongoing "SKIN-depth Look"Series
-------------
The Graduate non-nude image courtesy of IMDb
Catch-22 non-nude image courtesy of IMDb
Silkwood non-nude image courtesy of IMDb