One of the pioneering directors of the Czech New Wave of the 1960s, Miloš Forman was the onlyone of his peersto achieve mainstream and critical success outside of his home country. In fact, the level of success he achieved in the United States dwarfed that of nearly all of his Europeancontemporaries, becoming one of the most celebrated filmmakers in all of cinema history. That reputation and success was not easily won by Forman, either, with his first English language film being so disastrously received, it nearly derailed his career outside of Czechoslovakia before it even began.
It was Forman's intense focus on characterand a healthy disregard for authority of any kind that helped establish him as an important voice in cinema in the first place, and both of these elements can be found in abundance throughout his work. Forman was also a late bloomer as a director, toiling away as a writer for many years before making his feature directorial debutat the age of 31. This gave his films the slightly more wizened approach of a man who had seen his home country go through enormous changes throughout the first three decades of his life, and sharpened his wit into a finely honed weapon he could wield with absolute precision.
Forman is also one of the only directors in existence to employ nudity in every one of his feature films. Though the nudity is fleeting in his firstfew films—so much, in fact, that we don't have content for three of them on the site—the man enjoyed showing the naked female form on film. We begin our look at his films with his aforementioned first stab at an English language film, one which he claimed left him owing the studio money after its box office implosion...
On paper, 1971's Taking Off seemed like a can't-miss proposition for the time and place in which it was made. Linnea Heacock (above) plays Jeannie, a free-spirited girl who becomes so fed up with the strict rules established by her buttoned down parents (Buck Henry and Lynn Carlin) she runs away from home. At first, her parents are desperate to find their beloved daughters, but after meeting with several other sets of parents whose children ran away, they discover a whole new social scene in which they're free to explore the wildest desires which they had suppressed in the name of being "good parents."
The film is an incisive and often hilarious dig at the 60s counter-culture movement, exposing the hollowness of the hippie movement and its lack of any sort of defined endgame. The joy of the film is in watching the straitlaced parents actually experience the reckless abandon their rebellious teens are seeking, while theteens end up in the even more rigidly structured world of false prophets and gurus. Of course, the film isn't without its issues, many of which revolve around its aimless, freewheeling tone that eventually overshadows whatever message the film is attempting to impart. But Forman's fingerprints are all over the film's tone, which is its most successful element by far.
Near the end of the film, several of the parents engage in a good old fashioned game of strip poker, with Lynn Carlin proving to be the unluckiest player of the bunch. Carlin strips off her bra and uses her arms to keep her new friends from seeing her nipples, but she's not entirely successful...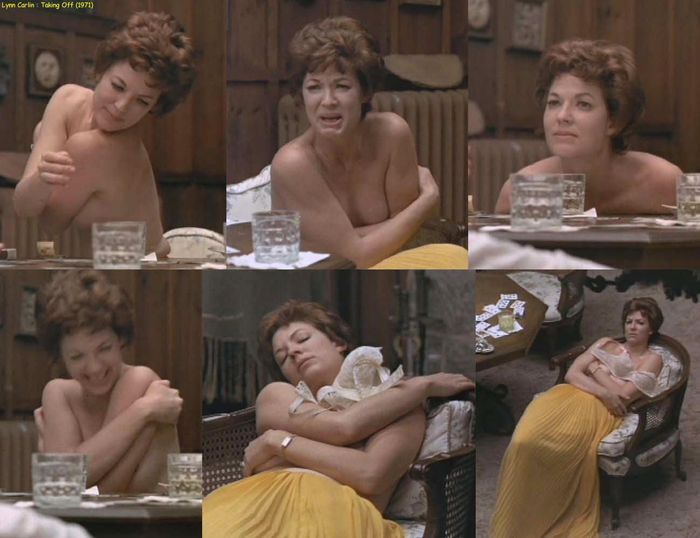 The film was a critical and commercial flop, with Forman later claiming that he ended up owing the studio $500. This seems apocryphal, as the film was made for under a million dollars and was nowhere near the disaster for Universal that was the same year's Dennis Hopper vanity project The Last Movie.
Eager to make a name for himself apart from his incredibly famous father, Michael Douglas put his burgeoning acting career on hold in the mid-70s to produce a feature film version of Ken Kesey's novel One Flew Over the Cuckoo's Nest. Partnering with Fantasy Records owner Saul Zaentz, who was looking to break into the film business himself, Douglas decided that Forman was the man for the job, though Forman claims he got the job because he was the only director whose salary quote matched their budget. Apparently, it was Forman's detailed approach to the material—along with the strength of his anti-authoritarian attitude present in his four prior films—that won him the job.
Forman's pitch for the material was that he was like lead character Randall P. McMurphy, rebelling against the strict communist rules imposed by the Czech government, represented in the story by Nurse Ratched. Set in a mental institution in the Pacific Northwest, the film revolves around McMurphy (Jack Nicholson) being committed to the asylum after claiming that his criminal behavior was the result of a mental disorder. The ward's chief, Nurse Ratched (Louise Fletcher), is convinced that McMurphy is not insane, particularly once he begins to rally the other patients to rebel against her strict rules.
One of McMurphy's most startling acts of rebellion involves him chartering a bus for his fellow inmates to take a fishing trip, convinced that getting these men out of the institution even for a day will be good for their health. McMurphy enlists one of his old flames, Candy (Marya "Mews" Small), to join him on the boat, and later below deck, while the inmates do some fishing. The two are interrupted as the men scream for McMurphy's help, and we get a quick look at Mews' left breast as she struggles to get her clothes back on...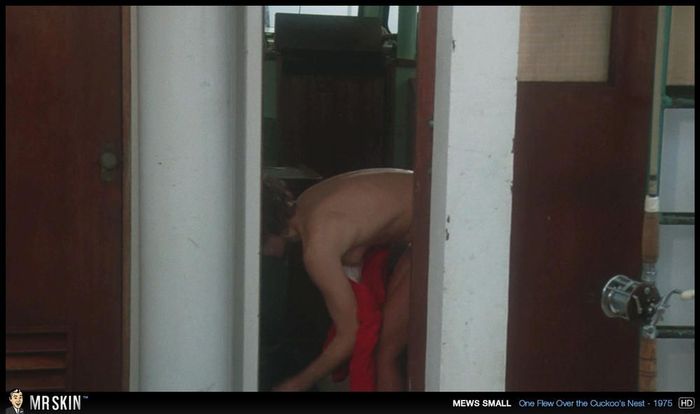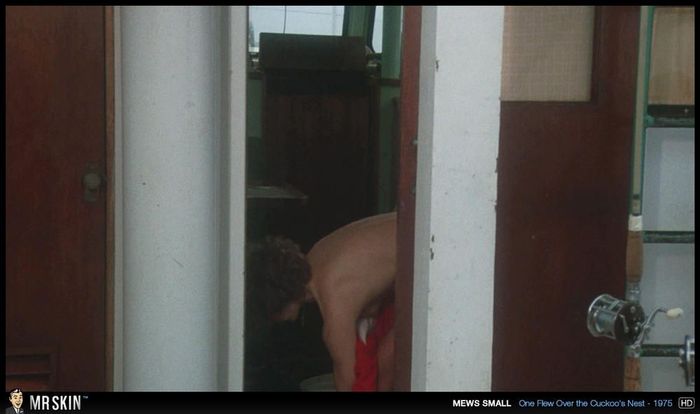 The film was a smash box office success, grossing over $100 million in 1975 and becoming the second highest grossing film of that year behind Jaws—though it would eventually drop to third in the ensuing years after the cult success of The Rocky Horror Picture Show. More importantly, it was also an awards darling, becoming the second film in history to win the "Big Five" Oscars at the Academy Awards: Best Picture, Best Director, Best Actor, Best Actress, and Best Screenplay (Adapted).
The film changed the fortunes of nearly everyone involved, seemingly overnight. Douglas earned respect among his peers, Zaentz earned his independence as a producer not beholden to any studio, and of course, Forman became one of the most in-demand directors in the business. His follow-up seemed like a pretty sure thing, though hindsight makes it seem like a gross miscalculation on his part...
Before the musicalHaircame along, Broadway was thought of as a place to see big, extravagant productions that appealed mostly to the over 40 crowd. Rodgers and Hammerstein's dominance of the landscape had turned off just about everyone under that age, making it seem like a place for old fogies to go and see lovely shows that didn't challenge their perception of the world at large. That all changed when Hair exploded onto the scene in the late 60s, preaching a message of love and acceptance of all people, along with a healthy dose of anti-establishment sentiments. The show was groundbreaking for many reasons, but it became the talk of the town when word got out that the show's first act ended with the entire cast stripping nude and burning their Vietnam draft cards.
Despite his scathing takedown of the hippie movement with Taking Off, Forman's anti-authority sensibilities seemed like a perfect match for the source material. Here was a story of a handful of young upstarts sticking it to the man—which may well have been the 47-year old Forman himself—something right in line with the undercurrent of his work until that point. Something got lost in translation, however, as the decade since the show's premiere had seen the country slip into a deep cynicism from which it wouldn't emerge until the early 80s. While trust for the government and American establishments was at its lowest point, audiences clearly didn't think of the now-long-dead hippie movement as an answer to their problems.
While critics were generally positive toward the film, both the show's creators and audiences balked at the film, which earned $15 million dollars at the box office against a budget of $11 million. The musical had over twenty songs and production numbers, while the film only featured 11. It was a chop job done on the beloved standard bearer of the flower power movement and time has not been kind to the many revisions made to the story for the film.
The most strange omission of all was getting rid of that now infamous ensemble nude scene, reducing the film's nudity to an almost blurry skinny dipping scene. Beverly D'Angelo had broken out the year prior with her role in the Clint Eastwood/orangutan buddy flick Every Which Way But Loose, and was cast to play Sheila Franklin, the wealthy debutante who falls for Treat Williams' hippie leader George. Forman chooses to focus the power of the group nude scene into a singular focus on Sheila, having turned her back on her wealthy friends to join this free-spirited group of hippies...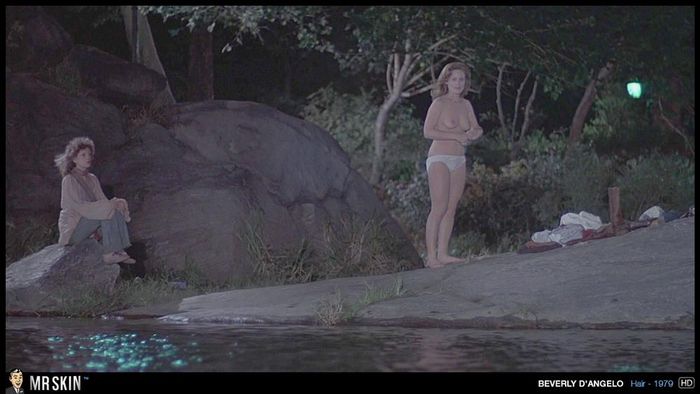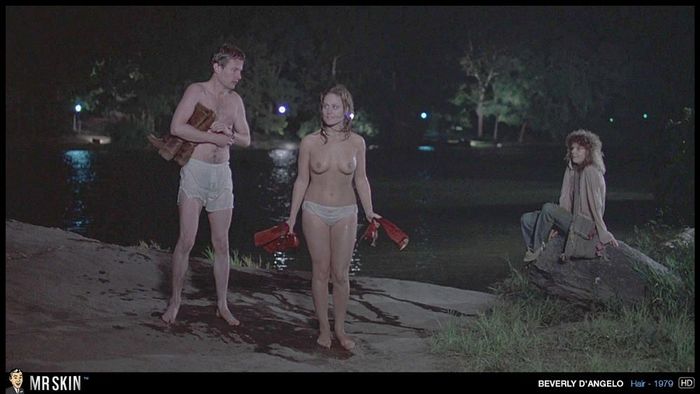 Of course, the tragedy of Sheila's character in both the show and the film is that she's never fully accepted by the hippies and her decision to cast her lot with them makes her an outcast among her socialite friends.D'Angelo had gone nude on film twice before, so she had no qualms with appearing topless here, representing the moment that should have focused on the entire cast. Instead, it's a great nude scene from a gorgeous actress that loses nearly all of its meaning as a result.
At this point, Forman was no stranger to taking sprawling literary works and boiling them down to their essence on film, but for his next film, he would make a film every bit as sprawling—and often unwieldy—as its source material. E.L. Doctorow's decades-spanning 1975 novel Ragtime was an examination of the American dream inearly 20th century America, told from the point of view of a multitude of characters from all races, ethnicities, and social classes. Real famous people like Harry Houdini and Theodore Roosevelt mingled with fictional characters in a melting pot novel that celebrated the diversity of this new world.
Forman may not have seemed like an ideal candidate for such an undertaking at the time, as his films had mostly been intimate character pieces that focused intensely on a small group of people. He brought those same tendencies to this much more expansive work, however, striking a note-perfect balance between spectacle and intimacy. While it could be argued that the late 90s Broadway musical version does a better job of distilling this epic down to more intimate proportions, it's still an outstanding adaptation of a seemingly un-filmable novel.
The film would earn great critical acclaim and 8 Oscar nominations, including a Best Supporting Actress nod for Elizabeth McGovernin only her second feature film role after a star-making turn in the previous year's Best Picture winner Ordinary People.McGovern's part in the story is that of former actress and now kept wife, Evelyn Nesbit Thaw, who consistently finds herself in the middle of a firestorm thanks to her voracious sexuality and her husband's hair trigger. Evelyn soon finds herself having an affair with Younger Brother (Brad Dourif), the sibling ofMary Steenburgen's character Mother, and 52 minutes into the flick, McGovern spends a full four and a half minutes completely nude! Not bad for a PG flick...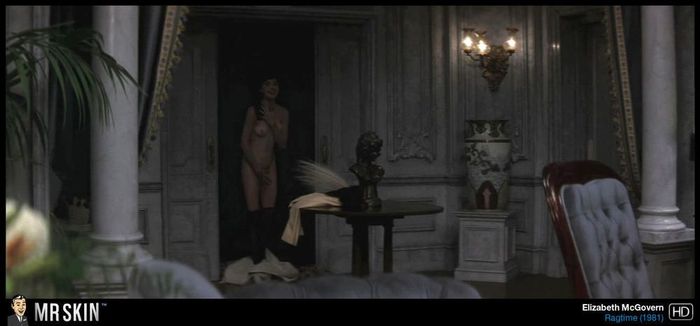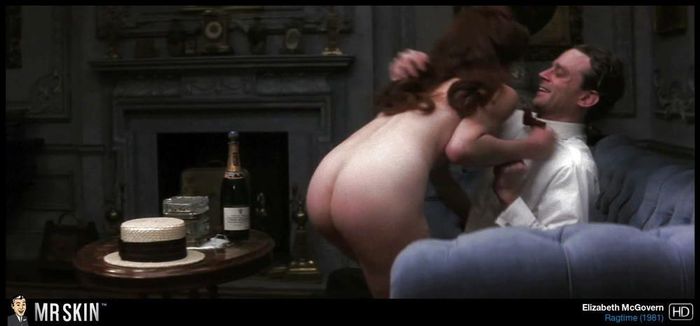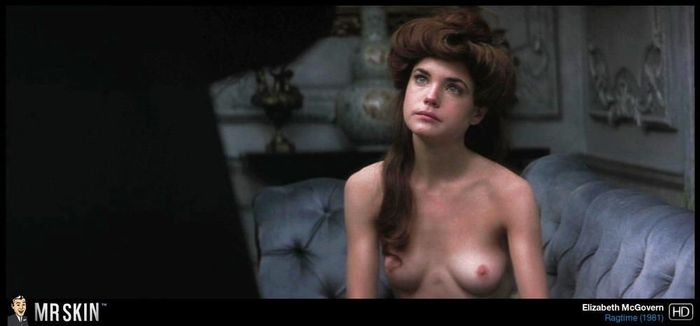 My pick for the best film of the last forty years is the film that brought Forman his second taste of Oscar glory, 1984's Amadeus. Not a biopic in any conventional sense of the word, the film tells the story of Wolfgang Amadeus Mozart (Animal House's Tom Hulce) as seen through the eyes of his closest confidant andrival composer Antonio Salieri (F. Murray Abraham).I think everything about this film is perfection, from the design elements to the script and direction, and especially its performances, including career best work from its lead trio of Abraham, Hulce, and Elizabeth Berridge.
The latter of the three is responsible for the film's only nude scene, which is available in the 2002 Director's Cut of the film, and which we covered in great detail three months ago in our Anatomy of a Scene's Anatomy column. You can read that by clicking here as we won't be rehashing any of that in the interest of keeping things moving. Check out that column and then come back for Forman's next film...
Forman stayed in the world of powdered wigs and corsets for his next film, 1989's Valmont, an adaptation of the 18th century classicLes Liaisons Dangereuses by Choderlos de Laclos, itself turned into a film by Stephen Frears just a year earlier. Forman and co-screenwriter Jean-Claude Carrière's film adaptation makes substantial changes to the incidents in the novel, however, further differentiating itself from the earlier film adaptations. Having made her film debut the year prior, Annette Bening gets the first big role of her career asthe Marquise de Merteuil, a wealthy widow involved in a calculating game with her ex-lover,Vicomte de Valmont (Colin Firth).
Just nine minutes into the film, Bening bares her buns on screen for the very first time while bedding now-disgraced actor and Forman regular Jeffrey Jones...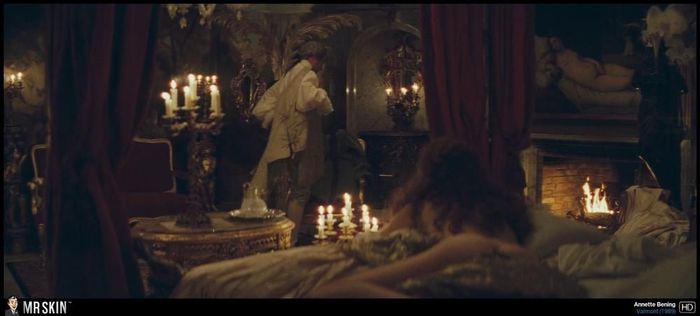 The Marquise discovers that her lover is to be wed to her 15-year old cousin (Fairuza Balk), and enlists the help of the notorious womanizer Valmont to put an end to this arrangement by seducing the girl. Valmont refuses—not out of chivalry, but because he finds the teenager too easy a mark—and instead sets his sights onMadame de Tourvel (Meg Tilly), a married woman currently residing without her husband at the home of Valmont's elderly aunt. Knowing that de Tourvel has been warned of Valmont's womanizing tendencies, the Marquise makes him an offer he can't refuse: If he can bed de Tourvel, he may also sleep with her; If not, he must cloister himself in a monastery.
The game is on and it takes quite some time for Valmont to succeed in his mission, but he eventually does, giving us a quick look at Meg Tilly's left breast when he beds her at the hour and forty-seven minute mark...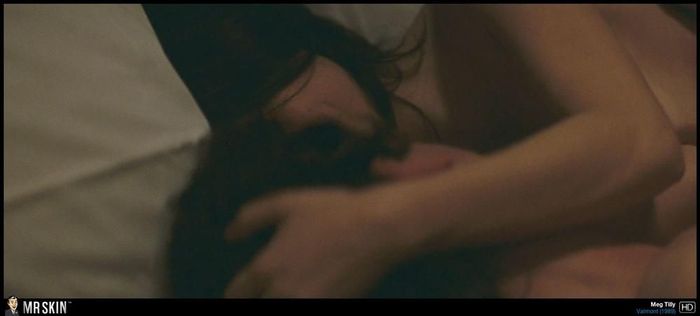 One interesting note to make before moving on is that Meg Tilly was initially cast to play Constanze Mozart in Amadeus, but broke her foot playing soccer shortly before production was set to begin. She ended up being recast with Elizabeth Berridge, but Forman kept the actress in mind and gave her this juicy role in this flick as an olive branch.
Following a seven year hiatus—the longest of his career—Forman was back behind the camera for one of the most controversial films of the 90s, this biopic of notorious Hustler founder Larry Flynt, played to brilliant, Oscar nominated perfection by Woody Harrelson. Written by Ed Wood scribes Scott Alexander and Larry Karaszewski, The People vs. Larry Flynt is Forman's ode to the First Amendment, a blistering look at the notion that you don't have to agree with what someone saysin order to respect their Constitutional right to say it. Larry Flynt is a classic Forman protagonist, railing against a system seemingly rigged to keep people like him from gaining respect within its confines.
First as the progenitor of Dayton, Ohio's legendary Hustler Club—once called Hillbilly Heaven—and later as the publisher of Hustler magazine, Flynt is the perennial outsider making his way in a world that will never acknowledge or respect his accomplishments. Along the way he falls for a stripper at his club, Althea Leasure (Courtney Love, in a dynamite breakthrough performance) and turns her into a star via his new magazine venture...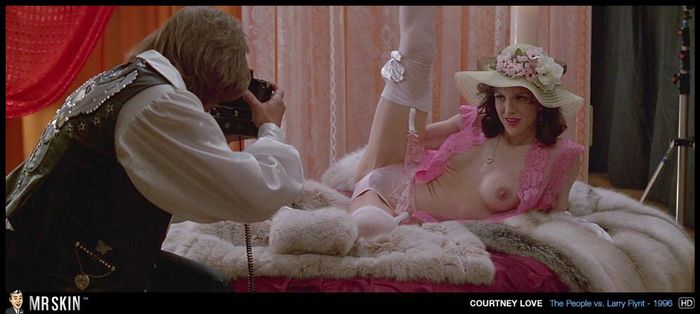 Their relationship is tumultuous and partially self-destructive, but these are two lost souls who, to paraphrase Wedding Crashers, have found their counterpoint in another. Through all of his legal battles, as well as an assassination attempt that leaves him paralyzed from the waist down,Larry's love storywith Althea is the one constant in his life. This makes her death near the end of the film so heartbreaking, when he discovers her dead in the tub...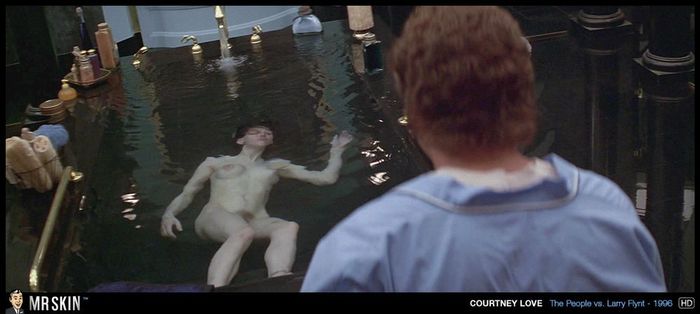 The film's climax involves Larry's case finally being heard before the Supreme Court, which rules unanimously in his favor. With no one to share the moment with as he sits alone in his house, Larry puts on an old video of Althea, telling her to "strip for me, baby" which she happily obliges...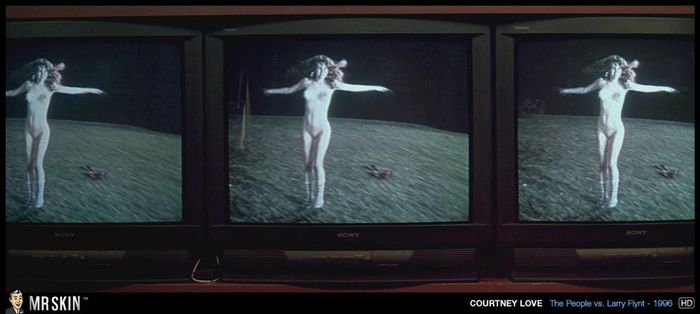 Forman would earn his third and final Best Director Oscar nomination for the film, though its lack of a Best Picture nomination more or less doomed his chances of winning a third Oscar. Forman would direct only one more film, 2006's Goya's Ghosts, though he turned more and more to acting in his later years, appearing in Edward Norton's directorial debut Keeping the Faith, as well asChristophe Honoré's 2011 film Beloved, co-starring Catherine Deneuve and Ludivine Sagnier.Sadly, Forman passed away in April 2018 at the age of 85, and though his presence will continue to be missed, his impact on the film landscape is undeniable and everlasting.
Miloš Forman Films with Nudity for Which We Don't Have Content
—Black Peter (1963)
—The Fireman's Ball (1967)
Miloš Forman Films with Nudity Not Covered in this Column
Check out the Other Directors in Our Ongoing "SKIN-depth Look"Series
—Catherine Breillat: Part One