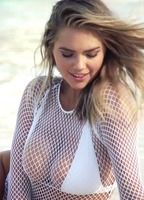 Biography
Kate Upton Nude | Will We Ever See It?
The iconic busty blonde supermodel Kate Upton was born as Katherine Upton, and ever since she hit the big time in the early 2010s, every red-blooded American man in the world has wondered "Are there Kate Upton nudes?" and "But what about Kate Upton nude pictures?"
We don't look to be boob teases here, so we will tell you that sadly this incredible woman has not delivered incredible nudity on screen. Or any for that matter. But fear not! We have so much sexy Kate Upton content that includes all the sexy moments of Kate Upton's career!
Kate Upton Early Life
Sun-kissed bikini babe Kate Upton was born in the chilly confines of St. Joseph, Michigan, in 1992, but appropriately enough, she was raised in sunny Florida. This sexy equestrian grew up riding horses and has competed nationally for the American Paint Horse Association.
In 2008, Kate left horseback riding behind in favor of a modeling agency's cattle call in Miami. Her blonde ambition and MAMazing body separated her from the rest of the herd, and soon Kate inked a deal with IMG Models and moved to New York to start her career as a skinternational sex symbol.
Kate has walked the runway for many top designers; served as a spokeswoman for Victoria's Secret and Guess Jeans; appeared in editorials in Vogue, Harper's Bazaar, Mademoiselle, Cosmopolitan, Glamour, Esquire, and more; and hit the covers of top-notch mags like Vogue, Elle, Esquire, and Vanity Fair.
Kate Upton in Sports Illustrated
Kate was named "Rookie of the Year" for her mouthwatering spread in the 2011 Sports Illustrated Swimsuit Issue, and quickly rose through the racks- er, we mean, ranks- to become the cover girl for the 2012 edition. But she didn't stop there. Kate's undeniable sex appeal landed her on the cover of the Sports Illustrated Swimsuit Issue next in 2013 and then again in 2017!
In her SI spreads you can see Kate Upton topless and thanks to some strategically slathered body paint you can say that you saw those ever-elusive Kate Upton nude pics. They might be strategic nude pics - so no nipple, butt, or God forbid bush - but they provide an unrivaled picture at what Kate's working with under her clothes. Spoiler: A lot.
Kate Upton is the quintessential blonde bombshell and gals like her truly don't come around that often. She rivals the likes of Marilyn Monroe and Pamela Anderson for her ability to emBODY this tried and true American male fantasy. Plus she has a hilarious personality and isn't afraid to let her hair down during her candid interviews. Plus, as you'll soon seen Kate Upton has absolutely no problem wearing all sorts of cleavage-baring outfits that do her body damn proud.
In summary - we just love everything about this woman - her innocent-looking face, blonde hair, personality, and literally every single thing about her body.
Kate Upton On The Big Screen
But men wanted to see that hot body move, so eventually, Kate made it to screens both big and small. In her most iconic acting role to date, Upton jogged on the beach in a swimsuit in The Other Woman (2014. The Other Woman is about three women who realize that they're all in (what they thought) was a committed relationship with the same man. Uh oh! They team up to get revenge on this cheating a-hole, but not before Cameron Diaz and Leslie Mann catch their competition on the beach in a skimpy white bikini.
This is where we get an amazing shot of Upton's massive, big tits bouncing around as she runs down the beach in slow motion! But we weren't the only ones to take notice of this supermodel's supersized sex appeal on the big screen. Kate Upton was nominated for Best Shirtless Performance at the MTV Movie And TV Awards and Choice Movie: Chemistry along with Diaz and Mann at the Teen Choice Awards.
Other Appearances of Kate Upton
Upton also competed in the reality series Lip Sync Battle (2015), rocked a black bra on Chelsea Handler's talk show Chelsea (2016), and bared her cleavage once again in The Layover (2017). This comedy pairs (pun intended!) Upton with another one of the most iconic busty babes in the biz. She goes head to head (and boob to boob!) with the legendary brunette Alexandra Daddario.
The two play besties whose vaca is thwarted when their plane makes an emergency landing in St. Louis. Here they fall for the same man, which tests their friendship and sisterly bond. These friends have nothing to hide from each other, and in one scene they strip down to their bathing suits in the pool for some friendly competition. We choose you Kate!
Final Thoughts
So the next time that you find yourself disappointed that the questions "Where can I find pics of Kate Upton nude?" and "Where can I find Kate Upton's Sex Tape?" from her movie and television performances lead you on a wild goose chase, just take a deep breath and remember the cleavage. Kate, thanks for the MAMories!