Page 1
advertisement
Rena Riffel: The Mr. Skin Skinterview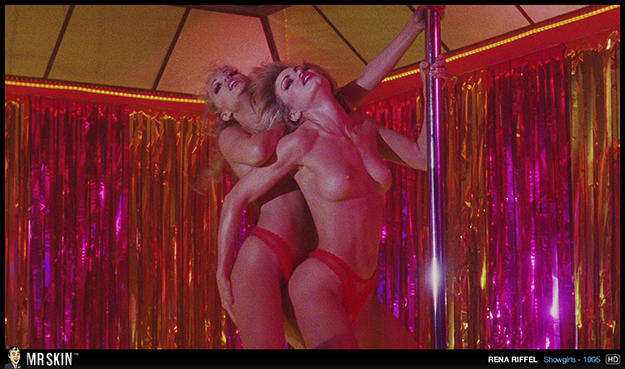 Unbelievably beautiful blonde Rena Riffel has dipped her toe into many aspects of the entertainment industry; modeling, dancing, singing, writing, acting, and directing. She put her classical dance training in ballet, jazz, and tap to very good use opposite Demi Moore in Striptease (1996), and worked with legendary director David Lynch in Mulholland Dr (2001). But it's her role as Penny in the cult classic Showgirls (1995) that has been the most enduring.
In 1995 director Paul Verhoeven reunited with his Basic Instinct (1992) screenwriter, Joe Eszterhas, to produce a towering contribution to skinema, Showgirls.
Showgirls is not just a Skin Classic; it's Mr. Skin's single favorite film of all time! It's a brilliantly berserk send up of showbiz excess and American desires, all mixed up with the most gorgeous girls stripping down and giving explosive lap dances on hyper-kinetic sets. Everything is done to the extreme with fantastic effect, including the splashiest sex scene ever filmed!
Like many films that have gone on to be cult classics, Showgirls was initially a flop in theaters, but soon found the right audience in the home video market, and went on to become one of MGM's top selling releases of all time!
Since Verhoeven distanced himself from the film after its unusual reception, it was up to Rena to carry forward the campy charm of the original, and she finally put forth the ripe fruits of her labor with the sexy sequel Showgirls 2: Penny's from Heaven (2011). Rena reprises her role as Las Vegas stripper and big dreamer, Penny Slot, who sets out to become the star of a dance television show. You'll get plenty of Penny for your thoughts, since Rena wrote, directed, and starred in this skin-thusiastic feature!
Rena generously took some time to talk to Mr. Skin about the production of her epic opus, her scintillating work in the Czechspoitation genre, and the sexiest scene she's ever filmed!
Read the full skinterview after the jump!... read more
advertisement
advertisement