Welcome back to A SKIN-depth Look where this week we're doing something a little different and taking a look at a performer rather than a director. Bruce Lee's life came to a tragically short end in 1973, but his legend looms large to this very day. The Criterion Collection is releasing a box set containing all of his feature films this coming Tuesday, so we thought this was the perfect time to look back on Lee's work and how it intersected with nudity.
Bruce Lee was an absolute phenomenon just prior to his death, headlining two of the most profitable films ever made and establishing himself as a new breed of action hero. He embraced his Hong Kong roots but had his sights set firmly on Hollywood stardom, basically having to bring an entire established genre to America in order to create his own kind of stardom.
Following the completion of Enter the Dragon in 1973, Lee died from a cerebral edema, but rumors have persisted over the years that his death had a much more sinister and even supernatural cause. These rumors once again reared their ugly head when Lee's only son Brandon also died tragically on the set of 1994's The Crow.
However, Lee had a surprisingly robust posthumous career, as producers used pre-existing footage or doubles to complete several films after his death. He also spawned a subgenre of films known as Bruceploitation, in which look-a-likes—some more convincing than others—made Bruce Lee-esque kung fu flicks, and we'll be covering one of those today as well!
Lee's first two starring vehicles for Hong Kong's Golden Harvest studio, 1971's The Big Boss and 1972's Fist of Fury, established him as a huge star in Hong Kong, but it wasn't until his third starring role—in a film he also directed—that his star began to rise on the international stage. That's where we'll begin...
While Lee's entire aura was one of self-seriousness, his one and only effort as a director showed him to be adept at both action and slapstick comedy, pioneering the basic style of film for which Jackie Chan would later become famous. In fact, Chan's 1994 crossover hit Rumble in the Bronx more or less borrows the plot of Lee's film whole cloth. Lee stars as Tang Lung, a young martial artist who is sent to protect the Roman restaurant of the elderly Uncle Wang (Huang Chung-hsin) and his niece Chen Ching-hua (Nora Miao) from the influence of the Italian mafia. Though it takes Tang Lung some time to adjust to his Italian surroundings—with plenty of fish-out-of-water comedy along the way—he does manage to make an immediate impact on business and on Chen herself!
The film was a monster hit both in Hong Kong and internationally, grossing over $130 million against a budget of $130,000. The film is best known now for featuring a climactic fight at the Roman Colosseum between Lee and Chuck Norris. Their ten minute fight to the death is one of the most acclaimed fight sequences in any film, showing the two men in their prime locked in mortal combat.
The first nude scene in one of Lee's films is also contained here courtesy of Malisa Longo! Upon arriving in Rome, Tang Lung gets quite the surprise when Malisa suddenly opens the door to his room and is standing there topless, sending him into the closet out of embarrassment...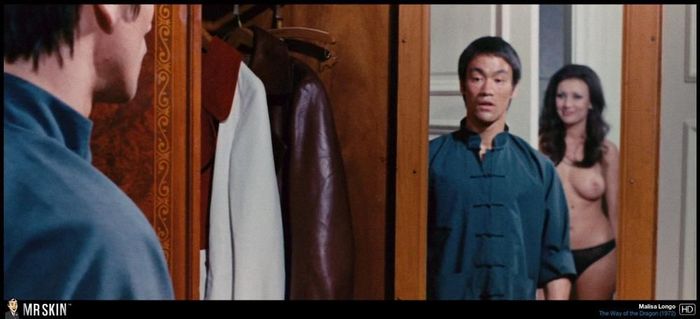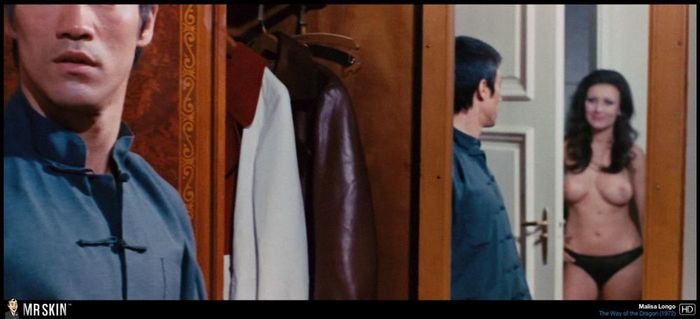 Shortly after the production wrapped, Lee began shooting his fourth film for Golden Harvest, Game of Death, though the production was temporarily put on hold when Hollywood came calling with...
Easily Lee's best known film, 1973's Enter the Dragon was not just a blockbuster, it was the beginning of a whole new kind of movie for American audiences. Martial arts movies were not huge in America at the time and the film sent shockwaves through not only the exploitation and grindhouse circuit, but also through Hollywood. These films, including Enter the Dragon, were madefor under a million dollars, but sold tickets to the tune of thirty, forty, fifty times that. Enter the Dragon is still one of the most profitable films of all time, costing $850,000 and grossing over $350 million worldwide.
The late Robert Clouse, an American director, shot the film in Hong Kong, bringing his buddy and martial arts expert John Saxon along to play thegambling addict Roper who eventually teams up with Lee's character Lee. Shooting in Hong Kong allowed many other up-and-coming martial arts stars to appear, from Jackie Chan and Bolo Yeung to Sammo Hung and noted Bruceploitation actorTadashi Yamashita.
The film's ending is famously cribbed from Orson Welles' The Lady from Shanghai, but it manages to forge its own path through the rather obvious homage. I'd wager to say your average film watcher would see any future homages as copyingEnter the Dragon rather than Welles' film. Lee tracksShih Kien's monk turned crime lord through a hall of mirrors, eventually shattering them all just to find his man. The film is a low budget affair, but it makes up for it with total panache and a leading man who had fully come into his own.
The film's nudity comes courtesy of Ahna Capri who gives John Saxon's Roper a massage while he contemplates teaming up with the villainous Han...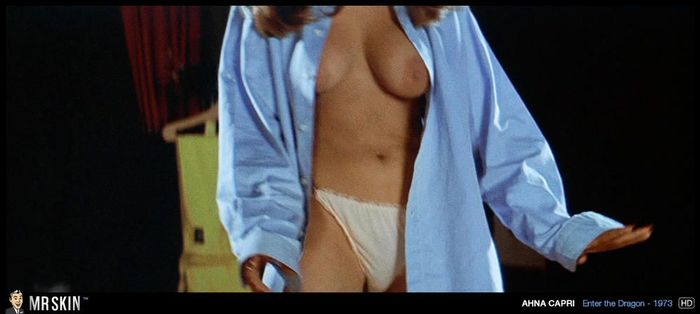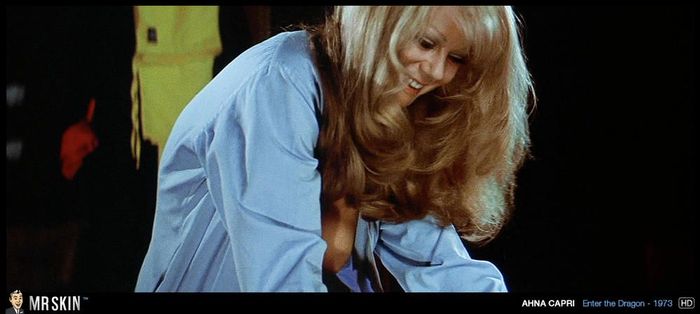 The surprisingly robust subgenre known as Bruceploitation has a few gems and a whole lot of duds as producers sought to capture the magic of Bruce Lee without the benefit of necromancy. Lookalikes flooded the market place, including Ho Chung-tao, the star of Storming Attacks—as it was originally known. However, the film got a brand new title for its American release in The Image of Bruce Lee, starring Bruce Li. An off-handed line of dialogue about the main character resembling the deceased action icon inspired the marketing gimmick for this flick.
The film's rather rote plot finds Li's rogue agent teaming with a buttoned down Hong Kong police officer (Chang Lei) to takedown an illegal counterfeiting and smuggling ring. There's little else to the plot, though there doesn't need to be as the set-up provides maximum opportunities for chasing the bad guys, taking them down, rinse, repeat. Quentin Tarantino reviewed the film late last year on his New BeverlyCinema website, posting the entire film at the bottom of his review.
Ironically or not, it's also the most skin-filled of the flicks we're discussing today. Betty Chan has three nude scenes in the film, one at a swimming pool, one in a bathtub, and the third in the bedroom!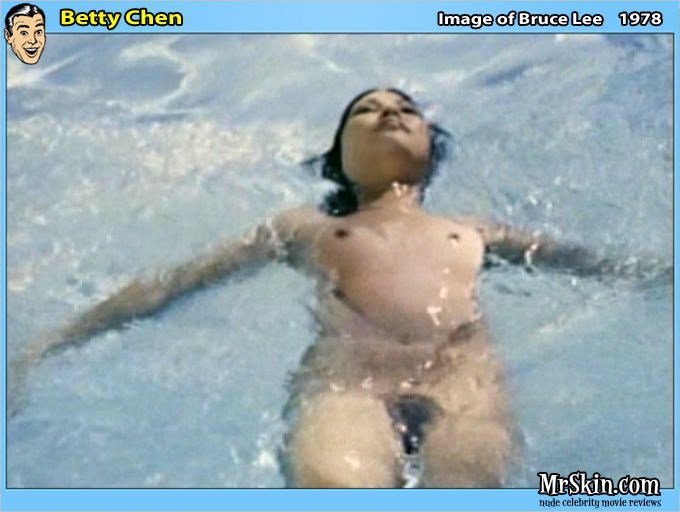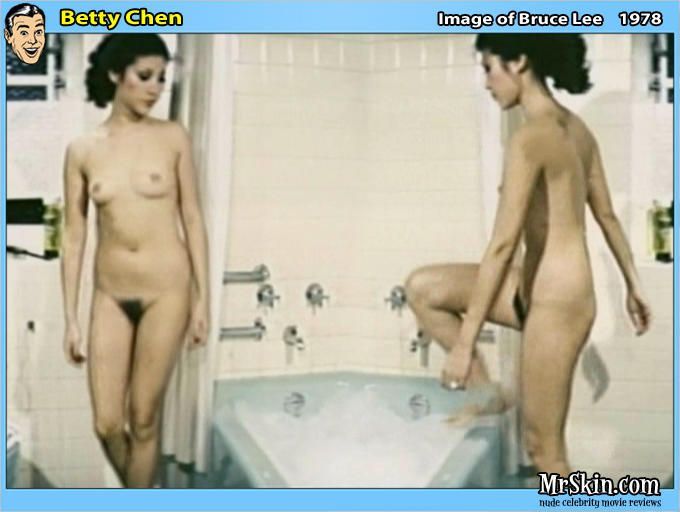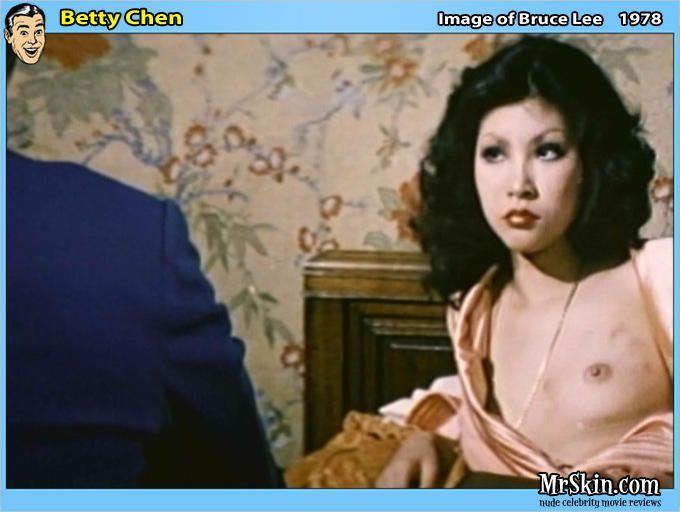 The last time anyone tried to actually pass off footage and trickery of the late Bruce Lee in a way to suggest it was actually him was this belated sequel to his famously unfinished film cobbled together in 1978. Now nearly a full decade had passed since Lee had, and the last bits and bobs of footage of the actor were put hastily and cheaply into the set-up for another film altogether. Lee's character, Billy Lo in the English dub, falls to his death while attempting to protect a secret, so his younger brother Bobby (Tong Lung) seeks to get to the bottom of what caused his brother's death.
Interestingly, Lung would go on to a short career as a Bruceplotation lead, appearing in several films before retiring abruptly after playing Lee's ghost in No Retreat, No Surrender—the film debut of Jean-Claude Van Damme. The film's nudity comes to us courtesy of Miranda Austin, who bares all one hour in when stripping down for an abnormally sweaty Lung...
This film is included as a bonus feature as part of Criterion's new set, which will be a great pickup when it comes out on Tuesday—particularly with the Barnes Noble 50% sale running through the end of the month. Overall, just a great celebration of an amazing artist who left us all too soon!
Check out the Other Directors in Our Ongoing "SKIN-depth Look"Series
Terry Gilliam |Alejandro Jodorowsky|Luis Buñuel|Atom Egoyan|John Boorman|John Schlesinger|James Ivory|Alan Parker|Walter Hill|Tony Scott|Louis Malle|Mike Nichols|Allison Anders|Jonathan Demme|William Friedkin|Rainer Werner Fassbinder: Part One|Rainer Werner Fassbinder: Part Two|Rainer Werner Fassbinder: Part Three|Federico Fellini|Philip Kaufman|Miloš Forman|Pedro Almodóvar: Part One|Pedro Almodóvar: Part Two|Blake Edwards|Catherine Breillat: Part One|Catherine Breillat: Part Two|Spike Lee|John Landis|David Cronenberg: Part One|David Cronenberg: Part Two|Ingmar Bergman|François Truffaut|Bernardo Bertolucci|Steven Soderbergh|Kathryn Bigelow|Oliver Stone|Roman Polanski|Nicolas Roeg|David Fincher|Francis Ford Coppola|Pier Paolo Pasolini|Ken Russell: Part One|Ken Russell: Part Two|Robert Altman:Part I|Robert Altman:Part II|Adrian Lyne|Martin Scorsese|Jane Campion|Park Chan-wook|Bob Fosse|Dario Argento|Wes Craven|Tobe Hooper|Todd Haynes|Danny Boyle|Stanley Kubrick|Paul Thomas Anderson|David Lynch|Brian De Palma|Paul Schrader|Paul Verhoeven
-------------
Non-nude images courtesy of IMDb