**Click here to read A SKIN-depth Look at the Bullets, Bombs, and Babes of Andy Sidaris Movies Part 1**
When we last left off with the our self described "Dirty Old-Man", director Andy Sidaris, it was 1987 and he had just written, produced and directed his most popular flick to date with Hard Ticket to Hawaii. 1987 was the peak of Reagan's 80s at the movies, represented on-screen by Beverly Hills Cop II, Lethal Weapon, Predator, Robocop, Stakeout, The Running Man, and introduced Timothy Dalton as the new James Bond in The Living Daylights. That is some stiff competition to go up against when you are thoroughly planted in the action movie universe, but somehow Sidaris still managed to make some straight to video and late-night cable moments stick in our memory just as much as any of the above!
By 1988, Andy has 4 feature length films under his belt, plus a bounty of love from the sports television world, including some brass on his shelf with his Emmy. As his movies began to become a staple of late-night cable channels, his popularity grows and this auteur doesn't go mainstream with a sweeping overhaul of his aesthetic, he simply sticks to the formula he knows. The universe of "Bullets, Bombs, and Babes" was always designed to expand, introduce new heroes and villains, long-lost siblings, higher stakes, bigger explosions, even bigger boobs, and (as it almost goes without saying now) more interesting ways to kill the bad guys!
Andy's Malibu Bay Films started to take serious shape and become something of an "indie" action film studio with the heart of a big-budget blockbuster movie studio. So as the all too pivotal "5th feature film" (the make or break picture for most directors) comes around with 1988's Picasso Trigger, there were no studio heads to answer to, no board of directors, no focus groups telling him what works and what doesn't. It was just Andy, his wife and co-producer Arlene Sidaris, and the team of familiar faces with amazing bodies attached to them that he began to use in the next few of his movies.
***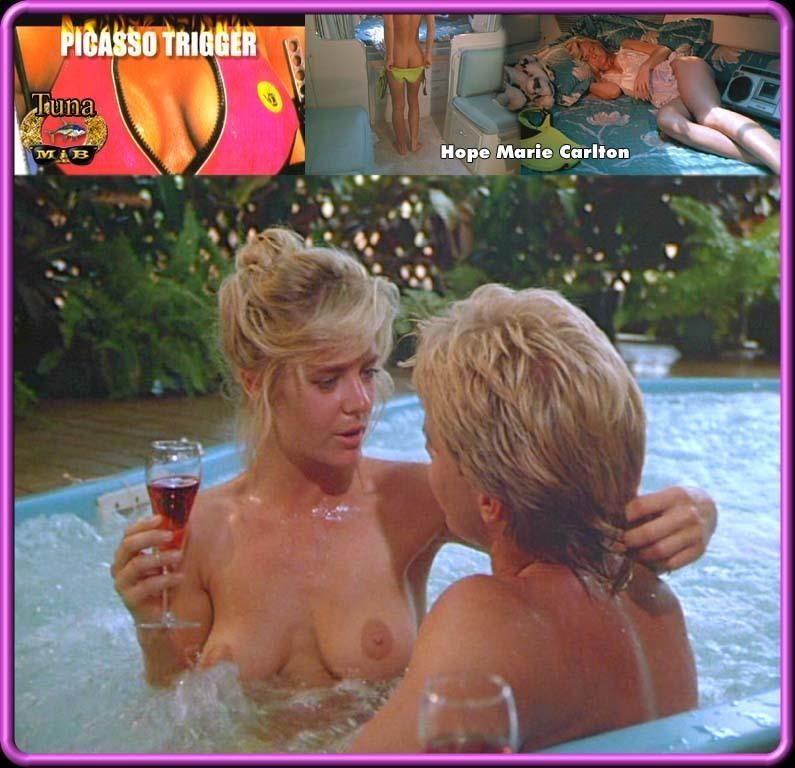 This might not be a masterpiece of cinema but damned if it doesn't have a masterpiece of a title!Picasso Trigger! It just rolls off the tongue and sounds cool as all get out. We're not sure about the title's meaning outside of being the titular villain's "code name," but there is a "Picasso Triggerfish" that lives in the Pacific, so maybe there was a hint of inspiration from nature when Andy penned this script. Now this one is the third film in the Triple-B series and a direct sequel to Hard Ticket to Hawaii.
We are dropped right back into the world of the buxom leading ladies' now aptly dubbed "L.E.T.H.A.L. agency" from the previous chapter. L.E.T.H.A.L. stands for Legion to Ensure Total Harmony and Law, which is exactly what Donna (Dona Speir) and Taryn (Hope Marie Carlton) hope to accomplish on the island of Hawaii and a few other familiar locales, including Las Vegas which is now a regularly used backdrop moving forward.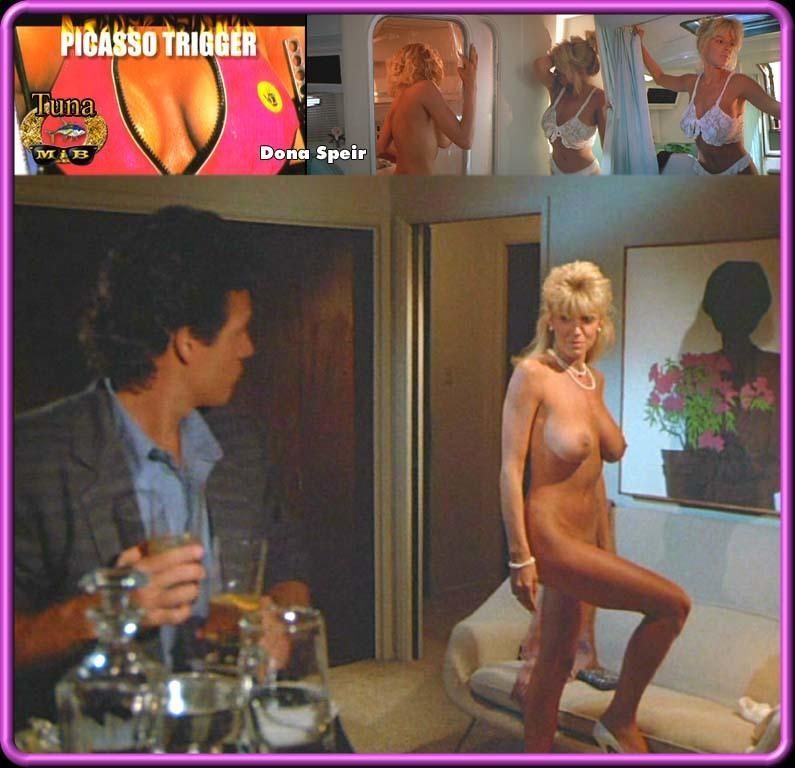 As with his other movies, the Triple-B series through-line of "siblings seeking revenge" comes through again. The brother of the main bad guy from Hard Ticket wants revenge for the death of his brother at the hand of the bombshell secret agents. He is also quite the entrepreneurial crime lord himself, known as Salazar (John Aprea) around Las Vegas, and he's on the hunt for anyone involved in his brother's untimely death by huge explosion. What do they say, "eye for an eye," well if it's a Sidaris film, it's more like "you blow up my brother, I'm going to blow up yours.
So he attempts to assassinate Donna, Taryn and believe it or not, two MORE brothers of the Abilene family tree that are now introduced to us, Travis (Steve Bond) and L.G. (Guich Koock). Lucky for our heroes, the assassins fail miserably, so the team decides to head to Vegas and set a trap of their own for Salazar to take him and his crew of henchmen out and, of course, ensure total harmony and law. Along the way, we get some amazing nudity from the leads Dona Speir and Hope Marie Carlton, but we also get nude scenes from the returning Patty Duffek and Cynthia Brimhall, as well as newcomer to the world of Andy Sidaris, Kym Malin (Playmate of the Month, May 1982), all popping their tops with a whopping 7 nudes scenes all together in this one!
Picasso Trigger is definitely a step in the right direction for production quality too because you really get to see what a little more money, a little more skill, and a little more plot can do for a movie. This film also proves that the world of espionage that Sidaris has created is ramping up to be bigger, stretching out its legs, so to speak. We get more villainous henchmen, more action sequences, gigantic and impractical weapons, higher stakes shootouts, and ridiculous deaths.
The most hilarious and lovable plot point that keeps coming up is the use of mini TNT bombs on any remote controlled toy as a weapon and we can't get enough of how it keeps surprising everyone throughout the movies! At some point, you'd think word would get out that this crew regularly uses toy planes to kill people, but alas, everyone acts surprised when the toy planes start flying near them!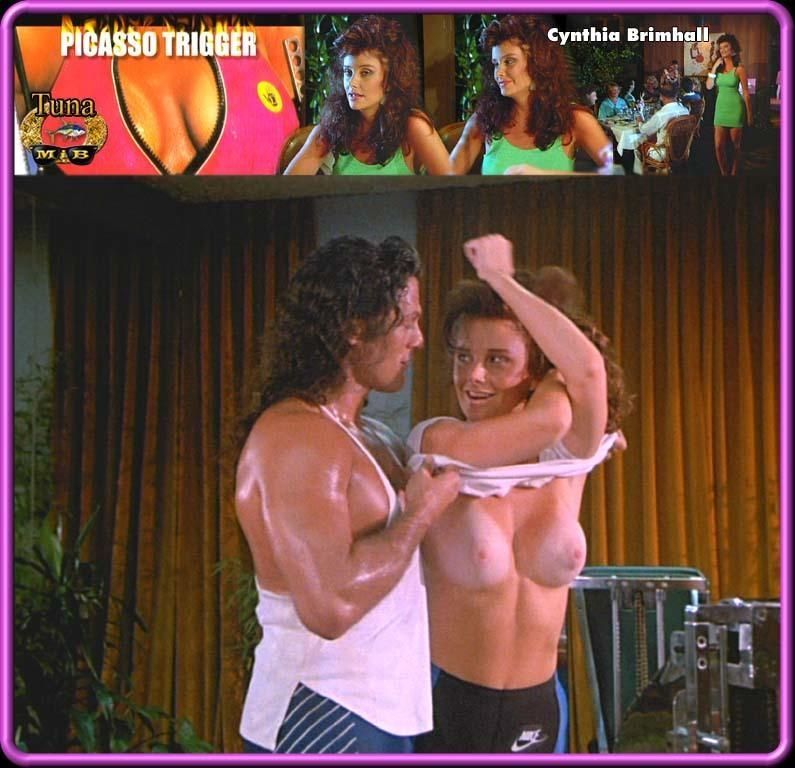 Along the same lines, we get some serious speed with high speed boat chases again, motorcycles breaking through walls like the Kool-Aid man, and now the Vegas twist. We can only assume that adding Las Vegas to the story was a nice way to add in showgirls. It's a truly enjoyable experience on the same level as Hard Ticket to Hawaii with a little extra production quality sprinkled on top!
Also, the casting of John Aprea signaled an uptick of star power that Sidaris was looking to bank on a bit in these movies. Aprea was in Bullitt (1968), The Godfather: Part II (1974), and The Stepford Wives (1975) at this point in his career, also TONS of starring TV roles, so he was definitely a bankable name to bring in.
****
What is truly great about ballsy filmmakers like Andy Sidaris is that there is pretty much no fear to be called out on mistakes. No one is shouting "continuity!" when a gun switches hands magically. No one is calling bullroar when you notice the same actor playing a different character in a sequel. Why point it out, only to explain it away later? It's like how Law Order: SVU doesn't mind casting the same character actor over and over again, but in different roles. Did anyone notice and did they even care? No, because we got lost in the plot of a procedural that has been on TV longer than most real-life sitting judges!
Sidaris does the exact same thing with his bankable stars throughout his Triple-B series of films and it is quite on brand. Rodrigo Obergón comes back again as a bad guy, despite being blown up a couple of times by Andy in previous movies. Also, John Aprea makes his way back, this time as a good guy(?) in the 1989 third installment of the L.E.T.H.A.L. ladies series, entitled Savage Beach. Donna and Taryn are back at it again, this time working as drug enforcement specialists on (you guessed it!) Hawaii!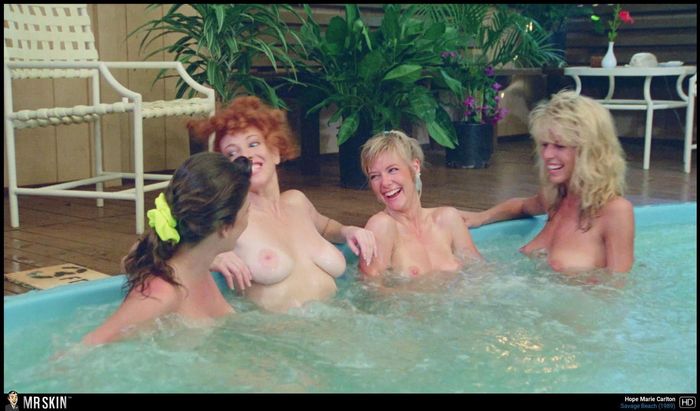 They are successfully busting up cocaine smuggling rings by morning light, topless hot-tubbing around lunch time, and then doing good deeds all night. They are still somehow keeping up the guise of being a shipping company, island hopping around the Pacific, despite regularly breaking cover to bust bad guys over the last few flicks. So after another sting operation that successfully destroys a massive cocaine operation in Hawaii, the leading ladies are tasked with dropping off a life saving vaccine to a small island in the pacific with a medical clinic full of sick kids!
Unbeknownst to them, on a different island, main bad guy Martinez (Rodrigo Obergón) has convinced a crooked navy contractor, Captain Andreas (John Aprea), to use his access to military satellites to help him find a sunken Japanese warship from World War 2. There are thousands of downed WW2 vessels in the Pacific, but this one is filled with pilfered gold and Martinez desperately needs that booty to fund his revolution!
Now smash cut back to Donna and Taryn on their way back from their good will mission to deliver the "serum" to the sick kids. As their tiny, single engine plane gets thrown off course, trying to get back to Hawaii, they are forced to land on a remote island. Now this is where Savage Beach gets interesting because these babes are not alone on this island...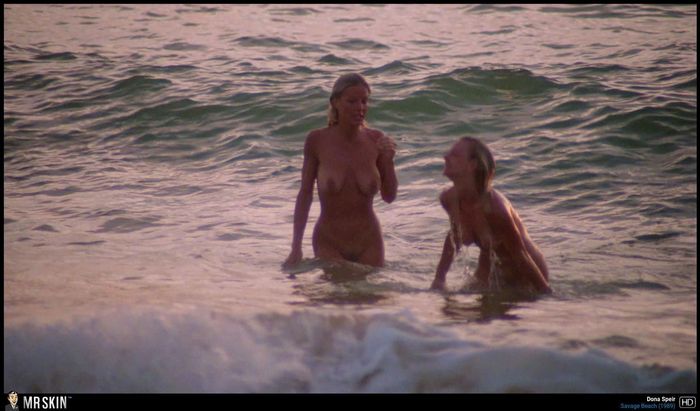 Guarding the island is a Japanese soldier who has been in complete isolation for almost 50 years! Yes, you read that right and it is 100% based on a real-life story of Japanese soldier, Hiroo Onoda, who hid out in the jungles of the Philippines until 1974 after refusing to surrender in 1945. So Andy is dipping his plot lines into some real headlines for inspiration and struck gold on this one! Now, the coincidences begin to pile up at an almost comical rate, but the age make-up they put on the Japanese solider is enough to distract you from noticing.
You see, the ladies actually crash landed on the island that contains the gold that Martinez is on the hunt for and it just so happens the WW2 soldier has been protecting it since 1945. So they find an unlikely ally in a 30 year old Japanese guy aged to look like he's in his 70s. After Martinez and his crew find the island and the gold, they now must fight off a firmly entrenched WW2 vet on top of the L.E.T.H.A.L. ladies, not to mention a potential double cross in their own crew!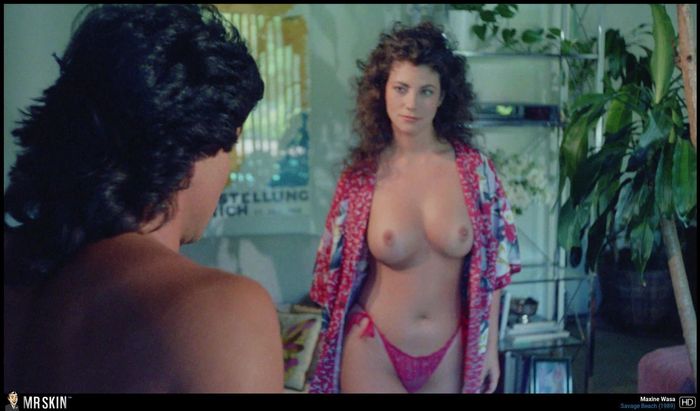 It's a mad cap situation where some good guys turn bad, bad guys turn good, the enemy of my enemy is my friend? Or is it the friend of my friend is now in cahoots with the enemy, so we need a samurai to help? Also, that soldier may or may not have committed war crimes against one of the ladies father, who also was stranded on the island during the war? Don't worry, one of the guys is from the CIA, and he is strictly there to give some exposition on the Inception-esque storylines crashing into each other. It's gloriously done.
Now this one brings in the classic crew again of Dona Speir and Hope Marie Carlton, both with the most nude scenes, and also returning is Patty Duffek for a couple more too! Andy dips into his rolodex of busty starlets to add a few more names to his universe with the ravishing redhead, Lisa London as well as a couple more Playboy alums with Maxine Wasa and Teri Weigel.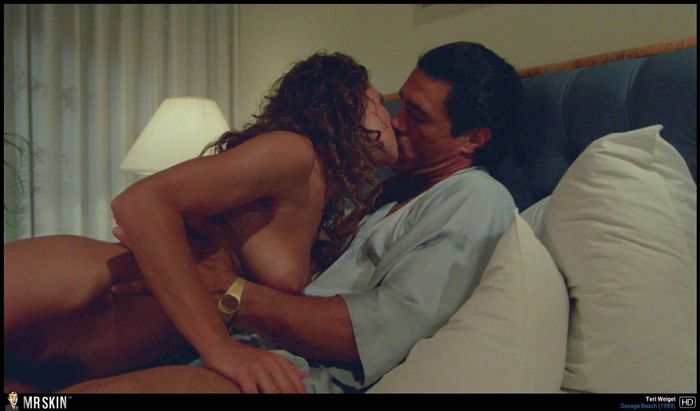 The absolute best part of this movie is not the hot tub scenes, the fully naked ocean sprint by the stars, but the ending itself... They find the gold, inform the Japanese soldier that the war is over and his family is still alive, and then pocket the gold for themselves! The heroes literally lie to every government agency involved and keep the pilfered gold bars for themselves. It is such an unexpected 80s movie ending, we can't help but love!
****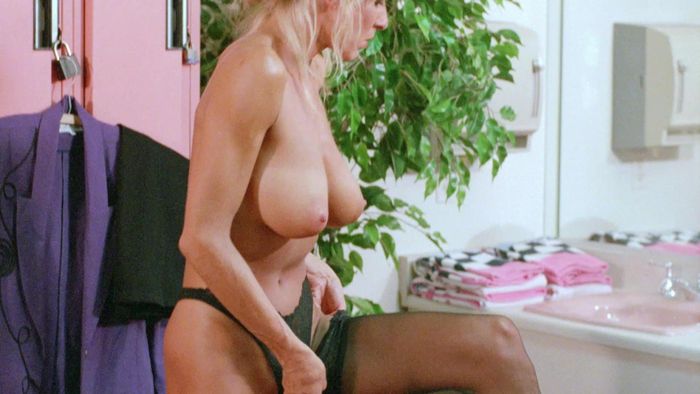 We can only assume that Andy used up all the creative juice he had for titles by the time he got to 1990's Guns, but he didn't lose his touch for his signature brand of action. With his 7th feature film coming at the start of a new decade, his films were now in regular rotation on Joe Bob Brigg's Drive-In Theater or The Movie Channel (a Showtime affiliate network for the youths reading this), which really helped paint Sidaris as a quasi-genius.
Here's a guy who makes late-night skin-flicks and is now pulling in even bigger, more bankable actors. The new decade doesn't mean that Sidaris-verse is going to change in any noticeable way, but he's hit his stride and is finding new talent that you can catch in blockbusters today, like a young Danny Trejo as one of Estrada's goons! The L.E.T.H.A.L. ladies are still a clandestine powerhouse in Hawaii, now lead by Donna Hamilton (Dona Speir), but her former partner Taryn, played by Hope Marie Carlton, has been replaced by Nicole (Playmate of the Month, November 1984, Roberta Vasquez).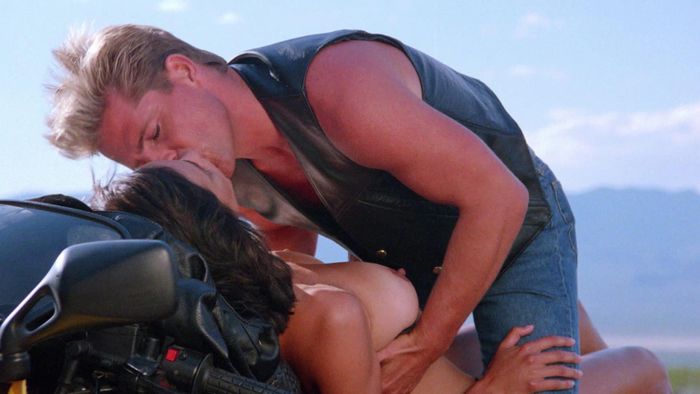 These two agents cross paths with the infamously deadly arms dealer, Juan Degas aka The Jack of Diamonds, played by none other than Erik Estrada himself! That's right, Ponch turned heel in this one! You see, apart from having the best quaffed mane in the gun business, Jack of Diamonds also wants to have the largest cache of state-of-the-art guns in the world smuggled into (you guessed it!) Hawaii. The only thing standing in his way are the ladies of L.E.T.H.A.L., who are plotting to shut down his arms deal before the guns even hit the islands.
Donna and Degas have actually been after each other for quite some time, so much so that he even kidnapped and killed her father a while back, so this time it's definitely personal. After Degas' failed assassination attempt on Nicole, the duo of hardened hotties decide to take the fight to his turf in Las Vegas. They need to pump their brakes on taking out the villain so quickly in this one because he's up to his old tricks again, having kidnapped Donna's mother, Kathryn (respected and busty character actress Phyllis Davis).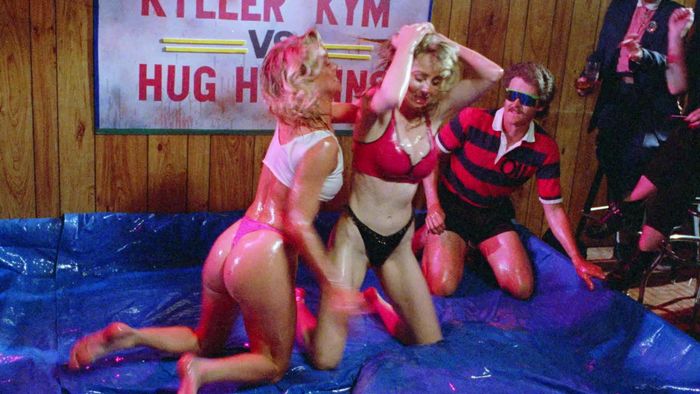 Armed with their typical rocket launchers and exploding remote control boats, they soon realize they need to tread a little more lightly to avoid any collateral damage to loved ones while hunting down The Jack of Diamonds. While this is one of the more forgettable entries in the Sidaris-verse, it definitely came in hard with the nude scenes, topping out with 6 Playboy Playmates dropping their duds. Dona Speir as the leading L.E.T.H.A.L. lady and her partner Roberta Vasquez. Then we also get some more topless shenanigans from Cynthia Brimhall who returns as Edy Stark.
Estrada's equally evil girlfriend Cash (Playmate of the Month, June 1985, Devin DeVasquez) has a couple of solid nip slips as well. That's all well and good, but the epic oil wrestling session by Kym Malin (Playmate of the Month, May 1982) fellow Playboy alum Donna Spangler, followed by a double shower scene that really brings Guns into the realm of memorable late night skin-flicks!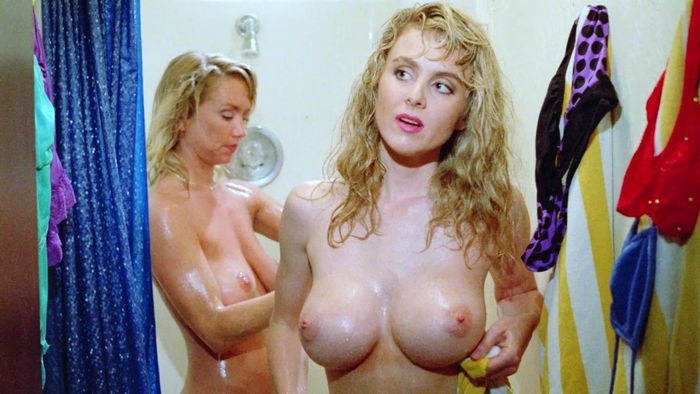 ****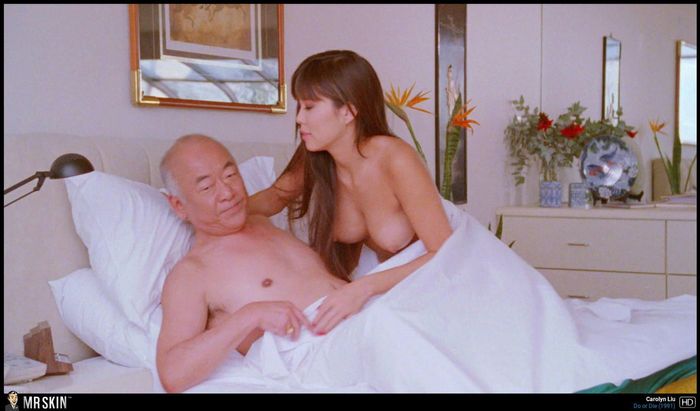 It's now been a movie a year for Malibu Bay Films over the last 5 years and 1991's Do or Die is pretty damn entertaining when you look back at it. First of all, Sidaris brought in the biggest name to date with Academy Award nominee, Pat Morita to play the main bad guy in this one. This marks the second time that he got an actor who was historically known as a good guy to play a villain after Erik Estrada took on the asshole duties in Guns. Also, he straight up Law Order: SVU's Estrada in this one too, bringing him back as a completely unrelated character in this direct sequel, banking on you having not seen the previous film or having a super short term memory.
So there isn't much setup to speak of in this one for Kane (Pat Morita). He's a Japanese crime lord who simply wants to L.E.T.H.A.L. ladies dead for messing up his business a bit. So what does he do? He gets 6 teams of assassins to straight up hunt Donna (Dona Speir) and Nicole (Roberta Vasquez). What makes this one so fun is just the simplicity of the plot.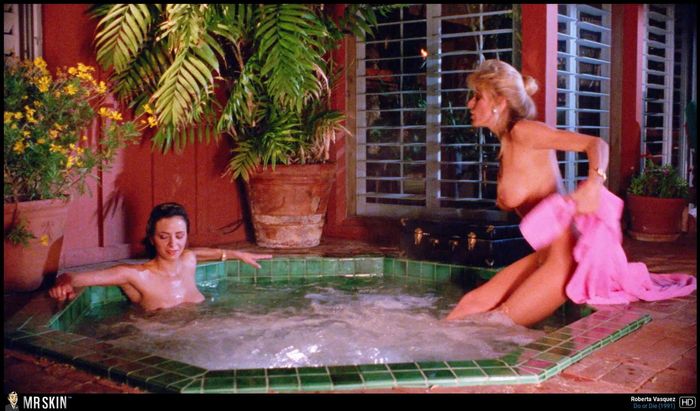 It jumps from one insane action sequence, like helicopter assassins getting blown up with a cane rocket launcher to topless hot tubbing, then back to Pat Morita just delivering the heck out of some pseudo philosophical lines for exposition. It works for us because it's all the Sidaris tricks we've come to love, bundled up into another tight 97 minutes and even rolls New Orleans into the plot along with his usual haunts of Hawaii and Vegas.
We also get a staggering amount of buxom ladies changing clothes in airplanes regularly, more remote controlled plane explosions, Estrada is a good guy again and all is right in the world. All it took for this one to work was a genius casting decision of a legit villain, coupled with a few new sexy faces. You get the repeat nudity of Dona Speir and Roberta Vasquez as the returning L.E.T.H.A.L. leads, along with Cynthia Brimhall as well.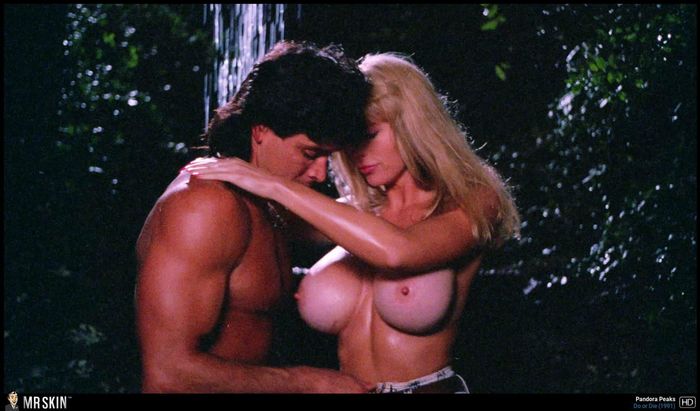 Andy hit us with three new Playboy alums coming into his universe with Carolyn Liu as Kane's girlfriend and villainous cohort, Ava Cadell as one of the ill-fated assassins who go up against the good guys, and then new team member Pandora Peaks! With an amazing early 90s computer graphic letting Kane know when each of his team members gets exploded, which aptly moves their names into the "Death Zone", there is not much to dislike about how the action unfolds.
And YES, we finally get that steamy Erik Estrada and Dona Speir sex scene in a swimming pool we've been asking for. Also, a Miyagi rub and tug from the topless Carolyn Liu that'll have you "sanding the floor" or "waxing off", you pick your favorite Karate Kid euphemism to plug in there!
****
****