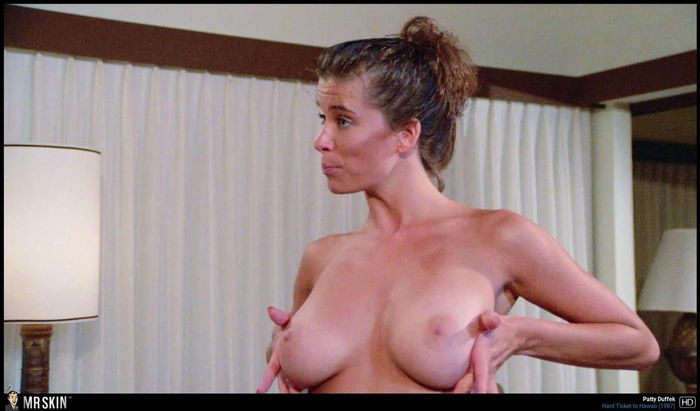 When you watch several of one director's films in short order, you start to pick-up gentle patterns of genius in their work. Akira Kurosawa was a master of framing his characters, utilizing focal lengths, and of course the idea that "every frame should be a painting". Martin Scorsese builds real worlds for his characters and lets them play in it, but is also considering how to edit each take and how the soundtrack or score is going to affect the audience's reactions. The early German filmmakers were expressionistic, the French directors of the 60s were New Wave, and Quentin Tarantino likes feet, or so we've been told.
Now... Smash cut over to a scalding hot cheerleader with huge boobs in the stands of The Sugar Bowl and we begin to get the origin story of the late Andy Sidaris. The inventor and pioneer of the aptly titled "Honey Shot," which is basically when you watch a sports broadcast of any kind and the director cuts away from the huddle to zoom in on a beautiful girl in the stands, or the cheerleaders, or the quarterback's girlfriend. Yep, that was Andy Sidaris' signature move while directing sports on TV and some might say that his style never changed and he never looked back.
Sidaris would go on to direct the first ever episode of ABC's Wide World of Sports in 1961, take home an Emmy for his directing work at the 19th Summer Olympic Games in Mexico City, oversee a Muhammad Ali championship fight, and become a pioneer of techniques like instant replay, slow-motion, and split-screen views on live TV broadcasts. All of this eventually led to him becoming one of the most prolific "sexploitation" directors of the 70s, 80s, and 90s. Needless to say, the self described "dirty old man"—as he calls himself in the 1976 documentary Seconds to Play—is much more than that; He's a prolific innovator behind the lens that never tried to be Kurosawa or Scorsese, he just did what he did best and brought viewers along for the ride from the moment the opening credits rolled.
Actually, let's peel back that "sexploitation" statement as it's quite the over simplification for Sidaris' work over the years. His movies were very much a product of their time, when 1980s action films were a distillation of the Americana that made everyone in the good old 80s U.S. of A. focus their free-time on the handful of things they enjoyed. The Cold War espionage backdrop, women with huge breasts in skimpy bikinis, muscle bound men snapping necks and cashing checks. Hot tubs were in abundance, briefcases full of intel were exchanged under tables, and chase sequences involved high speed boats, motorcycles, cars—not to mention the subsequent blowing up of the same high speed boats, motorcycles, cars.
Most importantly, of course, all of this is neatly packaged into 90 minutes of wall to wall entertainment on the beach, starring Playboy Playmates, Penthouse Pets, former athletes, and—every now and again—a bankable actor like Erik Estrada and/or Pat Morita. Now these films are affectionately referred to as Bullets, Bombs, and Babes (BBB) films. With a dozen skin-filled titles to his name, we're splitting this SKIN-depth Look up into three parts. To kick things off, let's get in the way-back machine to 1973's Stacey, the first of many feature films to come under the direction of Andy Sidaris...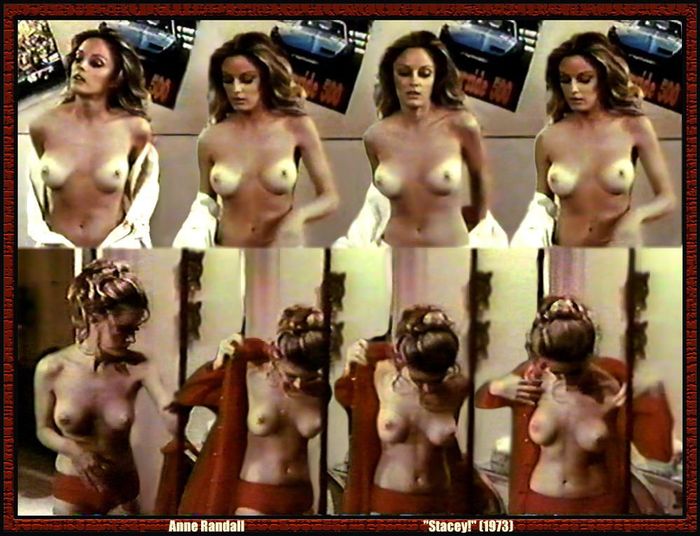 After the Chicago native had his successful run in the world of sports entertainment, he got some funding put together and in 1973 directed his first feature length film titled Stacey. A film which set the tone for the career to follow with its thematics. We follow a tough, busty, blonde private detective, Stacey Hanson (Anne Randall, Playmate of the Month, May 1967), who is also a professional race-car driver by the light of day, as she is tasked with her latest case. She is hired by Florence Chambers (Marjorie Bennett, a former "bathing beauty" herself from the silent film days) to investigate her closest family members that are after her fortune.
You see, Florence has begun to suspect that there are shenanigans afoot within her household, as the family members and servants around her begin to spin a crazy web of lies, blackmail, murder, and overall treachery to win the sizable inheritance from the elderly matriarch. As Stacey begins to work her way through each family member to find the truth, she often needs to use her feminine wiles, her Superwoman-esque fighting ability, and some general toplessness to crowbar facts out of the money hungry scumbags she comes across on the case. The film also has some solid nudity from costar Anitra Ford, but Anne Randall does the majority of the nudity in the first feature film from Sidaris. There are plenty of question marks around the plot, acting, and over-dubbed dialogue, but it's an amazing 70s exploitation flick for a first timer coming over from the world of sports broadcasting!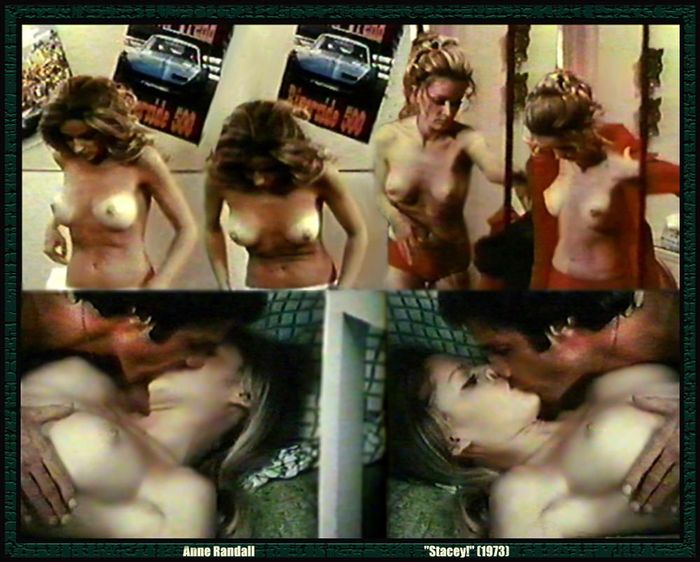 Working directors need work, so it should come as no surprise that Andy needed to do some gig work as the man behind the lens, which resulted in him doing a few one-off episodes of popular 70s shows, including episodes of Kojak in 1975, the Gemini Man in '76, and The Hardy Boys/Nancy Drew Mysteries in '77. Obviously, network TV at the time didn't allow for topless Playmates, so there are no real skintastic moments for memory here. However, those jobs did help him amass the funding for his next feature film...
****
Now this is the film that you could argue begins to identify the "brush strokes" of the artist that is Andy Sidaris. The signature Hawaiian backdrop, someone from the world of pro-wrestling in Lenny Montana, political espionage, and a larger budget to blow things up a bit more! Most crucially, however, is Sidaris' use of multiple Playboy alums as the leading ladies with Barbara Leigh (Celeb pictorials in May 1973, January 1977), Susan Kiger (Playmate of the Month, January 1977) and Carol Needham (Playmate of the Month February 1979) all playing critical roles!
This time the story follows a syndicate of seven ruthless crime-lords who have basically taken over Hawaii and plan to kill every political leader that is in their way of owning every inch the islands and doing whatever they want with the land and it's inhabitants. The only thing standing in their way is freelance badass, Drew Savano (William Smith), and his hastily assembled rag-tag army of secret agents consisting of… The Black Belt, The Comic, The Cowboy, The Indian, The Playmate, The Professor, and The Dragster.
These reluctant heroes have no problem doing to deed of killing each and every one of these mobsters, all they want is a cool $1 million smackers each for their individual talents to shine. So they now become Savano's Seven with the price tag of $7 million bucks to save Hawaii! It's a tone-setter of a flick for Andy and definitely has some familiar faces with The Karate Kid's Martin Kove, William Smith (Falconetti from Rich Man, Poor Man), and the father of "American Karate" Ed Parker, playing himself. All that, plus numerous nude scenes from Susan Kiger and Carol Needham will really lock you into this 1979 rollercoaster ride with no brakes!
****
Sometimes directors need a mulligan on a favorite film of theirs… The idea is fleshed out but the budget isn't there, or the script was good, just needed another rewrite, or maybe the technology finally caught up to the ambition of the overall project. If Michael Mann didn't take another swipe at L.A. Takedown (1989), we wouldn't have Heat (1995). Howard Hawks basically made the same movie three times with Rio Bravo (1959), El Dorado (1966), and Rio Lobo (1970). Hell, even Hitchcock went big with his second go-around with The Man Who Knew Too Much in 1956!
Well, Andy did somewhat of an overhaul with 1985's Malibu Express, which is a remake of his first feature film Stacey, and is the official kick-off of the "Bullets, Bombs, and Babes" series under his Malibu Bay Films banner. Andy went the way of Howards Hawks though and changed up plenty of things from the OG version, splitting the main character of Stacey Hanson into two different characters: race-car driving and inexplicably wealthy private dick, Cody Abilene (Darby Hinton) and his sidekick/partner in crime June Khnockers (Lynda Wiesmeier, Playmate of the Month, July 1982), which might arguably be the greatest private detective name in the history of film/television!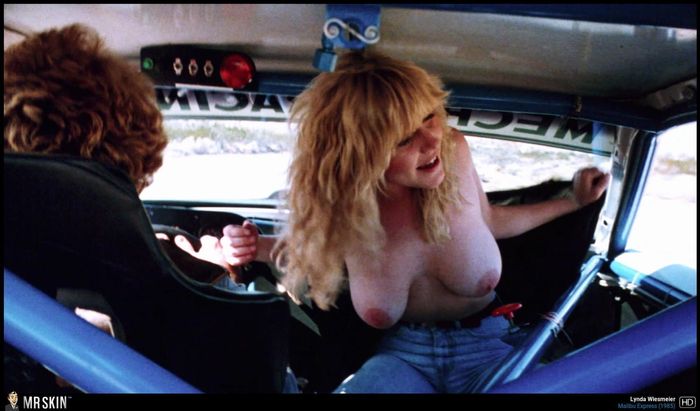 Now there are some similarities in the through lines of the plot. Race cars, private detectives, wealthy heiresses and what not, but this rewrite really kicks up the espionage in comparison to the lower stakes of the family inheritance being in trouble as the main focus from the original Stacey. This time we follow the smooth talking, cowboy hat sporting, and mustachioed private eye, Cody Abilene, who is hired by Contessa Luciana (Sybil Danning, August 1983's Playboy centerfold), to "watch over" Lady Chamberlain, an eccentric and wealthy older woman who may be currently getting blackmailed, so he goes undercover at her estate.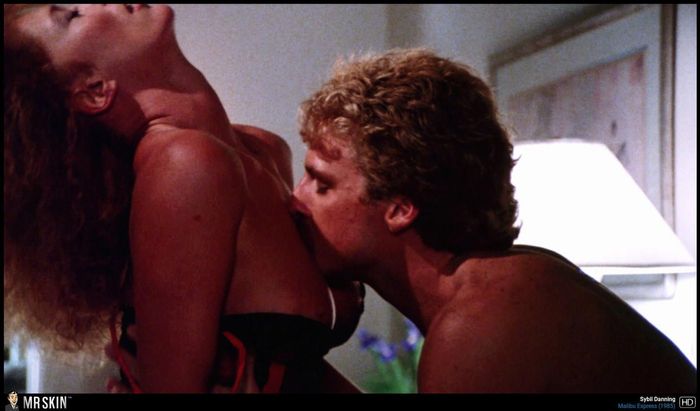 While there, he begins to uncover a diabolical plot bigger than a few stolen bucks from a wealthy family, he discovers a traitor amongst the over-sexed upper crust socialites who is stealing state-of-the-art tech from American Computer Technology Corp and hocking it to the Russians under the table in a level of corporate espionage that would rival a Ludlum or John le Carré novel, but with WAY more tits.
The tow-headed Abilene dodges murderers, blackmailers, corporate espionages committers, and saves every busty damsel in distress that stumbles into the plot, which just so happens to be all former Playboy Playmates of the Month with Kimberly McArthur (January 1982), Barbara L. Edwards (September 1983), Lorraine Michaels (April 1981), and of course Wiesmeier and Danning playing the largest contributing characters to the action flick.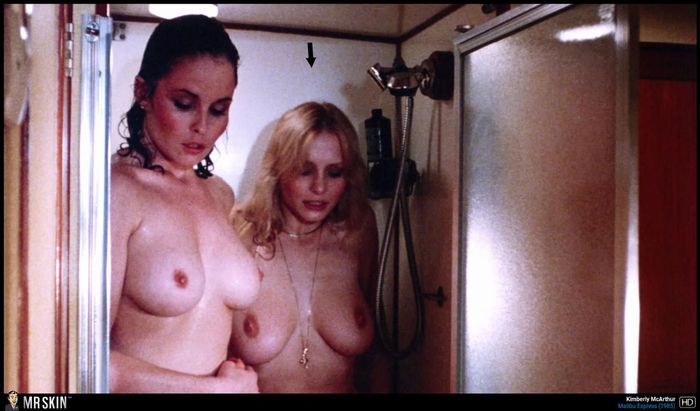 We also get plenty of peripheral nude scenes from 80s babes Shelley Taylor Morgan, Suzanne M. Regard, Alex Hinton, Lori Sutton, and even the "Good Girl of Porn", AVN award winner Shanna McCullough in an uncredited role as a "Massage Girl"...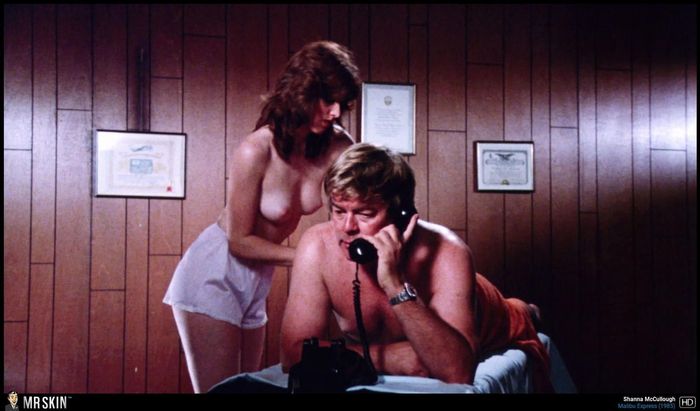 It is definitely the proper kick-off to the BBB series of films that follow and is the most popular of his films (according to metrics on IMDB), so it acts as the true tone setter for all the films to follow. Wall to wall TA, the guns and explosions are literally getting bigger as the minutes go on, the stakes are always getting higher for the heroes, and behind the scenes, the Playboy Mansion of the early 80s is starting to look like the farm system of Andy Sidaris, filmmaker extraordinaire, for his casting call-ups!
****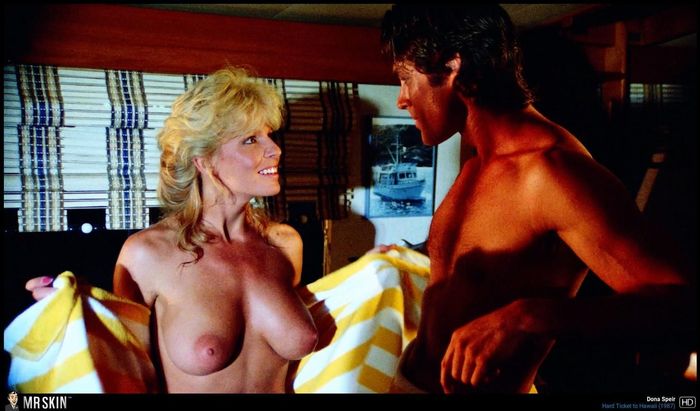 If Malibu Express was Sidaris' tone-setter, so to speak, then Hard Ticket to Hawaii could arguably be considered his Magnum Opus. Well, magnum opus in the sense that it has gained a serious cult following since it came out in 1987 and holds the highest rating of any of his films on IMDb. That is largely thanks to this film cranking up a level of tongue-in-cheek absurdity that, by 1987, was slowly starting to become a signature in his films. To put it lightly… THIS. MOVIE. HAS. IT. ALL!
Toxic waste and rat-cancer mutated deadly snakes, skateboard assassins, multiple deaths by rocket launcher explosion, busty blondes with enough mall-ninja gear to fill several light aircrafts, more hot tubs, and of course, the now infamous razor-blade frisbee death scene! In 2014, Paste Magazine actually named this "Best B-Movie of All Time" and we couldn't agree more!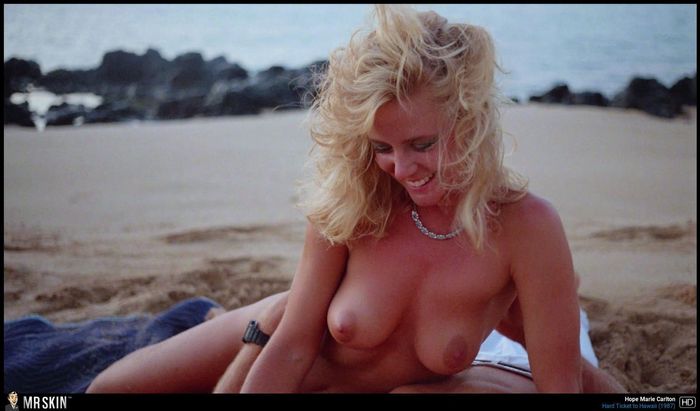 The flick starts simply enough and doesn't stray too far from Andy's previous films. An evil drug lord and his requisite team of buff henchmen have a plot to flood Hawaii's economy with drugs and blood diamonds in an effort to gain control of the 50th state. When they kill a couple of pesky DEA agents, that stirs up some business with the wrong buxom blondes, Donna (Dona Speir, Playmate of the Month, March 1984) and Taryn (Hope Marie Carlton, Playmate of the Month, July 1985), who are functioning as undercover operatives for "The Agency," a clandestine group of government mercs posing as a shipping company called Molokai Cargo. They more or less solve crimes and bust bad guy skulls all over the Pacific.
Among their crew is Rowdy Abilene (Ronn Moss), and if that last name sounds familiar, it's because he is supposed to be the brother of Cody Abilene from Malibu Express. We can now begin to see the tangled web and interconnected universe of Andy Sidaris start to come together by this film. In a stroke of dumb luck or fate, Donna and Taryn accidentally steal a shipment of diamonds that are intended for the drug czar Seth Romero (Rodrigo Obregon) and he wants his diamonds back, along with proper vengeance on the lovely ladies that derailed his Hawaiian Coup plot.
What proceeds is just a rock solid 93 minutes of proper 80s camp, over the top deaths, explosions, high speed chases, comically large handguns, and of course…. Four Playboy Playmates in leading roles! Apart from Dona Speir and Hope Marie Carlton spending a good chunk of this movie either topless in a hot tub together, showering together, or having sex with feather-haired gentlemen, we also get nude scenes from Cynthia Brimhall (Miss October 1985) and Patty Duffek (Miss May 1984), all set in the paradise of Hawaii, to round out this classic!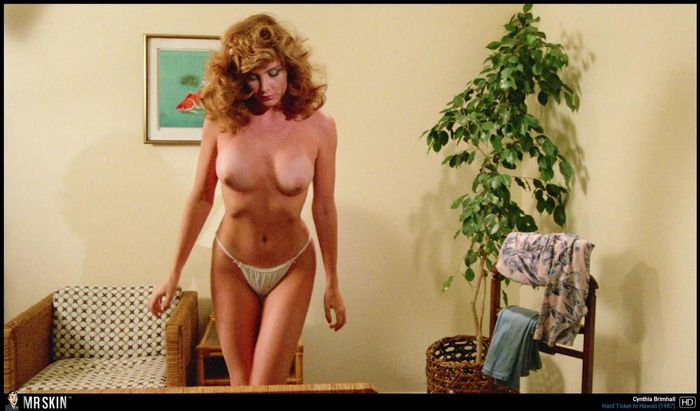 Hard Ticket to Hawaii will shoot your feet right out from under you with an Uzi, jump a dirt bike right through your chest cavity, and inject your nostalgic heart with enough toxic waste rat-cancer venom to feel alive again! Then it'll hit your right in the jugular with a razor blade edged frisbee to finish you off…