Since The Oscars are on their way soon, I wanted to highlight one of the best modern filmmakers who also happens to be one of only a handful of women who have ever been nominated for the Best Director Oscar. It's, of course, Kathryn Bigelow!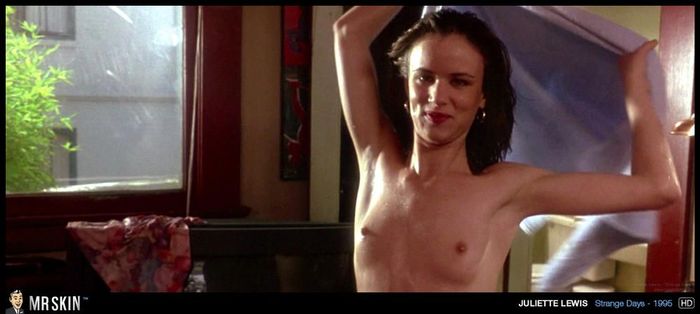 Kathryn was from San Carlos, California, where she took to painting originally. She went to the San Francisco Art Institute to study painting, but when she was 20 she won a scholarship for an Independent Study Program at the Whitney Museum and started getting more curious about film.
It was there that she made a short film that was seen by Milos Forman, of all people, who was very impressed. This led to a scholarship to study film at Columbia University School of Arts where Milos was teaching and where she graduated in 1979. It was there that she really rubbed elbows with influential artists like Philip Glass and Susan Sontag. She worked on short films before working on her very first feature.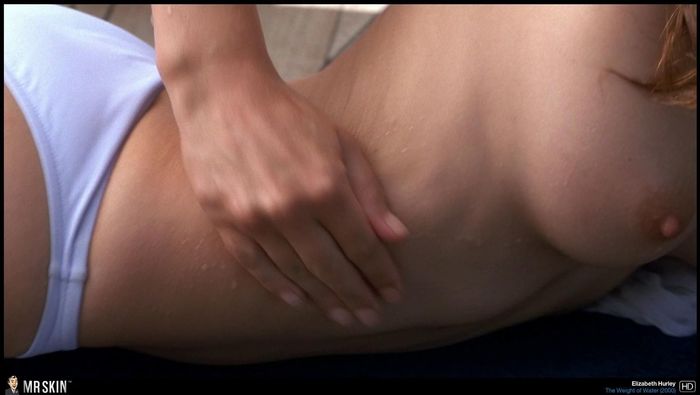 Her first film was in 1981 when she co-directed the motorcycle drama The Loveless with Monty Montgomery. This movie was also Willem Dafoe's debut acting role! There is a lot to love in this debut film about a biker gang on their way to Daytona. Marin Kanter went nude in this film when she lays naked in a hotel bed, showing her boobs and bush.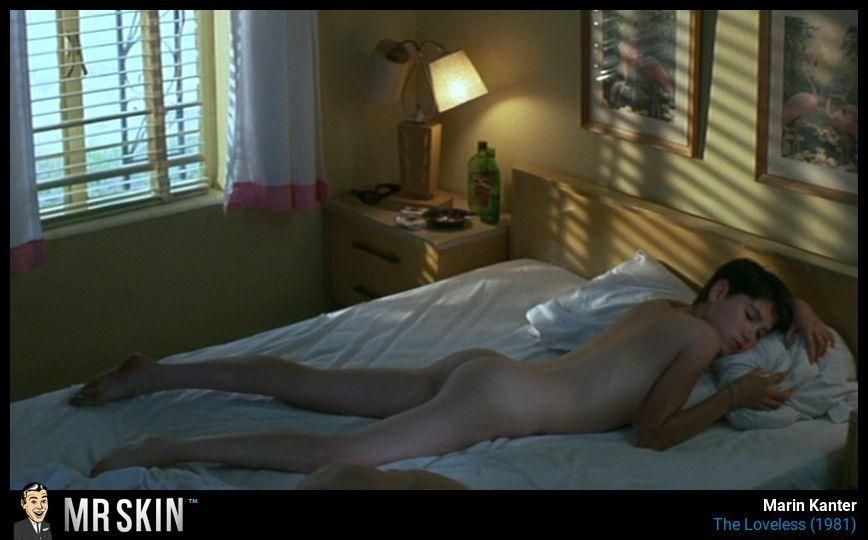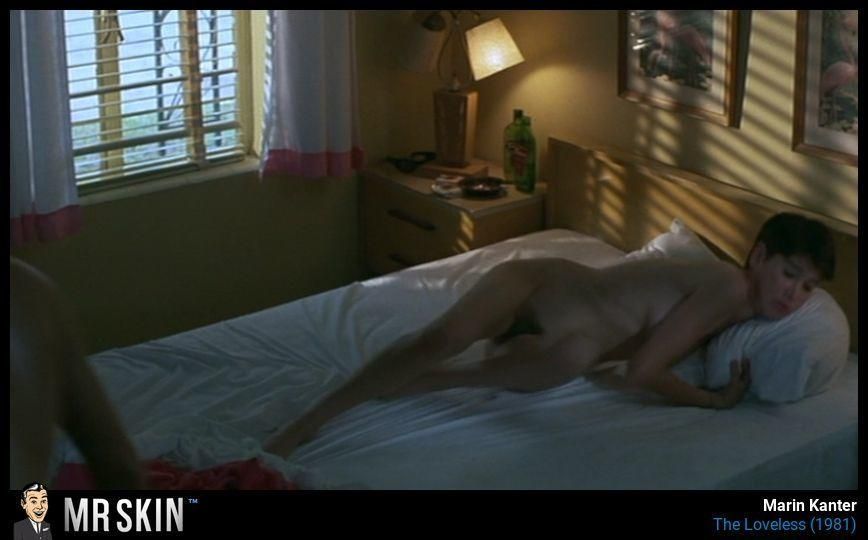 Jamie Lee Curtis starred in Kathryn's next big movie, Blue Steel. No, not the Zoolander blue steel. The Jamie-best-over-and-showed-her-bush crime drama. It's really quick, but it's there! Jamie plays a police officer who becomes one man's obsession and he stalks her and takes her hostage. There are even hotter closeups of Jamie's firm midsection as a man licks her up and down.
I think 1991's Point Break really showed us all what Bigelow was made of. The answer is action and tension! Her films are filled with those two things. This surfer movie is no different as Patrick Swayze and Keanu Reeves try to hit some waves in this film about an FBI agent who goes undercover to catch some surfers thought to be bank robbers. They also meet some babes like Lori Petty and Julie Michaels. Julie is very naked in this action-packed scene in which the naked babe tries to dodge bullets:
In 1995, she directed Strange Days which is a strange erotic sci-fi that stars Ralph Fiennes as a man who deals in memory. You can buy and download memory tapes straight into your brain. He gets involved in a murder mystery which leads to him hanging out with his ex whom he still secretly loves, played by Juliette Lewis who shows her breasts twice.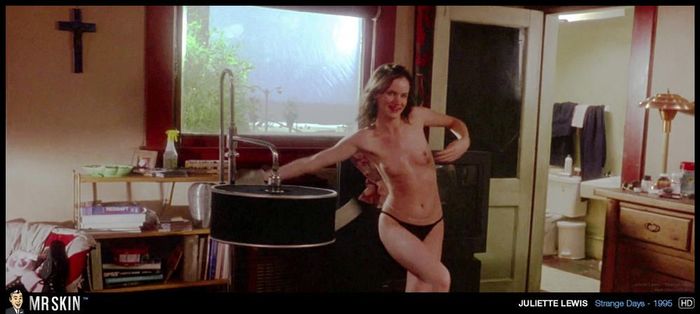 She's not the only one! This film also features breasts from Dru Berrymore. No, not Drew Barrymore - Dru Berrymore. Uh-huh. She looks tit-tastic no matter what her name is in this scene where she goes down on Kylie Ireland.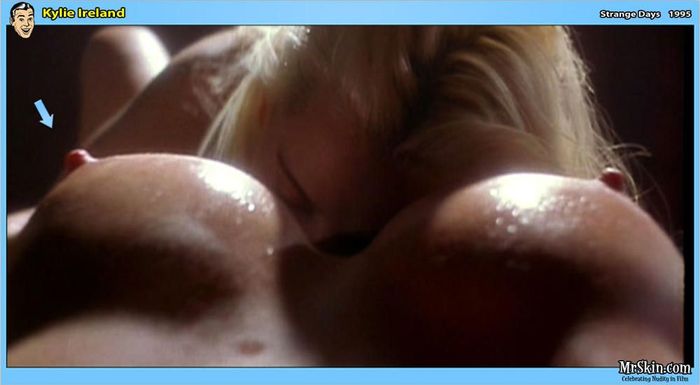 Wait, did you need MORE action from Bigelow and the babes in her movies? Well, good because she is about to give it to you. Seriously, it feels like each of her films gets more and more action-packed. 2000's underrated thriller The Weight of Water begins as a mystery with Catherine McCormack playing a journalist investigating a hundred-year-old axe murder. She goes on a trip with her husband who gets tempted by the boobalicious Elizabeth Hurley.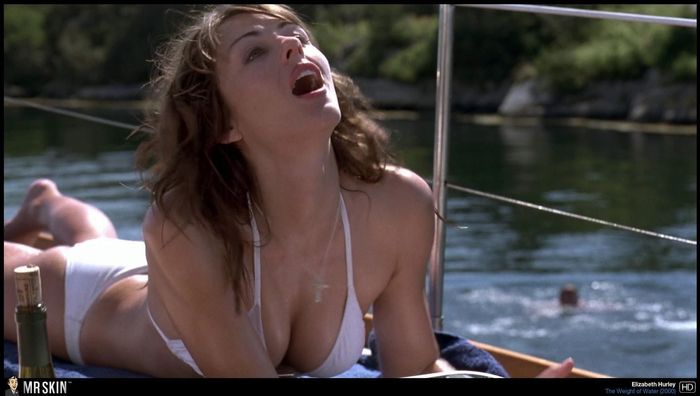 This investigation and seduction story is interwoven with another tense story about a woman stuck in a bad marriage. The two stories seem parallel to one another, but they get expertly connected in a movie that shows women being suffocated in their relationships. For a female director, Bigelow focuses a lot on men, so a movie that explores the emotions of her female characters this in-depth is actually pretty rare for her.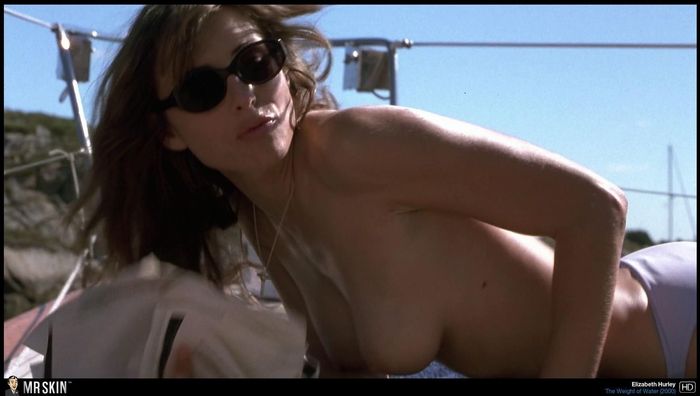 Her films after The Weight of Water barely contain skin, but most of them hardly have female characters. The Hurt Locker and Zero Dark Thirty are both great films, but they are veritable sausage fests. That being said, I can't NOT talk about those history-making movies.
Her film The Hurt Locker in 2008 was one of the best of the year and it earned her a lot of awards and nominations. Many of those awards and nominations were notable because of her gender. For example, she was the first woman to win the Directors Guild of America Award for hurt Locker and the BAFTA Award for Best Director. She then made history when she became the first woman to win the Oscar for Best Director. Here's some funny trivia: she competed for the award against her ex-husband James Cameron and beat him. That must have been satisfying!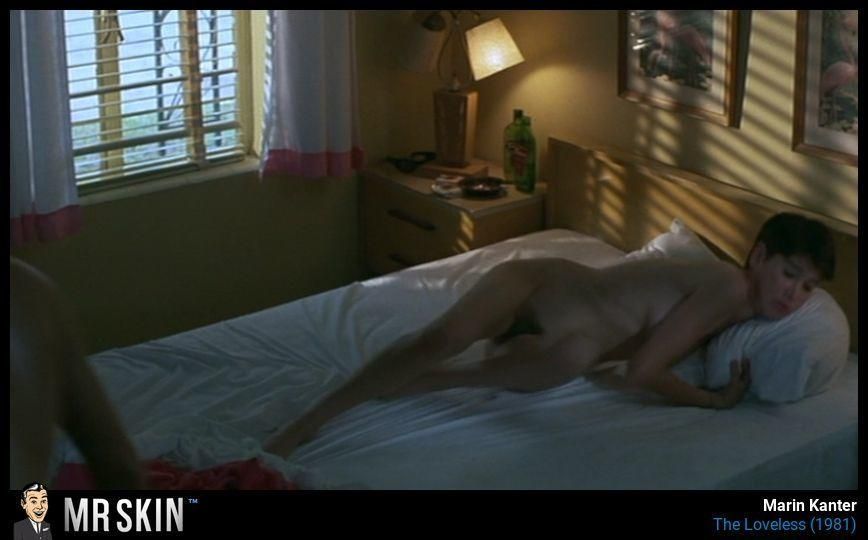 Those two war films were widely praised for bringing humanity to the war film genre and for being so frank about wars that were still happening. Critics absolutely praised The Hurt Locker, especially. Critics everywhere acknowledged that it was a violent, uncomfortable, and necessary watch that gave the world an unflinching look at the Iraq War.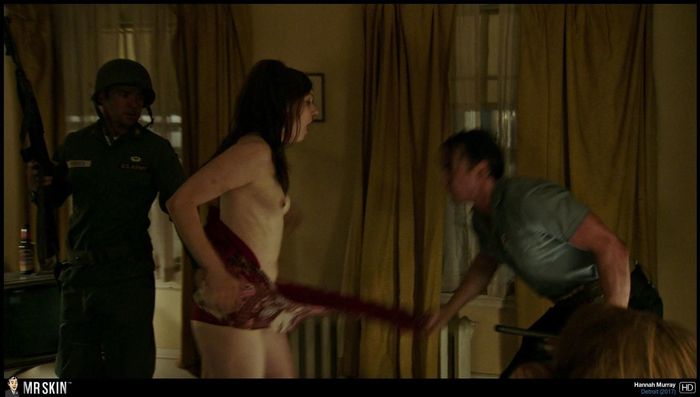 Enough about those films! Let's get back to the skin. Her last film with nudity was 2017's Detroit in which Hannah Murray was topless in this thrilling crime drama that takes us back to riots in Detroit in 1967. The cops raid Hannah's hot-n-heavy good time, forcing her stand up topless and desperately try to hide her domes.
This definitely will not be the last that we see of Bigelow and her films. I just hope that that is not the last we see of nudity in her films, too!