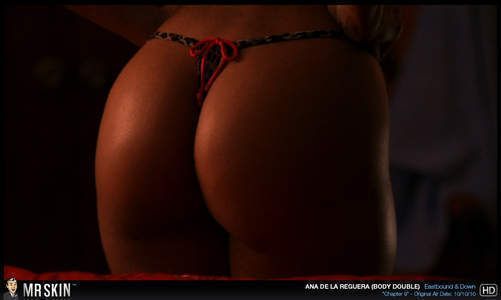 We were excited when we heard that frequently-nude Mexican muffstress Ana de la Reguera was joining the cast of Eastbound Down this season. Unfortunately, the super-sultry Ana hasn't brought her brand of south of the border flesh to the boob tube yet, but on last night's Eastbound, there was a thong shot that was so spectacular, it dropped jaws and raised Nielsen ratings.

One problem: although it was Ana's character, Vida, who belonged to the butt, it was the work of a body double.

And that's where the problem ends, because the stunt ass was none other than the most famous cheeks in the modeling world: Vida Guerra!

The shelf-seated Guerra was listed in the credits, and confirmed her can's cameo via her Twitter today, writing:

"I was a body double 4 the character name Vida when she was undressing in the room"

We've got the pics and clips here, so have a look and give it up for the hardest-working rump in show business.