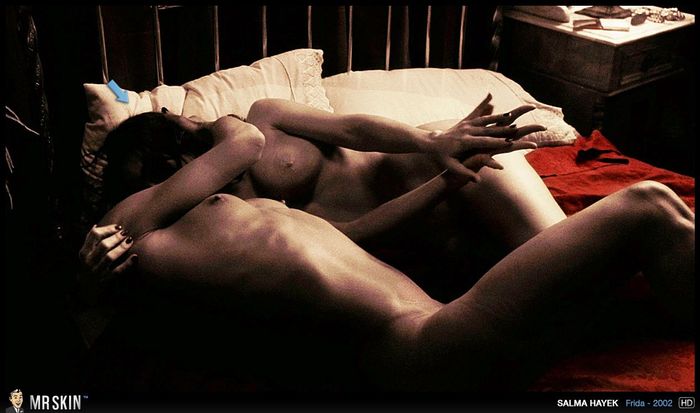 We've got a slew of A-list nudity this week as Miramax wallows in its awards-show glory by releasing its greatest Oscar tits- er, hits- on Blu-ray. Among he skintastic titles are Frida (2002), featuring Salma Hayek nude and lesbian, The Piano (1993), starring Holly Hunter's brown eye, The English Patient (1996) with nude stars Juliette Binoche and Kristin Scott-Thomas, Cold Mountain (2003), starring Nicole Kidman's milky-white mountains, and Shakespeare in Love (1998), with Gwyneth Paltrow naked. Phew!

Plus, they're not Oscar winners, but you'll still be rubbing your little bald man as Mischa Barton goes lesbo in You and I (2011) and Naoko Watanabe bares her rising suns in the bloody Japanese flick Outrage: Way of the Yakuza (2011), nude on DVD and Blu-ray:

Bisexual artist Frida Kahlo liked to paint herself naked. Mr Skin doesn't know a lot about art, but he knows what he likes. Starring as the sexy sketcher in Frida (2002) is South of the Border bombshell Salma Hayek. The story follows her life from a crippling bus crash to her volatile marriage to the Mexican muralist who couldn't keep his paintbrush in his pants, Diego Rivera. Along the way there are a lot of girl-on-girl good times and artist's models stripping for the carnal canvas, like Lucia Bravo. Ashley Judd nearly flops out of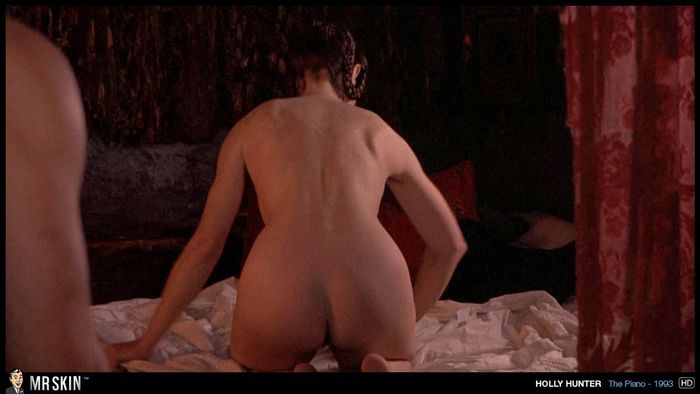 her flapper dress during a scene where she and Salma suck face. Overall, Frida is Salma's exhibition, and her palette is fully exposed.

She's mute and has a tight little bod, so Holly Hunter is the perfect wife in the critically acclaimed film The Piano (1993). Too bad that she's stuck with stodgy Sam O'Neill in an arranged marriage. The guy doesn't even bother to carry the piano she brings all the way from Scotland. He just leaves it on the beach of his remote New Zealand home, leaving Hunter to take a long hike every time she wants to tickle the ivories. Fortunately, lecherous Harvey Keitel wants to tickle her ovaries. He makes a deal to own the piano and then blackmails the sexy gal into some sexual favors--which, in best romance novel fashion, soon leads to love and tragedy. Fast forward to the 1 hour, 3-minute mark, where TA meets AE as Holly decks us with her fine ass (and a bit of furburgerage) before tickling us with her titties.
Ralph Fiennes plays a horribly burned man on his deathbed at the close of WWII in the critically-lauded film The English Patient (1997). But wait- don't give up on this tear-jerker yet, because if you do you'll miss out on a real jerk-off opportunity. While Fiennes may not be exactly attractive to the ladies as a scabby piece of human charcoal, he has a vivid memory. In flashbacks he recalls former lovers like Kristin Scott-Thomas,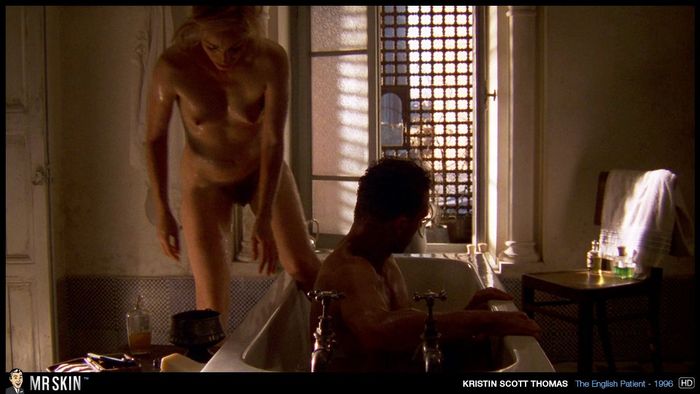 who does a full frontal getting into, then out of, the bath and shows breasts in a post-sex scene, and Juliette Binoche, who shows a breast in a brief, dark sex scene. Yes, be patient with this one, and you'll be rewarded in your English royal jewels.

In Cold Mountain (2003), wounded confederate soldier Inman (Jude Law) struggles to escape from the Civil War and return intact to his beloved belle Ada (Nicole Kidman). His lover girl spends her days wanting and waiting while trying to save her family's farm with the help of "There ain't no man better than me" ranch hand Ruby, played by ruddy-faced, plumply packed Rene Zellweger. Distracted by horny hillbillies like Katherine Durio, who flashes her perked peeks and back valleys, the soldier's trek to Cold Mountain stays at a comfy, nerf-perking ninety-eight degrees. "You are all that keeps me from sliding into some dark place," Inman tells his wanton woman in letters. Mr. Skin would welcome a slide into a dark place, as long as it's attached to the strawberry-patched Nicole. Do what you can to come back and dive Inman, before Ruby teaches your gal to be more skindependent! No Kidman.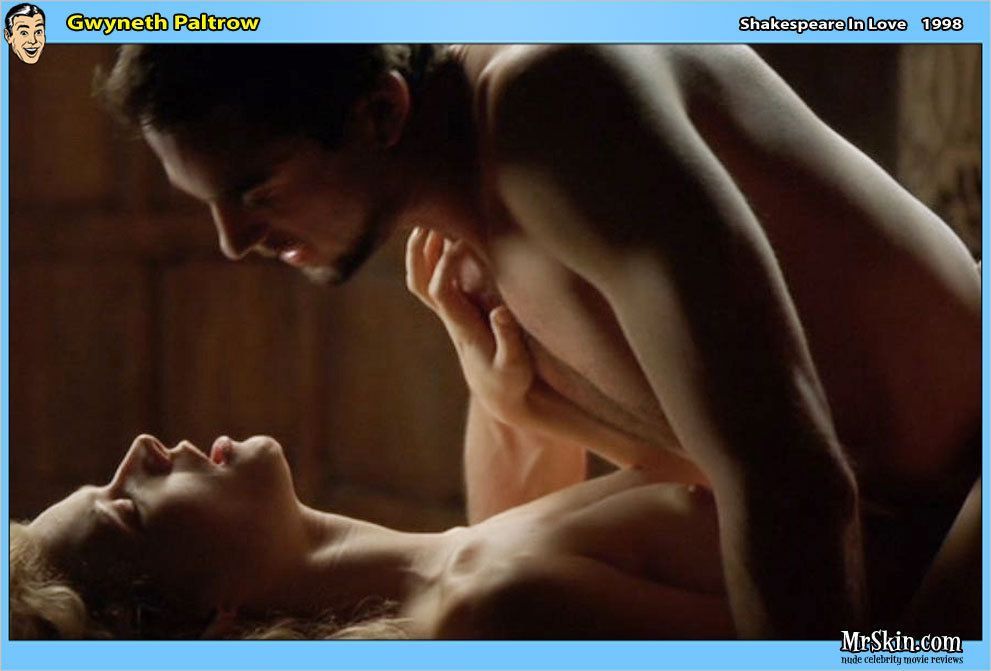 The Bard gets the romantic comedy treatment in Shakespeare in Love (1998), which tells the story of Shakespeare struggling with his newest production, Romeo and Ethel the Pirate's Daughter. Enter Gwyneth Paltrow (and who wouldn't want to enter her?), as a woman with a passion for the stage who is bound to marry a noble bore. She goes in drag to auditions for the play and lands the lead and the playwright, who begins to edit his story to reflect their burgeoning love affair. Gwyneth had already flashed her Paltrows in three earlier films, but her Romeo and Juliet never looked better than here. All the world's a stage and here that stage is a peepshow. Fast Forward to the 53-minute mark, where Shakespeare's in love and audiences are in lust watching Gwyneth's soliloquies take center stage.

What do you get when you cross Russian lesbians with The O.C's Mischa Barton? That would be the dramatic, lesbianic thriller You and I (2011). Shantel VanSanten stars as Janie Sawyer, a lonely teenage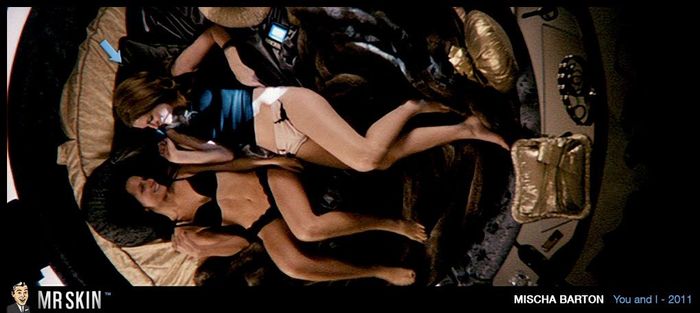 lesbian living in Moscow. When Janie meets the equally lonely Lana Starkova (Barton) on a message board for the pop idol group t.A.T.u, the two form a skinstant connection. After a poem co-authored by the girls is picked up by t.a.T.u. and made into a song, Janie and Lana are swept up into the seductive-but-dangerous world of Moscow nightlife. Shantel and Mischa strip to their skivvies for a smokin' hot girl-girl makeout scene, with Shantel showing seat meat and Micha baring boobage as they walk around the apartment the morning after. You'll be Russian to take off your pants!

A long-suffering yakuza is drafted into a bloody grudge war in Outrage: Way of the Yakuza (2011). Director Takeshi Kitano (aka Beat Takeshi) stars as Otomo, a yakuza ordered by his boss, "The Chairman," (Soichiro Kitamura), to stir up trouble with a rival gang. There's no real reason for the attack- The Chairman is simply pissed that a subordinate (Jun Kunimura) has established a friendly relationship with the opposing clan. But Otomo is bound to obey by the yakuza code, and so he resigns himself to an endless, pointless cycle of retaliations and retaliations for retaliations and retaliations for those retaliations...Naoko Watanabe bares some perky Nipponese nips getting screwed by a heavily tattooed gangster. The sun ain't the only thing that's rising!
CU Next Tuesday, Skin fans, for all the newest and nudest releases on DVD and Blu-ray right here at MrSkin.com!