April 15 is a date many of us dread every year, but with Tax Day 2020 pushed back to mid-July, we can all breathe a sigh of relief and enjoy some of these skin-filled flicks release on April 15th in Movie Nudity History!
A lot has changed in James Franco's career since the release of this flick four years ago.Franco spent much of the last decade churning out movies at a mind-numbing rate, but this 2016 effort is one of the rare films among that bunch which he didn't also direct. Based on Stephen Elliott's book of the same name, this effort from writer/director Pamela Romanowsky has a fairly solid cast including Timothée Chalamet, Amber Heard, Ed Harris, Christian Slater, and Cynthia Nixon.
Arguments over the film's quality are certainly merited as even the book's author expressed his disappointment with the finished product. One thing that can't be argued however is that co-star Tamzin Brown looks absolutely stunning without a shirt on...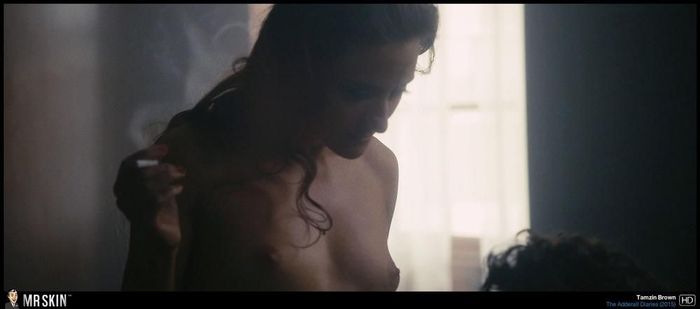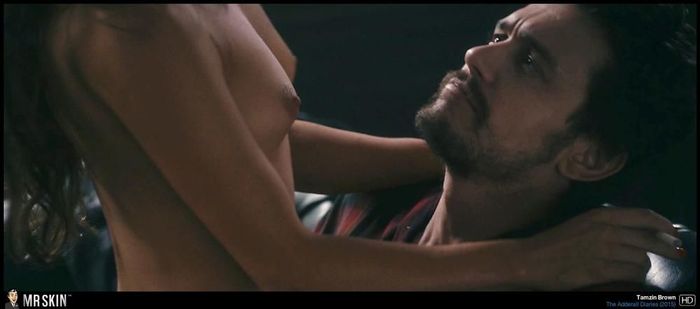 Released in 2010 in its native France, this period drama made its way stateside nine years ago today. Legendary French director Bertrand Tavernier (Coup de torchon) working from a screenplay he co-wrote based onMadame de La Fayette's 17th century novella of the same name. Set during the French War of Religions in the late 16th century and culminating at the St. Bartholomew's Day Massacre of 1572, the film centers around the titular princess—played by French fox Mélanie Thierry—whofinds herself torn between the amorous advances ofthe Count of Chabannes (Lambert Wilson) and the Duke of Guise (Gaspard Ulliel) while her husband is away trying to end the war.
I know, a real snoozefest, amirite? So what about the good stuff? Thankfully there's plenty of it, as Mélanie Thierry goes nude several times, even baring some phenomenally furry full frontal while getting a bath...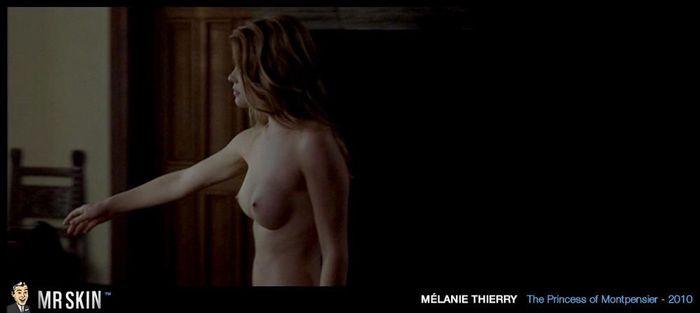 Whileonly a few films have tried to capture the spirit of The Beatles without treading on the all-too-sacred ground on which they reside, fewer still have succeeded in their quest. This film took the unique tack of following the band's early days playing clubs in Hamburg in the very early 60s, and though it plays fast and loose with the facts, it does at least manage to capture the thrill of what it must have been like to be there in those formative years. Ian Hart, giving his second performance as John Lennon following the made-for-TV flick The Hours and Times, plays the cocksure young Lennon as a man torn between his loyalty to the band and his friendship with Stu Sutcliffe (Stephen Dorff), his talented artist friend who is the band's bassist at the start of the film.
Once they get to Hamburg, it becomes clear that Stu isn't actually all that interested in music, and that interest fades altogether once he meets Astrid Kirchherr (Sheryl Lee), an eccentric and gorgeous photographer. At first it seems that the film will be a love triangle between Astrid, Stu, and John, but John's not interested in Astrid so much as he wants to keep his friend playing with the band. This all falls apart soon enough as Stu has a tragic destinyaway from The Beatles and the film manages to stick its rather emotional landing. No, it's not a great film, but it's far and away the best film made about The Beatles to date.
It's also got some fantastic nudity in it, including many young German groupies all too happy to sleep with the various bandmates throughout the first act. When we first meet Stu, he's painting a nude portrait of Finola Geraghty, who bares all while posing in his art studio...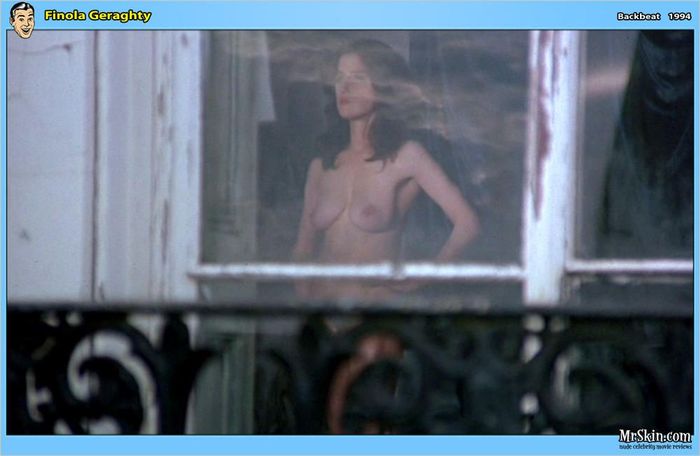 Sheryl Lee is the true Skin.V.P. here, however, going nude several times in the flick. Just past the one hour mark, things really heat up between her and Dorff as they get nude, paint one another's bodies, and commence to getting down...
Dennis Hopper's fourth film as a director is this controversial film that aimed its cameras at the racial tension between the cops and themany minority communities living in East Los Angeles. Robert Duvall plays a grizzled racist cop who takes rookie cop Sean Penn under his wing to show him the ins and outs of the various gangs in the area, giving the film the first of its many meanings, distilled from the various colorsused to identify and differentiatethevarious gangs. Of course, it's also a matter of Colors meaning Races, as the racial tensions depicted in the film would soon boil over in real life with the Los Angeles Riots of the early 90s.
Penn's character eventually hooks up with an Hispanic waitress (Maria Conchita Alonso), with the two getting it on around the 48 minute mark and Maria going topless for their dalliance. It's rather ironic, in retrospect, that the two would come to verbal blows in the media early last decade over Penn's support of Hugo Chavez. You can read more about that interesting back and forth by clicking here...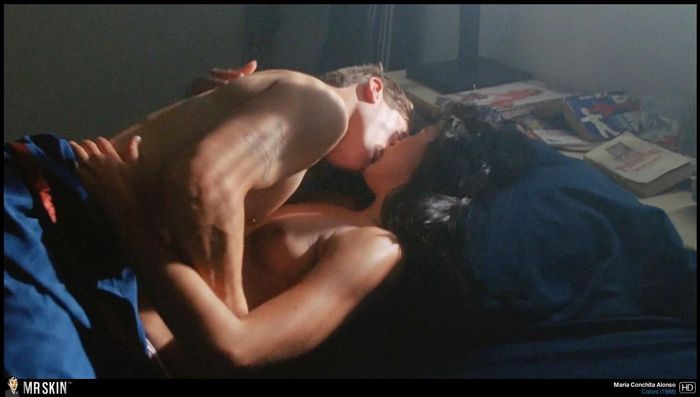 The film's other nude scene comes courtesy of Ara Thorpe, whose breasts can be seen when Duvall and Penn bust into her house and kill her gang-affiliatedboyfriend who was banging her at the time...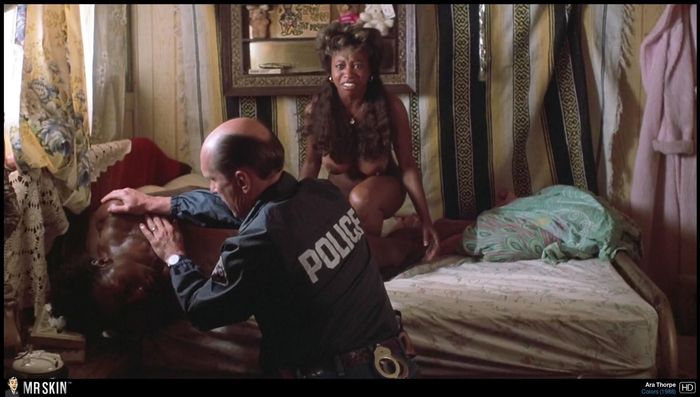 Following his skinless debut featureFoxes, director Adrian Lyne caught the eye of mega-producers-in-the-making Don Simpson and Jerry Bruckheimer, who hired him to direct theirdebut film under their new producing label. The film would also be the second for superstar screenwriter-to-be Joe Eszterhas, doing a page one rewrite of a script by Tom Hedley (Circle of Two).18 year oldJennifer Bealswon the lead role of Alex Owens, a steelworker by day and exotic dancer by night who is indeed a "Maniac" on the dance floor. Those dance moves were left to several professionals, includingMarine Jahanwho would finally get her face seen in her next film,Walter Hill'sStreets of Fire. In retrospect, it's a tad ridiculous that they thought nobody would notice at the time...
While the film is very sexually charged, the actual nudity in the film is confined toa handful of scenes featuringuncredited actresses. A few that did get credit, however, include softcore iconMonique Gabrielle—who would explode thanks to the following year'sBachelor Party...
As well as the lateSunny Johnson, who would tragically die just a year after the film's release due to a cerebral hemorrhage at the age of 30...
Way back in January, we covered Cannibal-sploitation in one of our first Staff Picks columns, and this 1978 classic fits comfortably within the subgenre. Made in 1978 in Italy but released until this day 41 years ago, this Sergio Martinez-directed flick was originally released here in the States under the title Slave of the Cannibal God because, I suppose, the word Slave is more marketable and controversial than the word Mountain. Either way, it's your standard Cannibal-sploitation fare with legendary Bond girl Ursula Andress in the lead role of a woman searching for her missing anthropologist husband who disappeared in the jungles of New Guinea. When they eventually stumble upon the cannibal natives of the region, they find her husband dead, and eventually crown her their new goddess.
As you may have discerned from our discussion of the subgenre a while back, there are elements of many films in the mix here. This was never the most original subgenre and often many elements overlapped because, frankly, how much can you really do that's different with this formula? Thankfully Ursula Andress gets stripped nude near the end of the film, at first because it looks as though the natives will be doing a classic cannibal honey torture, but it turns out they're just helping to transform her into their goddess...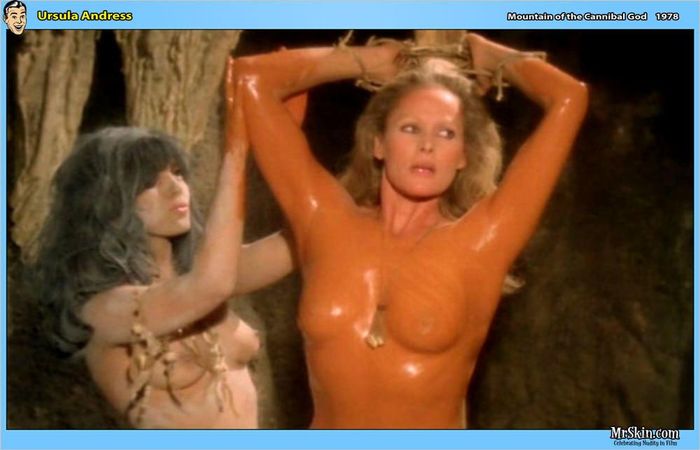 There's also some bonus boobage from Akushula Selayah as one of the native girls who seduces one of Andress' traveling companions...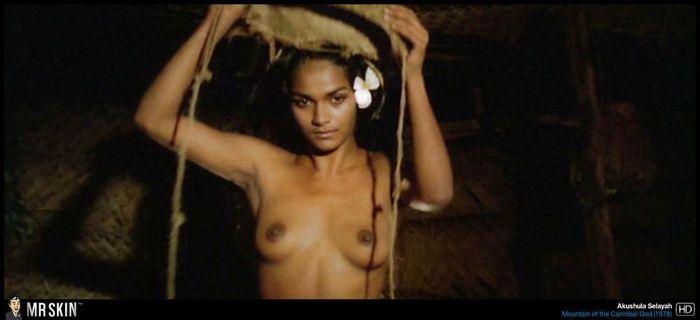 Finally this week we have this all-time Blaxploitation classic released on Tax Day 46 years ago and starring the gorgeous Pam Grier in the title role! When her government agent boyfriend is gunned down by members of a drug syndicate, Foxy goes on a rampage to find the men responsible. This leads her to a secretive modeling agency that's actually a cover for a prostitution ring servicing rich and powerful men, with Foxyposing as a lady of the evening to gain favor with the agency. Once she's infiltrated the agency, she begins helping the various women imprisoned there to escape the life, and it isn't long before her cover is blown. We get a nice peek at Pam's peaks when she is tied to a bed after she's ratted out...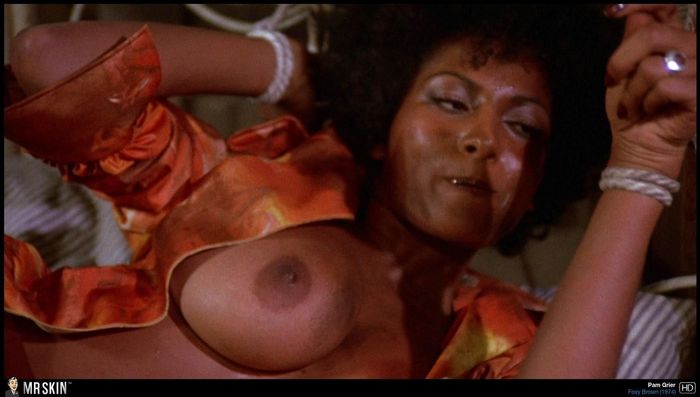 It's by no means Grier's best nudity of the time, but there are plenty of other bare beauties along the way to soften the blow of less Pam Grier nudity. The lovely Sally Ann Stroud and the sensationally stacked Sharon Kelly also bare their breasts as other women in the employ of the evil agency...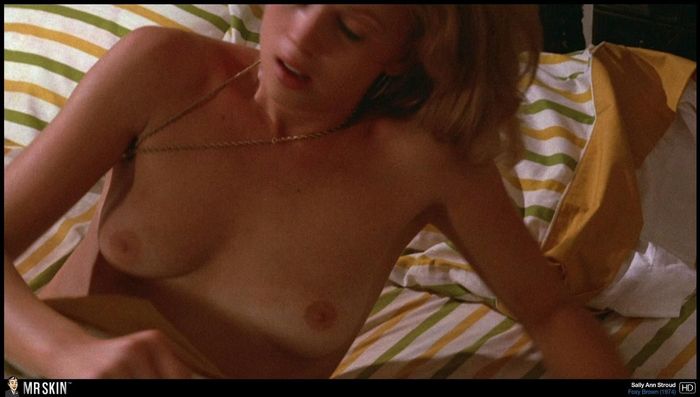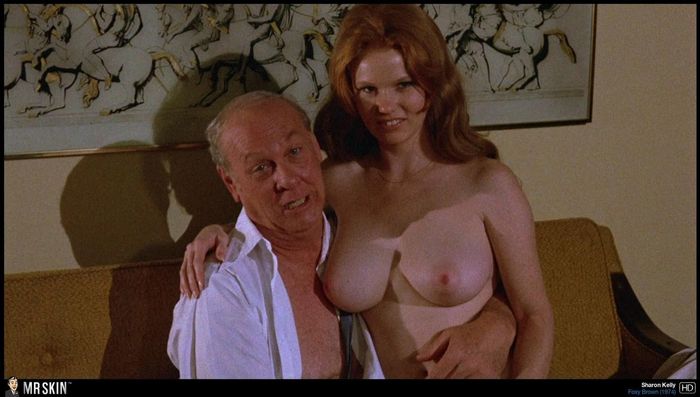 Like most of the best examples of the genre, it features everything you could want from copious amounts of nudity and violence, and an appropriately gruesome comeuppance for the film's main villain, who gets castrated by the Black Panthers. Honestly, what more could you want from a Blaxploitation flick?