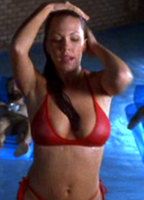 Biography
For the perverts who grew up in the 1990s, TV was testing teen's temperaments, flaunting more flesh than the FCC could keep up with. LA beauty Nikki Cox was just one of a stunning succession of tawdry teens that dominated the nasty '90s. Durable Fox television fixation Married... with Children (1987) naturally spawned crass copies, the brassiest of which was Unhappily Ever After. The Bundy-lite sass-and ass-fest that enjoyed a five-year run on the large strengths of bimbo-bright brunette bombshell Nikki Cox's knockout knockers. As teenage Tiffany Malloy, Nikki put her own spin on the attractive-airhead trope, bounding about in all her natural glory, arousing applause for more than just comic timing. Nikki instantly became a photo-fixture upon the walls of adolescent boys all across America, while fathers were left fawning behind the foreground. Foxy Cox's overnight success catapulted her to C-grade celebrity sex-symbol status and landing the starlet her own sitcom, the under-watched comedy Nikki (2000), where the buxom babe bounced her bosom for two short seasons on the WB.
This big-breasted babe caught a small taste of cult fame when she appeared in the Mr. Show spinoff movie Run Ronnie Run! as Kayla, flashing a fetching fortune of flesh in a barely-there bikini. She also took a little TV time as a reforming prostitute on The Norm Show (1999) and on Las Vegas (2003) Nikki provided an ample lift to an otherwise limp cast.
Alas, this lass has barely bared her ass, let alone her double-trouble bra bubbles, electing to stick to the ever-so-modest career track of teasing rather than pleasing. After marrying and divorcing a couple of castmates, the current-cougar can be seen out on the prowl on red carpets flaunting her fabulous figure. She's even lent her sultry voice to a kinky character called Jenna in an edition of the bawdy video game series Leisure Suit Larry, adding an erotic audio element to her eclectic career.