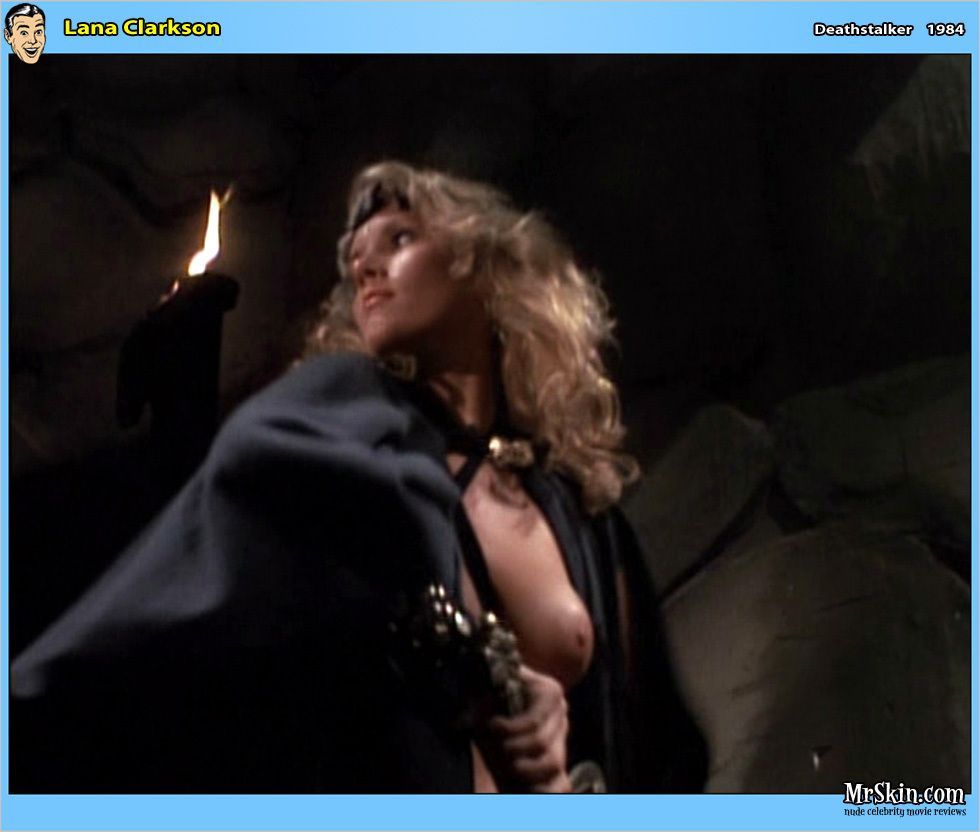 It's a great week for retro racks rumps, as the Roger Corman's Cult Classics anthologies Sword Sorcery (Deathstalker, Deathstalker 2, The Warrior the Sorceress, Barbarian Queen) and Women in Cages (The Big Bird Cage, The Big Doll House, Women in Cages) hit DVD. If you prefer the arthouse to the drive-in, never fear, because the Steamy Arthouse Hits anthology (Secret Things, House of the Sleeping Beauties, Don't Let Me Die On a Sunday, and Torremolinos '73) is exactly what it sounds like, and it's also nude on DVD.

In other nudes, ease on down the Road to Nowhere (2010) and you'll find Shannyn Sossamon slipping a nip, nude on DVD and Blu-ray: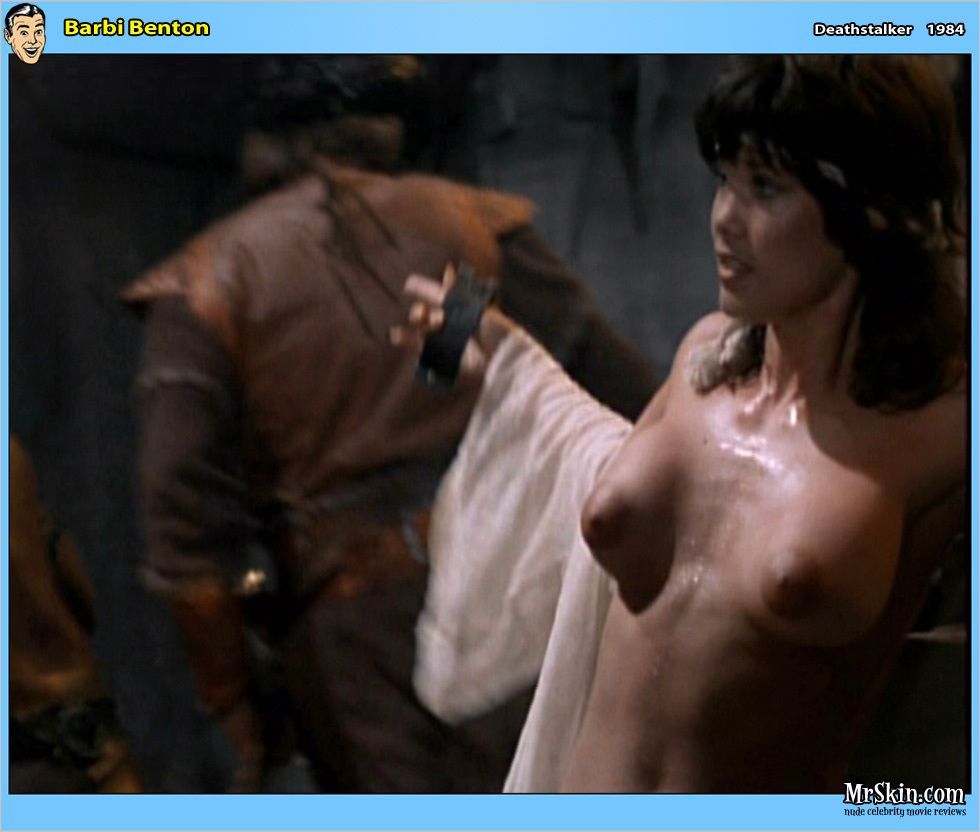 Warriors and wizards mix like thrills and chills, especially when tossed in with ethereal princess captives who magically expose their enchanted orbs, which goes a long way to explaining the enduring appeal of Deathstalker (1983). Brawny and big-hearted Deathstalker is enlisted for the forces of good and sent on a mission to retrieve three mystical artifacts--a chalice, an amulet, and a sword--which when properly combined will channel all the powers of creation. As if that job is not big enough on its own, an evil demon lord has set about obtaining these all-powerful trinkets for ill-humored purposes of his own. Will nobility triumph over venality? Here's a hint: The ethereal princess's earthly bosom heaves on the side of fair play and sweetness.

The barbarian skinvasion continues in the TA-filled fantasy epic Deathstalker 2 (1987). John Terlesky takes on the titular role, a barbarian warrior who wins the affections of Reena the Seer (Monique Gabrielle) after helping her out of a jam. The grateful sorceress reveals that she's actually the deposed Princess Evie, so the duo sets out to restore Evie to power, one cracked skull at a time. Maria Socas teases the camera as she changes behind a sheer curtain, and Toni Naples shows her snookers under a strobe light, but it's softcore starlet Monique who really shows 'em how tit's done. She first flashes her funbags 1 hour, 5 minutes in, and pops her top to reveal some excellent rackage a mere three minutes later. That'll put the horns on your helmet!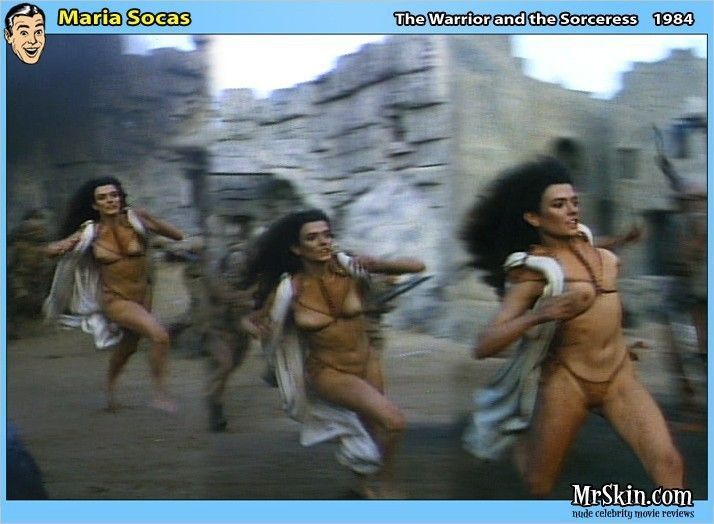 The Warrior and the Sorceress (1984) stars David Carradine as the former and Maria Socas as the latter--and she'll have viewers lathering at her luscious body. Carradine rides into town where two rival gangs are fighting for control. But we're lovers not fighters here at Skin Central, and are much more interested in the several anonymous naked slave girls, Cecilia North's four-jug striptease and Lillian Cameron's full-frontal exposure, even if it's while being drowned. As lead hottie, Maria isn't about to be upstaged in the undressed department. She shows all three Bs in this alluring B-movie that is thoroughly bewitching.

Lana Clarkson returns from her crotch-bulging performance in Deathstalker (1983) wearing much the same nothing, but this time she is joined by a slew of eager-to-flash barbarian beauties in Barbarian Queen (1985). She's joined by topless titans Katt Shea, Dawn Dunlap, and Susana Traverso in an uplifting (at least for men's pants) saga of freeing oppressed people from cruel Roman rule. A lot of clothing gets freed from bodies too, including one mega-mammary and blast-of-bush scene featuring twenty naked extras.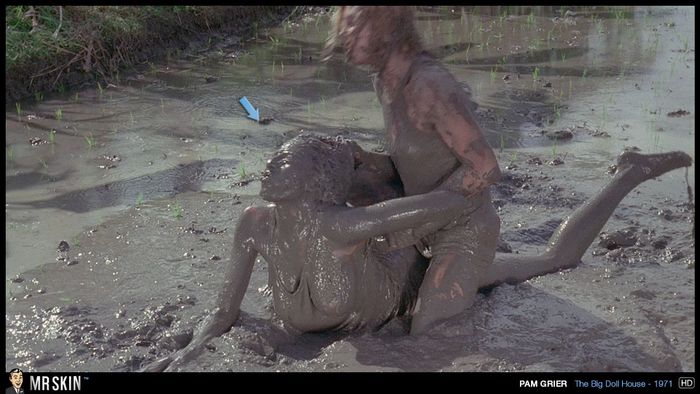 Innocent ingnue Judith M. Brown is wrongly imprisoned when a gangster plants heroin in her purse in The Big Doll House (1971). While matching wits and tits with evil lesbo matron Pam Grier and fighting off the sexcapades of horny hell-cats Roberta Collins and Sofia Moran, she bares torture and tit tickling in the big house until the chance to escape her erotic fate presents itself. Will our heroine hottie's fight for freedom end in a climax of death among her lustful lady inmates?

The Big Bird Cage (1972), the follow-up to 1971's hit The Big Doll House, follows its successor's successful formula: hot broads behind bars, catfights, shower scenes, and an all-hell-breaks-loose prison-riot finale involving all the foxy females on hand. The prison is guarded by homosexuals to keep the chicks from tempting dicks, but don't worry: The ladies find other reasons to lose their hot pants and halter tops when out in the fields picking sugar cane.
How can you tell that Jennifer Gan is the innocent gal sent to the savage women's prison? Easy--the ample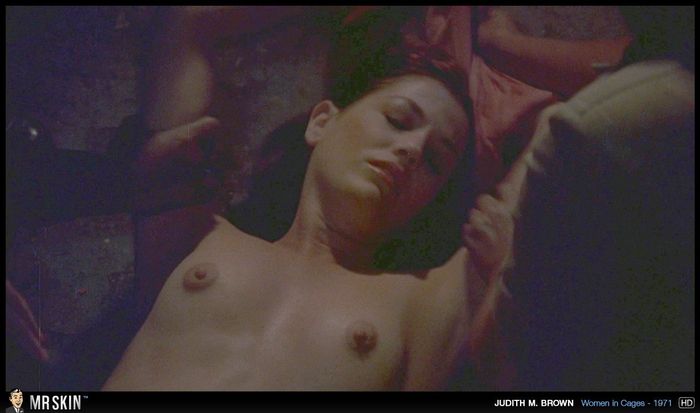 Amazon is the only prisoner who doesn't get naked. Roberta Collins and Sofia Moran make for intimate inmates, though, as does Judith M. Brown as a junkie who's always fixin' to doff her top. The ass-tonishing extras in the shower scenes also contribute to a fine sexploitation epic. Pam Grier, however, really makes Women in Cages (1971) as the sadistic lesbian warden. It's a daring turn from her usual heroic roles, and Grier is grrreat as a kinky caretaker who loves torturing (and comforting) the poor girls at her disposal. By the time that Jennifer stages a breakout, your penis will have already broken out of your zipper!
If all girls who stuck together did so with the stylish panache of the paired heroines of director Jean-Claude Brisseau's erotic drama Secret Things (2002), there would be no impulse ever to pry them apart. A pair of ambitious French tarts uses their bodies as scintillating bargaining chips in bartering for position with rich and powerful businessmen. Their scam is a blend of fun and fast-track advancement until the gals are stymied by an implacable opponent. Their world spins butt-end up, and even their devotion to one another hangs in the balance. The paths to victory and glory lead through vistas of group sex and highly choreographed orgy.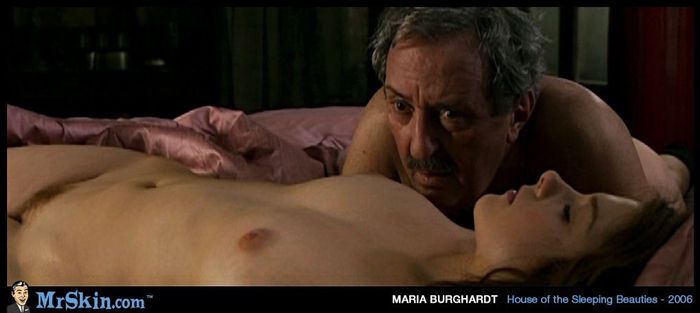 The German drama House of the Sleeping Beauties (2006) stars Vadim Glowna as a terminally ill widower whose loneliness drives him to a secret house where men can pay to spend the night in a bed with beautiful sleeping naked young women who won't wake up no matter what the men do. Vadim spends five nights in the house with five different sleeping babes, all of whom show boobs, butt, and/or bush. They may be sleeping, but your wiener will be wide awake!
Don't Let Me Die On a Sunday, aka J'aimerais pas crever un dimanche (1998) stars lodie Bouchez, who we first see in a club ODing on ecstasy. Cut to her in the morgue, being undressed and stored in a freezer. After all but one of the morgue attendants has gone home, the remaining one showers and shaves, then pulls her out of the freezer to screw her. That is the point when she comes to. Everyone at the morgue fears law suits and such, but her father says that if he knew that would bring his daughter back to life, he would have paid him to do it. The girl refuses to press charges, and becomes his steady companion for the rest of the film. From here, the film gets a little strange and hard to understand, but, according to the box, is "a psychosexual odyssey into the wildness of private Parisian orgies". Tit's good enough for us!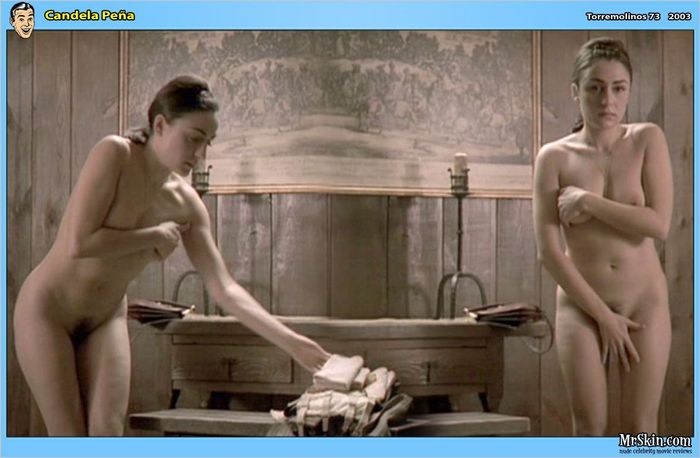 On their honeymoon, a newlywed couple decides to film themselves making love in Torremolinos 73 (2003). Later on, while viewing the results of their moviemaking, the husband realizes that what he has is, well, pretty damn good. Thus begins a new career for both he and his wife. Soon hubby is on the path to being a famous director and the wife an internationally known porn star. And it's funny too! It's a festival of three B's, as Candela Pea gets boinked all over the place.
The boundaries between fact and fiction, reality and imagination, even life and death become hopelessly blurred on the Road to Nowhere (2010). Directed by cult favorite Monte Hellman (Two-Lane Blacktop), Road to Nowhere centers on passionate young director Mitchell Haven (Tygh Runyan), who is developing a film based on a grisly true-crime case. For the lead in his film, Mitchell casts an unknown actress (Shannyn Sossamon) who bears a disturbing resemblance to the real-life victim. We might not always know what's happening in Road to Nowhere , but Mr. Skin knows nudes when he sees 'em, and Shannyn shows a quick slice of suckle stalk in bed 1 hour, 25 minutes in. Road to Nowhere will give you a bone you-know-where.
C U Next Tuesday, Skin fans, for all the newest, nudes releases on DVD and Blu-ray right here on the Mr. Skin blog!