There are many adjectives one could use when describing the films of Danny Boyle:frenzied, intelligent, madcap, overrated, underrated, butoverall the closest word is probablybrilliant. I don't like all of his films, but I can't help admiring the craft and the frantic pacing that makes his films unforgettable—for better and for worse. He won an Oscar for what most fans of his work would have to admit is one of his lesser films, but then again, he has one, and a lot of other guys don't. Sometimes it's all in the timing. Danny Boyle was gonna win an Oscar, at least he won one.
He's been back in the headlines of late thanks to his flirtation with directing the next Bond movie, Daniel Craig's fifth and final outing as 007. He left in something of a very public break-up earlier this month, with rumors pointing toward him wanting to make a Danny Boyle film, and them not really being interested in all of that.
Likea number of other directors—Martin Scorsese,John Woo, Michael Moore—Boyle originally wanted to be a priest, and while I don't know if that necessarily influenced his worldview or his films, for Boyle it was a natural transition: "There's something very theatrical about it. It's basically the same job—poncing around, telling people what to think." Boyle took a very traditional path to becoming a filmmaker, starting out in theatre, transitioning to television, and then making the leap to the big screen.
His desire to be a filmmaker was born when, at age 21, he saw Apocalypse Now, andthe main lesson he seemed to have gleaned from the film is present in virtually every film he has made: "My brain had not been fed and watered with great culture, you know, as art is meant to do. It had been sandblasted by the power of cinema. And that's why cinema, despite everything we try to do, it remains a young man's medium, really, in terms of audience."
If sex and nudity aren't an integral part of a "young man's medium," I'm not sure what is...
Boyle's debut film remains one of his best. A taut, Hitchcockian thriller about three flatmates (Kerry Fox, Christopher Eccleston, Ewan McGregor) who succumb to paranoia and backstabbing when their fourth flatmate dies, leaving behind a mysterious cache of money. Unlike some of his later films, there's not an ounce of fat on Shallow Grave, and though it is fueled by some sexual tension, it's more or less kept beneath the surface.
The film's only nudity is a brief topless scene from Kerry Fox, who tries desperately not to let McGregor see her breasts, but yields in the end because she just wants her damn mail...
It's a bit of comedy and sexuality mixed in a way that would come to define much of the sexual content throughout Boyle's career. It's also the most banal nude scene in any of Boyle's films. It's very natural and comes as a result of an everyday kind of scenario, establishing Boyle as less a provocateur and more of a frenetic realist.
Fantasy and reality collide in spectacular fashion in Boyle's second film, Trainspotting, the one that put him on the map internationally. Adapted from Irvine Welsh's novel of the same name, the film revels in the highs and lows of its heroin addicted characters, andimpeccably balances both the malaise and ecstasy of youth.
The sex is also fast, furious, and played mostly for laughs.
An interesting fact revealed on the film's commentary track is that the sex scene between McGregor and Kelly MacDonald had to be trimmed for the American release by a few seconds. Apparently the puritanical MPAA was upset that MacDonald's underage character was enjoying the sex a little too much.
While the film may seem like arunaway train, the care that Boyle exercises throughout the film, particularly inits nude scenes, lets you know that there's tremendous control being exercised. When Kelly MacDonald's (in the book 14 year old)Dianebangs Ewan MacGregor's Renton...
The actress was five years older than her character, thankfully, and she shows off boobs and bush and buns. It's kind of a perfect nude debut and Boyle carefully shoots the scene so it looks realistic, without ever making you feel there was a Don't Look Now-esque legend around it. Boyle may emulate certain aspects of Nicolas Roeg's* artistry in his work, but he exercises far more control than his forebear in this area.
This is all intercut with two other sex scenes, both of which are female nudity free and played entirely for laughs, making him two for two in this realm. It was a theme Boyle quickly discarded for his next film, the skinless A Life Less Ordinary, and abandoned entirely for his controversial fourth film...
Infidelity is a theme that runs through a lot of Boyle's work, and it's pretty much the driving force behind his fourth feature, The Beach. Curiously, the film started with a bit of casting infidelity as Boyle dumped original star and muse Ewan McGregor from the lead role when the studio offered him a lot more money to cast Leonardo DiCaprio in his first post-Titanic leading role. It caused such a rift between McGregor and Boyle that they wouldn't work together again for nearly two decades.
The film itself is one of Boyle's weakest efforts, though not for lack of trying on his part to jazz up the rather rote narrative. His underwater and above water sex scene between Leo and Virginie Ledoyen...
Bravo for getting Leo back in water so soon.
There's also a brief topless scene from Tilda Swinton as the film's horndog villain...
Interesting tidbit, soon after this, Tilda would go nude with Ewan McGregor in Young Adam, making her something of a curious entry in the Boyle stable of actors. Boyle took a break from female nudity for his next several flicks, including such gems as 28 Days Later, Millions, the underrated Sunshine, the Oscar nominated 127 Hours and the overrated, Oscar winning Slumdog Millionaire.
Boyle came back on fire with this, his follow-up to 127 Hours—and his tenure overseeing the filmed portions of the opening and closing ceremonies for the 2012 Olympics.Trance is aquasi-exploitationalthriller that is best remembered five years later for its absolutely stunning nude scenes from Rosario Dawson. The more interesting thing to come out of this film for me was Dawson and Boyle's relationship that grew out of it. That's right, folks, Danny Boyle most definitely had sex with Rosario Dawson...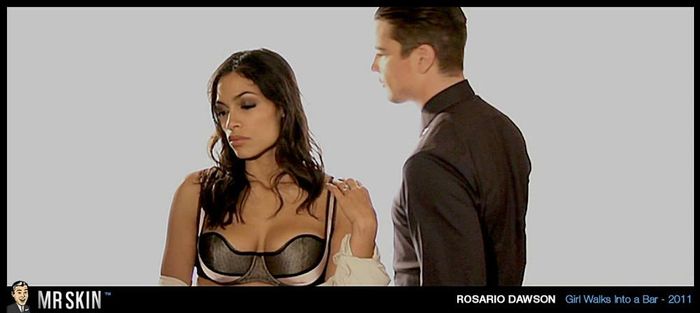 Yes, this Rosario Dawson...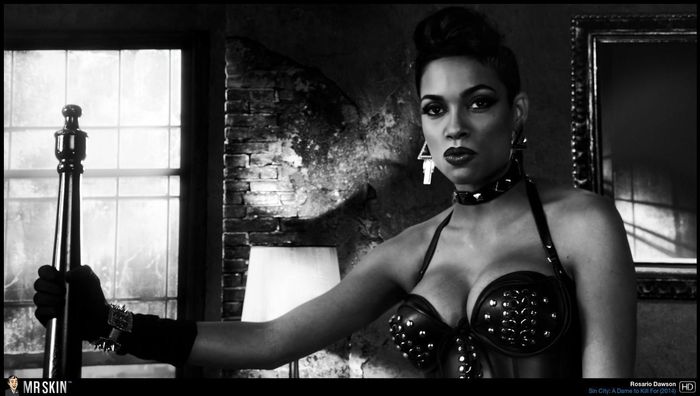 That's the one. She had sex with Danny Boyle...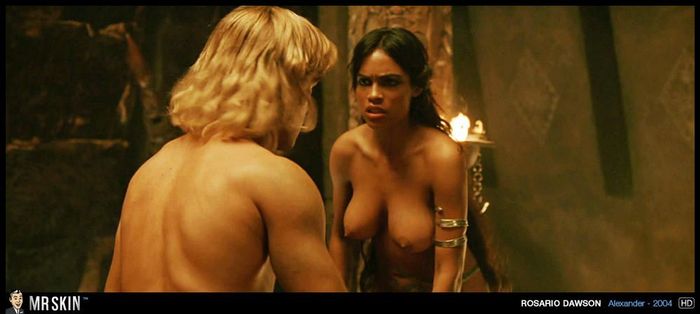 One and the same.
Anyway, now that that's out of the way, let's talk about her stunning nude scenes in this flick. When her character, hypnotist Elizabeth, decides to seduce James McAvoy's classic art lover and thief character Simon, she shaves off all her pubic hair, a move that seems odd in the flow of the film, which has been skinless to this point...
It's only as the twists and turns of this nutty little flick are revealed that we discover Simon's past with Elizabeth. Spoiler alert, she hypnotized the memories out of him in a sort of Eternal Sunshine sans technology procedure.She uses herknowledge of his desire for a woman tobe bare down therelike the women in Goya's paintings to her advantage, and is able to seduce him instantly.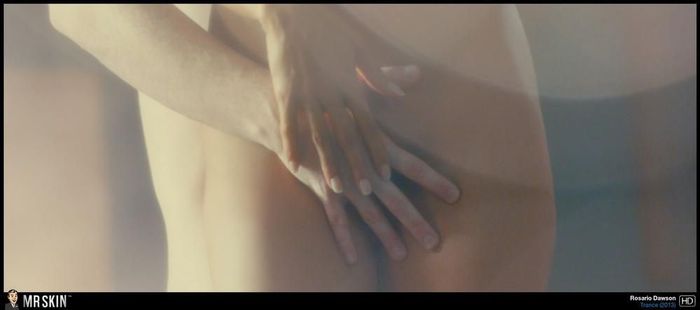 The film isa curious follow-up to his previous, crowd pleasing efforts as its characters move from protagonist to antagonist at the drop of a revelation. It's closer to Shallow Grave than any of his other films, but the two are worlds apart in the way they weave sex into the narrative. This is Boyle's sexiest film by far, and the way its characters use sex as a weapon is part of what makes it such a fun movie to watch.
Twenty years and a few months after Trainspotting hit theaters, Boyle's follow-up featuring the entire original cast—save Kevin McKidd, whose character Tommy died in the first film—was released. It wasn't the seismic box office and cultural game changer that the first film was, but the film itself wasn't really pitched to be either of those things. It's a film about regret and loss and how none of us really change despite how much the years may change us.
It's a sobering sequel, yet it's still quite a good deal of fun. There are some truly inspired bits like Renton and Sick Boy (Johnny Lee Miller) entertainingand laterripping offa Protestant pub full of Catholic haters, and Begbie's chance reunion with Renton in a bathroom stall. One thing it's rather light on, however, is nudity.
Sex is sort of omnipresent in the film, but the nudity is a little harder to come by. Anjela Nedyalkova playsVeronika, girlfriend and literal partner in crime to Sick Boy, to whom we're introduced during one of her many schemes in which she gets powerful men in compromising positions, videos of which are later used to blackmail the men.

Her only nude scenes in the film, however, come when shecheats on Sick Boy with Renton. Both topless scenes are brief, totaling no more than 15 seconds of screen time in a two hour film...
It's a bit disappointing, especially considering that the book's sequel was titled Porno, but it's very much keeping with Boyle's use of sex and nudity as storytelling devices, rather than entities unto themselves. The sex and nudity in his films help to propel the plot and the characters, but never take on a life of their own. This seems to be Danny Boyle's m.o. when it comes to sex and nudity. I'll leaveit to you to decide whether that's a good thing or not.
I'll also leave you with the song most associated with Boyle's work. It's a classic and it's best experienced at maximum volume...
*If you'd like me to cover Nicolas Roeg or any other directors in a future edition, let me know in the comments section below!
Check out the Other Directors in Our Ongoing "SKIN-depth Look" Series