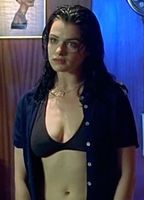 Biography
Rachel Weisz Nude on Mr. Skin
Whether you know this dark-haired head-turner as an action-film star, an award-winning actress, or maybe just as the hot wife of James Bond actor Daniel Craig, one thing's for sure - chances are good the thought of Rachel Weisz nude has crossed your mind more than a few times. And if you're reading this, chances are also good that you're looking for Mr. Skin to do what he does best - skip right to the good parts and give you all the Rachel Weisz nudity in one skintastic place. And guess what? You've found it! So keep scrolling to get all the dirty deets on the sexiest scenes of Rachel's tantalizingly talented career.  
The Early Life of Rachel Weisz
Rachel was born in Westminster, London, the daughter of a Hungarian and an Austrian who both emigrated to the United Kingdom right before the start of World War II to escape the Nazis with her mother's family being helped by Anglican clergyman and social activist James Parke. Both sides have Jewish ancestry and her mother Edith Ruth, who was raised Roman Catholic, eventually converted to Judaism when she married Rachel's Jewish father George. Her parents were champions of the arts and her younger sister Minnie Weisz is a noted photographer and visual artist. At age 14, she began modeling, and between that and her eventual acting career she was gifted the fitting label of "English Rose." That's a fancy way of saying she's a British babe! Rachel performed in student theatre productions at Trinity Hall, Cambridge, attending at the same time as fellow famous Brits Sacha Baron Cohen and Ben Miller, and even won a student drama award for an improved piece at the Edinburgh Fringe Festival in 1991. This would definitely give her the confidence to make her acting dreams a reality, and show off her beautiful body in the process!
Rachel Weisz's Big Screen Breakthrough
Rachel made her small screen and skin debuts in The Advocates (1992), a legal drama she aided with a wet, topless tub scene that had her ample bosoms giving a carnal hello. All rise! Proving an advocate for nudity, she exposed her gorgeous gluteus in the British TV mini-series Scarlet & Black (1993), and then made her feature film debut in 1994's Death Machine. The same year she appeared in a minor role with Morgan Freeman and Keanu Reeves in Chain Reaction, she was seen in the French drama Stealing Beauty (1996), where Rachel's beautifully exposed rack stole our attention from the young charms of her equally shirtless co-star Liv Tyler. But it was her bottomless, pubic hair-baring strut in the aptly titled I Want You (1998) that had us wanting more. And we got it, thanks to the role that would make her a bona fide star - Brendan Fraser's sexy and studious sidekick in The Mummy (1999) and The Mummy Returns (2001). While Rachel looks hotter than high noon in the Sahara, she sadly never unwraps in those films, but social media is overflowing of with claims that it was this performance leading swaths of girls to realize they weren't totally straight. And yeah. We totally get it. 
Academy Award-Winner Rachel Weisz
After sniping her big white moon while getting handsy with Jude Law in Enemy at the Gates (2001) and being romanced by a rakish Hugh Grant in About A Boy (2002), audiences scoped out her T&A all sudsy in The Constant Gardener (2005), for which she won both an Oscar and a Golden Globe for Best Supporting Actress. This would be the first of many lauded performances in critically acclaimed films such as The Fountain (written and directed by ex-hubby Darren Aronofsky) in 2006, the adaptation of the popular novel The Lovely Bones in 2009, and the dystopian sci-fi romance The Lobster opposite Colin Farrell in 2015. 
The Breast of the Rest of Rachel Weisz's Nude Roles
While Rachel was adding dust-collectors to her trophy case, we were adding her butt-baring scenes in the films The Brothers Bloom (2008), Agora (2009), and The Deep Blue Sea (2012) to our spank bank. Rachel hasn't been doing much nudity lately, but has made up for it by spending her time seducing the fairer sex. 2018's Disobedience (released by her own production company LC6 Productions) found Rachel getting fingered and literally swapping spit with Rachel McAdams in a hot but skinless lesbian scene, while The Favourite (2018) saw her smooching with Olivia Colman (2018) while competing with Emma Stone in 18th century England, earning her a BAFTA and a second Oscar nom. Rachel Weisz's lesbian content is definitely some of our favorites! 
What's Next For Rachel Weisz
Apart from appearing in the New York Times' musical short Let's Dance (2018) and joining the MCU as scientist and Russian operative Melina Vostokoff in Black Widow (2020), Rachel has also been strutting her stuff onstage in a variety of theater roles, such as her portrayal of Susan Traherne, a role that's been tackled by powerhouses Meryl Streep and Cate Blanchett, in New York's Public Theatre production of Plenty.  Her upcoming screen appearances include Todd Solondz's newest movie Love Child which reunites her with Farrell, another novel adaptation, Seance on a Wet Afternoon, and the Amazon Prime television series based on the David Cronenberg movie Dead Ringers, where she plays The Mantle Twins, two identical gynecologists who share everything while trying to change the perception and practice of women's healthcare. Sounds like double the potential for more salacious skin! 
Skin Conclusion
We're beginning to think there's nothing this UK knockout can't do. Comedy or drama, big budget or indie, clothed or unclothed, men or women, no matter what, Rachel Weisz is always gonna get us hot and bothered. But if we had to pick, we're gonna go with all the times Rachel got racy. Good thing there are so many, but will it ever be enough? Doubtful. Forget Edelweiss, they should sing about Rachel Weisz, because our vice is always wanting to see more Rachel.