Welcome to my new short series called Hippie Hotties where I plan to talk about a hippie-era movie that stretched the limits of free love and sex by showing off some sexy nudes on the big screen. This era of experimentation led to some pretty far-out films, so let's take a look!
Julie Christie was the belle of the Hollywood ball in the 1960s and 70s which saw her rise to fame. You might not think of her as a "hippie", but I think she embodied the shifting spirit of the '60s and she starred in one of the best hippie movies of the 60s, Petulia. She is also hands-down one of my personal favorite actresses. So let's take a look at Julie Christie and how she moved through this tumultuous time with her amazing films.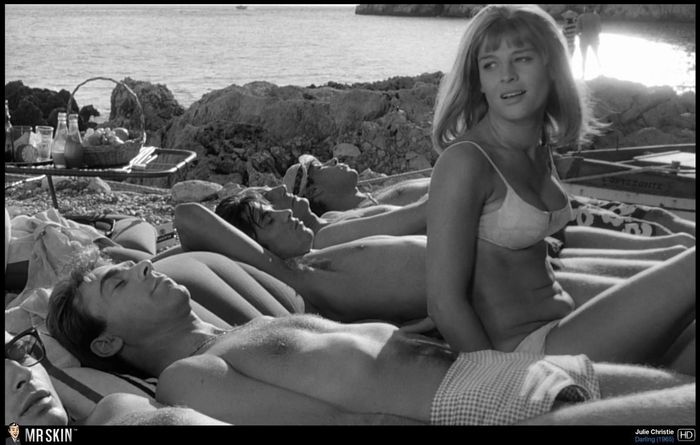 Being young and hot and from England, Julie first showed up in the movies in mod roles. The whole mod thing was a subculture that was jammed between the beatniks and the hippies in the early 60s, spawning out of the modern jazz scene in London. It stemmed out of the music of the time, but it wound up being mostly about wearing tailored suits, riding motor scooters, and taking loads of amphetamines. Fun! Before the mods ventured into psychedelia after the mid-60s and transformed into the hippies, we had a few great films that are associated with the mod era and Julie Christie just so happens to have acted in two of them. That is where we were first introduced to Julie in the 1963 film Billy Liar by John Schlesinger. Instant sensation! Shortly after that, she stunned everyone around the world with her vulnerable performance as a model in Schlesinger's Darling (directors couldn't get enough of Julie). 1965's Darling is strangely not talked about a lot today, but it was a huge film at the time and Julie's performance as Diana Scott was SO riveting that she won the Oscar for Best Actress. The scene where she is very emotional and tears a dress off of her body while staring in the mirror? Not only was it Oscar-worthy, but it was also her nude debut. Julie proved that you could go nude, win awards, and be thought of as a classy lady all in one go.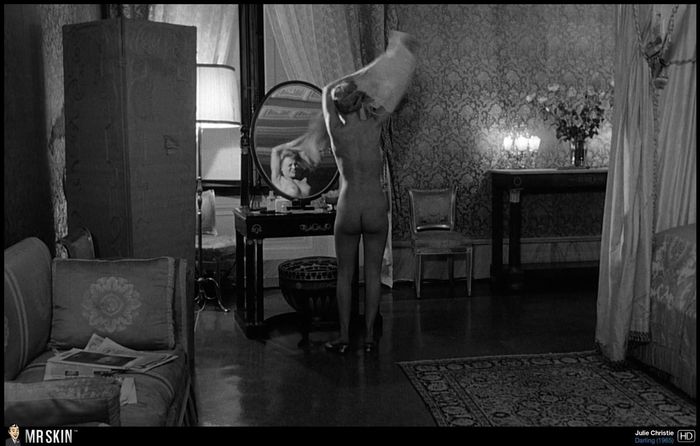 And nudity didn't hurt her career one bit. After Darling, Julie was one of the most sought-after actresses in the industry. I like to joke that Julie then became known for all of the roles that she turned down over the ones that she actually did! She turned down so many great movies that wound up being huge hits like Rosemary's Baby, American Gigolo, Chinatown, The Godfather, Reds, They Shoot Horses, Don't They, and the highly coveted Doctor Zhivago which she eventually agreed to do after being asked several times. Everyone wanted a piece of her! In 1967 Time magazine wrote, "What Julie Christie wears has more real impact on fashion than all the clothes of the ten Best-Dressed women combined." That might explain why she took her very fashionable role.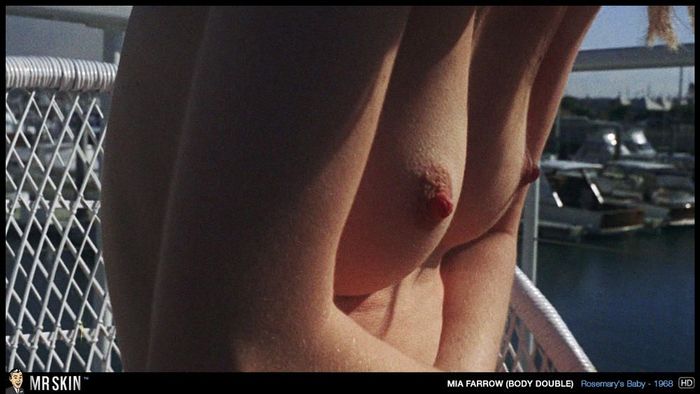 Then she played Petulia in Petulia. Like Darling, Petulia is a masterpiece that people don't talk about at all. Interestingly, Petulia - although critically acclaimed - did not get much fanfare when it was released because the Cannes Festival in 1968 where it was set to premiere had to be canceled at the last minute due to civil unrest. This unique and colorful Richard Lester film that was wildly ahead of its time never really got the praise it was due. And it is due a lot! It was filmed in Haight-Ashbury during the height of the hippie movement and it even features live performances from The Grateful Dead and Janis Joplin who just so happened to be the bands playing at local clubs that night. It somehow makes the best commentary on the cultural shifts happening in the 60s while being in the middle of it and jumping around in time (move over, Memento) in a way that makes the audience feel like we are on a trip.How did Lester do it?! Well, a lot of it can be attributed to the movie's star. So much has been written about it since then by critics who basically are like 'this movie is flawless and no one really talks about it' and I'm going to do the same thing here because it one of my actual favorite movies. Sadly, Julie does not go nude in the movie. She kind of barely wears a bathing suit in one scene, but that's about it. What she does do is play the prototypical Manic Pixie Dreamgirl in a devastating role that shows us that the quirky, free-spirited hippie girl might actually be acting that way because she is in an immense amount of emotional pain.
I could go on, but she doesn't go nude in the movie, so I won't babble. Watch this trailer that gives a pretty good sense of the pace and color of the film:
What does someone do after playing a notable hippie role? Move in the 1970s when people were ready to gentle critique the hippies. Enter Shampoo!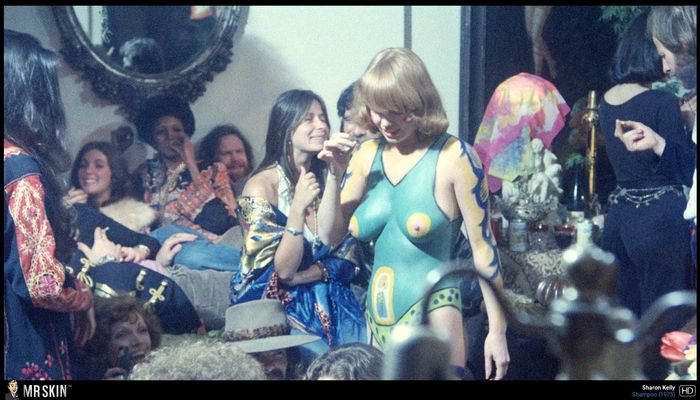 1975's Shampoo may as well mark the official end of the hippie movement, although scholars like to say the end came with the Manson Murders. Shampoo is a nod to the famous hairdresser who was friends with Sharon Tate and unfortunately murdered that night, Jay Sebring. Shampoo takes us back to Election Day in 1968 when a famous Hollywood hairdresser and womanizer juggles his girlfriends and their problems. He gets some problems of his own when he meets the husband of one of his mistress'. The drama goes on!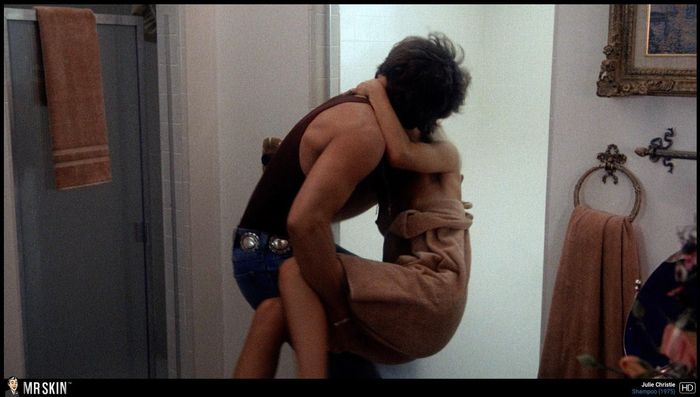 Now, Shampoo doesn't actually have anything to do with the Manson Murders. It is just allegedly loosely based on Jay as a person (although hairdresser-turned-film-producer Jon Peters insists the movie is based on him). He was a celebrity hairdresser with fancy cars, loads of women, and a big personality. That is all to say, that this movie does not end in tragedy and the tragic murders do not make an appearance. Good! It's just yet another example of the ways those murders affected the film industry and the hippies as a whole. Not only that, but Julie was friends with Sharon. She gave Sharon a copy of Tess of the d'Ubervilles as a gift and shortly before her death Sharon gave the copy to Roman. Roman wound up making the film Tess in 1979 and dedicating it to Sharon.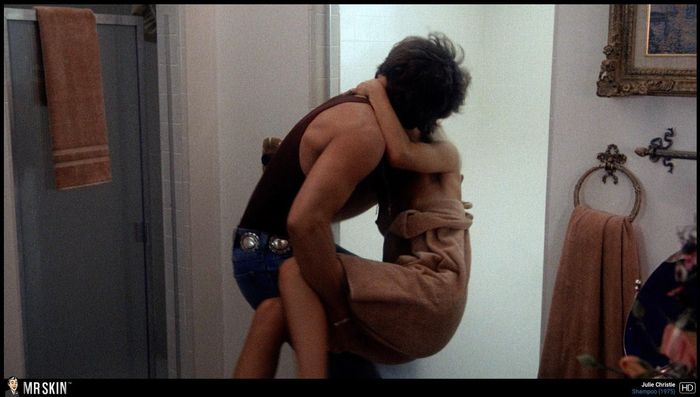 Hal Ashby's comedy has an all-star cast that was also all sleeping together behind-the-scenes. Julie was dating Warren Beatty who was sleeping with Goldie Hawn and also Lee Grant was there. That's the cast! Fun fact: Shampoo is Carrie Fisher's film debut!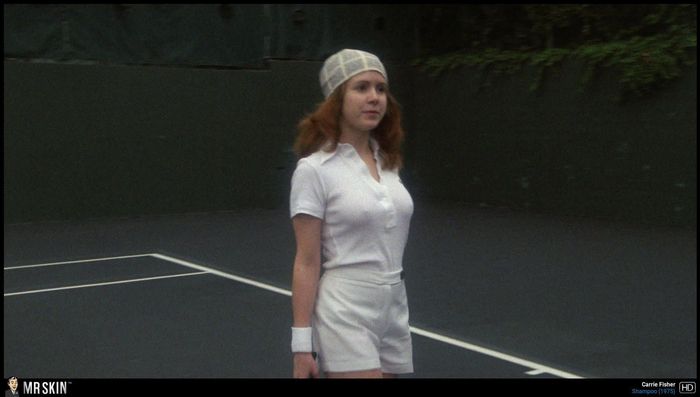 Julie went on to continue to act in amazing films, but her 60s and 70s work remains some of the most defining work of the era. As a person embodies the swingin' sixties to this day. She never married, for example, and had many lovers. She continues to dabble in acting here and there while focusing on humanitarian work. She remains a great actress with a good heart and fantastic nude scenes.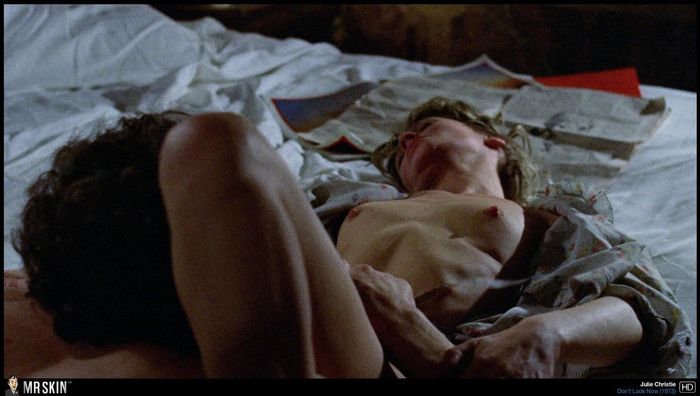 Watch her 1965 Oscar-nominated nude scene from Darling here: