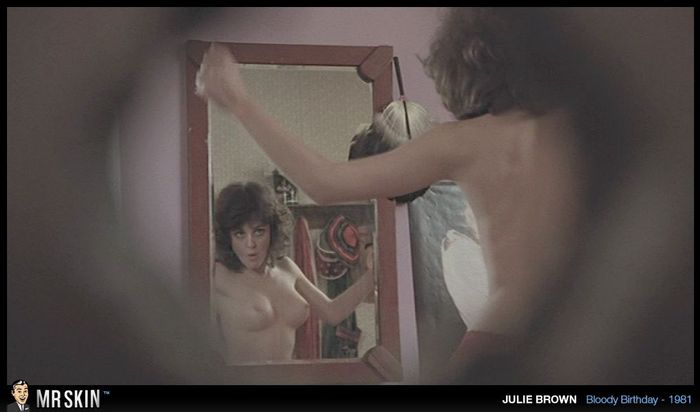 This week's mainstream DVD releases are a real Sucker Punch to the cajones, with the breast nudity coming from a 15-second topless scene with Sandra Lavoie in the drama Barney's Version. And the barely-legal-babes-with-samurai-swords extravaganza Sucker Punch? Forget it. Not a single nip slip, not even in the extra 18 minutes included on the extended version.

Fans of classic 80's slasher flicks fare much better this week, with MTV's "uptown" Julie Brown dancing topless while a young Peeping Tom watches in Bloody Birthday (1981) and redhead Robin Groves feeling up her own bare pair in The Nesting (1981), both nude on Blu-Ray. In other nudes, the Radley Metzger re-release train keeps on rollin' this week with a deluxe edition of the extended cut of Camille 2000 (1969) hitting DVD and Blu-Ray:

When a tell-all expose about him is published, curmudgeonly TV producer Barney Panofsky (Paul Giamatti) sets out to tell Barney's Version (2010). Barney takes viewers on a trip through his lives, or, rather, his wives- Clara (Rachelle Lefevre), the gorgeous redheaded (and very, very pregnant) first wife, the neurotic second wife known only as "The Second Mrs. P" (Minnie Driver), and wife number three, Miriam (Rosamund Pike), the closest thing to a soul mate a schmuck like Barney's gonna get. The trip down MAM-ory lane continues with the bare boobage of Sandra Lavoie as she rides Barney's baloney. They shoulda called it Horny's Version!
Locked in the loony bin, come-hither crazy person Emily Browning creates elaborate CGI fantasy worlds in Sucker Punch (2011). After being sent to the asylum by her pervy stepdad, Baby Doll (Browning) imagines herself as a sexy burlesque hooker with a foxy crew of female friends: Sweet Pea (Abbie Cornish), Rocket (Jena Malone), Blondie (Vanessa Hudgens), and Amber (Jamie Chung). Though the "hot young chicks kicking ass in skimpy outfits" premise appears to be catnip for horny guys, Sucker Punch keeps the real bam! pow! inside the ladies' lingerie. The closest thing to nudity we get from these teenage teases are pervy panty peeks from Emily (26 minutes in) and Abbie (1 hour, 17 minutes in).
An agoraphobic writer moves into a haunted house in The Nesting (1981). Lauren Cochran (Robin Groves) is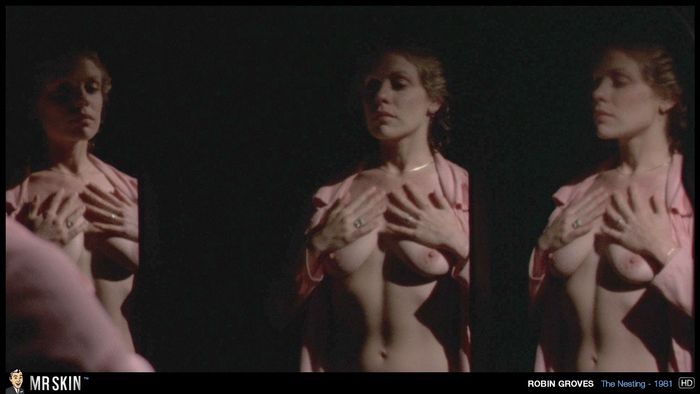 a writer whose anxiety and agoraphobia make life in New York a nightmare. To save her sanity, Lauren moves to a quiet country town, but it's not exactly the idyllic escape she was hoping for. After moving into a spooky house exactly like one she wrote about in a previous book, Laura witnesses a series of grisly murders. It turns out the house is inhabited by a gaggle of ghostly hookers, led by undead madam Florinda Costella (Gloria Grahame). Even if you're a gore-o-phobe, you'll still get a thrill when star Robin Groves opens her robe and starts feeling up her own bare pair. They shoulda called it The Breasting!
Did you know that babies born during a total eclipse will become pint-sized serial killers in just ten years? Even worse, the town of Meadowvale has three of those little monsters running around. The good news in
Bloody Birthday
(1981), though, is that Meadowvale also has plenty of sexy young teens who really like to get nude. This film has several gals whose buoyant boobies make even a
Bloody Birthday
seem like fun. Still, we have to note the TA of future MTV comedienne
Julie Brown
. This red-haired cutie shows her ample booty (and more) while dancing around her bedroom, and you'll be singing "Happy birthday to ME!"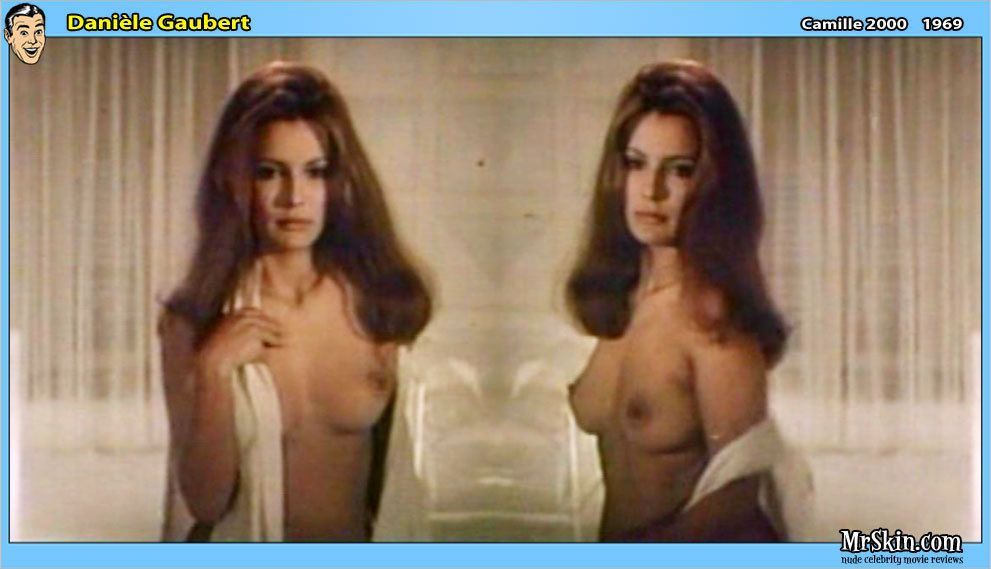 Director
Radley Metzger
's
Camille 2000
(1969) may be the most stylish sex film ever put on celluloid. More than a product of its time, the film is a groovy time capsule of Pop Art and acid rock, made all the more psychedelic by the ample skin revealed. An update of the famous
Alexandre Dumas
novel, the story of a young man and a courtesan who fall in love is set in Rome. When in Rome, do who the Romans do, and that would be
Danile Gaubert
, who is actually French, but who cares when she shows off her belle boobs so often. Also nude, and Italian, is
Silvana Venturelli
,
who, unlike one-skin wonder Danile, would go on to peel again in
The Lickerish Quartet
(1970). But
Camille 2000
stands as her mod fuck explosion.
C U Next Tuesday, Skin fans, for all the newest, nudest releases on DVD and Blu-Ray right here on the
Mr. Skin Blog
!