Happy High Holiday to all of our stoner friends on this dank day, 4/20. I wanted to celebrate the holiday with an in-depth guide to the Evil Bong movies - especially because we just got a new one this year! Smoke 'em if you got 'em, dear reader because these nude scenes will have you feeling high.
If you have never heard of the Evil Bong movies before, that might be because you are not a fan of schlock. If you love a campy, so-bad-it's-good movie, then these films from Full Moon Studios are for you. The people who were behind films like Puppet Master and Demonic Toys put their skills of, well, making demonic puppets and toys to good use with this franchise that has been around for fifteen years now. That's right - we have had fifteen years of films about an evil bong with connections to other realms. What started off as a simple story about stoners and an evil bong has transformed into a universe that now includes several different creatures such as The Gingerdead Man, King Bong, and The Gingerweed Man as well as fantastical places like Sexy Hell (which is like regular hell, but sexier). This franchise has expanded far beyond anything anyone could have initially dreamed into a full-on stoner universe where anything goes and if it doesn't, make sense, then you might not be high enough.
The first Evil Bong film was brought to us in 2006 by Full Moon Studios, the production company behind all of these high-class films. Full Moon Studios was started by Charles Brand who has directed a number of the films in the franchise along with other notable direct-to-video hits like Trancers. The original plot is fairly straightforward: we get to see two very different college roommates, a nerd and a stoner. When they come across an old bong named Ebee that excites them they soon learn that it also has magical powers. Sadly, this first movie didn't actually include skin, but the rest of the films in the franchise corrected this error which means that we have A LOT to talk about today...
Evil Bong II: King Bong knew that sex sells, babes! That is exactly why they peddled this movie with plenty of breasts. They sell dime bags aplenty with toplessness from Emilianna, August Avila, Ariel X., and Evie Delatosso. How's that for more skin? This 2009 film brings us a trio of stoners who smoke from Ebee the Evil Bong and wind up experiencing a series of side effects that are actually a bunch of strange adventures in the wilderness with a group of Amazonian-like women who are a part of the Poontang tribe. There is also an adversary to Ebee in the movie: King Bong. The Poontang tribe really steals the show as they go topless to protect their territory from trespassing stoners. It looks like the Poontang Tribe will give them all boners!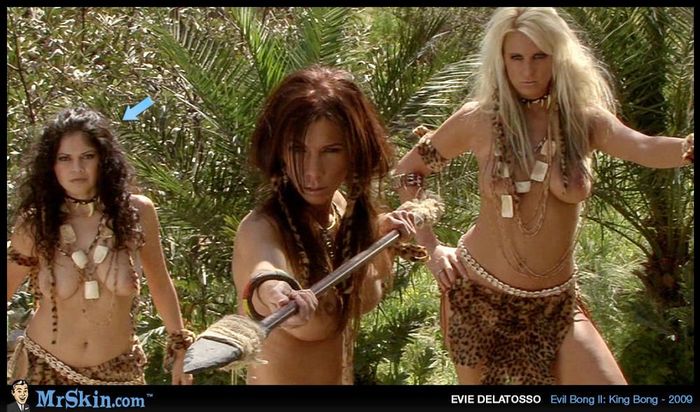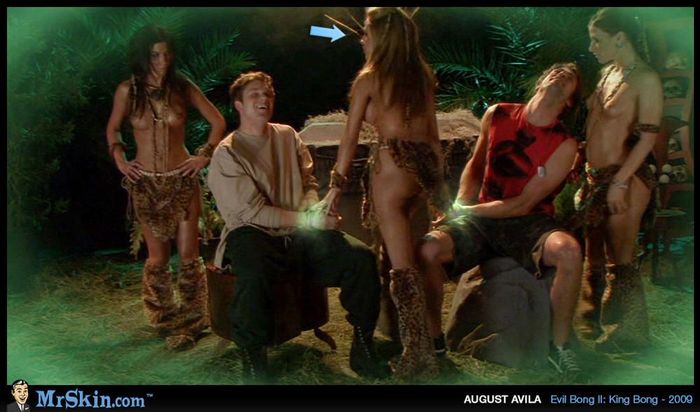 Next up is the movie that might be most appropriate for today: Evil Bong 420 which takes place in a bowling alley because stoners and bowling alleys go hand-in-hand. Watch babes like Ela Darling and Nina Elle undress and hang out with the Gingerdead Man. Rorie Moon, Ela Darling, Janice Griffith, and Sam Aotaki wick us some nude scenes that will leave your pants feel sticky icky. Leave it to Rorie to go topless while banging the Gingerdead Man!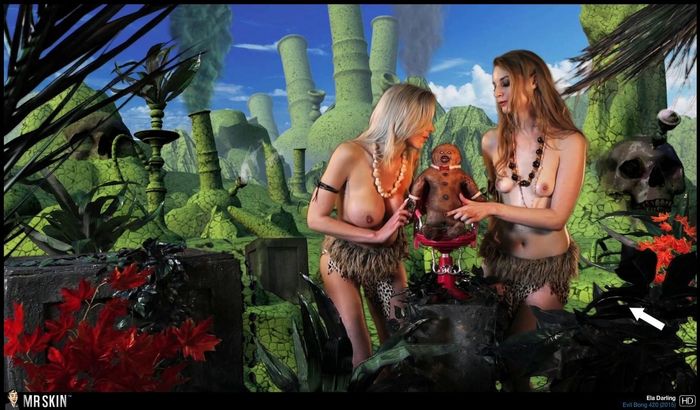 Evil Bong: High 5 gets even HOTTER than the rest of the films...and crazier. It's important to note that in between these two movies we got our first Gingerdead Man movie, Gingerdead Man vs. Evil Bong which really introduces us to the evil gingerbread man who shows up in these movies for some reason. With his introduction in his own spinoff film, he was able to have a prominent part in this fifth film in the series. Rorie Moon is back with a legendary bang sesh with the evil gingerbread cookie himself. The Gingerdead Man is the cookie who gets the nookie from Rorie. How exactly is this scene working? Movie magic, my friends. Take a toke and don't worry about it. Plus, we get some sexy nudity from Skin Diamond and Adriana Sephora who make their debuts in the franchise.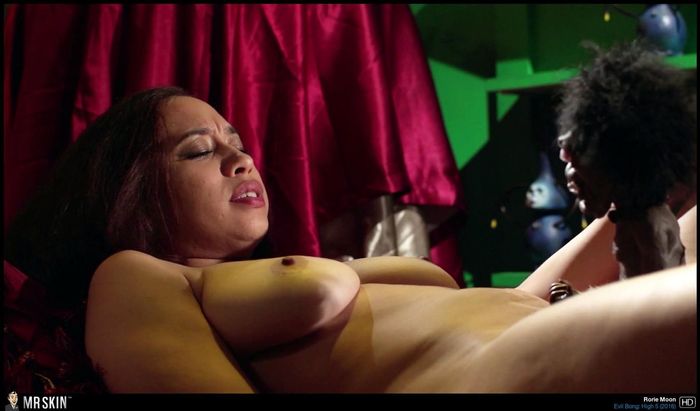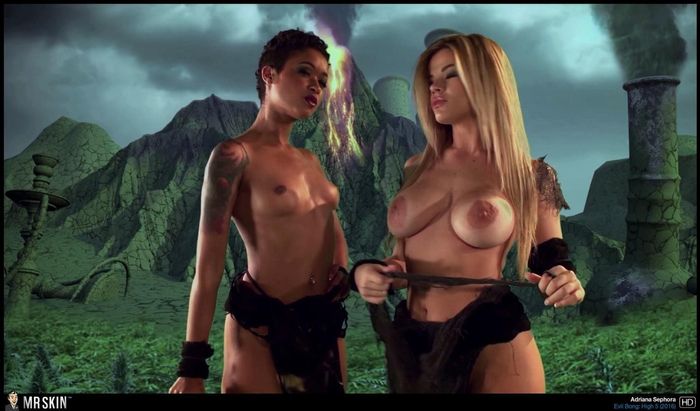 The sixth film in the series is appropriately named Evil Bong 666 and it takes us to hell and back - literally! The epic sixth film features Samantha McGee and Megan Sage flashing their cannabits in a sweet scene. This movie starts to dabble with hell which will weirdly be a much bigger plotline in the next film. Mindy Robinson stars as the current owner of Ebee's weed. Ebee returns from Hell, but she doesn't like what Mindy's character, Lucy Furr, has been doing with her store. Lucy has some plans of her own, so it's a showdown in this 2017 film between Ebee and Mindy. Mindy surprisingly does not show skin in this film, but plenty of her cohorts do.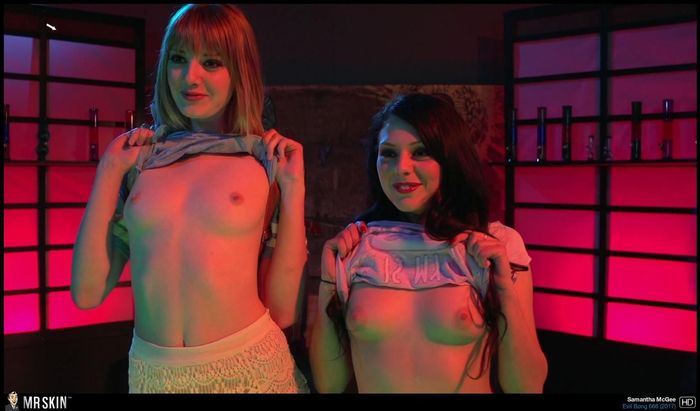 The follow-up title to Evil Bong 666 is one of my favorite movie sequel titles of all time: Evil Bong 777. So in this movie Eebee the bog is released from Sexy Hell - hey, can we get tickets to sexy hell or is that an invite-only thing? - so she does what any free magical bog would do: goes to Las Vegas and parties. Mindy Robinson plays the devil of Sexy Hell and she is joined by her sexy assistants played by Bobbi Dylan and Daisy Ducati. Am I high or are there boobs EVERYWHERE in the shots of Sexy Hell?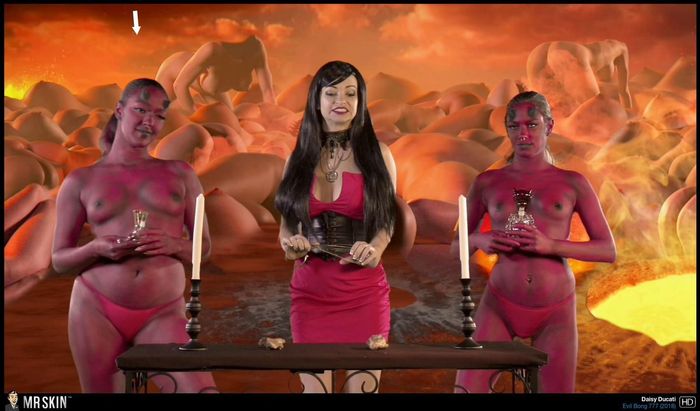 And just this year we got a new release: The Gingerweed Man. Remember the Gingerdead Man character? This guy is an offshoot of that puppet-monster and he is all about one thing: weed. This film got back to the franchise's roots in that it was much more about weed than Sexy Hell and tits. Don't worry - there are still tits. A lot of tits. Gingy, the Gingerweed Man, is asked by Kaya the Weed Queen played by Paige Phillips to protect a new mega-chronic strain of weed called Baby Buddy. From high hookups where he wakes up in the morning and can't remember Johanna Rae's name to being paid for weed by sexy swingers (which includes Andrea Fischer), this movie is filled with HIGHlarious antics. And boobs. Never forget the boobs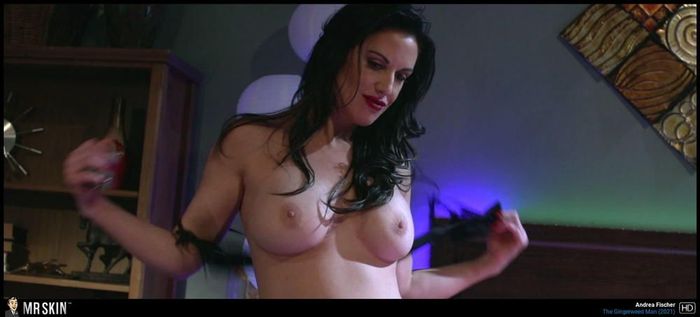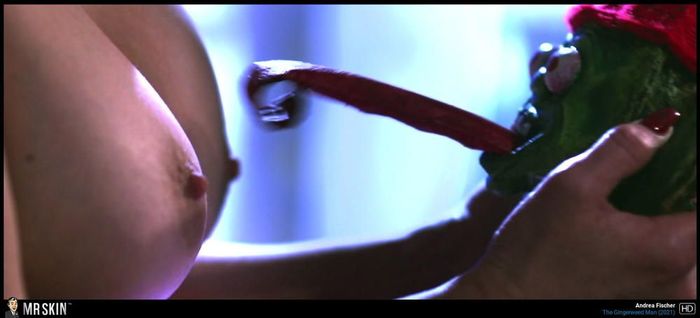 Check out this scene from the latest film in the franchise that will give you an idea of what these nude women and The Gingerweed Man are all up to:
****
Check Out the Other Franchises in Our SKIN-depth Look Series
—A SKIN-depth Look at the Sex and Nudity of Full Moon Entertainment
—A SKIN-depth Look at the Sex and Nudity of the Halloween Franchise
—A SKIN-depth Look at the Sex and Nudity of the Nightmare on Elm Street Franchise
—A SKIN-depth Look at the Sex and Nudity of the Friday the 13th Franchise
—A SKIN-depth Look at the Sex and Nudity of Comic Book Movies
—A SKIN-depth Look at the Sex and Nudity ofthe Species Franchise
—A SKIN-depth Look at the Sex and Nudity of the Death Wish Franchise
—A SKIN-depth Look at the Sex and Nudity of the National Lampoon's Theatrical Features
—A SKIN-depth Look at the Sex and Nudity of the Porky's Trilogy
—A SKIN-depth Look at the Sex and Nudity of the Terminator Franchise
—A SKIN-depth Look at the Sex and Nudity of the James Bond Franchise
—A SKIN-depth Look at 25 Years of the NC-17 Rating
****