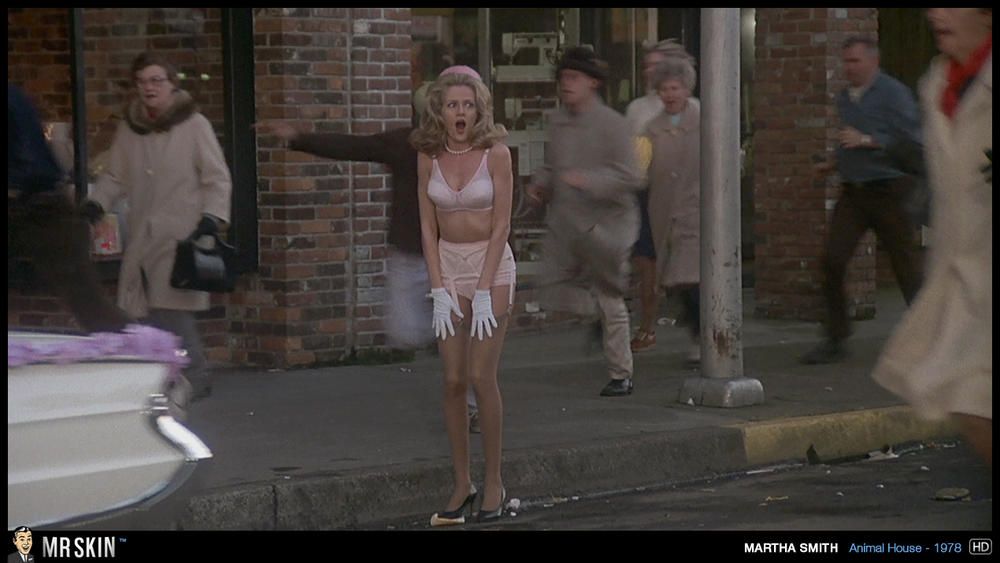 Born out of the satirical wit of the Harvard Lampoon, the National Lampoon was a watershed in American comedy, combining juvenile humor with an academic's cleverness. Yes, there was plenty of lowest common denominator humor in the magazine, but it also contained some of the most acerbic and biting satire of the 20th century. It pushed the boundaries of taste and helped break down barriers and open doors to a new, smarter brand of dumb comedy that would flood the 70s and 80s.
When the brand moved into the world of movies, they set the standard for this same style of anarchic comedy that would come to dominate the 80s: Boob comediesthat quickly descended into chaos, like a Marx Brothers movie directed by Russ Meyer. Thanks to their wildly successful first endeavor—1978's Animal House—placing the words "National Lampoon's" in front of a film's title was a mark of quality. The rampant and frequently wanton use of the branding ultimately led to it becoming more of a cautionary warning than an indicator of quality.
But make no mistake, there are some diamonds in the rough, most of them released theatrically, though that alone is not a good benchmark. Let's dive in to the theatrically released features carrying the National Lampoon's brand.
The film that I have seen, probably, more times than I've seen any other movie, 1978's Animal House is one of the few boob comedy sensations to actually hold up some forty years on. Unlike the Porky's franchise from two weeks ago, this film doesn't rely on clever combinations of curse words to earn its laughs, they all develop organically from the plot, characters, and situations. John Belushi is an absolute force of nature in this film, bringing a unique manic energy to the film that none of its imitators could match.
So yes, the anarchy is there, but what about the boobs? There's plenty, don't worry. The first nudity comes 39 minutes in when Belushi's Bluto uses a ladder to spy on the girls' dormitory. He happens upon the room of Mandy Pepperidge (Mary Louise Weller), who not ten minutes earlier had branded Bluto a "P.I.G. pig," and gets his revenge by peeping on her undressing and starting to touch herself...
18 minutes later, in the midst of the toga party, Tom Hulce's Pinto hooks up with the cashier (Sarah Holcomb) who caught him stealing meat at the grocery store a few scenes prior. She is quite drunk when they get started and right when she unhooks her bra, she passes out, causing poor Pinto quite the moral dilemma...
He ends up doing the right thing, taking her home rather than taking advantage of her. But Tim Matheson's Otter ("Eric Stratton, rush chairman, damn glad to meet you") definitely takes advantage of a girl not fifteen minutes later. Masquerading as the boyfriend of the recently deceased Fawn Liebowitz, a young woman who died in a kiln explosion, Otter scores himself and several Delta House buddies dates from Fawn's roommate Shelly (Lisa Baur). While the boys and their dates go into a bar to hear Otis Day and the Knights sing "Shama Lama Ding Dong," Otter's working on getting some Shama Lama on his own ding dong in the car with Shelly, until they're interrupted by the guys...
I think the thing that makes the film so successful is that the characters are all achingly relatable—save those despicable Omega house assholes—yet we're also allowed to feel superior to them. We relate to Flounder yet also know that we're not as hopelessly clueless as he is ("90% Rayon"). We relate to Otter yet pride ourselves on the fact that we'd never pretend to be the boyfriend of a dead girl just to get laid by her roommate. Although that is a totally boss move. It's the signature of this film and Caddyshack, which despite not carrying the National Lampoon's brand, is very much in the same spirit. The bad guys are the stiffs and the good guys just want them to lighten up.
After penning four episodes of the unsuccessful Animal House TV spin-off Delta House, young unknown writer John Hughes was given his first crack at a solo feature screenplay with this 1982 spoof of horror movies. Set at a 10 year reunion for the Class of '72 at Lizzie Borden High School (are you laughing yet?), this mostly flaccid comedy wasn't just a step down from Animal House, it was a cliff drop. Yes, expectations were tempered after the tepid reception that greeted Delta House, but this is a substantial drop in quality from its predecessor for the Lampoon.
It's a sad state of affairs when even the presence of Chuck Berry can't elevate your film, but neither he nor the film's only nude scene could make this anything more than a crushing disappointment. That nude scene comes to us courtesy of Misty Rowe, who runs around topless in a hula skirt with several leis...
There are a smattering of laughs to be found in this flick, but none of the signature John Hughes wit was on display in this flick. Thankfully for him, he had something great cooking up right around the corner. Unfortunately for the Lampoon, they had one more huge hurdle to leap before moving back into the realm of box office success.
Alright, bear with me now on the etymology for this one. Shot in 1981 under the name National Lampoon Goes to the Movies, this film received a very brief, very limited theatrical release prior to Class Reunion, but was pulled to be retooled shortly thereafter. It sat on the shelf for another year before finally coming out in 1983 under the name Movie Madness. The film consisted of three shorter films that were very specific parodies. "Growing Yourself" makes fun of old health filmstrips from the 50s and 60s. "Success Wanters" is a soap opera parody (???) about a woman who uses her body to seduce rich and powerful men. And finally, "Municipalians," a serial killer/cop procedural parody featuring Christopher Lloyd.
Initially the film had a fourth segment as well, but it was mercifully cut before release...
A fourth segment was made for the film by Henry Jaglom, a disaster movie parody called "The Bomb" starring Kenneth Mars, Allen Garfield, and Marcia Strassman. via IMDb
Without the Jaglom piece, it's still a disaster, and I'm not sure that even his segment would have made much of a difference in the finished project. In the "Growing Yourself" segment, busty blonde beauty Teresa Ganzel(The Toy) goes topless for the only time on film as shedisrobes in bed with Peter Reigert (Boon from Animal House)...
In the "Success Wanters" segment,Ann Dusenberryplays a ladder climbing woman who romances a variety of men, including a margarine tycoon who "butters her up" in a parody of Last Tango in Paris. The only upside to this segment is that she's topless a bunch...
One of the first published pieces of John Hughes' writing career was a short story in an issue of National Lampoon titled "Vacation '58" which would form the basis for this, his breakout hit as a writer. Chevy Chase, whose film career had stalled post-SNL, was reborn a film star as a result of this movie and, unlike any other National Lampoon film before it, this one would actually spawn a franchise. Despite some cultural insensitivity in an early scene in St. Louis, the film mostly holds up to this day, thanks in no small part to the unflagging determination of Clark Griswold to give his family the vacation they deserve.
The film helped to establish one of the more rampant tropes of the 80s, the hot mom. Beverly D'Angelo's Ellen Griswold is quite the sexpot, and she wastes no time going topless in the film just 19 minutes in during a parody of Psycho's famous shower scene...
That's a hot mom, any way you slice it. Mrs. Griswold was one of the first MILFs and this isn't even her only nude scene in the flick! Later in the film, after Clark stupidly gets himself busted in a hotel pool with Christie Brinkley ("This is crazy, this is crazy, this is crazy")...
Ellen comes down and decides she wants in on the skinny dipping fun...
If only every single one of our friends' moms were as hot as Mrs. Griswold, the world would be a much better place indeed.It's always fun to see people work backward from Christmas Vacation, wanting to go back and watch the first one and finding out it's a filthy, R-rated, National Lampoon's comedy.
Our discussion of this franchise ends here since, as you likely know, they took things in a more family friendly direction starting with 1989's Christmas Vacation. The Griswold's trek through their motherland, however, is not very family friendly, despite the film being gifted one of those newly created PG-13 ratings. That was mostly because the film wasn't quite as filthy as the first one—they badly dub out Chase's f-bomb in the final car chase through Rome—but it's not at the PG-13 standards we know today.
We don't have it on the site because none of the actresses in the scene are credited, but there is a topless workout/cabaret that Clark and Ellen—and a drunken Rusty—attend in Paris early in the film. It's the height of 80s European excess...
Later in the film, Rusty hooks up with a German beer wench (Claudia Neidig) whom he meets at an Oktoberfest celebration (Jason Lively is definitely the horniest of the Rustys, btw). If I had a nickel for every time this same came to my aid during puberty, I'd have a shitload of nickels...
The National Lampoon's brand now moved mostly into the realm of direct-to-video affairs, rounding up various Coreys (Haim and Feldman) and basically tarnishing their reputation through an over-saturation of terrible films. The brand would make a comeback in the early aughts however...
While best remembered now for launching the seemingly unsinkable career of Ryan Reynolds, 2002's Van Wilder was an attempt to bring the National Lampoon's brand back to its glory days with an uproarious campus comedy. The film essentially combines Otter and Bluto into one character, the titular frat boy who has been in college for seven years without completing his degree. Of course, the core of the film is a love/growing up story, but it is still a National Lampoon comedy, so you're free to go in expecting boobs.
Russian knockout Ivana Božilović plays Naomi, a nubile coed who strips topless for an oil massage from resident Indian guy Taj (Kal Penn)...
There's also a Billy Madison-esque "studying for the big exam" scene where Jesse Capelli lends a helping hand by displaying the answer to a question across her bare breasts...
At its heart, the fundamental problem with Van Wilder is that there's nothing in it that hasn't been done better in any number of other films. It's sort of a greatest hits grab bag of all your favorite jokes from Adam Sandler movies, American Pie movies, and of course, Animal House. The film was a success, spawned a franchise, and is fondly remembered, but watching it again in 2019, I'm leftwondering if nostalgia has just gotten the best of people.
And now, my friends, the end is here. The final theatrically released National Lampoon's film (2015's Vacation reboot didn't carry the brand) is this first sequel to Van Wilder—the second sequel went straight to DVD. There have been worse ideas than giving Kal Penn the leading role, but this one-note character doesn't carry the same charm the first film's protagonist did. However, there is money to be made and there are boobs to be seen, and thankfully this film covered both of those bases.
The Walking Dead's Lauren Cohan makes her one and only topless appearance in this flick, ever so briefly baring her breasts when she and Taj are interrupted by Taj's family...
It's blink and you'll miss it stuff, but it's still the only place to catch a glimpse of Maggie's mams. We also get an amazing disrobing shot from Elena Tecuta, who unveils her perfect pair for a lucky dude...
It's difficult to say that National Lampoon went out on a high note, but there's no denying that Rise of Taj is better than both Class Reunion andMovie Madness. Will the brand ever be back on the big screen? It's hard to say, but I wouldn't count it out for good. Everything becomes fashionable again, sooner or later, and later's feeling like it's sooner and sooner these days.
While not comprehensive, this is a list of the direct-to-video National Lampoon branded movies that feature nudity. We'll revisit them in the future should the demand be sufficient...
Check Out the Other Franchises in Our SKIN-depth Look Series
A SKIN-depth Look at the Sex and Nudity of the Porky's Trilogy
A SKIN-depth Look at the Sex and Nudity of the Terminator Franchise
A SKIN-depth Look at the Sex and Nudity of the James Bond Franchise