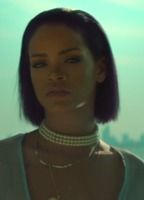 Biography
Rihanna Nude On Mr. Skin
Known as much for her distinctive fashion style as for her versatile vocal talents, the sultry, long-stemmed songbird is one of the best-selling artists of all time. With over ten million copies sold of her certified platinum and multi-platinum records, it's no wonder Rihanna's talents - along with her bootylicious body - have been celebrated far and wide. 
But whether or not you're familiar with Rihanna's award-winning music, onscreen roles, red carpet looks, or even Rihanna's Eau de Parfum, if what you're really wondering is "Hey! Have I ever missed out on seeing Rihanna nude?" keep scrolling for Mr. Skin's comprehensive look at the music star's most skin-sensational moments. 
A Good Girl Gone Bad
Born Robyn Rihanna Fenty on the sandy shores of Barbados, this island beauty would grow up listening to reggae, hip-hop, and R&B, and discovered a talent for singing in high school when she won a talent show belting out some Mariah Carey. In 2004, while performing in a girl group with two friends, the songstress was plucked from obscurity by American record producer Evan Roger, who helped her record a demo with the head of Def Jam Records at the time, none other than rapper Jay-Z. 
Now using just her middle name, like mononymous icons Cher and Madonna before her, Rihanna shot to fame with her album A Girl Like Me (2006), which peaked within the top ten of the US Billboard 200 chart, and its hit single "SOS". Here at Skin Central, we sent out a distress signal over her lack of skin in the video for the song since we love nude celebs, but we were somewhat soothed with her donning of cleavage-popping and ab-revealing outfits. the songstress with a single name continued her groin-tingling trend of wearing sexy garb at various awards cere-moan-ies and in her video for her wildly popular song, "Umbrella" from her next album Good Girl Gone Bad. Wearing nothing but metallic body paint or, alternately, a butt-snuggling one-piece get-up, this leggy lust bomb's decision to insure her gams for $1 million is easily understood. You just might find a storm brewing in your shorts. Rihanna Switched it up for 2009's album Rated R, one of her most critically acclaimed musical ventures to date. It had a slew of guest artists such as will.i.am, Young Jeezy, and guitarist Slash. The promotional pics for the album's singles are dripping in skin and the video for "Te Amo" has the scantily-clad singer rubbing bodies with French supermodel Laetitia Casta. What's not to love? 
Rihanna's Unapologetic
Her 2011 album Talk That Talk and its international dance club hit "We Found Love" topped the charts while 2012 saw the release of Unapologetic, with cover art of Rihanna's naked top half coated in writing to block out her naughty nips. The album's strip club anthem "Pour It Up", however, was dedicated to the star's lower half. The music video zooms in on the Rihanna's smooth ass cheeks in a thong and then shows her spread those legs and twerk with the best of them. We can't stop watching her juicy junk jiggle! The video for the somber "Stay" gives us more subdued nudity with Rihanna soaking in a bathtub, though we can still see her buoyant booty under the water. 
Bitch Better Have My Money and Anti
In the 2015 music video for her digital single "Bitch Better Have My Money," Rihanna languishes in a trunk full of bills, fully nude (but the money is covering her pricey bits). This led right into her eclectic eighth studio album, Anti, which spawned the artsy black-and-white "Kiss It Better" video, the Drake collab "Work", and the Miami crime spree video for "Needed Me" (inspired by the director Harmony Korine's previous film Spring Breakers). All three have Rihanna's pierced nips poking out through so-sheer-its-almost-pointless clothing. The same goes for her Latin-inspired, Santana-sampling song with DJ Khaled "Wild Thoughts". Rihanna's endless see-through wardrobe has us thinking some very wild thoughts too!
Rihanna Nude in Film and Television
Rihanna is rocking more than just the music world. In 2016, she appeared in the action adventure film Valerian and the City of a Thousand Planets in a variety of scandalous outfits, including a sexy nurse uniform and a lace body suit, accessorizing with a whip. We'll let Rihanna whip us into shape! She stepped into Janet Leigh's shoes and out of her clothes to portray Marion Crane in the Psycho prequel series Bates Motel. In the acclaimed Ocean's 8 (2018), Rihanna shows us her plumped up cleavage in a black sleeveless dress. It feels like being this ridiculously hot should be a crime!
Rihanna's Beauty and Fashion 
In 2017 Rihanna launched a cosmetic brand called Fenty Beauty that includes an array of makeup products like foundations, highlighters, bronzers, blushes, and lip gloss, that eventually branched out to scents with the release of Rihanna's Eau de Parfum fragrance. Her lingerie brand Savage X Fenty was showcased at New York Fashion Week in 2018, and came back for the two years after, with the R&B artist front and center to show off her line of luxurious lace with the likes of models Emily Ratajkowski, Cara Delevigne, Bella and Gigi Hadid, and actress Laverne Cox.  
Rihanna Super Bowl 2023 Halftime Show
While big life changes like motherhood may have slowed the music maven down a bit, there's no sign of her stopping, especially since she headlined one of the most watched gigs in live television history, the 2023 NFL Super Bowl Halftime Show. With Rihanna's undeniable penchant for showing skin, we were certainly hoping that this might be the most outrageous Halftime Show since Justin Timberlake gifted us with Janet Jackson's boob in 2004. Alas, it wasn't meant to be, though Rihanna's Super Bowl 2023 Halftime Show performance will certainly go down as one of the sexier big show affairs in recent memory.
Final Thoughts
We're always happy to see Rihanna pop up in films and television, but we especially love when this gorgeous lady from Barbados dares to bare her bod! We anxiously await the next time we see Rihanna nude on screen!