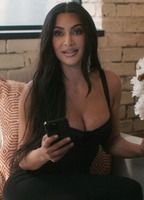 Biography
Kim Kardashian Nude Pics And Vids 
Raven-haired and rack-tastic reality TV star and West Coast celebutante Kim Kardashian's killer kongas and keister first caused a stir in the pants of American men in 2007 when she sued Vivid Video to keep them from distributing a sex tape she had made with her ex-boyfriend, R&B singer Ray J. But more on that later. Hint hint! Kim and her sisters rose to stardom on their smash hit E! turned Hulu reality series Keeping Up With The Kardashians, and they are social media mavericks, with three of the top ten most followed Instagram users being Kardashians or Jenners (Kylie is 3rd, Kim is 8th, and Khloé is 10th). We'd double tap any of 'em! 
Of course you're here for the sexiest side of Kim Kardashian, and thankfully we've got you covered. Keep reading for everything you need to know, from her insane nudity in her notorious sex tape to her insane curves as seen during her wild Keeping Up With The Kardashians antics. Kim is always in!
How Did Kim Kardashian Become Famous?
Believe it or not, a sex tape is not solely responsible for Kim Kardashian's success. She was always ahead of the pack, benefiting from being the daughter of superstar lawyer Robert Kardashian, who is best known as O.J. Simpson's defense attorney. Yes, Kim Kardashian was always on the inside looking out, and in the 2000s she was often inside black cars and night clubs with Paris Hulton, looking out at all of the plebes would kill to be a part of her 2000s-tastic in-crowd. But being Paris Hilton's right-hand woman was never the long-term plan for Kim. Not if her mom Kris Jenner had any say in the matter! In 2007 Kim would step out of Paris' shadow once and for all with the release of one very important and one very conveniently timed sex tape.
The Kim Kardashian Sex Tape
In 2007, what was supposed to be a personal memento from an intimate love-making session became tabloid fodder with the scandalous release of the infamous Kim Kardashian Sex Tape. Kim's wild sex with the rapper Ray J. was all anyone could talk about in 2007. Kim Kardashian butt pics would have been enough to appease her biggest fans at the time, so you can just imagine the world's reaction to seeing her fully naked. We actually have the best highlights from their tape right here in our celebrity nudity database. Kim Kardashian gives Ray J. a blowjob and shows off her huge boobs and epic ass while they fool around in bed together. One look at our pics and vids from their sex tape, and you'll know that love is real!
Keeping Up With The Kardashians
As we said, the release of Kim's sex tape in 2007 was wildly well-timed. This just so happened to be the year that the first season of Kim's make-or-break reality series Keeping Up with the Kardashians debuted on E!. The show has become a pop culture phenomenon and has sparked several spinoffs all while making Kim and her family household names, but the success of KUWTK wasn't always a guarantee. Thankfully, with all eyes on Kim's boobs and crack in her sex tape, it wasn't hard to get some eyes on her reality series. Thanks to Keeping Up With The Kardashians, practically anyone with the name Jenner or Kardashian is a billionaire these days. The Kardashian and Jenner ladies have capitalized off of their fame by selling makeup, shapewear, diuretic gummies, and more.
The Kanye West Ye-ars And Beyond
Since then Kim has become one of the biggest stars in the world. In 2014 she married superstar rapper/producer Kanye West, shooting her already huge popularity into the stratosphere. Luckily, being a married woman hasn't deterred Kim from showing off her naughty side. 2014 was the same year that Kim Kardashian Broke The Internet with her legendary Paper Magazine cover. That famed Kim Kardashian ass can be seen on the cover looking positively gigantic. Many people credit Kim and ko. with popularizing huge butts, and without a doubt this Paper Magazine picture has been reference material for many a big-butt-seeking young woman. 
While you can only see her naked in her sex tape, Kim does show off her ample apples when she rides a motorcycle with Kanye in the music video for Bound 2, and she lets those giant jugs nearly pop out again when she shows up in the background of the Jennifer Lopez stripper flick Hustlers (2019). In 2016 she rocked a pair of tight shorts and a hot swimsuit to get drenched in milk in the music video for Fergie's song M.I.L.F $, and she looked fine as hell in some tight shorts and a sports bra in a Sketchers commercial. Kim Kardashian sadly divorced Kanye West in February of 2022, marking the end of one of the buzziest celebrity couples in history. But this workhorse didn't skip a beat and got back out there in the dating world, attaching herself to Pete Davidson for nine months before breaking up with him later in 2022. Maybe Kim can dial up Ray J. We assume he's free!
While she has popped up here and there and had some sexy moments elsewhere, Kim's sex appeal is most reliably found all over the aforementioned KUWTK where (among other things) she struggles to stuff her big ass into a tight pair of jeans, wears a variety of bikinis, runs around in her underwear, flashes her bare ass, wears yoga pants, bras, and all kinds of swimsuits, and gets in and out of outfits that do a wonderful job helping her put the "ass" in Kardasshian!
In Conclusion
What can we say about Kim Kardashian that hasn't already been said? She's simply a stunner through and through. Kim's the ideal woman, with an hourglass figure filled with so much sand that it could create a Bahamian island. She's got a mind for business and a bod for Skin, and we hope that Kim continues to show off her best assets for years to come. As long as Kim is out there showing, we will be watching and growing!