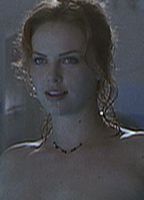 Biography
Charlize Theron Nude Pics And Vids
An exquisite pale complexion; a perfect, symmetrical smile; a taunting, plump bottom lip; soul-seeking eyes lidded in languorous abandon; yellow-gold hair as finely spun as angel's breath—former model and current big-screen sultry star Charlize Theron is South African-born of German heritage, but who can be sure she was not dropped directly from heaven? How else to account for the divine inspiration that compels Charlize to continue her habit of shedding her clothing long after she has accumulated enough star power—even capturing a Best Actress Oscar for Monster (2003)—to contractually opt out of showing so much as a nipple? There Theron was, breasts and nips to the bright lights in 2 Days in the Valley (1996). There she was still in The Burning Plain (2009), boldly displaying her naked boobies. In 2016, Charlize struck again, showing her right breast off in bed with Javier Bardem in The Last Face. We get even more tasty T&A from Charlize in films like Trapped, The Cider House Rules, Reindeer Games, and Sweet November. She even goes full frontal for Devil's Advocate, giving us an eyeful of her bodacious beaver! And then, of course, there was Atomic Blonde, where she showed boobs and booty in a lesbian scene that'll blow your mind - and something else. Charlize has been working with the writer/director team from Juno to get undressed in the films Young Adult and Tully where we clearly saw her right boob. We continued seeing her breasts in The Last Face and the world saw her glistening ass again in the 2018 Dior J'adore Perfume Commercial. We're sure she smells as good as she looks. Get the deets on these appearances and more below!
Charlize Theron's Childhood In South Africa
Charlize Theron's early life is a very unusual one. Let's just say that she's the furthest thing that there is from a nepo baby. Theron famously is from South Africa and was raised just outside of Johannesburg. Her first language was Afrikaans, and Theron fondly remembers growing up as a wild child, barefoot in the dirt and all. But many people don't know about the ups and downs of Theron's childhood. Her father was an abusive addict, and once when he attacked his family, Theron's mother shot and killed him in self defense. Theron proclaims that she did not fit in at school - something exacerbated by the fact that her baby teeth were damaged due to a medication she was on, so she did not have teeth until her adult teeth came.



How Did Charlize Theron Get Her Start?

 
Theron knew that she was destined for greatness, and forged ahead past her difficult early years. When she was sixteen years old she won a modeling competition in Italy and a one year contract soon turned into steady work. Encouraged by her early success, Theron and her mom moved from Italy to America, where they explored Theron's options in Miami and New York City. It's in NYC that Theron took to ballet, until a knee injury shattered her future in dance. No matter. Theron moved to Hollywood in 1994 to make it as an actress, with very little cash but a lot of chutzpah.
Theron's first break came when she was spotted by an agent at a bank. She enjoyed a relatively quick ascent - just one year after relocating to Hollywood Theron was getting work in smaller movies, and in 1996 her life was forever changed when she landed a role in the crime drama 2 Days In The Valley. Which is where our story begins.
Charlize Theron's First Nude Role
Not only was 2 Days In The Valley Charlize Theron's big break - it's also her first nude role. While Theron isn't the lead in 2 Days In The Valley - which also stars heavy hitters like Teri Hatcher and James Spader - you'll find her prominently featured and barely clothed in the promotional material for the movie, for obvious reasons. Early in the movie Theron's boobs are visible in a bloody crime scene photograph. Things heat up thirty five minutes in, when Theron goes spread eagle in white lingerie. This provocative pose turns into a wild 90s style sex scene with James Spader, in which Spader passionately rips off Theron's lingerie to reveal her natural breasts. He then licks her nipples! Trust is, this is the closest you're going to get to a Charlize Theron sex tape, and it's a very nice consolation prize. 
Charlize Theron Naked Streak
What followed was a succession of roles that showcased both Theron's God-given knack for acting as well as her God-given good looks. First up it's the legendary 1997 horror movie The Devil's Advocate. She plays the wife of a lawyer who enoys rapid career success thanks to his new boss at a prestigious law firm. That man? Keanu Reeves. That boss? Al Pacino. What a cast! Theron suffers the brunt of Keanu's devilish dealings with his boss (who, spoiler alert, is the devil) and her anguish is put on full displany in her shocking full frontal scene. This nudity is in addition to a topless sex scene with Reeves. 
As if seeing Charlize Theron full frontal in The Devil's Advocate isn't enough, late 90s theatergoers were also treated to her sweet smooth butt and lovely breasts in The Cider House Rules, where she gets it on with Spider-Man himself, Tobey Maguire. The year 2000 brought not just Theron's topless scene in The Yards, but also her most iconic nudity to date - the skinny dipping scene in Reindeer Games, where she also has sex with Ben Affleck. Affleck. Maguire. Keanu. They're lining up for Theron! 
Charlize Theron's Post-Monster Rise
Theron wasn't just another pretty young blonde to pair up with famous leading men, and she proved just this with her shocking Oscar-winning role in 2003's Monster. She plays the complex prostitute turned murderer Aileen Wuornos, whose tragic life was briefly lifted by a romance with Selby Wall, who is played by Christina Ricci in Monster. This movie proved to the world that Theron was worthy of even the most complex movie roles, and she went on to star in iconic movies like Mad Max: Fury Road, Prometheus, and Atomic Blonde. Peppered throughout her prolific career you will find Charlize Theron nude in a number of titles, with some of our personal favorites being Head in the Clouds and Atomic Blonde, where Theron got it on like Donkey Kong with the gorgeous and exotic Sofia Boutella. What can we say? We love when Theron gets to barin'!