In our weekly seriesAnatomy of a Scene's Anatomy, we're going to be taking a look at (in)famous sexscenes and nude scenes throughout cinema history and examining their construction, their relationship to the film around it, and their legacy. This week, Lawrence Kasdan updates film noir to the 80s and adds some previously impossible sexual situations to the mix with 1981's Body Heat.
In the 1970s, noir saw a comeback following nearly two decades of dormancy. It spawned films likeChinatown, which was a period piece and not exactly sexy, as well asThe Long Goodbye, which modernized the genre, but maintained a more cynical, comedic edge. The closest example of what Kasdan does with Body Heat in the 70s was Arthur Penn'sNight Moves. It both updated the setting to modern times and leaned heavily into the tropes of film noir, but it didn't exactly launch a trend, it more rode the crest of a wave.
Body Heat, on the other hand, re-launched the genre as a profitable way to keep adults coming to the movies. The film hadbox-office receipts of $24 million on a $9-million budget, giving studios the confidence to take a chance on similar films over the next decade-plus like Body Double,Blood Simple,Angel Heart, D.O.A., Fatal Attraction,Mona Lisa, Basic Instinct, and interestingly enough, 1987's Black Widow, also directed by Bob Rafelson.
1981 also saw the release of another sexy noir, Bob Rafelson's The Postman Always Rings Twice, this one a direct remake of a 1946 Lana Turner film. Thatfilm retained the Depression era setting, however,and only grossed $12 million on a budget nearly twice that, so it wasn't quite the watershed moment that Body Heat was. Interestingly enough, Kasdan himself has never returned to the genre, despite having it in a rather firm grip. His even bigger hit two years later, The Big Chill, would make him the go-to guy for Baby Boomer mid-life angst.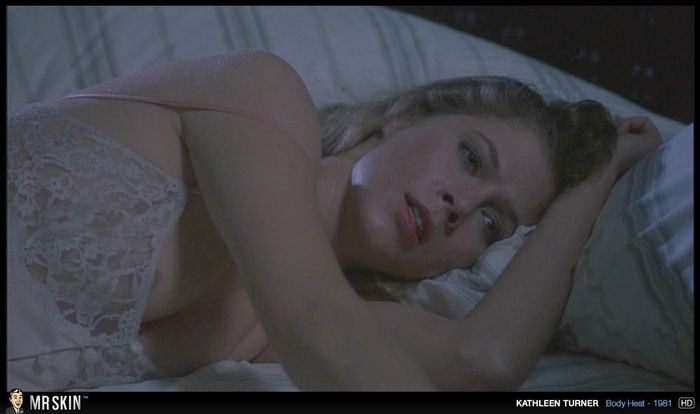 The first and most important thing that Kasdan did once the script was finished, was to cast it to perfection. William Hurt, still mostly unknown as a film actor, but well regarded for his stage work, steps into the lead role of Ned Racine, a sleazy Floridian lawyer who gets mixed up with a femme fatale named Matty Walker, magnificently played by Kathleen Turner in her film debut.Turner was cast in her first role due to her Lauren Bacall-like husky voice and, toquote Frank Drebin,"legs you'd like to suck on for a day." Kasdan had gone through two unsuccessful rounds of casting the role before granting Turner an audition and then, after she nailed the audition, having her screen tested immediately.
We've covered several nude debuts in the past, but this is the first time we've gotten to an actress making her screen and nude debut simultaneously, and becoming both a critical darling a star as a result. It wouldn't be until Turner's third film, Romancing the Stone, that she would become a superstar, but Body Heat put her on the map in a big way. She had that old Hollywood quality that was in short supply in the late 70s and early 80s quest for more naturalistic, camera-natural actresses.
The film's most famous and sexiest scene has no nudity at all. It is often citedas one of the sexiest scenes in cinema, and it's very old Hollywood, full of passion and explosive chemistry between the leads. Turner oozes sex as she refuses to let Hurt in, driving him to pull the panty moistening move of hucking a chair through the glass door...
Here's Kathleen Turner dragging William Hurt back to bed by the dick...
Can you imagine if Barbara Stanwyck had dragged Fred MacMurray back to bed by the dick in Double Indemnity? Sure, we'd all love to have seen that—some of us more than others—but the Hays Code wouldn't have allowed such overtly sexual content. You'd just tastefully cut to stock footage of a train going into a tunnel or something.Body Heat is jam-packed with sex, it positively oozes out of the film, and both Turner and Hurt are willing and game participants...
While the film was very well received by critics and audiences alike, some critics at the time, including The New Yorker's Pauline Kael andThe New York Times' Janet Maslin, were unimpressed by Turner's performance, with Maslin directing this scathing barb at the actress....
"Sex is all-important toBody Heat, as its title may indicate. And beyond that there isn't much to move the story along or to draw these characters together. A great deal of the distance between [Ned and Matty] can be attributed to the performance of Miss Turner, who looks like the quintessential forties siren, but sounds like thesoap-operaactress she is. Miss Turner keeps her chin high in the air, speaks in a perfect monotone, and never seems to move from the position in which Mr. Kasdan has left her."
While neither Kael nor Maslin publicly reversed their opinions on the film and Kathleen Turner in particular, butthe film's legacy and the vast majoritycritical opinion has proven them outliers in their opinion. Particularly in this day and age, where there's a lack of serious, studio made films for adults, Body Heat seems more and more like a diamond in the rough. They don't make them like this any more, and that's a damn shame.
Catch up with our other editions of Anatomy of a Scene's Anatomy...
—The "Real Sex" ofDon't Look Now
—Scarlett Johansson's Nude Debut inUnder the Skin
—The 2 Very Different Sex ScenesofBasic Instinct
—How Halle Berry's Nude Debut Led Her toMonster's Ball
—HowMulholland Dr.'s Legendary Lesbian Scenes Deepen the Film's Mystery
—Showgirlsand the Dangers of High Camp
—Rosario Dawson Laid Bare for Danny Boyle'sTrance
—Katie Holmes MakesThe GiftWorth Remembering
—Jennifer Connelly Comes of Age inThe Hot Spot
—Lisa Bonet's Bloody Nude Debut inAngel Heart
—Monica Bellucci Gets Brutalized in Gaspar Noé'sIrréversible
—Stanley Kubrick, The William Tell Overture, and A Clockwork Orange
—Wild ThingsPresents Every Man with His Dream Threesome
—Chloë Sevigny Goes Down in History forThe Brown Bunny
—Helen Hunt Does Her Best Nudity at 48 in The Sessions
—Anne Hathaway Wreaks Havoc on Her Disney Image
----------------
Header image via IMDb