Whether you feel like making babies or just spilling some seed, we've got some good choices for you this week on DVD and Blu-ray: First, Charlize Theron is diabolically hot as she makes her full frontal debut in The Devil's Advocate (1997), nude on Blu-ray. Also nude in fright flicks, Anna Hutchison shows off her lovely lungs in The Cabin in the Woods (2012), nude on DVD and Blu-ray, as does Pamela Susan Shoop in Halloween 2 (1981), nude on Blu-ray.

If you're feeling a (t)it more domestic, America Olivo is nude this week in the babymaking comedy Conception (2011) and Olivia Munn sadly stays covered but Nikki Moore whips out her baby feeders in The Babymakers (2012), both nude on DVD: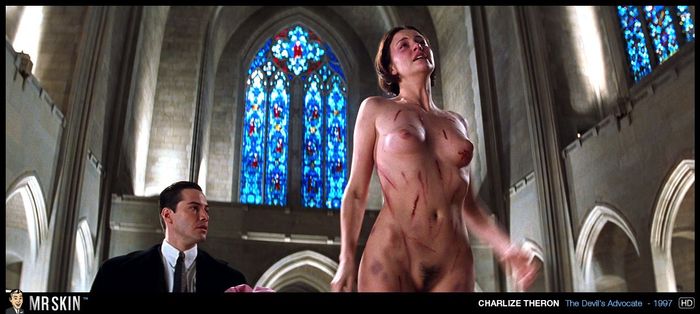 Keanu Reeves is a hotshot young lawyer in Florida who is lured to the big city by a lucrative offer from Al Pacino. Soon Reeves finds his morals tested and wife going more than a little batty, but that has nothing to do with fast-paced New York City life and everything to do with the fact that Keanu's new boss happens to be the human embodiment of Satan. Equal parts Donnie Brasco, Faust, and The Firm,The Devil's Advocate (1997) is further electrified by the always delectable Charlize Theron, who brings her sultry, girl-next-door looks (provided you live next door to South Africa) and desecratesI mean, decoratesa church with her Sun City nips and neatly trimmed diamond mine an hour and 41 minutes in. A-hoo-ha!

A brain, an athlete, a basket case, a princess and a criminal all head to Saturday detention . . . er, a remote

backwoods locale in The Cabin in the Woods (2012). These five archetypes fail to heed the warning of a creepy gas station hillbilly early in the film, which of course means once they reach the titular Cabin all sorts of mayhem is in store. But this is not your typical haunted (or infested) ground. The cabin is being watched by the employees of a massive and mysterious underground facility, all dedicated to a group of ancient and bloodthirsty gods. Peachy redhead Kristen Connolly starts the movie out right by showing her sweet panty-clad seat 4 minutes in, but Anna Hutchison will really put a log in your pants when she loses her shirt at the 41-minute mark. The Cabin in the Woods will make you lumber-jack!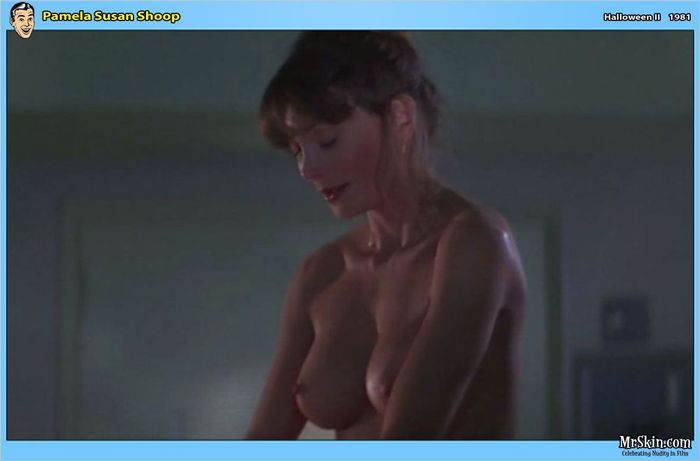 As a sequel, Halloween II (1981) could be cued up to follow directly after the original installment in the series, and no one would know where one film ended and the other began. Misunderstood, villainous, and murderous Michael Myers has taken six bullet holes and fled. Innocent victim Laurie has been transported to the hospital, there to recover while the manhunt for Michael is carried out. People start dying in the hospital. In a script co-written by John Carpenter and directed by Rick Rosenthal, hapless dorks are butchered, lethally injected, par-boiled, and hammered to death. Gird yourself for suspense, shocks, and unpleasant surprises. One expected development: 48 minutes in, a nurse (Pamela Susan Shoop) strips for hydrotherapy with a pal and pays a price for her pleasure.

It's babymaking time for the couples in Conception (2011). This ensemble comedy follows nine different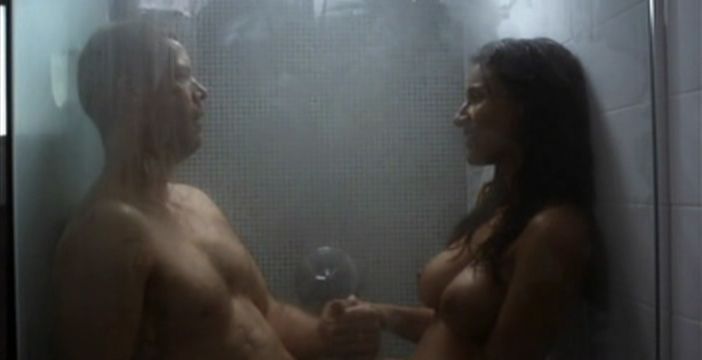 couples on the night that they conceive, with scenarios from the hilarious to the disastrous. The reproductive pairs include a lesbian couple preparing for artificial insemination, a couple taking fertility treatments, and a couple of horny teenagers trying to de-virginize. Blonde babe Julie Bowen starts off the sexy times lounging on the bed in a tank top and panties 7 minutes in, and Jennifer Jostyn pulls down her sweatshirt to reveal her left lobber 43 minutes in. Plus we get a peek at the right peak on Leila Charles Leigh when she takes off her bra at the 52-minute mark, and we later see steamy, slippery mams from America Olivo as she gets banged in the shower 57 minutes in. Now where do babies come from again?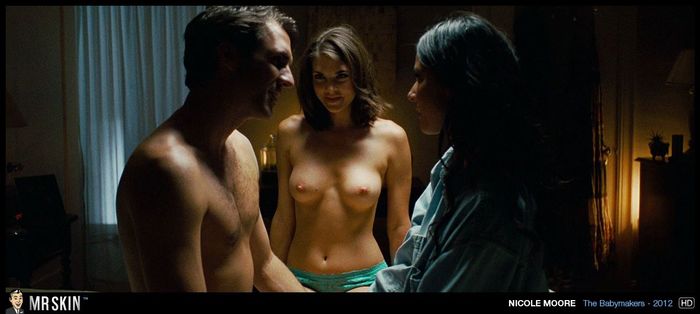 A husband goes to great lengths to get his wife knocked up in The Babymakers (2012). Tommy (Paul Schneider) and Audrey (Olivia Munn) have been married for three years, and they've decided the time is great to procreate. The only problem? Some recent testicular trauma has left Tommy shooting blanks. Desperate to impregnate Aubrey, Tommy hatches a plan to break into the sperm bank where he used to donate and steal the last remaining vial of his tadpoles. Olivia starts out with a literal bang in a montage of sex positions, but manages to keep all her good parts strategically covered. Fortunately her co-star Nikki Moore struts out topless 19 minutes in, and photos of supermodel Helena Mattsson's super-mammage show up throughout the film. That'll get you spilling seed!

C U Next Tuesday, Skin fans, as we round up all the newest and nudest releases on DVD and Blu-ray right here at MrSkin.com!