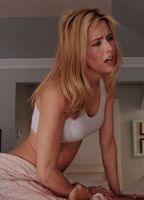 Biography
Comedic talents don't necessarily cancel out a lady's lascivious appeal, not any more than intelligence siphons off a woman's desirability, especially not in the case of smart and sexy funny-lady Téa Leoni. Blonde and bodacious, with a lithe and fittingly padded form, Téa has the kind of high-voltage charisma that allows her to turn on sexual heat or fetching sly humor with the flip of her bangs. Widely known for her laugh-a-minute lead on TV's The Naked Truth (1995), she bounded onto the big screen with a bit-part in Blake Edwards' bawdy blooper Switch (1991). She made her biggest bang as the sexy tagalong Julie in the blockbuster Bad Boys (1995) with Will Smith and Martin Lawrence, letting her gorgeous gams do most of the legwork.
From faux-flashing through a thick shower door in The Family Man (2000), to foxingly frolicking in Flirting with Disaster (1996), tempting Téa has always been tempted to tease. But it wasn't until Téa's turn as Adam Sandler's wife in Spanglish (2004) that we got a look at her teacups--even if it was only a brief peek of right riblet as she wiggles in a robe. In Fun with Dick and Jane (2005), she gets skintastically soaked,
Although she's been seen in flicks with such naughty names as House of D (2004) and Hollywood Ending (2002), it's a shock the bombshell has so few flashes of flesh in her filmography, but her sexy stares and minxy moves are enough to keep coming back for another round. With someone as sexy as Téa, we'll take what we can get.