Since we looked at Easy Rider last week, it was only appropriate to focus on Dennis Hopper's follow-up to the wild success of Easy Rider. For today's Hippie Hotties, we are going to look at 1971's The Last Movie directed, once again, by Dennis Hopper.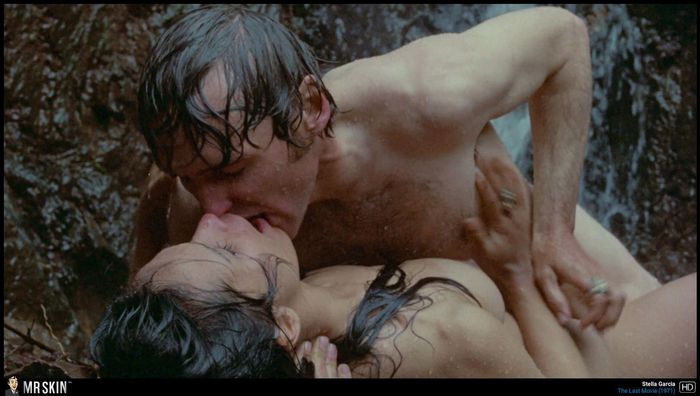 Much like Easy Rider, The Last Movie is a movie that has a lot of lore surrounding it. Because Easy Rider was so successful, Universal Studios wanted to create a division for low-budget movies like it. This was one of those movies and since it was Hopper the studio really gave him free rein. Well, that's where the trouble starts. Hopper came back home from Peru with over 40 hours of footage and he took over a year to edit it into a film that felt "too experimental".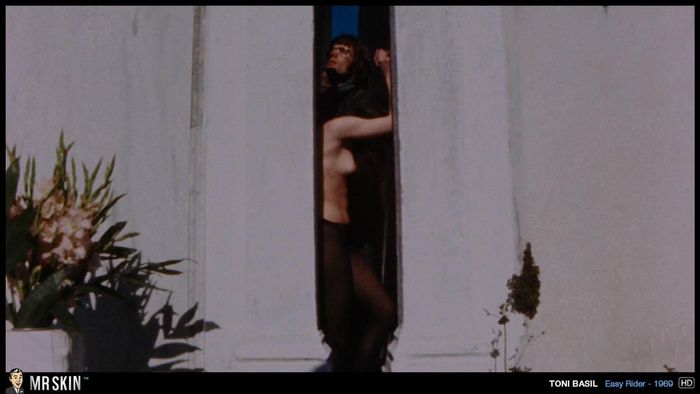 Hopper even gave famous director Alejandro Jodorowsky - directed of The Holy Mountain - a chance to recut his film, after having his mind blown by the cult success El Topo by Jodorowsky. Jodorowsky was truly experimental, however, and his cut was too out there for Hopper. He didn't use it, but he always said how artistic it truly was.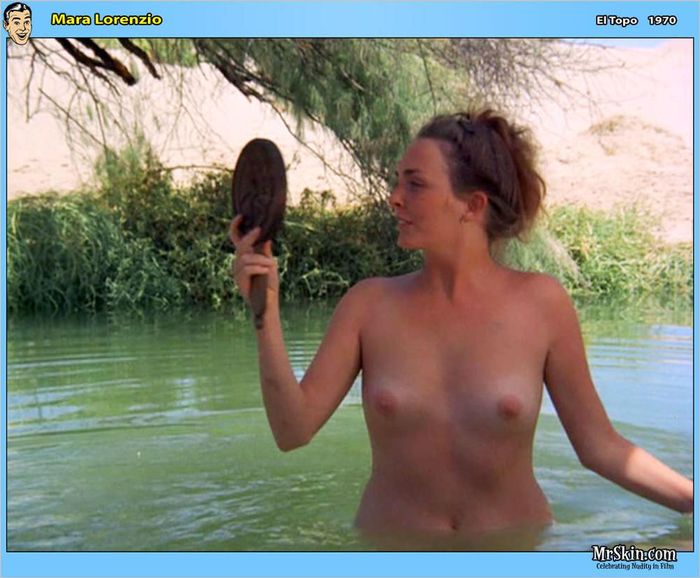 Much like Easy Rider, there was a lot of drug use on set. Hopper even started sleeping with a local woman get met while trying to find drugs but broke it off with her when he started to get paranoid that the Peruvian government sent her to spy on the film shoot and try to kick him out of the country. Acid, coke, peyote, and weed were all being done by the crew themselves making this movie one that might be more hippie behind the scenes than in front of the camera.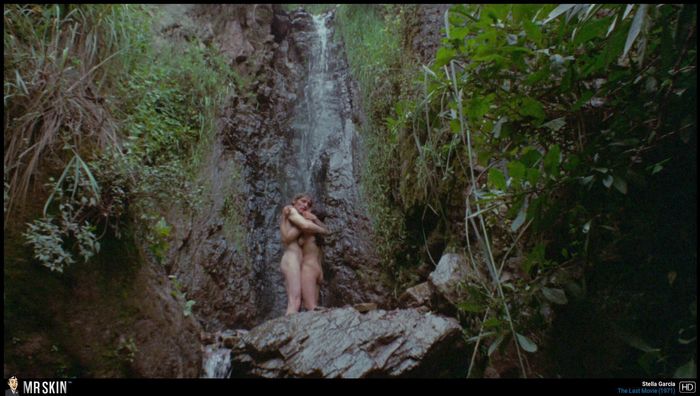 The plot follows a man named Kansas who is played by Hopper himself. He is a location manager working on a film shoot that appears to be nothing but trouble. He is sick of that life, so he decides to quit show business altogether and stay in the small Peruvian town that he found for the film shoot.
If the idea seems a little dated - the villagers don't know how movies are made? - it was actually loosely based on Hopper's real experience on a film shoot for The Sons of Katie Elder in Mexico in 1965. He noticed that locals were reenacting scenes in the movie that they saw the filmmakers shoot.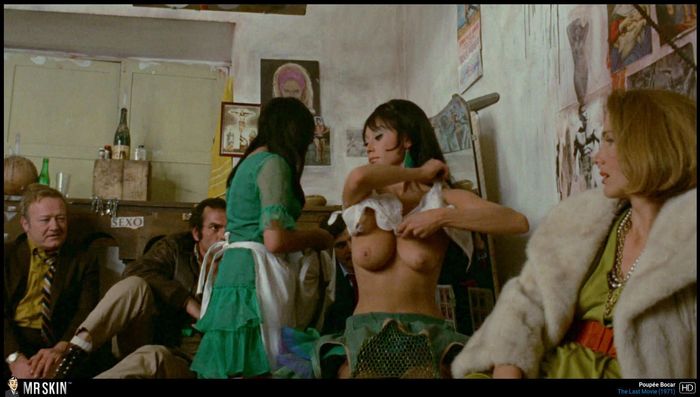 It helps that he meets a beautiful Peruvian girl, Maria played by Stella Garcia. She is a sex worker and he winds up having a ton of fun with her. Village elders, however, approach Kansas and ask him to resume work on the film and finish it up because the villagers are really affected by the film, especially after one of the actors is accidentally killed during a stunt. Now the villagers are reenacting the stunt scenes, not realizing they are faked with movie magic, and winding up killing one another as a result.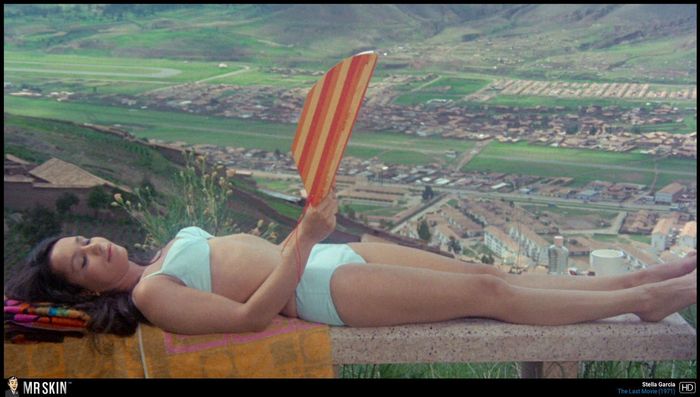 Rumor has it that he really had sex with Stella Garcia in the movie. To be honest - it does look real! It is a brief sex scene, but you can be the judge of whether or not this scene looks like real sex to you:
While Michelle Phillips made her debut in the movie, she didn't go nude. Leave that to the other actresses like Poupee Bocar who gives a rough sex scene that is worth watching - and with another woman!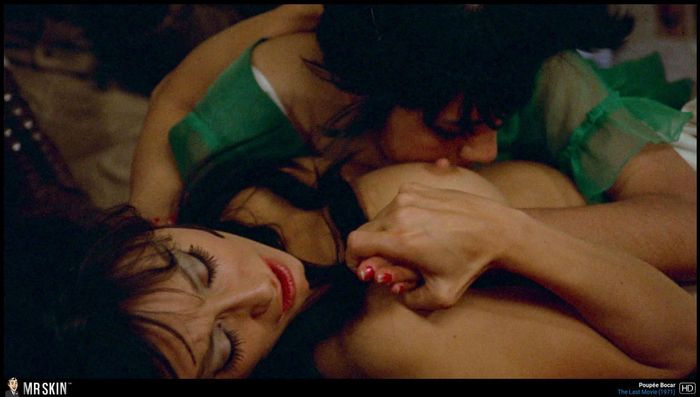 Watching this film now, it's a bit of a mess. The storyline is disjointed which is not uncommon for 60s movies, but so many other films handle this kind of narrative better. The movie was not a hit and this failure caused Hopper to stay away from directing until 1980 when he finally made Out of the Blue.
It's even considered by some as one of the worst movies ever made, mostly due to the lore behind the wild film set. I think that, like Easy Rider, if the movie had been better then people would praise the film for the wild way that it was made. Since it appeared to be such a mess, it was seen as proof that that might not be the best way to make a movie.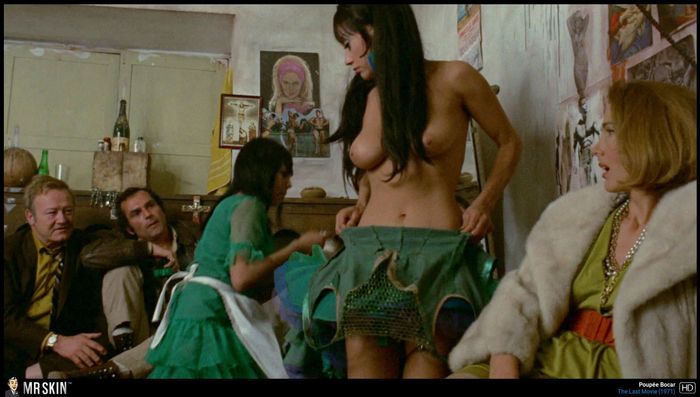 However, the tide turns on the film in recent years with articles being written about it being misunderstood at the time. Hopper even came around to say that he is now proud of the film and that it was "ahead of its time". I think it's very of its time, personally, and that includes the lore and the movie itself. It was definitely made in the hippie spirit and it's a very Hopper Hippie film.