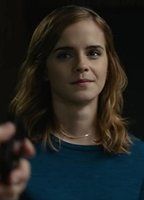 Biography
Emma Watson Nude | Will It Ever Be Possible?
Step this way for the latest Emma Watson pictures! Born in France but British to the core, the nubile and delicate young English actress Emma Watson is one crumpet who's tres, tres jolie! This Paris-born beauty was the daughter of lawyers, but she always wanted her own spotlight and her charming talent and sweet smile helped her get the attention of major casting directors.
She lived in France with her parents until she was five when the British family returned to England and enrolled young Emma in The Dragon School in Oxford. That's just the name of the school, but it sounds like a very good omen for her wizarding career ahead of her.
If this all sounds a little too prim and proper (proper, I hardly know her!) for our liking, that's because it is. To answer the questions that we know you're pondering right now - "Where can I find Emma Watson nude pics?" and "Where can I find videos of Emma Watson nude?" - nowhere yet, sadly.
Our Emma Watson photo gallery reveals plenty of awesome cleavage and bodylicious action, but our cute pics of Emma Watson are just that... cute. Don't click away! You can still download Emma Watson pics from our site for your personal time. It doesn't take a lot of skin from Emma to give us a sema! (That's an Emma semi, for you nonbelievers).
Emma Watson in the Harry Potter Film Series
At the age of eleven, Emma beat out thousands of other hopefuls to nab the coveted role of bookish babe Hermione Granger in the adaptation of the first Harry Potter novel, Harry Potter and the Sorcerer's Stone (2001). Though the Hermione of the books is described as bushy-haired, buck-toothed, and nerdy, that couldn't be further from the truth when it comes to Emma. Throughout the course of the subsequent Potter flicks, we watched Emma blossom from an innocent pre-teen to a willowy young woman.
She was 20 when the most skintastic of all Potter productions, Harry Potter and the Deathly Hallows: Part 1 (2010), premiered, which had the Harry Potter actress a sensually sucking face with Daniel Radcliffe in a foggy phantasmagoria forged from the fear of Rupert Grint's character Ron Weasley. She looks like she is really good at that despite once saying in an interview that she would never want to kiss her costars or have any sexy scenes with them.
She once said, "Oh my God, no, no chance, no chance. That's not in my contract!" Well, apparently it slipped into her contract eventually when she finally smooched Harry. Still, she thinks of the boys as her best friends and brothers, so we understand that she did not want to have relations with them beyond what was in the script.
That being said, these scripts could stand to be sexier. None of their intimate parts are shown, but Hermione and Harry are nude all the same. Emma Watson never showed skin as Hermoine Granger, but this Harry Potter star still had audiences' wands stiff.
Emma Watson in The Perks of Being a Wallflower and The Bling Ring

Outside of some panty-flashing scenes in the film adaptation of The Perks of Being a Wallflower (2012) where she was part of a midnight showing of Rocky Horror Picture Show, giving us serious Susan Sarandon/Janet vibes in her white undies and a flirty boa, she has been rather tame.
That's rare for a former child star! Usually they like to spread their wings and spread their legs and fly. They like to prove that they are Real Adults! Emma Watson does not feel like doing any of that, but she did have a much of adult and flirtatious role in an exciting 2013 Sofia Coppola film.
We are talking, of course, about The Bling Ring (2013) where Emma did share a bed with her co-star Taissa Farmiga as two teen girls who go on a shopping spree that is riddled with theft. Unfortunately, the girls in bed were mostly clothed and when they get out of bed we do not see much skin either.
Emma sat up in bed and began slipping on her shoes, showing her feet for a moment to interested parties.
We see her underwear and her long legs, but that is about it. There is nothing else that Hermoine wants to reveal. There are no tricks up her wizard sleeves. Sadly, Emma retained a tight grip on her modesty. She left us wondering when and where we would ever see her nude body?
Emma Watson Loosens Up in Colonia

She loosened it a bit in Colonia (2016), appearing in her underwear, in a steamy makeout sesh, and in the obscured buff as she strips down for a swim. She has been doing projects sparsely in her career. Why shouldn't she? She has SO much money from her stint as a child actress in the Harry Potter films. That was the majority of her youth right there and she made bank on it.
She and the other Potter kids probably never have to work again, so it makes sense that she, Daniel, and Rupert all pick and choose projects that are interesting to them. It's fun to see what Emma agrees to work on now because it is clear that it is something that she cares about. If only she would care about giving us some more nudity.
Emma Watson's Latest Acting Endeavors
British actress Emma Watson has played Angela Gray in the 2015 film Regression and then she played the leading lady Belle in 2017's live-action Beauty and the Beast. She played Mae in the 2017 film The Circle and then she played Meg March in 2019's Little Women directed by Greta Gerwig. There was obviously no nudity in Little Women - too many petticoats to unbutton! - but Emma was a wonderful addition to the movie.
Since then, she has been taking it easy. She gives talks on feminism and female empowerment and she remains stunning as she does it all. We really hope that she will someday feel empowered to take off her clothes for the camera. We are dying to see some more skin from Ms. Watson. That would be sexy, my dear Watson.
If it sounds like we are obsessed with the idea of seeing Emma Watson nude, it is only because we are. We are dying to see some Emma Watson nude pics and videos. They have to be out there somewhere in the cloud! Where can we find pics of Emma Watson nude? Where can we find videos of hot Hermoine without her clothes on?
Maybe she really is a wizard because we are spellbound and obsessed with the idea of Emma Watson's tits being shown to us. We would make wallpaper out of her nudity. Emma Watson wallpaper, now that's hot.
You can keep up with Emma when she is not acting by checking out Emma Watson's Instagram. You might be able to find cute candids from Emma and bikini pictures. Old photos, new photos, she looks stunning in all of them. We know she would look the best if she was naked.
Emma Watson's Education and Women's Rights Efforts
She has been voted one of Maxim and Empire's Sexiest stars, but she is more concerned with health and helping other humans. She has been outspoken about Women's rights (she was appointed as a UN Women Goodwill Ambassador back in 2014) and she is a certified yoga and meditation teacher.
She graduated from Brown University with a bachelor's degree in English literature and we SO would have loved to go to some frat parties with Emma Watson. We bet some of her former classmates have great stories about this young lady.
While she has never had topless pics leak, she did sue a website that posted photos of her trying on different hot outfits. The photos were stolen and posted online, so you can likely find those out in the wild. Speaking of wild, when will Emma Watson finally get wild and take off some clothes? Hopefully soon.
Until then check out our Emma Watson full picture, Emma Watson HD photos, and everything in between below! Hell, if you're really an Emma-head, you can use our images as Emma Watson backgrounds and Emma Watson wallpaper. Why not. Live a little.
Final Thoughts
Hopefully, the next time Emma lets it all hang out, the cameraperson won't be such a blue baller. The only blue balls we want are those in the Hall of Prophecy that tell us that Emma will be nude on camera very soon. Sorry, that's a joke for serious Potterheads!