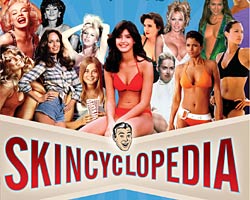 By Keith Sharpe
Friends, skin fans, countrymen, lend me your (r)ears: Have you been clicking your mouse raw to the salacious stylings of your fair website, yet find yourself musing, "This is all fine and dandy, Mr. Skin, but what do I do when I find myself away from my computer? If only this site were available in a form that was conveniently portable without skimping on titillating content!"?
Do you often find yourself concerned for the fate of your computerless compatriots who, due to lack of cyber savvy and/or funds, are sentenced to bob forever in a dismal sea of skinlessness? Have you recently lamented, "And gift giving, Mr. Skin, what say you of that? How might I turn your virtual museum of celluloid starkitude into a tangible, wrappable present?"
The masses have spoken, and the (s)expert has answered.
Mr. Skin's Skincyclopedia: The A-to-Z Guide to Finding Your Favorite Actresses Naked
by esteemed author "Skin, Mr." will be published by St. Martin's Press on January 3, 2005.
Never before has there existed a reference book with such extensive skinformation regarding nudity on screens both silver and small . . . and with libidinous laffs at the (single-handed) turn of every page! Mr. Skin, a man who's always ahead of the curve(s), explains, "After the success of the site, it was just time to turn it into book form . . . there is no other celebrity-nudity reference book on the market that covers such a vast amount of skinfo."
But what separates the
Skincyclopedia
from all other movie guides?
"It was always frustrating to me that there has never been a
biographical
A to Z reference book to finding your favorite actresses naked," Mr. Skin says. "
The Bare Facts
was well done for its time, but it was dry; it's just data. Plus, I don't believe
The Bare Facts
has been updated since 2000. I wanted to put in every man's hands a book that was not only skinformational but funny--something you could carry with you to the video store when you wanted to rent a good movie for nudity. I also wanted guys to be able to somehow enjoy my website while they were in the bathroom.
And so the busy little bees that comprise the horny hive that is Skin Central spent most of 2004 culling the 2,005 most popular peelers from the more than 9,000 actresses listed on the site and compiled them into the "best of", so to speak, of MrSkin.com.
This massive volume will soon be ready to fly straight off the shelves and into the hot little hands of every man with a yen for celebrity buns, boobs, and bush in his heart and a spare $27.95 in his pocket. Chump change, really, when you think of the wealth of skinfo this collection will provide!
We realize that the exhaustive amount of nudity knowledge supplied by the
Skincyclopedia
may at first seem overwhelming and intimidating, but do not cower in fear, fans of female flesh! Although colossal in scope, depth, and length, this weighty tome is surprisingly simple to navigate, much like the website itself.
"I know a lot of people hear me on the radio, but many of them have no clue how to turn on a computer, let alone find mrskin.com online," Mr. Skin says. "I figure that 100-percent of the guys who hear me on the radio know how to walk into a bookstore and buy a book. My only concern is I don't know how many guys who listen to me know how to read!"
Actresses are arranged alphabetically by last name, and each lusty listing includes such pertinent poop as her date and place of birth (and date of death, in the case of our dearly departed dermis-barers), skin-tillating biography, full skinography (the complete rundown of every movie in which the celeb in question has shown her bits and bobs), her Skin-O-Meter listing (from the barely bare to the rarely clothed), and her SKIN-fining Moment (more detail on this below).
And lest you believe this volume to be anything but indispensable, some of its features are unique only to the book and unavailable elsewhere--even at MrSkin.com!
"There are more than 9,000 actresses to wade through at mrskin.com," Mr. Skin points out, "so, for the book, I chose the 2,005 most skin-ificant babes. Kind of a 'best of the breast.' Then I had a team that labored mightily to record
every
body part shown by every actress in every movie they have been naked in. We also came up with actress quotes and rare posters and promotional stills from some of my favorite flicks."
In addition, if you're having difficulty paring down an ing?e's skinography to her one most-necessitous (or would that be "nec-ass-itious"?), nakedest scene, look no further than the aforementioned SKIN-fining Moment--the single skinematic apex of her "bawdy" of work. Each SKIN-fining Moment has been lovingly hand picked by Mr. Skin himself and is especially handy for choosing must-see scenes from those performers with a staggering, seemingly insurmountable output of fleshy flicks (yes, I'm looking at you,
Edwige Fenech
).
Furthermore, the
Skincyclopedia
serves up one hundred Top Ten lists, some never before seen by mortal humans! Old favorites such as "Top Ten M?ge a trois Scenes" and "Naked TV Moms" are there, natch; but purchase the book and your jaw will drop and your pants will burst as you giddyup while trotting out the "Top Ten Nude Scenes on Horseback" and fiddle with your spigot while perusing "Top Ten Group Shower Scenes"--two examples of rare, previously undisclosed favorites that have been plucked from deep within the Skin vaults for pub(l)ic consumption.
And don't think we didn't let the stars of this project have their say--we've collected a veritable cornucopia of stimulating quotes straight from the steamy stars' mouths to accompany their nudie rundowns. What
Baywatch
babe said, "The first hickey I ever got was from a girlfriend," and what B-movie barer raved, "You go to some of these celebrity sites and you feel kind of dirty. At Mr. Skin, you feel like you're having a grand old time"?
Every year, skin fans eagerly tune in to
Howard Stern
's radio show for the unveiling of Mr. Skin's coveted Anatomy Awards, the one-armed salute to actresses who unveil their golden globes on the silver screen.
Naturally, the listing for each year from 2000 on are contained here for you to cite whenever you find yourself wondering who had the best bared bunnage in 2000 or who garnered accolades for a lesbian kiss at the turn of this century. From phony funbags to natural knockers, from best landing strip to the finest full-on furburgerage--no matter what your preference, the Anatomy Awards are included here for your reference.
And for all you screw-the-text-I-just-wanna-flip-through-and-ogle-the-pictures types out there, of course there is a vast array of thought- (and boner!) provoking photos included for your leering pleasure. Feast your sweaty eyeballs on rare, risqu?ovie posters from such skin classics as 1981's
Tattoo
starring
Maud "the Bod" Adams
, and publicity stills of lusty legends from crank-yanking movies, like
Sybil Danning
's bikini bust-out from
Chained Heat
(1983).
But remember, while the
Skincyclopedia
is bursting its spine with these and other arousing illustrations, sometimes no nudes are good nudes--there are no actual nudie pics in the book; we're saving the breast parts for the website. After all, grainy halftone printing simply cannot capture all the subtle nuances and rosy hues of the flesh like a good .jpg can.
In the future, there will be new, updated editions published yearly to keep you a-breast of who's nude in theaters, on television, and on DVD.
"I want the Skincyclopedia to become a traditio-skin!" declares Mr. Skin ambitiously.
Whether you're planning what to rent on your next trip to the video store, firing up that new TiVO to record a season's worth of skin, curious about your favorite unclothed cuties of yesteryear, or looking up the up-and-coming raw, naked talent of today,
Mr. Skin's Skincyclopedia
makes fast forwarding to the good parts that much easier.
After all, never before has a softcover caused the opposite tactile reaction . . . in your pants!