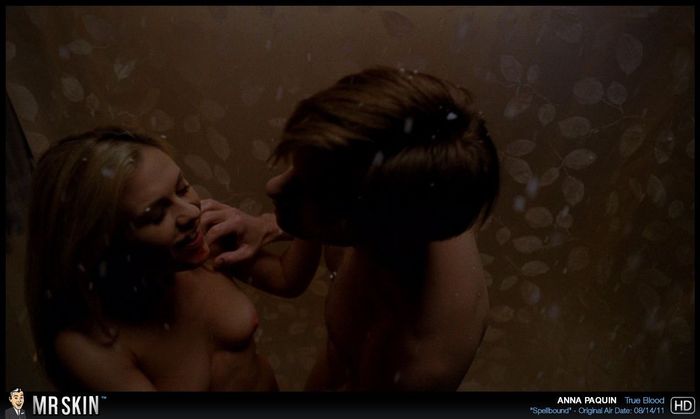 When it rains, it pours, and we are positively dripping with skin-filled options this week on DVD and Blu-ray: First, True Blood Season 4 hits DVD with things that go hump in the night like Anna Paquin, Alexandra Breckenridge and Janina Gavankar. Then hot hockey groupies Brandy Jaques and Veronica Malinowski flash their pucks in Goon (2011), Tilda Swinton gives us something to talk about in We Need to Talk About Kevin (2011), and Harriet Andersson gives us a tit-story lesson in Summer with Monika (1953), the film that solidified Sweden's reputation as a SKINema pioneer.
Plus, if you prefer your vampires foxy, French, and full-frontal, check out the re-releases of Jean Rollin's Demoniacs (1974), and Requiem for a Vampire (1971), all nude on Blu-ray: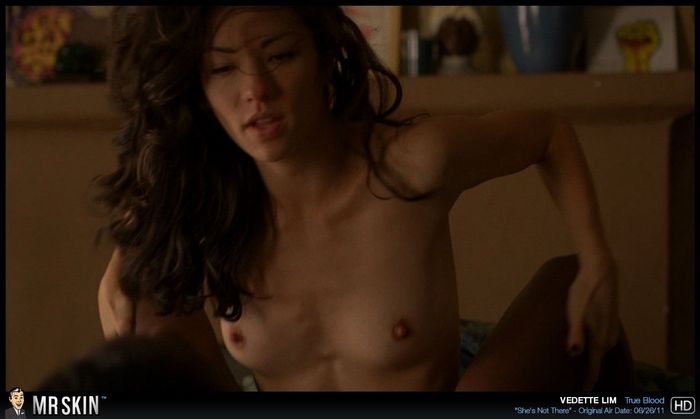 Over four supernatural seasons, True Blood has introduced werewolves, telepaths, shapeshifters, faeries, and enough vampire sheriffs, kings, bounty hunters, and barmaids to drink an ocean of the red stuff. Each season has also been loaded with enough goth hotties and luscious victims of vampiric doings to put a wooden stake permanently in your pants. Season 4 treats us to the undead delights of lesbo lovers Rutina Wesley and Vedette Lim, naked shapeshifters Lindsay Pulsipher and Janina Gravankar, topless fangbangers Deborah Ann Woll and Alexandra Breckenridge, and series star Anna Paquin, all supernaturally horny and ready to reveal.

The black sheep of a family gets his shot at glory in the hockey comedy Goon (2011). Doug (Seann William Scott) was born into a family of doctors, but doesn't have brains to go into the family business. After an impressive fight in the stands at a local hockey game, the team asks him to join up as a "goon", a player who fights to protect the smaller teammates. Soon he's drafted into the semi-pros to protect star player Xavier LaFlamme (Marc-Andre Grondin) as his gladiatorial style wins over the fans and captures the heart of local tramp Eva (Alison Pill). Brandy Jaques will have you reaching for your jock when she shows off her bouncy right roundie getting banged on a pool table. Plus, blonde bombshell Veronica Malinowski shows off her Hollywood Hills lying in bed....but alas, Goon is poon-free.

The mother of a disturbed teenager blames herself when he goes over the edge in We Need to Talk About Kevin (2011). Kevin (Ezra Miller) was always an odd child- when he was a baby, he wouldn't stop crying, then as a toddler he refused to speak. But no matter how much Eva Khatchadourian (Tilda Swinton) worries about her increasingly psychotic son, she's helpless to stop him from going on a Columbine-style shooting spree at his high school. So to deal with her grief and feelings of guilt, Eva reaches out to her estranged husband Franklin (John C. Reilly). But forget Kevin- let's talk about Tilda when she bares butt and left boob only 12 seconds in as she rolls around with John C. Reilly. Those rosy raspberries are pure heaven!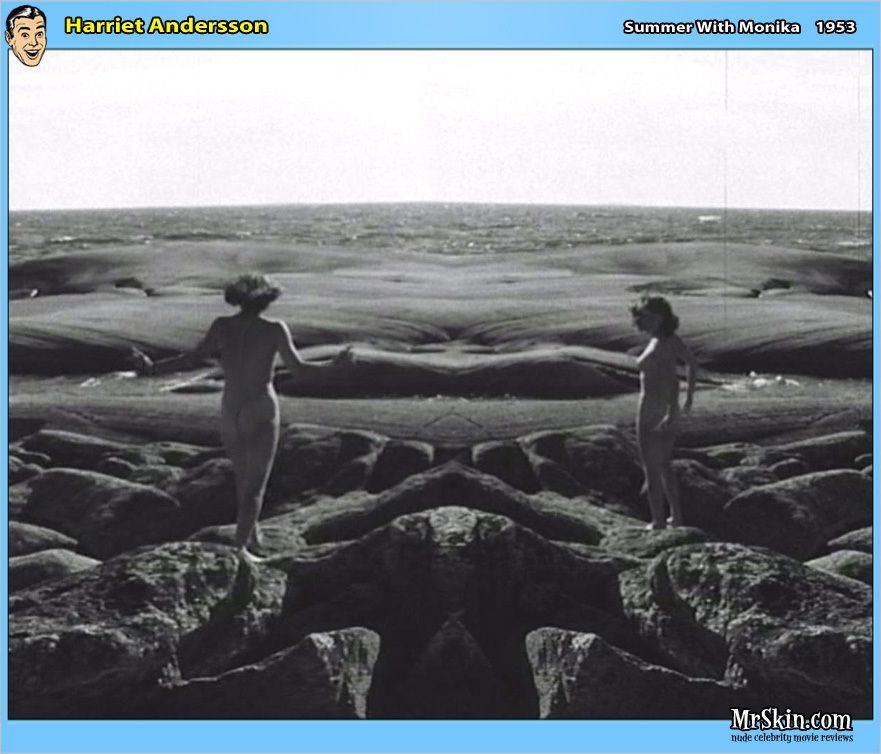 The minor Ingmar Bergman production Summer with Monika (1953) still did plenty for the reputation of foreign films-specifically, as a chance to see a hot young girl get naked. Harriet Andersson stars as the titular free spirit who's stuck working all day stocking vegetables. Then she meets up with the equally free Lars Ekborg. The two share a decadent summer full of heavy drinking, sex and nude sunbathing. Then it all kind of comes to a bad end. Still, your dick will get plenty crazed at the sight of young Harriet (who, although she's playing a 17 year old, was really 21 at the time)- Imagine how nudie-deprived audiences were moaning over Monika once Harriet stripped down by the ocean 41 minutes in! In fact, the scene's still awfully sexy today.

In the b-movies of French director Jean Rollin, the b stands for boobies, and you'll see plenty of those in Demoniacs (1974). Two shipwreck survivors (Lieva Lone and Patricia Hermenier) are picked up by a sadistic pirate captain, and then killed for the pleasure of his equally murderous girlfriend, Tina (Jolle Coeur). But it's not the end of the line for these poor innocents because they make a deal with the devil himself to return to life and get revenge. This sexploitation classic features plenty of flesh from its female leads and Lieva, Patricia, and Jolle all show full frontal funbags and fur throughout. Sex, sex, sex is the
number of those beasts!
Written and directed by French visionary Jean Rollin, Requiem for a Vampire (1971) follows virgin schoolgirls Marie (Marie-Pierre Castel) and Michelle (Mireille Dargent) as they stumble upon an old house in the cemetery and decide to go inside for some Sapphic canoodling. But, far from empty, the house is occupied by a vampire and his harem of chained naked women. The vampire takes the girls prisoner and decides to turn them into the undead, but before he can initiate them both, his servant Frederic (Philippe Gast) deflowers Marie. Both girls get naked throughout the movie, and that will give you plenty of opportunities to pound your stake.
CU Next Tuesday, Skin fans, for all the newest and nudest releases on DVD and Blu-ray right here at MrSkin.com!