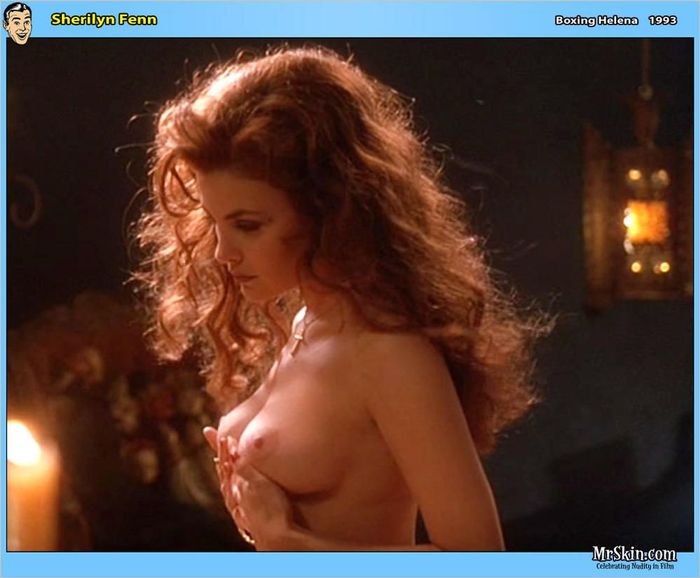 Our weekly seriesAnatomy of a Scene's Anatomyhas been rebranded as Anatomy of a Nude Scene, but nothing else has changed. We're still going to be taking a look at (in)famous sexscenes and nude scenes throughout cinema history and examining their construction, their relationship to the film around it, and their legacy. This week, David Lynch's daughter gets into the directing game with one of the most notoriously awfulerotic thrillers of the 1990s, Boxing Helena!
Boxing Helena is one of that rare breed of film—like last week's Basic Instinct 2—with a protracted legal battle that's ultimately much more interesting than the finished film. Producer Phillippe Calandconceived the story of a celebrated but sexually stunted surgeon who becomes obsessed with a woman who continuously rejects him, leading him to amputate her legs—and eventually her arms—to keep her all to himself. After attending a poetry reading by 19 year old Jennifer Chambers Lynch, the daughter of David Lynch, Caland approached her with the idea and after some negotiations and story changes, Lynch agreed to write the script.
In 1990, the script titled "Boxing Hanna" was given to Madonna, who verbally agreed to star in the film, with Ed Harris stepping into the role of the film's diabolical surgeon. In December of that year, just as the film was set to go into production in January 1991, Madonna suddenly dropped out, leavingthe film without a big name star in the lead female role. Lynch met with Kim Basinger next, who was persuaded by the young filmmaker's passion and signed on to play the lead role. Once she was signed on, however, she began requesting changes to the script, many of them geared toward softening her character and making her, in the words of producerCarl Mazzocone, "less of a bitch."
When Caland, Mazzocone, and Lynch all refused to drastically alter the script—though the character was renamed Helena during this time—Basinger dropped out, leaving the film in limbo once again. Mazzocone then decided to sue the actress forbreach of contract, claiming that her abrupt exit from the project had essentially pushed him into bankruptcy, having already put up $9.6 million of his own money to get the production going. In her defense at trial, Basinger claimed she wanted the character to be more sympathetic, but Lynch refused to budge on these issues, saying the director was "very, very stern about her vision of Helena." WhenLynch then presented Basinger with the revised script, the actress scoffed at the changes: "I told her they were laughable. I told her it was like bad television, the worst television writing in history." (via LA Times)
While this legal battle raged, Lynch forged ahead on the production anyway with a severely diminished budget, no studio to distribute the film domestically, and substantially lesser known stars Sherilyn Fenn and Julian Sands now occupying the lead roles. After playing at Sundance in January 1993, Orion Classics picked the film up for North American distribution, releasing the film that September. One might assume that with all of the controversy surrounding the film's production, some of that press might translate into ticket sales. The film failed to crack a million dollars in its opening weekend, eventually topping out at $1.8 million in total domestic revenue.
Right around this same time, the jury sided with Mazzocone and ordered Basinger to pay the producer $8.1 million in damages. The actress then filed for bankruptcy herself, before the ruling was overturned in appeals court in September 1994, when it was determined that the judge in the original case had given the jury "ambiguous instructions." All of the damage was now done, however, and Boxing Helena was consigned to a fate worse than death—infamy. It became a curiosity, one of those films that movie nerds would seek out to see what all the fuss was about. As it turned out, the fuss was the story and the film was just a byproduct of that hype.
The film found few supporters among the critical community, though Gene Siskel awarded the film three out of four stars, calling it "Not as worthless as you may have heard." Hardly the rave review of the century, but probably the highest praise the film received from any critic of note. Twenty seven years after the film's release, it's now been almost completely forgotten beyond the legal battle that bankrupted Basinger. Having been one of the approximately 360,000 people who saw the film in theaters, I can say that it's reputation is well earned and the ensuing decades have only made the film into more of an unintentional comedy than the erotic thriller it set out to be.
Sands plays Nick Cavanaugh, a gifted surgeon who has an unhealthy sexual obsession with a woman named Helena (Fenn), with whom he had a disastrous one night stand some years ago. While out for a jog one night, Nick passes by Helena's house and climbs into a tree outside her window where he peeps on her. Helena isn't alone, however, as she has been paid a visit by Ray (Bill Paxton), a local scumbum/Helena's fuck buddy. This is obviously distressing to Nick and he gets down out of the tree before having to witness his dream girl have sex with someone else.
Then, in one of the most hilariously misguided sequences in film history, Sands jogs home while fantasizing/tormenting himself aboutFenn and Paxton starring in an episode of Red Shoe Diaries, and he becomes overwhelmed with emotion...
Whatever Lynch was going for here, it fails to come across and instead we just watch an actor flounder while trying to give a director what she wants. It's not entirely Sands' fault that this scene boils over into a fit of stupidity, but his commitment to his director's vision definitely leaves him hung out to dry. Nathan Rabin, formerly of the AV Club, hilariously wrote about the film ten years ago in his My World of Flops column, rendering the verdict that film was a "fiasco." I would highly recommend reading his take on the whole film, as we're just covering this hilariously awful scene.
In 2020, it seems more and more likely that the film is forever doomed to be a curiosity, as it has only been released on a now out-of-print DVD. It's not available to stream anywhere—except a Spanish subtitled version available on YouTube—and in a world where it seems increasingly like every movie with even a marginal cult following is getting a Blu-ray release, there's none on the horizon for Lynch's directorial debut. I'm sure the film has its fans, even ones who only enjoy the film ironically, but it seems that group is just too small for even a specialty Blu-ray house to release. Maybe one day, Boxing Helena fans. Maybe one day.
Catch up with our other 1990s editions of Anatomy of a Nude Scene...
—The 2 Very Different Sex ScenesofBasic Instinct
—Showgirlsand the Dangers of High Camp
—Jennifer Connelly Comes of Age inThe Hot Spot
—Wild ThingsPresents Every Man with His Dream Threesome
—Analyzing the Dream Logic of Eyes Wide Shut
—Noir Takes a Trip to the Isle of Lesbos in Bound
—Julianne Moore Proves She's a Real Redhead inShort Cuts
—Madonna Touches On Her Basic Instincts in Body of Evidence
—Classic Horror Gets a Nudity Upgrade with Bram Stoker's Dracula
—You, Your Mom, and Everyone Else Saw Kate Winslet's Boobs in Titanic
—Shannon Elizabeth Serves Up a Slice of American Pie
----------------
Click Here to Access All Editions of Anatomy of a Nude Scene/Anatomy of a Scene's Anatomy