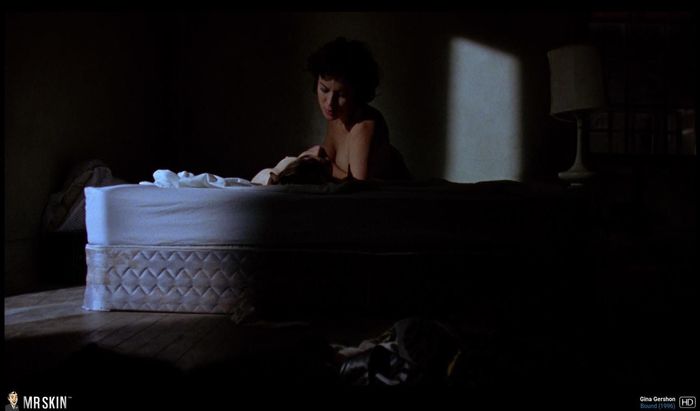 In our weekly seriesAnatomy of a Scene's Anatomy, we're going to be taking a look at (in)famous sexscenes and nude scenes throughout cinema history and examining their construction, their relationship to the film around them, and their legacy. This week we're celebrating one of the great lesbian love scenes of all-time in The Wachowski's debut film, the 1996 neo-noir Bound.
The Wachowskis were a relatively unknown commodity when they made their feature directorial debut, having worked as comic book writers and crafting the script which would eventually become Richard Donner's 1995 action flick Assassins. While they retained a writing credit on that film, they have both stated publicly that the film bears little to no resemblance to their original script. Fed up with ceding creative control of their work to another director, The Wachowskis decided to direct their first feature film, 1996's Bound starring Gina Gershon, Jennifer Tilly, and Joe Pantoliano.
Mega-producer Joel Silver, a long-time champion and producer of The Wachowski's work, said that Bound essentially served as their audition tape to prove they knew their way around a film set and could successfully produce a piece of genre cinema. The film is often overlooked as nothing more than that, a stepping stone that would lead to their cultural and commercial breakthrough three years later with The Matrix.However, this does not give Bound nearly enough credit for whatis atightly crafterneo-noir, an homage to the films of John Huston and Billy Wilder, but with a decidedly more 90s-aesthetic.
Tilly stars as Violet, the girlfriend of Caesar (Pantoliano) who is a money launderer for the mafia. They cross paths with Corky (Gershon), an ex-con who has taken a job doing handywork in the apartment building where Violet and Caesar live. The chemistry between Tilly and Gershon is downright explosive from their first meeting, with both of these busty brunettes making every conversation, every hand gesture, and every smoldering glance positively drip with sexuality.
Coming into the film, Tilly was hot off her first Oscar nomination for Woody Allen's Bullets Over Broadway, wherein she played a variation on the character she plays here: A mafia moll named Olive attempting to prove she's something more than just arm candy. Where the characters diverge is in their ambition and drive, with Olive being nothing but a vapid diva and Violet having the mental capacity to hatch a plan to swindle every single man around her. Conversely, Gershon was coming off of Showgirls, wherein she managed to elevate the material by knowingly placing herself above the campier elements.
Putting the two actresses together at this point in time was a stroke of genius on The Wachowskis part, allowing both of them to play off their established image and subvert it with aplomb. They are two sticks of dynamite dancing next to a flame for the entire film, making all of the men around them look like the easily manipulated buffoons they truly are. Their first and only onscreen sexual encounter comes just 18 minutes into the film when the two make out hard in a car beforegoing back to Corky's place for a sapphic rendezvous...
Violet takes the lead here, fingering Corky on the bed and proving herself the sexually dominant one despite her demure façade as something of a ditz. The Wachowski's camera moves around the bed, giving us a kinetically sexy scene while also showing off their prowess as filmmakers...
As the camera continues its journey around the bed, we land on a rather explicit close-up shot of the two lovers' bodies, Gershon's flailing in ecstasy as Tilly lets her fingers do the talking...
Part of what made the film so revolutionary, for the time at least, is that it's a film about two women falling for one another, directed by two men, without even a trace of the so-called "male gaze." Of course, retroactively it all makes sense as both Wachowskis are now living as women, but at the time, it made Bound a pretty revolutionary piece of cinema. It's no less revolutionary 23 years later, and while many films of the era were incorporating lesbian themes into their stories, Bound remains one of the only ones wherein the true seductiveness comes from their non-sexual interactions.
That's not to denigrate this sex scene, it remains one of the sexiest lesbian encounters ever put on film, but it's not the only scene in the film oozing with sexuality. The two leadswere not exactly past their prime, even in Hollywood terms—Tilly was 37 and Gershon 33—but they had been around long enough to give these characters the depth that only seasoned actresses could bring. Had the film been made seven or eight years earlier, I doubt their performances would have been as spectacular. Tilly and Gershon are both actresses who languished in underwritten roles and exploitative films for years, and this finally gave both of them the chance to show that wealth of experience.
Subsequent neo-noirsfrom Lost HighwaytoSin Citywere similarly drenched in sex, but virtually none of them have escaped the aforementioned "male gaze" of their directors. Bound remains something of an anomaly, finally giving the femme fatale sex and substance. It's a potent mix, and one we could use a lot more of in this world.
Catch up with our other editions of Anatomy of a Scene's Anatomy...
—The "Real Sex" ofDon't Look Now
—Scarlett Johansson's Nude Debut inUnder the Skin
—The 2 Very Different Sex ScenesofBasic Instinct
—How Halle Berry's Nude Debut Led Her toMonster's Ball
—HowMulholland Dr.'s Legendary Lesbian Scenes Deepen the Film's Mystery
—Showgirlsand the Dangers of High Camp
—Rosario Dawson Laid Bare for Danny Boyle'sTrance
—Katie Holmes MakesThe GiftWorth Remembering
—Jennifer Connelly Comes of Age inThe Hot Spot
—Lisa Bonet's Bloody Nude Debut inAngel Heart
—Monica Bellucci Gets Brutalized in Gaspar Noé'sIrréversible
—Stanley Kubrick, The William Tell Overture, and A Clockwork Orange
—Wild ThingsPresents Every Man with His Dream Threesome
—Chloë Sevigny Goes Down in History forThe Brown Bunny
—Helen Hunt Does Her Best Nudity at 48 in The Sessions
—Anne Hathaway Wreaks Havoc on Her Disney Image
—Body HeatBrings Noir Into the 80s, Sexes Up the Genre
—The Master Gives Serious Drama its Horniest Protagonist Ever
—Analyzing the Dream Logic of Eyes Wide Shut
—Isabella Rossellini's Intentionally Unsexy Nude Debut in Blue Velvet
—Margot Robbie MakesThe Wolf of Wall Streeta Skinstant Classic
—Angie Dickinson Steams Up the Opening Credits ofDressed to Kill
—The Strange Sexual Dynamics of Dogtooth
—How the Remake of Oldboy Stacks Up Against the Original
—Bob Fosse's Dancers Take It Off inAll That Jazz