After a Career Full of Tease, Eliza Dushku Finally Delivers with a Topless Scene in The Alphabet Killer

On December 30th, Buffy the Vampire Slayer and Bring It On star Eliza Dushku will celebrate her 28th birthday. But instead of waiting for her adoring fans to send her presents to celebrate a new year, she's giving us a very special gift: debut nudity!

The crime thriller The Alphabet Killer finds Eliza portraying a mentally unstable police officer investigating a string of murders. But more importantly, it finds her dropping her top!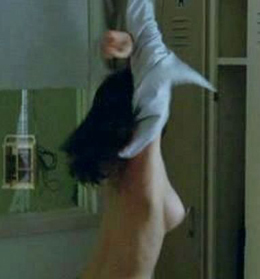 Since her first legal role in Bring It On, Eliza has been frustratingly skingy, showing off dangerous curves—and not much else—on TV shows like Buffy the Vampire Slayer, Angel, and Tru Calling, and keeping her breast assets tightly covered in in such movies as Soul Survivors, The New Guy, and Sex and Breakfast. Thanks for finally injected your résumé with a little of the former, Eliza!
With her starring role on the highly anticipated upcoming TV series Dollhouse from sci-fi icon Joss Whedon, it looked like Eliza would toil in the trenches of the perpetually clothed for at least a little while longer. But now thanks to The Alphabet Killer, Eliza has finally delivered nudity to make you longer!