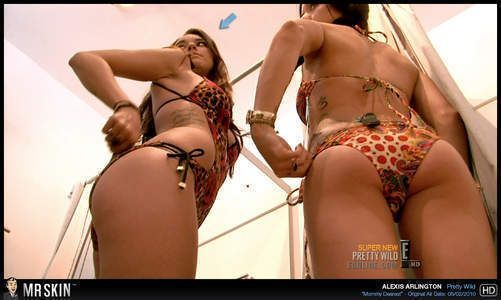 Pretty Wild? More like really wild!

Alexis Neiers, also known as Alexis Arlington, is one of the bad-gal Arlington sisters whose bikini-clad antics lit up the reality hit Pretty Wild.

As it turns out, a successful show, a former Playboy model (Andrea Arlington)as a mom, and a body that could stop time isn't wild enough for this sexy sister--last year she was arrested for burglarizing Orlando Bloom's home, and this morning, she was busted for possession of heroin.

Skin fans don't need black tar to get high off Alexis--all you have to do is head over to her Mr. Skin page to see all her videos and pics from Pretty Wild and her boob-groping, tongue-twiddling lesbian makeout scene with her own sisterTess in Frat Party (2009).

Forget the heroin, Alexis. Going girl-girl with your sister makes you a skin heroine.