An It Girl before she was famous, an MCU superstar slips a nip, another MCU superstar stumbles into a threesome, Oliver Stone makes his most Oliver Stone movie ever, and giallo spills out into the multiplexes of Italy! All of these films have two things in common: They have great nudity and they were released on August 26 in Movie Nudity History!
The true story of boxing legendRoberto Durán (Èdgar Ramírez), his trainer Ray Arcel (Robert De Niro), and his rivalry with Sugar Ray Leonard (Usher) comes to vivid life in this 2016 biopic. Before she was Hollywood's new It Girl, Ana de Armas turned up to playFelicidad Iglesias, a rather small role considering the film is most firmly focused on the boxing in the story. Despite being sidelined, de Armas makes a huge impression here, particularly in her sex scene with Ramírez 34 minutes in...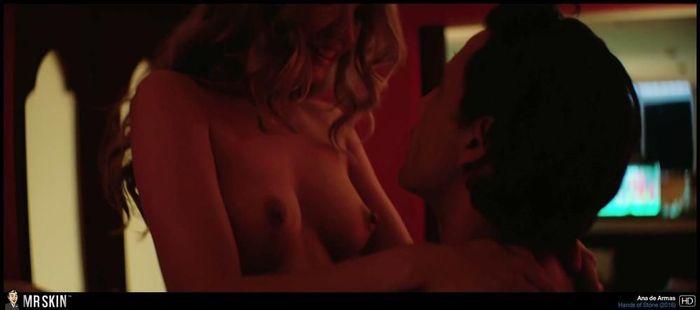 Honestly, can you ever grow tired of seeing her topless? God damn you Ben Affleck. God damn you to hell.
One of Paul Rudd's big misfires in recent times was this bizarre comedy where he played the slacker stoner bohemian brother to three strong, fierce, independent women—played by Emily Mortimer, Zooey Deschanel, and Elizabeth Banks. The highlight of the film, comedically and from a skin point of view, comes 47 minutes in when Rudd, in full Jimmy Buffett Parrothead attire, makes out with topless beauty Alexia Rasmussen, though little does he know he's wandered into a scenario he's not equipped to handle...
There's also a couple of lusty lesbian lip locks between Zooey Deschanel and Rudd's I Love You Man co-star Rashida Jonesto tide you over...
Also on this day nine years ago, Zoe Saldana kicked ass in this action-thriller froma director with a name thatsuggests perhaps something more awesome than the films he's made: Olivier Megaton. One might not be expecting much from a PG-13 movie, but fans willing to work for some skin will be suitably rewarded! Zoe decided to employ a body double for her shower scene 48 minutes in...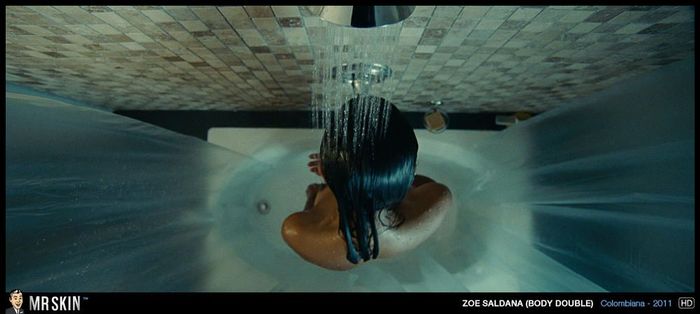 However, 21 minutes later, she isgiven a rude awakening while topless in bed, racing quickly to put a shirt on and giving us a glimpse of her left breast in the process. It's brief, but it's there, and we really honed in on it once the flick hit Blu-ray...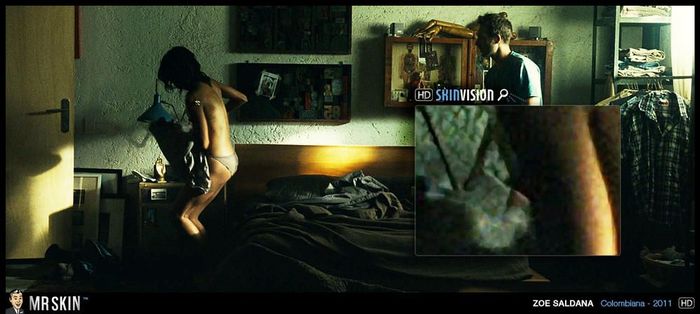 There's even a bonus nip slip from sensationally stacked babe Reem Kherici...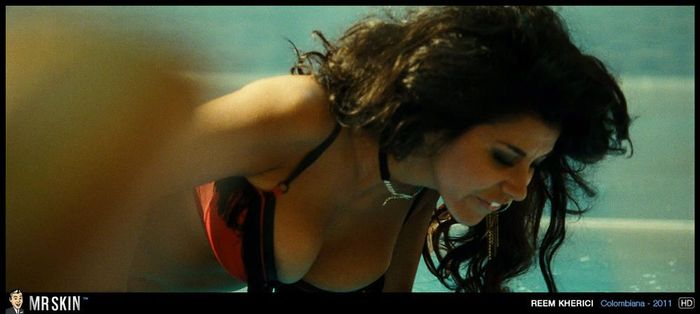 **Portions of the following text are excerpted from our SKIN-depth Look at Oliver Stone's Films
One of my personal favorite films of all time,Natural Born Killersis Stone mixing up genres at his finest.Stone became the first major director to successfully exploit the MTV-style of frantic editing and near-constant narrative tangents. The result is a hypnotic film about the violent nature of humanity and the media's culpability inelevating violent criminals to rock star status. The violent criminals in this case as Mickey (Woody Harrelson) and Mallory (Juliette Lewis), serial killers who become celebrities thanks to a culture willing to embrace anyone charismatic, no matter their crimes.
Interestingly, this is one film where the nudity doesn't feel quite so gratuitous, likely because there's very little. Already balancing a heavy load of violence and profanity, Stone likely didn't need more content for the chopping block. Early in the film when Mickey and Mallory are holed up in a motel with a hostage, Juliette Lewis gives us a quick peekdown at her left breast as she chats with Harrelson on the bed...
Almost as if to say that it takes evil to capture evil, Stone makes Detective Jack Scagnetti (a never better Tom Sizemore) every bit as reprehensible a character as the couple he's tailing. Scagnetti's backstory involves him acquiring a thirst for justice when his mother was murdered in front of him when he was eight years old. However, he also has a healthy appetite forperpetrating violence againstwomen like a doomed prostitute played byLorraine Farris, who ends up strangled to death by Scagnetti...
Natural Born Killers, like most of Stone's movies, is not a film for everyone, but it is one that has its ardent defenders. I think it's his most fully realized vision on screen, even more so thanJFK, the movie you hold for the end of a Stone retrospective because it's the one where everything comes together. Too bad it all falls apart not long after.
Finally this week we get in the way, way back machine to 45 years ago today when this giallo classic was first released. The cheeky American title came from the original Italian titleNude per l'assassino, adding the word "Strip" to make it sound more salacious.DirectorAndrea Bianchi'sfilm is a pure giallo delight with back alley abortionists, crooked modeling agencies, abusive boyfriends, and all manner of things that make this subgenre such a delight in the first place.
The villain here is a psychopathic sex killer who delights in butchering his victims from behind a jet-black motorcycle helmet, a conceit borrowed for Umberto Lenzi's 1989 cult classic Nightmare Beach. Femi Benussi, Edwige Fenech, and Erna Schürerstar as alluring young victims of this savage killer, all of whom go fantastically full frontal so the murderer can have his twisted, gruesome fun...