The British romantic drama Mothering Sunday won't debut Stateside until February, but it became an instant hit with critics after debuting at the Toronto International Film Festival. We have the official nudity report from our nudity scout (what a job) and it looks like this movie is chock full of Odessa Young's fantastic fully naked body.
Odessa Young is a beautiful twenty-three-year-old Australian actress who has appeared in a number of almost-hits. 2018's awards season hopeful A Million Little Pieces landed with a thud while her well-received movies - 2020's biodrama Shirley and 2018's indie black comedy Assassination Nation - remain hidden gems. Her career got a major boost with the series The Stand, and now it looks like Odessa Young is finally poised for the big time with this buzzy British romance.
Josh O'Connor and Odessa Young in 'Mothering Sunday' pic.twitter.com/SGXjdWY8Vo

— Film Updates (@FilmUpdates) July 4, 2021
What Is Mothering Sunday About?
Mothering Sunday is a classy British romance that takes place in 1924. It's about a maid, played by Odessa Young, who has an affair with a boy living in the mansion next door. He's played by Josh O'Connor (of God's Own Country and The Crown fame), and he's set to be married. When Odessa's employers step out for the day, she finds herself free to canoodle her caboodle on Josh's doodle. But surprising events will change their lives forever.
Where Has Odessa Young Been Nude?
Odessa's nudity résumé is getting a major boost with Mothering Sunday. So far, she had a nip slip in 2018's Celeste, and went legitimately naked in Shirley. The first scene goes down when she disrobes in the bedroom. We get a great closeup look at her super perky natural breasts. Then further into the movie Odessa checks out her hot pregnant body in the mirror with her boob poking out of her shirt.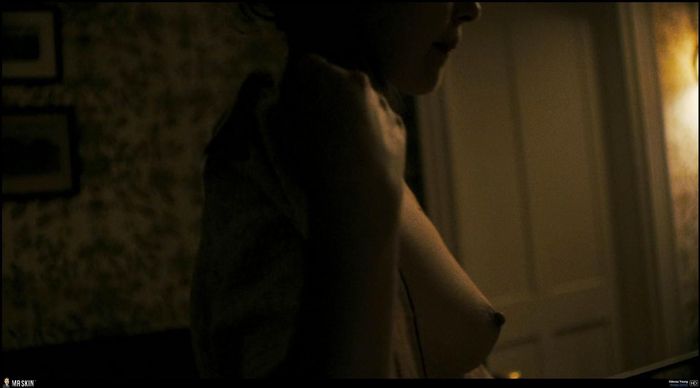 Okay, But What About Odessa Young's Nudity In Mothing Sunday?
Ding ding ding. That's the right question. Odessa is very, very naked in Mothering Sunday. As we mentioned, we have a nudity scout that reports back from the festival circuit, and these are his notes below. Odessa bares her breasts and butt countless times, and even shows her full bush. Is it February yet?
(0:06) Odessa Young rolls over in bed naked and we see her breasts.
(0:21) Odessa Young is undressed. Then there is an odd downward angle that it's almost easy to miss that we are seeing bush. Then there is a very quick partial glimpse at left nipple.
(0;23) Aerial shot of Odessa Young having sex. We see her right breast. Then we are in closer and see her left breast. Then she is lying down afterward and we see her left breast. Her arm is covering her right nipple.
(0:26) Buns on Odessa Young through a sheer sheet having sex. Then buns again lying on her stomach.
(0:30) Odessa Young lying naked in bed on her stomach. We see her buns then she sits up and we see her breasts. Her crotch is blocked with her leg.
(0:32) Legs on Odessa Young as she lifts them up against the wall.
(0:33) Breasts on Odessa Young sitting naked in bed.
(0:43) Breasts on Odessa Young as she leans back on the bed.
(0:44) Buns and left sideboob on Odessa Young now standing up. A near bush shot from the side standing next to the guy.
(0:46) Breasts on Odessa Young lying down in bed.
(0:49) Brief right nipple on Odessa Young lying in bed.
(0:50) Odessa Young gets out of bed. We see breasts and brief bush.
(0:53) Left breast from the side on Odessa Young standing at the window.
(0:57) Distant aerial shot of Odessa Young floating in a bathing suit in a lake. Then we see her start to get out. Cut to her naked leaving a room. We see her breasts and then her buns as she enters another room.
(0:59) Full frontal breasts and bush on Odessa Young coming down a staircase.
(1:01) Buns on Odessa Young naked again in the home library. Then right breast from the side.
(1:04) Breasts and bush again on Odessa Young as she sits down in a chair.
(1:05) Buns, breasts and bush on Odessa Young now in the kitchen.
(1:06) Breasts from the side and buns on Odessa Young going back up the staircase.
(1:36) Brief top buns on Odessa Young walking around the home library again.