Here at Skin Central we have a hard time understanding the logic of casting Scarlett Johansson as the lead in a movie, and then never once showing her gorgeous visage onscreen. But that's exactly what happens in Spike Jonze's Her (2014), where Scarlett supplies just her voice and the only nudity is a few full frontal still photos of a pregnant May Lindstrom.

You won't get much from Jessica Biel in The Truth About Emanuel (2013) either- unless you're into breastfeeding scenes- in which case you're in luck because Jessica shows some sideboob while offering up a milk meal.

Now on to the good stuff: the female vigilante flick Loves Her Gun (2014) has Josephine Decker, Trieste Kelly Dunn, and Jennymarie Jemison all busting out their double barrels!
***
Set in the not-too-distant-future, the sci-fi drama Her (2013) tells the story of Theodore Twombly (Joaquin Phoenix), a lovesick, withdrawn writer that finds himself falling in love with Samantha (voiced by Scarlett Johansson), an artificially intelligent operating system, just as he is reluctantly divorcing his wife and childhood sweetheart, Catherine (Rooney Mara). Samantha convinces Theodore to go on a blind date with (Olivia Wilde), a chick that his good friend, Amy (Amy Adams) has been trying to set him up with. But deep down, Theodore can't shake his attraction to Samantha, and through conversing and interacting, the two eventually developing a thriving relationship. May Lindstrom is a thriving beauty that proves the future looks sexy when she shows her three B's during a phone sex-inspired moment. Also, Portia Doubleday contributes some bra and panty action while getting sexy with Joaquin. The gals of Her will blow your circuits!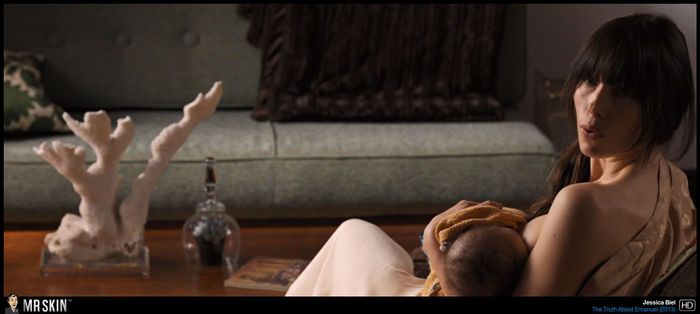 The Truth About Emanuel (2013) is a surreal thriller following the titular character (Kaya Scodelario), an abrasive and troubled teenager with serious mommy issues. You see, Emanuel's mother died during her birth, and the tormented teen has yet to properly deal with her emotions and guilt surrounding her untimely death. When Linda (Jessica Biel), a mysterious single mother of a newborn, who just happens to resemble the long dead mom, moves in next door, the plot thickens. Emanuel's odd attraction to Linda leads to an offer to babysit her child, which leads the fragile femme to enter an odd world where she soon discovers her new neighbor's secrets. It's no secret that Mr. Skin would love to see Kaya and Jessica in this thriller, but the truth is that there's no flesh. Sure, we get to see both gals in their bras, and we get a teasing view of some Biel side boob, but The Truth About Emanuel will leave you wanting less truth and more flesh!
See the trailer for The Truth About Emanuel here
Loves Her Gun (2014) follows Allie (Trieste Kelly Dunn), a hopelessly unemployed chick going nowhere in life, stuck in a relationship with a douchey boyfriend. When the Brooklynite babe gets mugged by two dudes sporting animal masks just blocks from her apartment, she gets fed up and decides to hitch a ride with a touring rock band on their way to Austin. But the frightened and disenfranchised chick can't catch a break. On their arrival to the Lone Star State one of the entourage's cars is broken into. Bummer. With her first-hand experiences with crime, Allie becomes more uneasy with her surroundings. At a late-night pool party when Allie witnesses a topless Jennymarie Jemison unloading a revolver into the nighttime air, she begins her transformation from aimless waif to a gun-toting vigilante. Between all the guns and ammo, Josephine Decker contributes her bare boobs while Trieste Kelly Dunn gives a quick glance of her left nip while inspecting her body in the mirror. We even get some leztastic action when Trieste shares some smooches with Melissa Bisagni. Loves Her Gun will have you shooting off a few rounds!