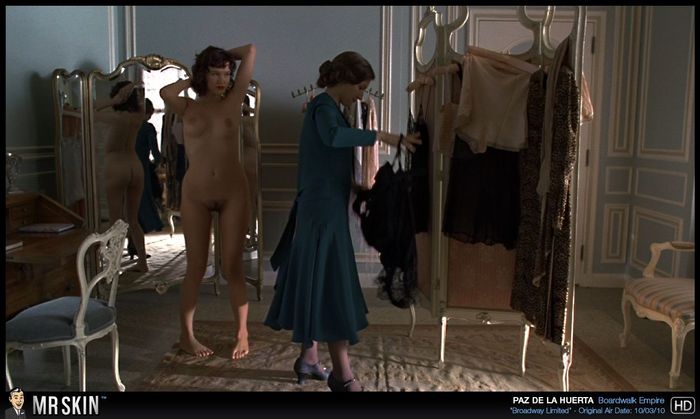 Skin Central's number is about 9 1/2 (ok, ok, more like 5 3/4) this week as a couple of exciting nude releases hit DVD and Blu-ray. First, we've got the fine period pieces (of ass) Gretchen Mol, Paz de la Huerta, Kelly MacDonald and Alexis Palladino on Boardwalk Empire, Season 1, and then we've get the first-ever boob-baring scene from funny lady Anna Faris in the rom-com What's Your Number? (2011).

Plus, empty your six-shooter with the deadly dames of Killer Elite (2011), nude on DVD-and Blu-ray, and Wanted (2008), nude and tattooed on Blu-ray:

Created by the man behind the bada-boomtastic gangster drama The Sopranos, HBO's original series Boardwalk Empire stars Steve Buscemi as Nucky Thompson, the gangster who oversaw the rise of Atlantic City during the days of Prohibition. Also in the cast are Kelly MacDonald, Aleksa Palladino, Paz de la Huerta, and Gretchen Mol, none of whom are strangers to on-screen nudity. Jackpot!

Bubbly blonde comedienne Anna Faris returns in What's Your Number? (2011). Ally Darling (Faris) is caught off guard when she finds out that the average woman has only 10 sex partners in their lifetime- half of Ally's total. When soon after she runs into an ex (Chris Pratt) who's gone from a slovenly slacker to marrying a rocket scientist, Ally decides that, rather than look for a new dude and thereby up her "number", she'll go back through her sex Rolodex and catch up with her exes, guys like kooky puppeteer Andy Samberg and pervy gynecologist Thomas Lennon.Anna Faris is more than fair throughout in cleavage-enhancing dresses and teeny short shorts, but she really takes things to the next level by going Bare-is while skinny dipping 1 hour, 11 minutes in. As far as Mr. Skin is concerned, Anna's number is a perfect 10!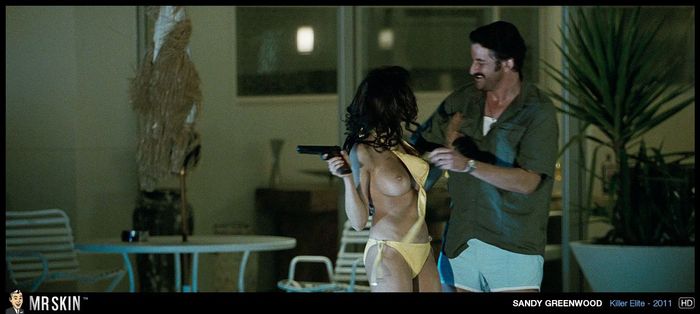 An assassin comes out of retirement to rescue his mentor in the skinternational action extravaganza Killer Elite (2011). Jason Statham stars as Danny, an ex-special ops agent who is knocked out of hiding when Hunter (Robert DeNiro), his mentor at Britain's Elite Special Air Service, is kidnapped. After Hunter is freed, he and Danny circle the globe in search of the three assassins responsible for the kidnapping and their cunning boss Spike (Clive Owen). Emily Jordan is firing on all cylinders when her right boob escapes from her bra, and Sandy Greenwood will put TNT in your jeans when she loses her bikini top during target practice. Killer Elite is a treat for your meat.


In the action flick Wanted (2008), self-pitying and neurotic office drone Wesley Allan Gibson's (James McAvoy) life changes dramatically when he learns that his estranged father was a superhuman assassin connected to a secret society called The Fraternity. Recruited by the incredibly hot Fox (Angelina Jolie) and the enigmatic Sloan (Morgan Freeman), Wesley soon learns to unlock his inherited superhuman abilities to avenge his father's death. We get to see Kristen Hager in her underwear as some guy bangs her and a hint of Angelina's butt crack. More is Wanted.

CU Next Tuesday, Skin fans, for all the newest and nudest releases on DVD and Blu-ray right here at the Mr, Skin blog!