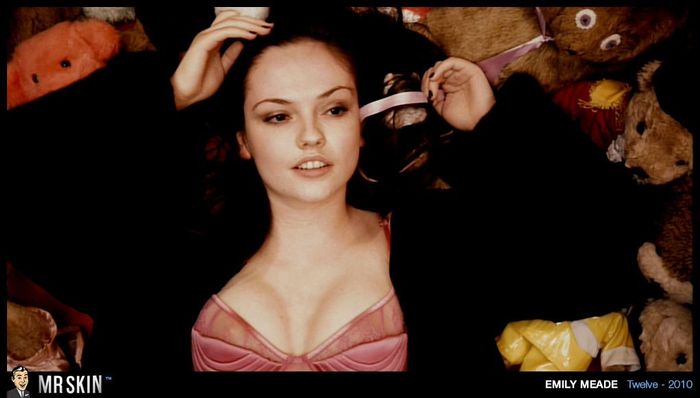 Nude movie Burning Palms comes to DVD May 24, but Mr Skin's got the skinny on all the breast nudity in this twisted anthology film! Subtitled "five stories that will mess you up for life", Burning Palms collects five taboo tales that sexplore the wilder side of LA life: Lake Bell plays a nanny who discovers a dark secret, Rosamund Pike is a woman jealous of stepdaughter Emily Meade, Peter Macdissi and Anson Mount play a gay couple who adopt an African child, Zoe Saldana is a woman with an unusual request, and Jamie Chung plays a girl who can't stop smelling her finger after a new sex act with her boyfriend.

Several of the female stars turn in sexy perv-formances: Rosamund Pike strips to bra and panties, Jamie Chung looks nipply in a white tank top, and Zoe Saldana pulls up her panties to show what might be bush (or maybe just a shadow)- more on that later.
But the nudity MVP in this film is Emily Meade, playing a teenager with an inappropriate-bordering-on-incestuous relationship with her father. Emily bares excellent boobage when she sunbathes topless with dear old Dad. This is the best view of Emily's enchiladas to date (she previously showed some very dark doughnuts on Boardwalk Empire) and is sure to give you a burning sensation down below. They should've called this movie Hairy Palms!
Stay tuned right here on the Mr. Skin blog for more from Burning Palms and all the breast nude movies on DVD and Blu-Ray!