It's Friday, so it's time to check out a hot blast from the past that is filled with hippie chicks taking their clothes off. Today's film for Hippie Hotties is 1968's Loving Feeling, a British sex comedy with a heavy emphasis on the "sex" part.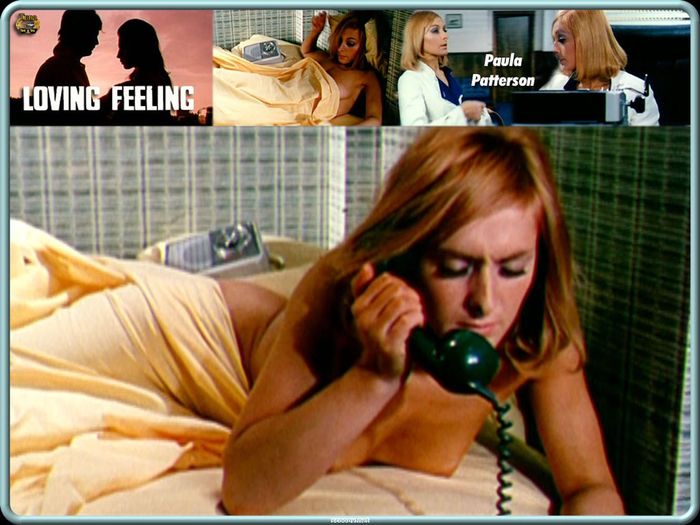 This X-rated comedy that definitely verges on comedic sexploitation focuses on DJ Steve Daly who is married to a woman named Suzanne. He and Suzanne are struggling in the love department, so he weighs his options. A lot of hot, hippie babes are flinging themselves at him. So what should he do? Should he fix his marriage or should he play the field? That's the central conflict at work here!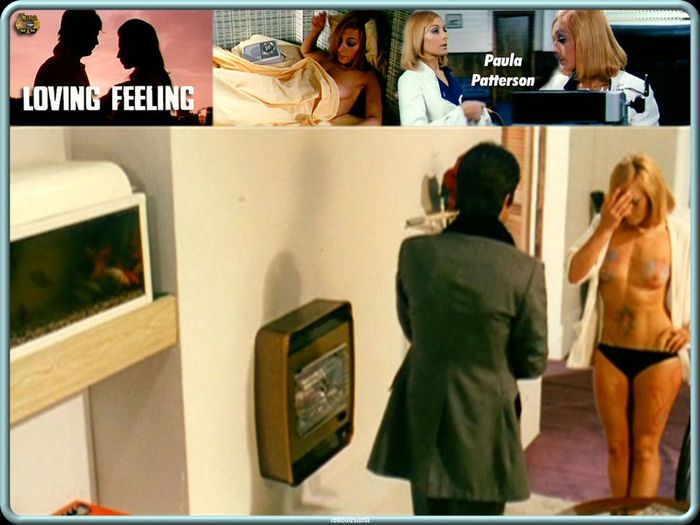 Suzanne is played by Georgina Ward, but it's the man's other sexual conquests who really show skin. Françoise Pascal and Paula Patterson bare their breasts in several different scenes to prove how deliciously sexy these British babes were. Paula plays Carol, the DJ's new secretary, and Frannie plays a French model. Ooolala!
They provide cheeky laughs as well as looks at their cheeky bodies. Paula, in particular, shows her breasts twice including in a very hippie scene in which her breasts and stomach are painted in dayglo body paint.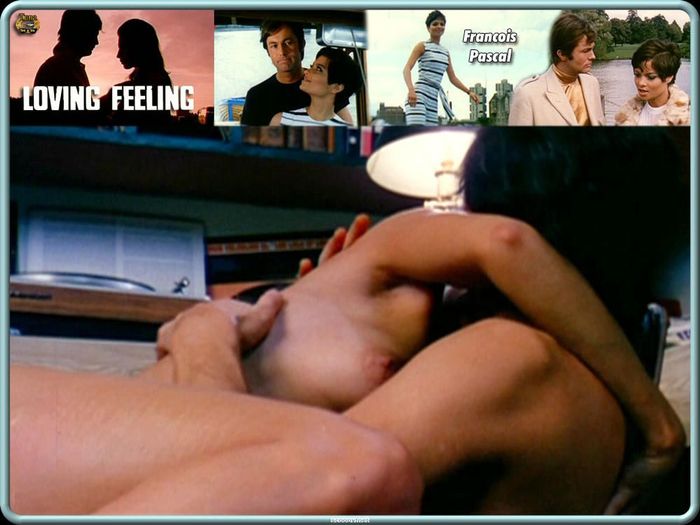 Francois Pascal would also go nude in 1972's Burke and Hare which is a fascinating comedy based on an even more ludicrous true story about two grave robbers named William Burke and William Hare. The bodies that they don't rob belong to the beautiful babes in this movie who go nude, including Francoise. So if you thought she seemed familiar, then it is probably from this jam:
Interestingly, actress Georgina Ward used a body double for her nude scenes. Allegedly, she was the only actress who refused to go nude while the other actresses had no problem ditching their duds. Only a few years later, however, Ward would take off her clothes in the 1971 film Sex Clinic. What a title! She ended up quitting acting shortly after that and had political aspirations, but her nude background got in the way of her plans for public office.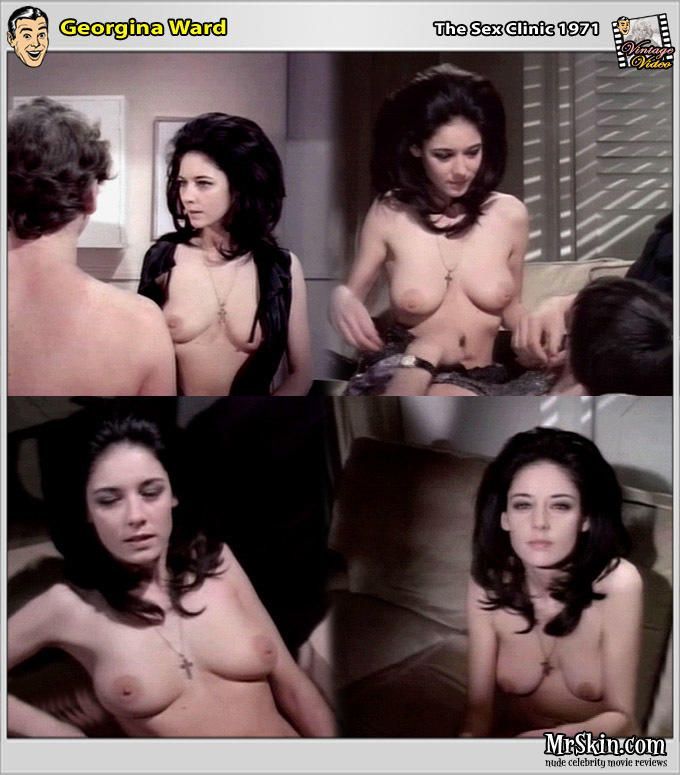 Norman Warren directed this film, his first feature, but he messed up with signing his contract and wound up not seeing all of the money that the movie made. He was only paid 28 pounds a week! That is a shame because the movie did make a lot of money at the box office. He would go on to direct horror movies, but fans of Warren appreciate this swingin' sex comedy from the free love era.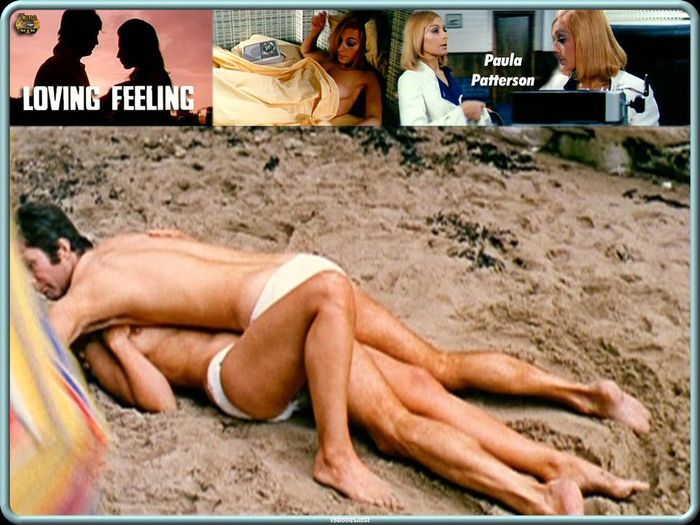 Despite the title and the fact that the main character is a DJ, there is no song called "Loving Feeling" in the movie. I know that you've been humming that to yourself ever since you saw the headline. There are some very groovy tunes in the movie and plenty of free love sexual innuendos and shenanigans to make this '68 flick solidly qualify as a hippie film. Plus the babes! The babes are so beautiful!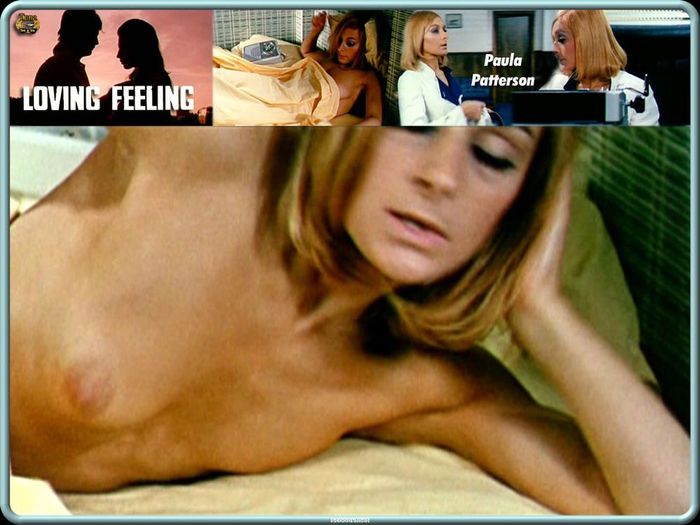 Loving Feeling is little remembered today despite the fact that it did okay at the box office. There is at least one very negative review of it that I came across from David Wilson who called it "limply acted" and pointed out the movie's unsynchronized dialogue in the movie. It is indeed a very low-budget film and certainly not a classic, but if you love British sex comedies from the 60s and 70s then you might really like Loving Feeling. At the very least, the women in the movie will give you some Loving Feelings in your pants.