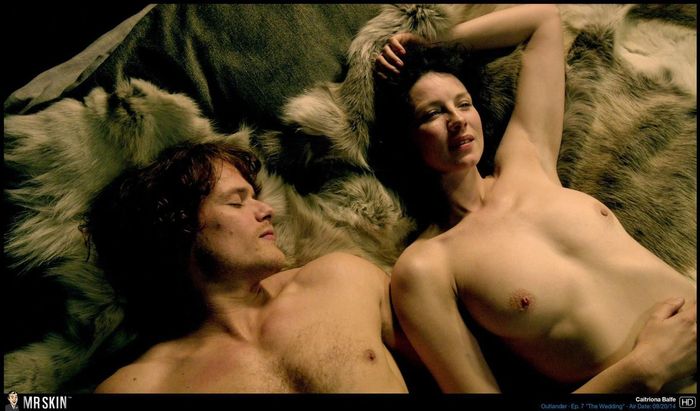 Could this woman be any cooler? Outlander season one busted onto the scenein 2014, helping to elevate the status of Starz, and making former Victoria's Secret model Caitriona Balfe an instant celebrity in the process. Of course season one also busted some zippers over here at Mr. Skinby delivering unforgettable nudity from the gorgeous Balfe as well as a milking scene with Laura Donnelly that will surely go down in TITstory!
It was much to our dismay, then, when season two left us high and dry with a lack of nudity and sex scenes, and it looks like Caitriona Balfe is right there with us! Balfe plays the time traveling nurse Claire, and her romance with star James (Sam Heughan)was a constant source of hot nudity. But that was in season one. In season two we only got ONE nude scene with Balfe, and while we don't want to look a gift boob in the mouth, wewere kind of expecting more.
In an interview with Vanity Fair, Balfe more than hints that the upcoming season three of Outlander, set to premiere April 1st, 2017, will once again deliver the goods. Here's what Caitriona has to say about all of the fan backlash she got for season two's lack of sex scenes: Via Vanity Fair (Link below)
I definitely heard that they missed a lot of the intimacy between Jamie and Claire, which I think we were sort of expecting. I think even Sam and I sort of missed—especially in the beginning because it was so heavy on the politics—I think we were all missing those more intimate moments. They have so many of their iconic fan moments that they really are looking forward to, so you definitely always hear whenever some of those are not there. I'm trying to think of specifics for you, but the one that I just kept hearing, from what I saw on my Twitter: "Where's the sex?"
When the interviewer pressed further and asked Balfe if there was any chance there would be a lack of sex during the next go around, she had this to say:
No! There will be some other sex going on. I think to really let the reunion and everything that's going to happen once Jamie and Claire see each other, I think it's really special. Maybe they'll have to wait a little bit, but I don't think it's going to be as scarce as last season, shall we say?
The fact that Balfe has no problem talkingopenly about the important of porking in Outlander just proves that she's destined for Mr. Skin stardom! Who's already excited for season three?
Via Vanity Fair