Everyone wants to know: Are those Margot Robbie's actual feet in the Barbie movie? Not only could we have guessed that those exquisite feet were hers, Robbie actually confirmed in an interview that she used her own feet throughout the Barbie movie, divulging "I really don't like it when someone else does my hands or feet in an insert shot." Open mouth, insert shot. I mean foot. I mean what?
In the iconic scene in question, which is featured heavily in the movie's trailer, Margot Robbie's Barbie steps out of her iconic pink high heels, only to have her feet stay in the same arched position. And what an exquisite arch it is. Of course this is a reference to actual Barbie dolls, who can only stand on their tippy does when shoeless.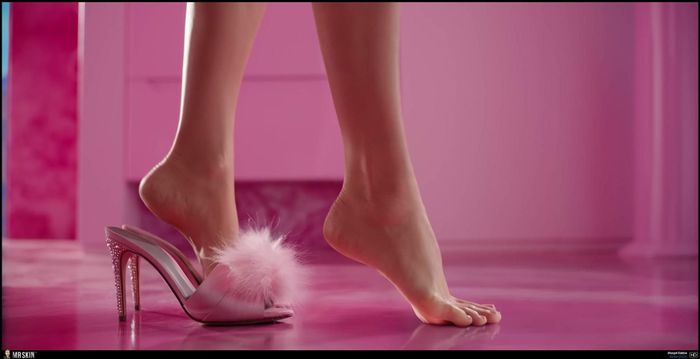 Best Margot Robbie Foot Porn Scenes
For as fast and loose as Mattel is playing with their signature brand in the Barbie movie, you can bet they're not going to let things get too X-rated. That's where Margot Robbie's other surprising feet scenes come in. We've amassed a number of nude and sexy scene in our nudity database that feature Margot Robbie's feet in action. Like, even we were shocked to see just how heavily her feetsies have been featured in her biggest roles.
RELATED PLAYLIST:
The Wolf Of Wall Street Nude Scenes
Margot Robbie's breakout role in The Wolf Of Wall Street delivered her most iconic nude scene to date - her incredible full frontal shot. However feet men might prefer this sex scene with Leonardo DiCaprio. Margot's feet - painted red toenails and all - are wrapped tight around Leonardo's ass as he thrusts into her in the missionary position.
Or maybe they'll like a fantastic shot of Margot Robbie in bed wearing lingerie and shy high stilettos. You tell us.
The Best Margot Robbie Foot Scene To Date: The Suicide Squad Escape Scene
Maybe Margot Robbie's viral Barbie foot scene isn't an accident. A quick look through her best roles reveals that Robbie is a feet girlie through and through. We still cannot get over this incredible foot scene. Robbie creatively uses her toes to escape while being tied up. I'm not a scientist... but this isn't not porn.
Margot Robbie Brief Foot Scene In Once Upon A Time... In Hollywood
And we'll leave you with Margot's blink and you'll miss it foot scene in this Quentin Tarantino movie. He's famously a foot fella like us, and hilariously nodded to his fetish with multiple foot scenes in Once Upon A Time. Robbie props her dirty feet up on a chair in the movie theater.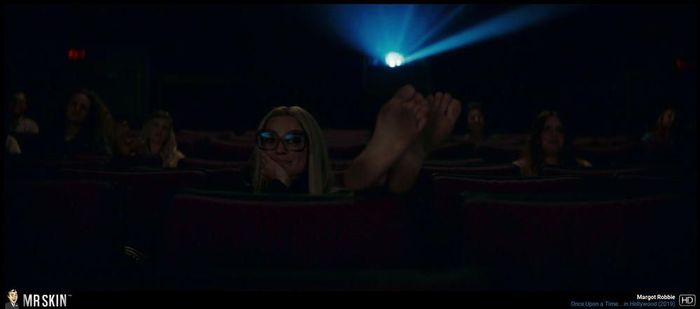 We love you feet guys so much that we're turning some of Margot Robbie's most famous feet moments into GIFs for you to enjoy over and over again in the gallery below. Plus, you'll find some of the best Margot Robbie nude images... for those desktop backgrounds. Enjoy!
Margot Robbie Nude GIFs And Pics (Plus Feet, Of Course!)