Even with the WGA and SAG-AFTRA strikes causing some disruption to this year's Nerd Ball, the San Diego Comic Con, history was still made last weekend when the upcoming film Kalki 2898-AD became the first Indian movie to be showcased in Hall H, the same place that's hosted legendary panels for Hollywood's biggest blockbusters.
Previously known within the industry simply as Project K, the officially titled Kalki 2898-AD caused a big stir at the convention as filmmakers released the cast list and first trailer for what is being hailed as "India's first proper science fiction epic." Riding off the success of last year's sensational RRR, this film is poised to be another groundbreaking piece of Indian cinema, and we here at Skin Central are already looking forward to what it could potentially do for the careerof the film's sexy star, Deepika Padukone.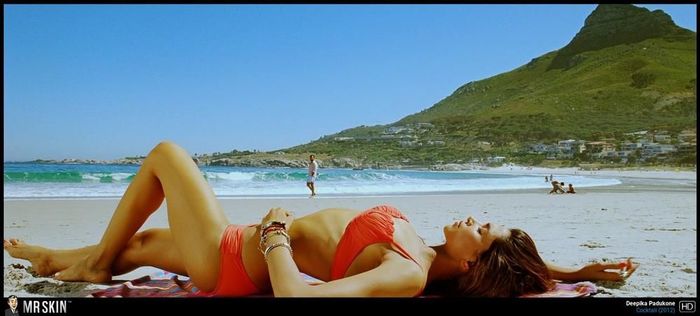 ****
The delectable Deepika first caught Mr. Skin's attention in 2012, when she starred in the romantic dramedy Cocktail. She rocks a brightly colored bikini, shocking her shipmates when diving into the water and audiences as she suns her bronze body on the beach. Count us among the many folks lining up to give Deepika some mouth-to-mouth!
[scene id="313139" [preview="10"]
****
Ten years later we were drooling again thanks to her portrayal of a hot yoga instructor in 2022's Gehraiyaan. If only the camera had shown more of her steamy sex scene an hour in, but perhaps all the hype surrounding Kalki 2898-AD will equal more skintimate screen time for the sultry starlet. Our desire for wanting to see more of her runs Deep-ika!