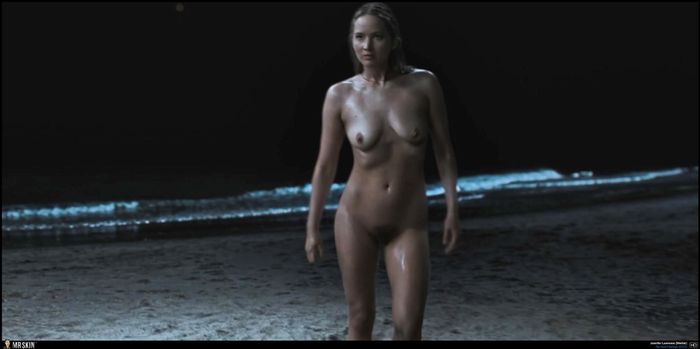 Not only do we have the full uncensored video of Jennifer Lawrence's naked beach fight scene in No Hard Feelings, and not only did we slow down this incredible shot so that you can enjoy every jiggle and every wiggle - we also went the extra mile by turning Jennifer Lawrence's hottest scene to date into dazzling GIFs. So you don't have to. Let's begin shall we.
Even before the release of the R-rated comedy No Hard Feelings in June, we had a pretty good idea that the flick would deliver one of the year's best nude scenes. But sometimes the publicity mill oversells a flick's nude scene to get butts in theater seats. Were the producers and J-Law overhyping her nudity? Turns out, no. No no no.
In fact J-Law's scene ended up being better than we had anticipated by far. Now that we can watch and rewatch No Hard Feelings from the comfort and privacy of our own homes (As of August 15th you can purchase the movie for $19.99 on Amazon Prime, Google Play, Apple TV, and more) it's really settling in how incredible this all is.
No Hard Feelings is about a down-on-her-luck young woman who takes up a very strange job offer to make ends meet. The parents of a nerdy teen want him to get laid before going off to college, and put out an ad for a woman to deflower him. He's resistant to Lawrence's advances, leading to hilarious scenes in which she tries to seduce him in order to get paid.
Jennifer Lawrence Naked Fight Scene (FULL VIDEO)
Well in one scene, the two hit the beach, where Jennifer Lawrence strips down to entice the young lad with her naked body. A trio of teens tries to steal her clothes while she's skinny dipping, and instead of letting them get away with it, Lawrence emerges from the ocean fully naked to beat their asses!
Lawrence looks absolutely incredible here, with her perfect body illuminated by the moonlight (or at least studio lighting imitating the moonlight. We can't imagine that this was filmed on an actual beach, as that would have invited paparazzi). Her incredible natural breasts and her famous ass take center stage here as she shows off every angle of herself during the all-out brawl. GCI is used for Lawrence's bush, but the rest is all real.
We have the full scene for you right here, plus hit up the gallery below for our incredible nude Jennifer Lawrence pics and GIFs. They fought J-Law, and J-Law won!
Nude Jennifer Lawrence GIFs And Pics From No Hard Feelings