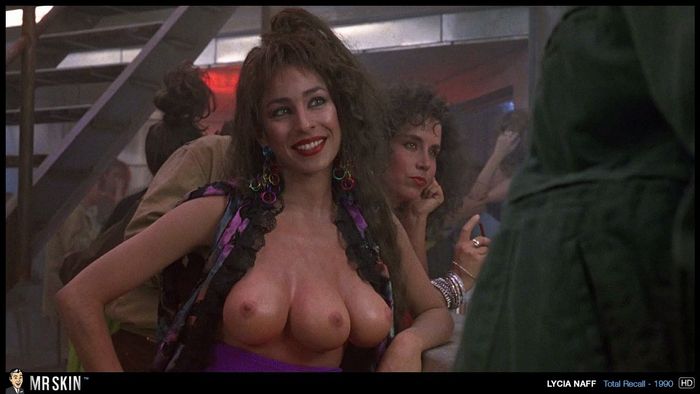 We've got some out-of-this world nudes this week on DVD and Blu-ray, so prepare for liftoff with these heavenly bodies: First, just in time for the slick PG-13 remake, Total Recall (1990) hits Blu-ray so you can see Lycia Naff's triple nipples in HD. Also nude on Blu-ray, Virginia Madsen will set your pants aflame in Fire with Fire (1986), and nude on DVD and Blu-ray, it's the SKINtillating Sapphic antics of 4.3.2.1 (2010) and horror hootage in the teen slasher Detention (2011).

Plus, it's not for the squeamish, but those with a taste for the extreme will find plenty of it in the transgressive torture-porn flick The Bunny Game (2010):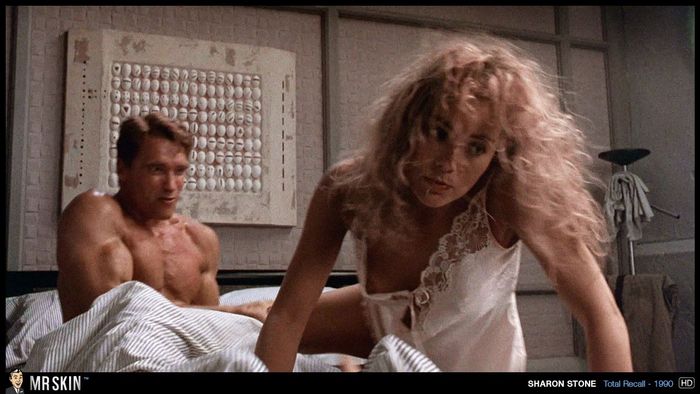 Arnold Schwarzenegger stars in director Paul Verhoeven's take on a Philip K. Dick story in Total Recall (1990). The plot plays with reality, but what really gives audiences a head-spin is Sharon Stone in a sexy perv-formance as Schwarzenegger's wife that deservingly put her on the Tinseltown map. She opens the movie with her perky pair flopping out of her top. Even when those floppers are covered, them nerps are fighting to get out. But the most notorious scene in the movie happens in a Martian bar where Lycia Naff flashes her three boobs. All three are fake, but in a movie that makes one question the fabric of reality, viewers can decide what's real. And a pair of threes is real nice!

A good catholic girl falls in love with a juvenile delinquent in Fire with Fire (1986). Teenagers Joe Fisk (Craig Scheffer) and Lisa (Virginia Madsen) meet by accident while in the woods near their respective schools. It's love at first sight, but Joe is in a juvenile detention center and the pair have a hard time seeing each other. Lisa plans a crossover dance between her catholic high school and the reform school, but the head guard, Boss (Joe Polito), suspects Joe has been sneaking out and wants to put a stop to it. Virginia Madsen plays the comely catholic schoolgirl and trots out her terrific TA during a dark, forbidden meat-ing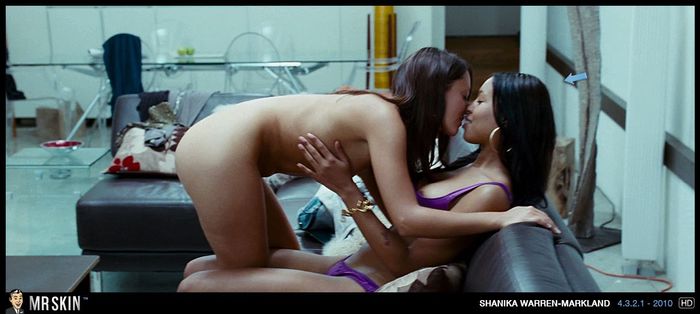 with her boyfriend. Fire with Fire will set the log in your pants aflame!

Jo (Emma Roberts) Cassandra (Tamsin Egerton), Kerrys (Shanika Warren-Markland) and Shannon (Ophelia Lovibond) are four women who spend three crazy days in two cities in the UK crime thriller 4.3.2.1 (2010). Three of the babes get naked, two of them go lesbo, and between all of them, we get to see all three B's, which makes this movie one two watch. Tamsin shows bare skin 36 minutes in, but the real attraction in this flick comes at the 58-minute mark, where Shanika goes full-on boob-baring lesbo with Susannah Fielding, who shows bush and tight tush. You'll be coming in 4.3.2.1...

Nubile co-eds must survive both a killer named Cinderhella and high-school drama in the campy horror flick Detention (2011). Riley Jones (Shanley Caswell) hates her life. She's not popular, her best friend, Ione (Spencer Locke), has suddenly ditched her, and her dream boy, Clapton (Josh Hutcherson), doesn't even know she exists. Worse yet, a masked killer is plotting her demise and will stop at nothing until she's dead. Now she'll have to figure out who wants her dead...and find a date to prom. Slinky blonde Spencer Locke and sultry brunette Kate Kelton strip down to their bras for this flick, but Brooke Haven does them one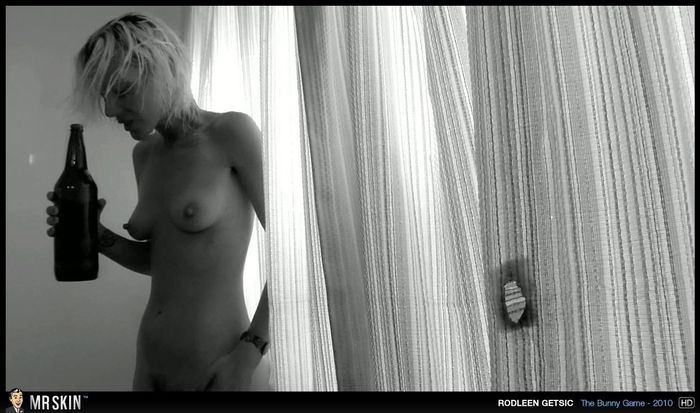 better by flashing her funbags at the 56-minute mark. Those students get an A+ in boob baring 101!

Get ready for transgressive titillation when a hooker hitches a ride with a sadistic trucker in The Bunny Game (2010). Prostitute "The Bunny" (Rodleen Getsic) hitches a ride with a trucker (Jeff Renfro) who drives her out to the desert, ties her up in the back of his truck, and proceeds to torture her for three days. Yep, that's the whole film. It's rough stuffand I mean very rough-- but Drettie Page does provide full frontal during a head shaving scene. Plus, Rodleen bravely puts herself through plenty of horrible scenes as a kidnapped young woman, so you might as well appreciate the baring of boobs, buns, and bush as she suffers the torments. The Bunny Game certainly features plenty of tail.

C U Next Tuesday, Skin fans, for all the newest and nudest releases here at the Mr. Skin blog!