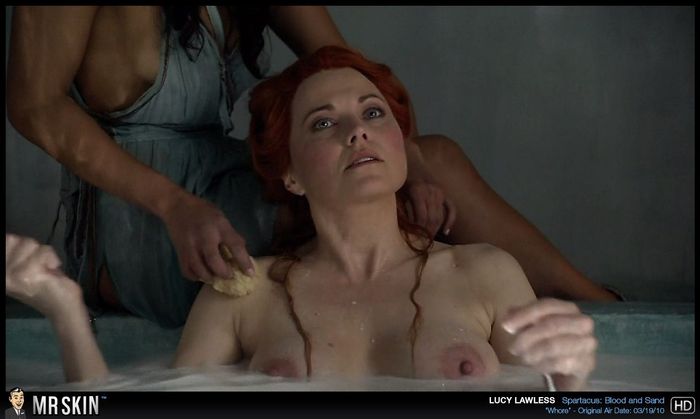 Lucy Lawless does indeed go braless on Spartacus: Vengeance, the newest skincarnation of the Starz sword-and-sandal epic, but she's not as flawless as you might think.
The cast of Spartacus: Vengeance sat down with Zap2it.com this week to discuss the ins and outs of their randy Roman roles, and snatchurally talk soon turned to everybody's favorite topic: nude scenes.
Lucy, who plays patrician poon-hound Lucretia, says that she follows a strict exercise routine for her frequently nude role, but even she needs a little Photoshop from time to time: "They fix us in post. If somebody gains a few pounds, they squeeze the image. I love it! If you've got scars, they airbrush them out. I'm loving the modern world."
Katrina Law, reprising her role as sexy slave girl Mira, is similarly upbeat about the show's crew: "They light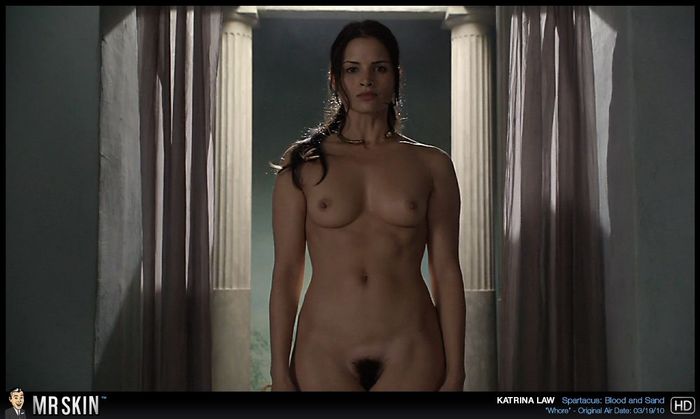 you well, they pose you well, they do all this stuff with makeup and lighting and editing. They really protect the actors on this show. If there is a bad angle, I know I really did something to piss someone off."
So how do you convince the crew to show you in your breast light? "Give them a shot or a case of beer at the end of the week," Katrina advises.
Speaking of shots, actor Craig Barker told the reporter about the nude drinking game he's invented for the show: "Every time, in the background, when there is a gratuitous breast or penis, you drink."
That's one game that's not for lightweights! With skintillating orgy shots at 00:28 and 00:32 and Lucy and Viva exchanging a lesbian liplock at 00:39, the trailer alone is enough to get us buzzed:
Your hands will be Roman to your crotch when you catch up with Spartacus: Blood and Sand and Spartacus: Gods of the Arena right here at MrSkin.com!