If you like nudity in movies - and don't we all? - then you might have wondered who the first ever actress was to be naked in a feature film. You might be surprised to learn that the first female nudity in a movie dates all the way back to 1915 in the silent film Inspiration which starred Audrey Munson, the blueprint for skinema.
Audrey was a model and actress who was also regarded as America's first supermodel. Other affectionate nicknames for her strikingbody included "American Venus" and "Miss Manhattan" because she was the model for dozens of statues around New York City. It's no surprise that her fine figure made an easy transition to starring in four silent films.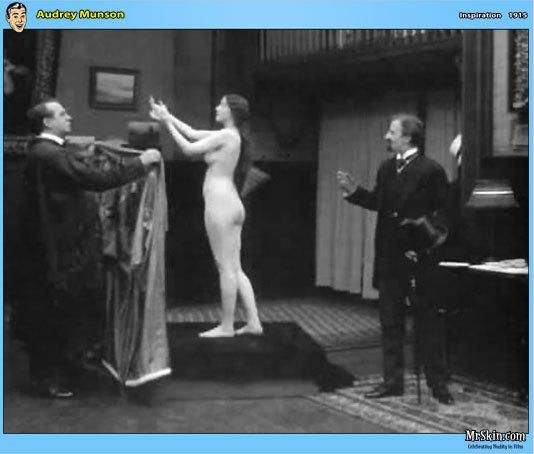 In Inspiration, she played, appropriately enough, a sculptor's model. Censors at the time shockingly did not ban the film because critics argued that banning the film would lead to banning Renaissance art. Wesimply couldn't have that! After her boobtastic breakthrough role in SkInspiration, she got naked again in Purity (pictured below) showing off her purely perky sweater pups. Sadly, her sexy acting career wouldn't last much longer.
A doctor named Dr. Walter Wilkins fell so head-over-heels in love with Audrey that he murdered his wife for her. Whoa, buddy, how about you ask a lady out first? Or at least get a divorce. The drama that ensued ended her career, unfortunately. The whole story was too salacious, even for the 1920's movie industry. Miss Manhattan struggled so much to find work that she fell into a dark depression and was committed to St. Lawrence State Hospital for the Insane where she lived for the rest of her life...which happened to be a very long time because she lived to be 104. Mr. Skin won't let Audrey Munson's buns and breasts rest in obscurity. We applaud this brave babe for being the very first nude movie maven.